After 23 years of operations at the Pensacola Shipyard, Zern Rigging is moving their headquarters to the Pelicans Perch Marina & Boatyard, just a short distance by water to the southwest side of Bayou Chico. This is a convenient move for boat owners who will benefit from a larger shipyard with better vessel access that is also closer to the marinas, restaurants, and the Pensacola Yacht Club.
A change in ownership from Pensacola Shipyard necessitated the move, which was the conclusion of a shifting vision towards tiered dry dock storage for powerboats.
New Location
Pelicans Perch Marina & Boatyard
40 Audusson Ave, Pensacola, FL 32507
Pelicans Perch will be a welcome fit from both sides as Zern Rigging's specialties provide the final piece to offering full services at the boatyard. Pelican's Perch has been constantly upgrading and updating its facility over the last few years and now can be considered a full service marina and boatyard.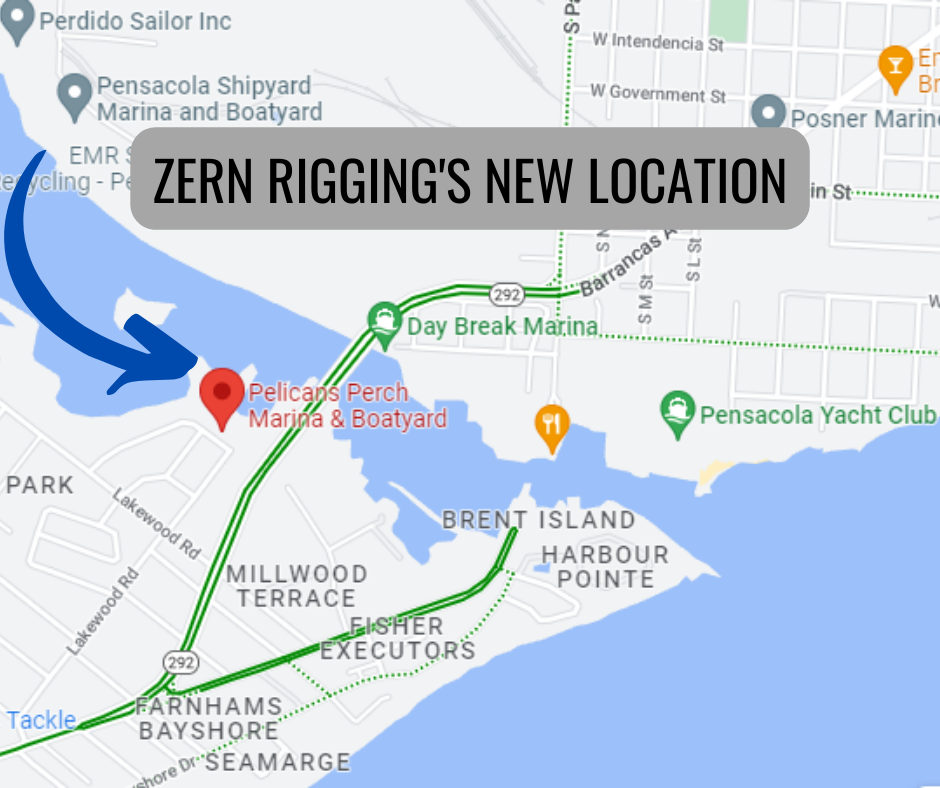 Their phone numbers and emails will remain the same:
ZernRigging@gmail.com
www.ZernRigging.com
850-261-4129
History of Zern Rigging & Murray Yacht Sales
Zern Rigging has been in business in the central Gulf Coast since 1988. Rick Zern has been a powerful asset on the Murray Yacht Sales Team since 1999, adding value and expertise for both new and brokerage sales. In his 23 years with Murray Yacht Sales, Rick has commanded a strong reputation for customer service and expert knowledge. His problem-solving mindset and specialized skills serve him and his customers well.
Adaptable to a Shifting Market
Rick leads the team of 7 full time riggers as the president and founder of Zern Rigging, and has navigated decades of shifts in the sailboat market. Zern described the most recent shift away from cyclical work with busy seasons in the summer towards a consistent demand year-round as being due to an overall growth in the number of sailboats in the area. Zern's territory covers much of the central Gulf Coast. They have clients from New Orleans to Tallahassee, with licenses to work in their customers' shipyards across the coast.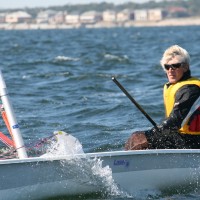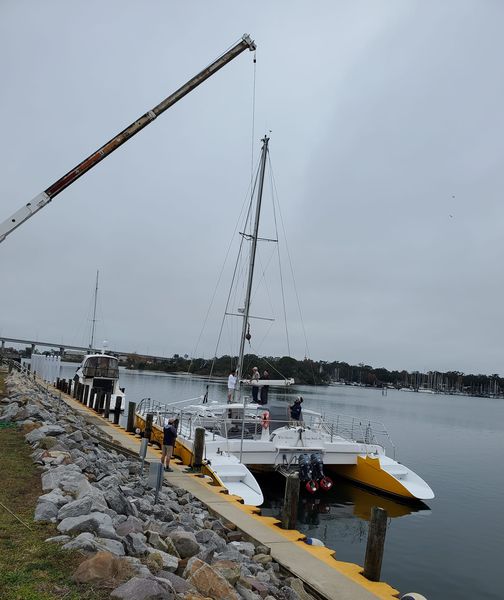 Murray Yacht Sales is proud to be the exclusive Gulf Coast dealer for Beneteau Sailboats & Excess Catamarans, with offices serving Texas, Louisiana, Mississippi, Alabama, Florida, and inland. Our Team of expert brokers bring nearly 50 years of company experience into every brokerage or new boat sale. We love helping our customers best navigate the pitfalls of boat buying to turn their dream into a reality.
Where can I get sailboat rigging on the Gulf Coast
Zern Rigging has been in business in the central Gulf Coast since 1988, and moved Pensacola operations to Pelicans Perch Marina & Boatyard in 2022.
Owned and operated by our own Rick Zern, these rigging experts serve clients from New Orleans, Louisiana to Tallahassee, Florida
When will Zern Rigging move to their new location at Pelican's Perch?
Per owner Rick Zern, "We expect minimal disruption to our planned projects over the next few weeks as we get all set up to be 100% capable again after being at the Pensacola Shipyard for the last 23 years."