Background of the famous design group
HOW VPLP DESIGN ADAPTS TO THE DIGITAL REVOLUTION
When Marc Van Peteghem and Vincent Lauriot-Prévost left the University of Southampton, where they met, to decide to join forces in what would soon become VPLP, computing was in its infancy. But the revolution is already underway: " We learned to draw by handand the first PCs arrived during our last year at school, remembers the first . We didn't have the intuitive logic of young people today and we learned on the job. But we felt that was the way to go."
In 1983, the lines of Gérard Lambert , the first boat signed by VPLP, were drawn on the drawing board, but the sections intended for the shipyard went through the grinder of the HP 85 computer , purchased by the tandem. "The screen was the size of a pack of cigarettes and it spit out line by line at the foot of my bed the coordinates of the points in each section.The calculations took entire nights!" adds Marc Van Peteghem
Evolution of Marinee Design Software
From the first HP 85 computers , yesterday, to the SYD digital simulator, today, the history of VPLP Design is also that of mastering tools that have never ceased to evolve , as its founders, Marc Van Peteghem and Vincent Lauriot-Prevost.
Circe, the software of the time, developed by Marc Pommelet, is a must. It smoothes shapes and facilitates hydrostatic calculations.
Quickly, VPLP acquired another surfacing software called Intergraph , which uses the logic of "splines": lines and therefore tocreate tighter curves and more beautiful surfaces" , explains Vincent Lauriot-Prévost.
A mix of industrial software and internal tools
Computer drawing moved from 2D to 3D in the 1990s, but it was on the side of calculation, VPPs and simulation that the real digital revolution took place, according to Marc Van Peteghem: "Until the beginning 2000s, we still did all the preliminary projects by hand and the computer was only an execution tool. We exchanged a lot with the skippers, we sailed on the boats… The apprehension of the forms was close to the work of the sculptor, they stemmed from a feeling, from a physical and intimate understanding of what was happening on board. Today, you can model as many hulls as you want in a very short time and test their passage through the sea."

VPLP's design approach, geared towards research and innovation, has always been supported by the use of cutting-edge digital software: "We have always worked with a mix of licensed industrial software for plans, modeling or calculation by finite elements, andour own tools, developed in-house, says Vincent Lauriot-Prévost . The current result of this approach isour simulator called SYD. Its development required 3 to 4 years of work for several engineers from the agency. Even today, we maintain a regular frequency of development so that this software remains agile and can adapt to constantly changing demands."
The current power of digital thus makes it possible to dispense with full-scale models, as the Beneteau group still did fifteen years ago for its new Lagoons. "Today, we build digital models.You sit behind the screen, you put on the glasses and you move around in the boat. It is magic !" smiles Marc Van Peteghem. Who adds: "There is no nostalgia in this observation. I am delighted with the job I have had with Vincent and its development. Just as I'm very happy to have crossed the Atlantic with a sextant, which doesn't make me spit on the GPS today! "
Current VPLP Projects:
IMOCA racing circuit (recycled carbon)
Excess 14
More on the Excess 14 Design from VPLP
The growing new catamaran brand from Group Beneteau, Excess Catamarans, has announced the launch of their newest catamaran model, the Excess 14. She has been built upon the same concepts of the previous Excess models by VPLP Design but with one major innovation especially: asymmetrical hulls designed to reduce the catamaran's drag and increase its righting moment. Other forward-thinking design improvements for the new catamaran include elongation of the fins, position of the mast, and a walk-in closet option.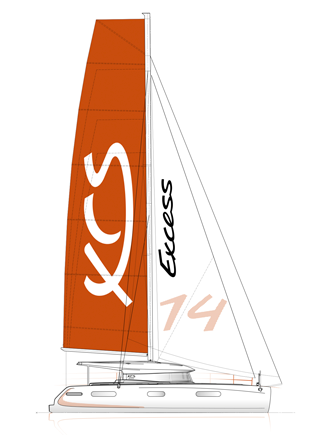 What product lines have VPLP Designed?
The VPLP Design group has gained a reputation for cutting edge marine design through years of high-profile, successful builds. These include catamarans like Lagoon, Excess, and Outremer, as well as the IMOCA racing circuit
Who designed the Excess 14
VPLP Group built upon the same concepts they implemented in their previous Excess designs, with one major innovation especially: asymmetrical hulls designed to reduce the catamaran's drag and increase its righting moment.
Where is VPLP from
The naval architecture firm was founded by Marc Van Peteghem and Vincent Lauriot-Prévost in France: the now-famous designers first met at Southampton College of Higher Education both having enrolled to study Yacht and Powercraft Design. The internationally acclaimed group is still headquartered in France, with offices in Paris and Vannes.