Specializing in the interior designs of sailing yachts, this group has earned a reputation for being the cutting edge of contemporary interior design. Founded in 1985, Nauta Design has designed both custom and production sailing yachts between 30 and 130 feet, as well as some motor yachts up to 590 feet (including Azzam, currently the largest private yacht in the world).
In May of 2023, the new SW105 SORVIND won Best Sailing Yacht in the Sailing Yacht 30m to 49,9m category of the 2023 World Superyacht Awards.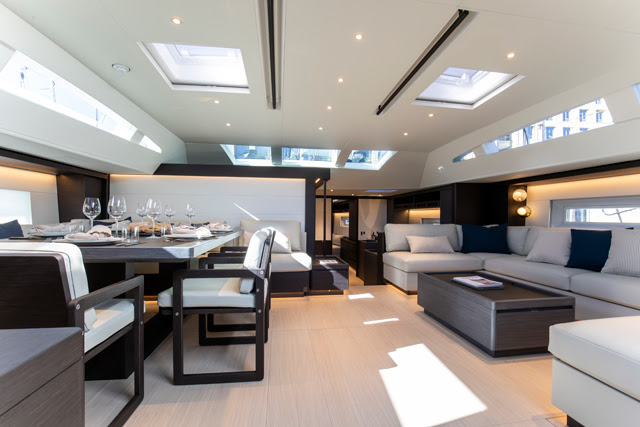 The distinctive feature behind our designs is a mix of balanced elegance and easy handling, style and performance, and comfort and navigability. Whether it is a 'custom' or production boat, a motor yacht or sailing yacht, a small or a large craft, we always push the boundaries, including all the innovations that we can. We are as impressed by a custom boat such as the Baltic 115', as we are proud of the latest Oceanis launched on the market!

In this way, every project benefits from the synergy of the others. Whether we are dealing with a custom, semi-custom or production boat, we avail ourselves of the experience acquired on each of them. Turning constraints and contradictions into creative power, they develop their designs at their office in Milan, mindful of and staying alert to trends in the nautical industry as well as the world of home decoration.

Massimo Gino, Co-Founder
Nauta Design first partnered with Beneteau in 2005 with the highly successful Oceanis 50. Since then, designs and trends have changed many times over, but the group has remained on the front lines of ingenuity. Their work on the Oceanis 40.1 saw a plethora of features that had never been seen on a production boat before brought together in a sleek, refined interior.
Beneteau Models Designed By Nauta Design:
Grand Trawler 62
First 35
First 40
Sense 46
Sense 50
Sense 55
Sense 57
Sense 51
Oceanis 46.1
Oceanis 38.1
Oceanis 35.1
Oceanis 30.1
Oceanis 51.1
Oceanis 40.1