October 29th, 2014
---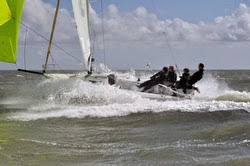 French J/80 Nationals Preview
(La Rochelle, France)- The last regatta of the Coupe de France is taking place this weekend in La Rochelle, one of the most famous sailing ports in all of France.  Hosted by the Societe des Regates Rochelaises, 53 teams will be sailing the seventh and final regatta to determine not only the French National J/80 Champion, but also the winner of the season-long series of seven events- the Coupe de France.
As a result of some excellent performances in the first several regattas, it looks like it will be difficult to knock-off Simon Moriceau's INTERFACE CONCEPT- CV ECOLE NAVALE from winning the overall series, such is the gap between them and the rest of the fleet.  However, the balance of the top ten will be hotly contested between the rest of the stars that have been sailing this highly competitive J/80 series.  Climbing fast up the ladder has been a past Coupe de France champion, Eric Brezellec on COURIER JUNIOR; they're slow start in the beginning has been put behind them and several excellent regattas in the last few events have put them in contention to get a podium finish.  Behind them is Luc Nadal on GANJA, a co-champion of the 2013 series.  Other contenders should be Herve Leduc's PIERRE OCEAN, Matthieu Salomon's CHARIOT PLUS- VANNES UTILITAIRES, and Ludovic Gilet's JACUZZI.
Another battle is forming for top women's J/80 team for both the Nationals and for the overall Coupe de France series.  At this moment, it appears that everything is possible for the top three amongst the leading teams that include STARTIJEN (Claire Montecot), CO-PILOTES NORMANDY ELITE TEAM (Maxime Mesnil), CHARLY (Alice Metais), PORNIC J GIRLS (Charlotte Lab Janvier), J MARINE (Marie Revy), PRINCE DE BRETAGNE (Pauline Chalaux), ST CAST GRAND OUEST ETIQUETTES (Maxime Rousseaux), and EPSILON 3D LADIES NORMANDIES (Sophie Riot).
Top visiting teams looking for some great fall sailing competition include two top UK boats, Patrick Liardet's AQUA-J and Phil Taylor's J.A.T.  Additionally, a very good Spanish team will also be participating, Inigo Jauregui's GOLD SAILING from Club Nautico Hondarribia.
A dozen boats have already been to La Rochelle last weekend for practice, that's how seriously some of the teams are taking their final event despite months of sailing on the circuit this past summer.  Formore French J/80 Nationals sailing information
---
J/70 Deutsche Segel-Bundesliga Finals Preview
(Hamburg, Germany)- This coming weekend, October 31st to November 2nd, eighteen clubs will be sailing the grand finale of the 2014 Deutsche Segel-Bundesliga series sailed in J/70s on Hamburg's Alster Lake.  As the host for this incredibly successful regatta, the HSC (Hamburg Segler-Club) hopes that it's "home town" team, the Norddeutscher Regatta Verein (NRV) continue their winning ways and are crowned champion for the 2014 series.  While NRV may be leading the event by a substantial lead of 18 pts, it's mathematically possible for three teams in positions 2nd to 4th to take it all overall; those favorites include Verein Seglerhaus am Wansee (2nd place, 70 points), Deutscher Touring YC (3rd place, 67 points) and the Württemberg YC (4th place, 62 points).
While there may be serious amounts of drama and competition for the podium in the grand finale, there are six other sailing clubs that are on the "hot seat" with regards to qualifying for the "premiere" league, and therefore, also have a chance at participating in the 2015 SAILING Champions League.  Those six clubs include Berliner YC, Bayerischer C, Dusseldorf YC, Segelkameradschaft "Wappen Von Bremen", Schweriner YC and Muhlenberger Segel-club.  Those teams that finish 13th to 15th will sail in next weeks qualifier on the same Alster Lake and the top six teams from that event will sail in the 2015 Premiere league against the top 12 teams from the 2014 season.  The bottom three clubs from next week's event have to compete in Bundesliga #2 for 2015.

One of the exciting elements of this year's finale is the entire event will be broadcast from the SAP Live-Center on Alster Lake for public viewing at HanseBoot (Hall B3 upstairs at the boat show in Hamburg) and across the Internet.  In addition, to the usual live broadcast with moderator and sailing expert Matthias Bohn, Europe's largest sailing publication, the YACHT (yacht.de/sport/segel-bundesliga), the Segel-Bundesliga (segelbundesliga.de) website, and Sportsdeutschland.TV will also carry the live feed. A unique new angle will be available from a camera from the roof of the Hotel "Le Meridien Hamburg".
The German Olympic Sports Confederation launched "Sportdeutschland.TV" in August 2014 with the mission of showing German sports in all its diversity. With "Discover sports, Experience sports" as the motto, the platform offers video content from a variety of sports as a live stream or on-demand videos. The broadcasts include both national and international events as well as various national league highlights, summaries and background reports on sport, sporting achievements and the people and stories behind it.  As THE transmitter for minority sports in Germany, Sportdeutschland.TV wants to establish itself in the German media and sports scene. "Our goal is to show all the amazing performances, great decisions and moving moments in sports that have been missing to a lot of sports fans in the traditional media.  We are working together with sports federations and league operators," explains Oliver Beyer, CEO of the German Olympic Sports Confederation New Media GmbH, which operates Sportdeutschland.TV.  For more J/70 Deutsche Segel-Bundesliga sailing information
---
J/105 Lipton Cup Preview
(San Diego, CA)- "It is no less important to the Commodore as air or water," said Staff Commodore of the San Diego Yacht Club Chuck Nichols. The Lipton Cup is arguably one of the most iconic regattas in the sailing community. This three-day regatta is an invitation-only event where the best sailors from around the country compete to represent their yacht clubs. For the Commodores of these Yacht Clubs, winning the Lipton Cup for their club is often considered the highest accolade they can accomplish.
Current SDYC Commodore Chuck Sinks noted, "The field for this historic regatta is truly representative of the finest yacht clubs and the finest sailors in the country. This regatta is a true test of each crew's skill, coordination, communication and cooperation. It is going to be fantastic to watch. I wish I was sailing."
This year marks the 100th challenge for the Lipton Cup, named after tea baron and decorated sailor Sir Thomas Lipton. In 1903, Lucien Blochman, the Commodore of what later became known as the San Diego Yacht Club wrote to Sir Thomas Lipton asking if he would lend his name to a West Coast yacht race. Lipton happily agreed and had a trophy sent to the club for the first ever Lipton Cup in 1904.
Since then, the race has served as a competition between the best of the best in West Coast sailing, although recently Yacht Clubs from across the country have been invited to participate. As the SDYC skipper responsible for winning the cup in 2013, Brad Rodi knows just what it takes to keep the trophy in San Diego. Rodi will need to leverage his experience with the regatta against the intense pressure coming from other clubs, each hoping to engrave their names next to the title of 2014 champions.

Also competing against the host club and defending champion San Diego Yacht Club are 7 past Lipton Cup champions with a rogue's roost of top skippers and world-class tacticians ready to lift the big silver trophy off its pedestal from SDYC.  Those teams include California YC (Alan Field), Coronado YC (Rick Harris), Newport Harbor YC (Jon Pinckney with Mike Menninger and father Bill Menninger), Southwestern YC (Ian Trotter), Long Beach YC (Dustin Durant & Erik Shampain & Keith Magnussen), St. Francis YC (Chris Raab with Russ Silvestri), and San Francisco YC (The Perkins Brothers, led by Chris with Phil and Jon aboard along with Paul Cayard and Craig Healy as trimmers/ tacticians!).
Additionally, four clubs are looking to add their name to the Cup for the first time: New York YC (Ken Colburn with Bill Lynn), Kaneohe YC (Eric Aakhus with Jesse Andrews tactician from Hawaii), Seattle YC (Jay Renehan and Brian Ledbetter) and Cortez Racing Association (Rick Goebel and Greg Tawastjerna, who as a team recently took 2nd at the 2014 J/105 North Americans!).  To say the deck is stacked against the SDYC defending team would not even begin to describe the coming nuclear winter if the host team loses!
The race will be sailed on chartered J/105s, with each club stopping at a floating dock in San Diego Bay and switching boats between races to ensure that the only advantage on the water is having the best sailors competing. The race will be held from Oct. 31 to Nov. 2 in front of the beautiful San Diego city front.
Spectators wishing to view the regatta's final day of racing from the water can make reservations online to attend the Sunday Tea Party about the beautiful yacht America. Racing is scheduled to begin at 12:00pm each day. Otherwise, shore side viewing is available from the Embarcadero or Harbor Island.  Furthermore, watch the event "live" on the Internet on RaceQs.com, the world's coolest tracking/ analysis app for iPhones and Android phones!  From Friday to Sunday, watch "live" J/105s sailing San Diego Bay on RaceQs.com.
Thanks to supporting sponsors Sunroad Resort Maria, San Diego Boat Show, JK3 Yachts, Ballast Point Brewing, Jackson Design & Remodeling, Dixieline Lumber & Home Centers, Jones Lumber, North Sails One Design. And special thanks to the local J/105 owners lending their boats to make this regatta possible.  For more J/105 Lipton Cup sailing information
---
J/Fest Southwest Preview
(Seabrook, TX)- J/Fest Southwest Committee Chairman Al Goethe and the team at Lakewood Yacht Club (LYC) are hosting their 5th Annual J/Fest Southwest Regatta from November 1st to 2nd on Galveston Bay. They are looking forward to welcoming the fifty-eight teams that are registered so far and are looking forward to a weekend of hot racing on muddy waters! The focus of the J/Fest is to give J/Boat racers a chance to compete in one-design races. "Our J/Fest Southwest will be another great opportunity for Lakewood to promote and support a national caliber event," added Goethe.

With the City of Seabrook again being the primary sponsor of the event, the overall theme of the J/Fest Southwest Regatta is to provide a venue that is all-inclusive to J/Boat owners, their family and friends. While the racers are on the water, their spouses and family can enjoy a myriad of activities and tourist attractions in and around the Bay Area Houston arena- for example, remember that phrase "Houston, we've got a problem" during one notable NASA space mission?  Well, that was beamed to NASA's HQ in Houston just five blocks down the road from where the sailors will be partying all weekend long!  The tour of the space center is definitely worthwhile, check it out here- http://spacecenter.org/  They will have an "Aliens & Astronauts & Asteroids" Halloween party Friday night!
There is a great turnout for the J/PHRF and One-design fleets (J/22s, J/24s, J/70s, J/105s & J/109s). One of the featured attractions is J/Boats co-founder Rod Johnstone, he will not only be sailing a J/88 but will also be on-hand for any spontaneous "know-how" needed for any of the boat-owners or sailors.
The J/22 class has a good fleet of 10 boats with teams from as far away as Gross Pointe, Michigan- Chris Morlan's TILT.  A new member of the fleet and first-time J/Fest SW participant is Marek Vasalek sailing for Lakewood YC.

As part of their Texas Circuit, the J/24s have a 16-boat fleet, the largest of the regatta.  Teams are traveling from Austin YC, Fort Worth Boat Club, Dallas Corinthian YC and event Lake Belton YC.  A number of familiar names are in the pack, including Kelly Holmes' BAD MOON, Natalie Penner's GIGGLES and Johnny Parker's CHUPACABRA.  Both a "sleeper" and a new face in the crowd is Juan Mauri sailing MAURI PRO SAILING TEAM— watch out, these guys work hard and party harder!
Like their J/24 colleagues, the 13 boat J/70 fleet is packed with talent from all three points of the Texas star- Austin, Dallas/ Fort Worth and Houston areas.  Kurt Vander Wall has liberated his 70 from Lake Dillon, Colorado and is looking forward to some fun-in-the-Texas-sun!  A number of class veterans are participating, like Ansgar Chorhummel's PERIHELION, Al Poindexter's USA 98 and Bruno Pasquinelli's STAMPEDE.  However, watch out for class "newbie", Taylor Lutz sailing ZOUNDS HEARING- a past World-class Opti sailor, top college sailor and is likely to have a top-notch crew aboard.

The J/105s have 8 boats participating with past regatta winner Bill Lakenmacher sailing RADIANCE and the long-distance traveling Masur's (Mark and Jolene) sailing TWO FEATHERS from Fort Worth Boat Club.  Factoring into their leaderboard should be Uzi Ozeri's INFINITY and JB Bednar's STINGER, both locals from LYC.
The J/109s should have spirited competition amongst the four well-sailed boats.  The big question is whether Abrecht Goethe's HAMBURG can repeat his excellent past performances and reach the podium yet again?
Finally, the J/PHRF fleet is divided into Asym & Sym divisions.  Will Scott Spurlin's J/88 THRILLER manage to beat JD Hill's J/122 SECOND STAR on handicap?  And, will George Cushing's J/92 or Bryan Colby's J/120 ROSIE beat them all to the punch in the Asym fleet?  In the Sym Division are some classic old warhorses of the handicap arena, including Glen Stromme's J/29 PRESS TO +MECO having to take on a pair of J/27s- Chris Alk's FOOTLOOSE and Gary Trinklein's TOCCATA.   Sailing photo credits- Andrea Todaro/ John Lacy   For more J/Fest Southwest sailing information
---
Rum Runner Race Preview
(San Diego, CA)- New this year, the first annual Rum Runner race from Newport Beach to San Diego has been established to serve as a feeder race for the popular Hot Rum Series held each winter in San Diego. With a new course layout, boats will sail from Newport Beach offshore to an inflatable mark stationed on "14 Mile Bank". After leaving this mark to port, the fleet will continue on to San Diego and the finish line. The total course length is 75 miles.
SDYC Sail Fleet Captain David Servais says of the race, "The new format will allow the boats to have a more tactical race. With the short offshore leg, having a good start will be much more important. Also getting the boats a ways offshore puts them in better breeze and opens up passing lanes on the leg to San Diego. I am really excited to participate in this years Rum Runner Race!"
This race is being held by both Balboa Yacht Club and San Diego Yacht Club.  There are a number of fast offshore J's sailing, including Viggo Torbensen's J/125 TIMESHAVER, Seth Hall's J/124 MARISOL and Scott Grealish's brand-new J/88 BLUE FLASH.  For more Rum Runner Race sailing information
---
J/Sailing News
The Sun Never Sets on J's Sailing Worldwide
It was a busy fall week of sailing in the northern hemisphere with some classic, fun events taking place before the Halloween weekend.  One of the most remarkable achievements for any J/Boat worldwide happened to take place in the middle of the Mediterranean Sea.  With the conclusion of the Rolex Middle Sea Race two J/122s simply dominated their class and did wonders overall in one of the toughest races ever sailed in this 600nm classic.  Then in the same vicinity, the J/70s held the first of their Monaco Winter Sportsboat Series off Monte Carlo.  And, up in the Solent, the J/111s, J/109s and J/97s all had "Indian Summer" type of sailing over their weekend, celebrating the halfway point in their Garmin Hamble Winter Series.
Across the Great Pond to the West, the J/70s enjoyed their fun-loving J/70 Fall Brawl in Annapolis, MD, sailing on the Chesapeake Bay in gorgeous weather!  Then, way way out on the Left Coast, activity was taking place in all three major sailing centers- Seattle, San Francisco and Southern California.  In the Pacific Northwest, the end of season Seattle Grand Prix took place, an invitational-only regatta that gathers together all the winners of the few hundred regattas that are sailing in Puget Sound and surrounding venues all summer long.  A range of J/Teams participated, including J/80s, J/92s, J/30s, J/35s, J/109s, J/105s, J/122, J/145 and a J/160!  Down in San Francisco Bay, the Great Pumpkin Pursuit Race took place off Richmond, CA in the northeast Bay- teams could chose which way to go around the course, clockwise or counter-clockwise using Angel Island/Raccoon Straits and Alcatraz Island as the primary marks of the course.  Finally, in San Diego, the San Diego YC hosted yet another fun-loving J/105 International Masters Regatta in San Diego Harbor.
Read on! The J/Community and Cruising section below has many entertaining stories and news about J/Sailors as well as cruising blogs about those who continue to enjoy the Caribbean and the South Pacific, staying warm while others are trying to stay warm up north.  Check them out!  More importantly, if you have more J/Regatta News, please email it or upload onto our J/Boats Facebook page!  Below are the summaries.
---
Regatta & Show Schedules:
Oct 4- Nov 30- Garmin Hamble Winter Series- Hamble, England
Oct 24- Mar 8- Monaco J/70 Winter Series- Monte Carlo, Monaco
Oct 30- Nov 2- French J/80 Nationals- La Rochelle, France
Oct 31- Nov 2- J/105 Lipton Cup- San Diego, CA
Nov 1-2- Seattle Grand Prix Regatta- Seattle, WA
Nov 1-2- J/70 Chesapeake Championship- Deltaville, VA
Nov 1-2- J/Fest Southwest- Lakewood YC, Houston, TX
Nov 8- Hot Rum Series #1- San Diego, CA
Nov 10-16- J/24 South American Championship- La Punta, Chile
Nov 16- Around Island Race- Hong Kong, China
Nov 19-22- J/105 International Invitational- Hamilton, Bermuda
Nov 22- Hot Rum Series #2- San Diego, CA
Dec 4-7- J/22 Jamaica Jammin' Regatta- Montego Bay, Jamaica
Dec 6- Hot Rum Series #3- San Diego, CA
Dec 13- Feb 7- Quantum J/70 Winter Series- Davis Island, FL
Jan 18-23- Quantum Key West Race Week- Key West, FL
Mar 4-7- Bacardi Miami Sailing Week- Miami, FL
For additional J/Regatta and Event dates in your region, please refer to the on-line J/Sailing Calendar.
---
J/122 ARTIE Wins Rolex Middle Sea Race
One Race, Nine Trophies!  Extraordinary ARTIE Cleans House!
(Gzira, Malta)- The 35th Rolex Middle Sea Race was one to remember. Not only for international fleet that, for the third year in a row, set a record number of entries, but for the array of conditions that the yachts faced. From no wind to too much; from flat calm to turbulent seas; from going nowhere to flying fast & furious: the 608-nm mythical race course offered everything. The worthy winner had to conquer the elements as well as the competition. Exceptional challenges bring out the best in exceptional characters— none other than Lee Satariano and the crew of the Maltese J/122 ARTIE, Overall Winner of the 2014 Rolex Middle Sea Race!
122 yachts from 24 nationalities ranging in size from 9.5 to 30.5 metres gathered at the start of the Rolex Middle Sea Race 2014. Twenty-three more yachts than the previous record set in 2013. "Having a larger fleet and different nationalities is satisfying, because it means that the popularity of the race is not only increasing in numbers but extending to many places," enthused Godwin Zammit, Commodore of race organizers, Royal Malta Yacht Club.
The Rolex Middle Sea Race was first run in 1968 and Rolex has been the title sponsor since 2002. On Saturday 18 October, the cannons of Valletta's Saluting Battery overlooking Grand Harbour marked the start of the 2014 race under a clear sky, a subtle southerly breeze and the watchful gaze of a sizable crowd.

According to Francesco de Angelis, a J/24 World Champion and tactician on defending champion B2 from Italy: "The difficulty of this race is that you never know what the wind is going to do. It's a long one, with a lot of corners, and the scenario is always changing. You know the wind you will start with, but you don't know what you will find along the way. It is never easy."
The wind at the start was a light southerly. The first night at sea saw the fleet struggling to make ground towards the Strait of Messina. Concentration, attentive trimming, correct sail selection, precise helming and minimizing unnecessary movements were the key to getting anything out of the conditions.
Twenty-four hours into the race and only one boat had passed through the Strait- the Jochen Schümann-skippered line honours favourite Esimit Europa 2 covered just 215-nm in the first complete day of racing. By noon she was 10nm from Stromboli struggling to make six knots. Rán, Shockwave and B2, the next yachts on the course, were still tacking the Strait, some 30nm behind.
"The first night of this race is a very tricky and tactical affair," explained Ian Moore, navigator on Italian Cookson 50 Mascalzone Latino, one of the faster entries. "You go straight for the corner of Sicily but as soon as you have got there you begin thinking how do I enter the Strait?" Vincenzo Onorato's boat would be the fifth to pass into the Tyrrhenian Sea (Onorato also past J/24 Italian Champion and offshore Italian champion on his J/39).
Some twenty-four hours later and Esimit Europa 2 had still yet to pass the halfway point. Most of the fleet was wallowing 100nm astern. The second night proved another opportunity for crews to hone their ability to deal with little or no wind. As more yachts rounded Stromboli, some diverted north in the search of breeze. The fact remained that everyone was barely moving. Esimit Europa's hopes of overturning the 47 hours, 55 minute and 3 second race record (set by American Maxi Rambler in 2007) evaporated in the still heat.
Esimit Europa 2 used the building breeze to confirm her status as favourite for line honours, finally crossing the finish line in Malta's Marsamxett Harbour at 22:47.05 CEST on Tuesday night. The Slovenian Maxi completed the course in 3 days, 10 hours, 42 minutes and 5 seconds. This fourth line honours win, following victories in 2010, 2011 and 2012, set a new record for the Rolex Middle Sea Race: some compensation for failing to better the course record.
After three quiet nights, a dramatic change in conditions occurred late on the fifth day. The wind built progressively from the northwest. Storm force winds began to sweep the course and the face of the race changed, just as most yachts were reaching the exposed westernmost point at Favignana.  One crew sent photographic evidence of its instruments recording 50 knots. With the hours of darkness exceeding daylight, it was a long and difficult night.
Proof of the extraordinarily treacherous conditions lies in the eventual number of retirees – 71 – and the litany of damage reported by the fleet, even close to the finish.  For those still racing the building wind also brought opportunity. The race conditions now favored a small boat. Which one would depend upon a combination of seamanship, tactics and nerve. ARTIE's Sebastien Ripard offered an insight into the dilemma: "We have winds gusting over 40 knots and 30-foot waves. The game plan has been a mixture of pushing as hard as we can but also protecting the boat, so we have been taking it a bit easier in the big gusts of over 40 knots and then going for it when the wind speed drops a little."

After probably the toughest 24 hours in the 46 year history of the race, Lee Satariano's J/122 ARTIE crossed the line at 00:45 CET on Thursday, after 4 days, 13 hours, 35 minutes and 05 second of racing. Her nearest rival in class would finish 8 hours behind on both elapsed and corrected time. Later that morning, with several yachts still racing, the Royal Malta Yacht Club made an official announcement declaring the Maltese team could not be beaten and had won the race overall!
"It hasn't really sunk in yet," smiled Lee Satariano. "But now having had the opportunity to reflect on the race, even more important than winning was the achievement of actually finishing the race in the conditions that we had out there. Even near the end my worry was not finishing, right up until the end, we knew boats were in difficulties, which was very unfortunate and that was playing on my mind until we crossed the finish line. I would like to emphasize that one thing we really promote on Artie, throughout the year, is that we have young dinghy sailors on board and a main objective is to get these youngsters out sailing, combining them with our regular crew to create the future sailors that will be representing Malta."
An overwhelmed Satariano continued to comment: "I still can't believe it. To win such a prestigious race, one of the most high level offshore races in the world, being a local boat and a local team is a great achievement." Behind the delight was the knowledge of a job well done: "Having had the opportunity to reflect on the race, even more important than winning was the achievement of actually finishing. It was a very, very tough race." This is the second title for Artie in three years, after victory in 2011, and the seventh Maltese victory in 35 editions. Fittingly, in the year when a record 122 boats started the race, it was 12.2m yacht that won!"
Lee Satariano was asked before the race if the record entry of 122 yachts and the fact that ARTIE is a J/122 was an omen?  "I am not superstitious anymore!" commented Lee just after stepping ashore. "It was a very very tough race. The crew have worked around the clock from day one and the race didn't start well for us but during day two we started to get our the shifts right and co-skippers Sebastian and Christian Ripard did a great job on the tactics and the end result was a series of correct decisions that put us in a good position before the storm arrived. As always, having a good crew on board allows you to give the effort an extra push, with a good boat and an excellent crew are the intention at the start, it was to win and we hope we have achieved that."
Christian Ripard has competed in numerous offshore classics including the infamous Rolex Sydney Hobart Race, often with many of the ARTIE crew. "The sea was big, it was very windy, we don't know exactly how windy because the Windex at the top of the rig blew off! – yes this race is up there with the toughest Hobarts I have done. In fact, we were saying on board 'when was the last time we saw a sea like this?' and I had to say it was during a windy Sydney Hobart but to have those conditions for over 24 hours is very rare, almost exceptional. You are always learning in this game and the experience showed me that it is good to go with a bloody good crew! Truly, it is the only way you can sail the boat like we did. If you don't have a good crew, you just won't get through it or you will break things and when it comes down to it – a good crew is what you need and we have done a lot of miles together on ARTIE, they are my nephews, my friends and we have been together for thousands of miles at sea."

What an achievement! In the history of the Rolex Middle Sea Race, only George David and Ken Read on the 90 ft RAMBLER managed one better, that of claiming the RMSR course record.  Cheering the ARTIE boys on were the Maltese crew of Aaron Gatt Floridia's J/122 OTRA VEZ.  Amazingly, at least halfway into the race going along the northern coastline of Sicily on the way from the Stromboli "smoking volcano island" to the southerly turning point at the dramatic rocks of Favigna, it was the OTRA VEZ team that was pushing ARTIE to the limit.  In fact, from the start to about halfway round the race, it was OTRA VEZ leading the charge for the J/Fleet.  However, their more inshore route nearer to Sicily became their undoing.  ARTIE followed a more northerly course to pass them, anticipating the new front with the strong northwesterlies coming with it.  In the end, OTRA VEZ followed their Maltese countrymen into the finish to take 2nd IRC Class IV and 6th IRC Overall.  Congratulations to both teams for a job well-done!
Finally, no one to our knowledge has ever in the history of offshore racing ever gone home with a silverware haul like what ARTIE achieved in this year's Rolex Middle Sea Race; take a look at this remarkable list:
First IRC Class 4
First ORC Class 4
First Maltese yacht in IRC
First Maltese yacht in ORC
First Overall IRC
First Overall ORC
First Maltese Yacht Line honours
Boccale del Mediterraneo Trophy
Overall winner of the Rolex Middle Sea Race.
Saturday's final prize-giving was a true occasion. Not only was it an opportunity to praise the victors as they received the Rolex Middle Sea Race trophy and Rolex timepiece in recognition of their huge achievement, but it was also a chance to acknowledge the herculean determination and perseverance of everyone who had participated in one of the worlds most famous, and toughest offshore ocean races.
Here's the photo of the winning J/122 ARTIE crew for the 2014 Rolex Middle Sea Race – Lee Satariano, Christian Ripard, Sebastian Ripard (co-skippers), Matthew Gusman, Sam Pizzuto, Tom Ripard, Matthew Almekinders, Gordon Bugeja, Timothy Davis.   Sailing Photo Credits- Rolex/Kurt Arrigo    For more Rolex Middle Sea Race sailing information
---
Diaz Master of the Masters!
(San Diego, CA)- Established in 1975, the International Masters Regatta hosted 12 notable teams on San Diego Bay for an 11-race round robin event in J/105s; the event features the best master sailors from around the world and was hosted by San Diego Yacht Club for the third time in the regatta's history.
A newcomer to the event, Augie Diaz took the lead on day one, and while he stumbled dramatically on day two, he managed to survive the ferocious competitors and masters of the game to take the title. However you look at it, Miami's perennial one-design champion (J/24s, Stars, Snipes) from Coral Reef YC had a far tougher go of it than what appears in the final standings.
Starting on Friday, anyone that headed out to San Diego Bay was likely to witness some of sailing's most legendary skippers show exactly why they've earned the reputation as the best in the business. The opening races saw extremely shifty winds with moderate pressure, making for drastic lead changes throughout the racing.  Talk about a day of "chutes & ladders", even last year's regatta winner was a bit exasperated!  With the winds not filling in until 1:00pm, the SDYC PRO was only able to fit three races into the regatta's first day of competition.
Gary Jobson and Donny Martin both led the scoreboards at different points during the first day, but unable to predict the shifty breezes, Jobson finished the day in fourth place with Martin trailing behind in fifth.

Ultimately, it was Diaz who was able to best navigate the shifting breezes. He finished the three races of the day with a 3-3-1 for 7 pts to take hold of the top spot on the scoreboard. Skippers Bob Fisher (4-4-2 for 10 pts) and Dennis Durgan (5-1-5 for 11 pts) filled the day's second and third overall spots.  At this point, the familiar banter on the dock after-party amongst the cognoscenti was quite amusing, something about how could a one-design World Champion and a Congressional Cup champion be bracketed by "journalists" like Fisher and Jobson?  Needless to say, the banter was about to be amplified by several magnitudes because of the outcome after Saturday's racing.
To regress for one minute, one must understand the dynamics of both the competitors and the sailing area in San Diego Bay. The regatta is sailed in matched J/105 one-designs (all sails are supplied by North Sails and are identical) and the buoy-racing takes place inside the beautiful bay in front of San Diego's gorgeous waterfront.  In the gentile sea breezes of 8-15 kts, the starts are often right up against the enormous USS MIDWAY, a US Navy aircraft carrier that saw duty in World War II.  To make matters more interesting, the fleet often sails long starboard tacks alongside the newest US Navy nuclear carriers in for their periodic overhauls, like the USS NIMITZ, with the fleet playing the shift and compression puff along their 1,200 foot length and 20-story tall topsides.  Calling for "room to tack" is often a hot topic amongst the cagey'ole master skippers and tacticians!  In short, with 0.6nm windward legs, it's just "college-style racing" in 35 ft boats.

While Diaz was desperately figuring out what to do for Saturday's racing with breezes that were funneling down along the giant aircraft carrier, or down the center of the course, or gently touching down just over Harbor Island's Sheraton Hotel Complex next to San Diego Airport (yes, right on the waterfront), others were simply skating by both upwind and downwind.  One of those teams was Bob Fisher's Team FISH, posting an astonishing 3-5-2-11 (for an 80 yrs old guy)!  The 11th was due to Bob's knee giving out into the tiller while rounding overlapped for 1st place in the last race, resulting in a "love tap" with another competitor and having to do a 720 turn to absolve themselves.  Nevertheless, the result was that "The Fish" was in first place overall!? In the regatta?! Many an Olympic Medallist and World Champion were a bit humbled, or perhaps aghast!  To say that many would be amused became self-evident during the Saturday evening's "team roast" and introductions. More on that element of fun amongst some of the world's sailing icons in a moment.
Saturday afternoon brought in steady winds ranging from 9 to 12 kts and set the stage for a total of four highly competitive races. By the end of the day, it was Bob Fisher who led the regatta (4-4-2-3-5-2-11), followed by Gary Jobson (2-2-10-5-8-4-5) and Augie Diaz (3-3-1-6-3-10-10) who sat five points behind the leader Fisher. However, even with picture perfect San Diego racing conditions, the regatta's most memorable moments on Saturday happened off the water.  In an annual tradition, each of the 12 skippers shared the stories they have collected over decades of sailing by introducing their crews with speeches that are equal parts comedy roast and commendation.  It starts with who's in last and ends with who's in
first place that Saturday evening— e.g. from Ehman to Fisher!!  Naturally, the antagonists, anarchists and protagonists had a field day!
Sports commentator Gary Jobson, whose Olympic coverage won a 1998 Emmy Award, and professional spokesperson for the America's Cup Tom Ehman, were among the crowd favorites, proving even further this group of skippers truly knows everything about sailing, both on and off the water.  The "Fish", of course, had the last laugh, a journalist of extraordinary repute having fun with quite literally all of his "comrades-in-arms" over a half-century in the sailing world.  After all, while reporting about all his comrades exploits in the world of sailing, why, indeed, would he be at the top of the heap of some of the world's best sailors!?

The final day of the regatta brought shifting winds, but the SDYC PRO worked hard to spot the steadiest locations, moving the course and weather marks accordingly.  In short, the last day was a bit of a "crap shoot".  The wind fluctuated from 195 to 240 on average with some shifts to 290 degrees.  Wind speeds ranged from 0 kts to 6 kts.  The first two races were started late after a number of general recalls.  Managing the shifty winds best was Diaz, posting a 3-1-5-3 to win the regatta by 8 pts.  Fittingly, Don Trask sailed beautifully on the last day to grab 2nd overall.  Jon Wright took 3rd and Jobson took 4th.
Overall, competitors had a great time sailing out on the beautiful San Diego Bay. For many of them, this regatta is not just a competition to see who can still sail the fastest, but also a way to see familiar faces. Several of the skippers were also college rivals, turning the Masters regatta into a rematch of sorts. Bill Campbell, crewing for childhood friend Gary Jobson said, "I had a great time. The competition was excellent and all the competitors want to do well. But they also want to spend time with people they
have known for many years, and catch up with their lives and families. It's a regatta with a bunch of guys and women who are simply happy to be able to continue competing in the sport we have known and loved for most of our lives."
Diaz wasn't the only one to walk away with a trophy on Sunday, as Malin Burnham, the force that makes the regatta possible, introduced a new tradition into the competition. The last place finisher Tom Ehman was awarded with the "Silver Shovel Trophy" (Tom Ehman seen here presented with the trophy by Regatta Chairman- Jeff Brown of JK3 Yachts), which as Burnham describes is to help "shovel yourself out of last place for next year." Though it's a new tradition, the shovel already represents what this regatta is about: a fun (and sometimes funny) way to honor the legends of the sport.   Sailing photo credits- Cynthia Sinclair   For more J/105 Masters sailing information
---
J/70 Monaco Winter Series I
(Monte Carlo, Monaco)- This past weekend was a very summery atmosphere on the waters off Monaco.  A hundred boats made a stop in the YC Monaco Marina, divided between the races in the Bay of the Monaco Sportsboat Winter Series and the arrival of boats sailing the Grimaldi Trophy- a coastal race between San Remo, Italy and Monaco.
25°C outside, 23°in water, 15 knots of wind, and moderate sea conditions were worthy of an "Indian summer" experience for the thirty crews sailing one-designs from across Europe.  The teams came from Italy as well as Eastern European countries to start Act# 1 of the Monaco Sportsboat 2014-2015 Winter Series.

Initiated last year under the leadership of Valentin Zavadnikov, this winter gathering of fun-loving sailors, scheduled on a monthly basis with 5 events to March 2015, now includes the rapidly growing J/70 class. This promising series has attracted to YC Monaco one of the largest J/70 fleets in Europe, with fifteen teams attending.
Training "clinics", combining theory and practice, are available for competitors who wish to prepare for the upcoming season at the highest level. It is in this spirit that Ekaterina Skudina, double European champion and World champion, shared her experience with sailors in the J/70 class, which have benefited from the new building infrastructure. "The YCM provides fitness centers, classrooms, and a perfect location to learn how to sail competitively offshore and one-design. It's an ideal platform for
preparation in sailing. Personally, if I had to retry a new Olympic campaign, YC Monaco provides everything you need to train," observes Ekaterina, Russian representative at the last three Olympics in sailing.
Having swapped his past European Champion J/24 for a J/70, it was clear the transition worked out brilliantly for one YC Monaco member.  Ian Ilsley's ST ANDREWS crew, with tactician François Brenac, quickly took advantage of the techniques required to sail an asymmetric spinnaker boat fast!  With a 1-1-4 in the first three races, they are just one point in the lead. In a close second with a very consistent 2-2-3 are Dennis Fredriksen's and Stefano Roberti sailing ARIA with a 2-2-3 for 7 pts.  The President of the Monegasque class, Jacopo Carrain (CARPE DIEM) completed the podium. Under his leadership, the Y.C.M. host the J/70 European Championship from 12 to 17 October 2015 with nearly 60 teams expected.   For more J/70 YC Monaco Winter Series sailing information
---
Hutch Crushes J/70 Fall Brawl Regatta
(Annapolis, MD)- Congratulations to Terry Hutchinson and his team on their win in the 2014 J/70 Fall Brawl. They overcame challenging conditions and excellent competition to be crowned "King Brawler"! The fleet included locals from Maryland and Virginia as well as many visitors from New York, New Jersey, Connecticut, Pennsylvania, Ohio, Georgia, and Minnesota.
Eastport Yacht Club and J/70 Fleet 1 (Annapolis), with the support of North Sails and Quantum Sails, hosted the third annual Fall Brawl on the waters of the Chesapeake Bay this past Saturday and Sunday.  The Brawl was the first regatta ever hosted for J/70s shortly after the launch of the class and it has become increasingly popular not only with the local fleet but also with a growing number of boats from the north and west who stop in Annapolis on their way south for the winter.  This year, 32 boats raced, including 13 from out of the area.  Eastport Yacht Club hosted social gatherings on Friday and Saturday in its trademark informal style and Annapolis and her waters welcomed the racers with picture-perfect fall conditions the entire weekend.

Saturday brought sunny skies and winds of 6 to 12 knots from the west (always an interesting direction in Annapolis), and PRO David Malkin was able to send the fleet off on four races, resetting marks many times but resorting to the Z flag only once.  Terry Hutchinson and his team, including Quantum professional Scott Nixon and locals Wilson Stout and Collin Kirby, won the day, recovering from an 8 in the first race to post bullets for the rest of the day.  Joel Ronning's CATAPULT team from Minnesota were in second with a 3-4-5-4.  The rest of the fleet had fantastically crazy finishes, living the game of "chutes & ladders" all day long.
Sunday dawned slightly colder, still with westerlies but blowing high-teens and gusting into the high-twenties.  Joel Ronning's well-traveled CATAPULT team, including current Etchells World Champion Bill Hardesty, J/24 World Champion crew Luke Lawrence and long-time crew Victor Diaz de Leon, ran the table with straight bullets in challenging and shifty conditions.  Annapolis locals Ray and Jenn Wulff, sailing their boat Joint Custody with Jake Doyle and Quantum professional Marty Kullman, also sailed a great regatta and rounded out the podium in third place.
What were some competitor perspectives? Here were the latest Facebook posts regarding this year's J/70 Fall Brawl:
Ray Wulff- "Big thanks to Jake Doyle, Jennifer Wulff, and Martin Kullman and the whole Quantum Team (Terry Hutchinson, Allan Terhune Jr, Scott Nixon, and Kenny Chesney) for an awesome Fall Brawl regatta. To make the podium in this fleet was awesome. Go Joint Custody!"
Chris Groobey-  "it was a spectacular fall weekend in Annapolis for the final regatta of the year, including a honking day today (Sunday). We were reminded of how lucky we are to live here and how fortunate we are to have our extended sailing family. Thanks to Mike Sipala and Josh Putnam for an amazing year of sailing here and in Tampa, Charleston and Newport; we are looking forward to many future adventures with you. And thanks as well to Kristen Loerch Sipala, Lara Dallman-Weiss and Brother Mallard for the post-race beer deliveries, high-speed tows and other great times on and off the water. Once you've had a land-man, you can never go back!"  Sailing photo credits- Dan Phelps/ Spinsheet.com   For more J/70 Fall Brawl sailing information
---
Hamble Winter Series IV Report
(Hamble, England)- We might already be at the end of October, but competitors were treated to some cracking sailing in unseasonably warm weather as the Garmin Hamble Winter Series reached its halfway point and the clocks went back this weekend.
After a bruising race last week this weekend's forecast provided some relief, predicting a gusty 10-18 knots of breeze from just south of Southwest. That's exactly what crews found out in the busy central Solent, where gusts and shifts, as well as the presence of nearly 100 boats and a stonking tide meant that big gains were there for the taking by those who kept their eyes peeled and out of their boats.
From a start line near Royal Southern buoy, the race team set a series of windward-leeward and triangle courses. Two races were sailed by all classes.

Garmin Hamble Winter Series
IRC 0 saw a tussle between Martin Dent's J/111 J-ELVIS and Quokka 8, who scored a 1st and 2nd each. Louise Makin's J/111 JOURNEYMAKER II sailed a consistent day to take two 3rds. J-ELVIS is winning the class by four points after four weekends of racing.  They're followed by Louise Makin's JOURNEYMAKER II in 3rd with Chris Body's J/111 ICARUS in 4th.
Within IRC 2, the J/88s are having great one-design racing.  At this stage, Paul Ward's J/88 EAT SLEEP J REPEAT is leading the class, followed by Stew Hawthorn's JI-FI in 2nd and Ivan Trotman's JOJO in 3rd.
IRC 3 saw some good results for the J/97s in the class, as Charles Ivill's ETB TYRES- JUST LIKE THAT took two firsts, with fellow J/97 BLACKJACK II taking two seconds.  Both boats make up the top of the podium as the series enters its second half in a fortnight.
Adrian Wheal's JOLLY JACK TAR won the J/109s' first race, with Owain Franks' JYNNAN TONNYX taking the second race by just over a minute. As a result, JOLLY JACK TAR continues to lead the series with Roger Phillips' DESIGNSTAR 2 in 2nd, JYNNAN TONNYX in 3rd, Chris Burleigh's JYBE TALKIN in 4th and Chris Copeland's JUKE BOX in 5th.

MDL Hamble Big Boat Series
This weekend also hosted the final MDL Hamble Big Boats Championships weekend. Featuring racing for J/111s, both days delivered some close racing for the assembled fleet that attracted some of the most impressive new boats and top crews to the Solent.
In IRC 0 Class, Cornel Riklin's J/111 JITTERBUG was second, and also won the J/111 class. Taking 2nd in the J/111 class was Martin Dent's J/111 JELVIS, 3rd is David & Kirsty Apthorp's J-DREAM, 4th is Chris Body's ICARUS and 5th is Louise Makin's JOURNEYMAKER II.
Skippers and crews applauded their thanks to the race team and an army of over 70 volunteers who make the racing happen at a packed prize giving in the HRSC clubhouse. See you in a fortnight!  Thanks for the report by Ben Meakins
Sailing photo credits- Hamo Thornycroft – yacht-photos.co.uk (Garmin Hamble Winter Series) and Trevor Pountain (MDL Big Boat Champs).   For more Garmin Hamble Winter Series sailing information
---
J/22 TRINITY Dominates Great Pumpkin Race
(Richmond, CA)- A gorgeous, warm October day with a moderate northerly breeze marked the start of the Great Pumpkin Pursuit Race on Sunday for 205 boats!  With the breeze out of the north at 8-15 knots, it meant the entire fleet was in for a downhill start either to Raccoon Straits first (counter-clockwise) or to Alcatraz Island (clockwise). Most boats opted for the sleigh ride to Alcatraz, but that's where things got sticky.
The flood was still in play and the wind-cone effect on the backside of Alcatraz made for a sizable pileup on both sides of Alcatraz.  Like other famous pursuit races on San Francisco Bay (such as The Three Bridge Fiasco), you have a choice of which way you go around the course.  In the Pumpkin race, boats attempting to get around near The Rock in the clockwise direction found things slow and agonizing. A few who chose Raccoon Straits first and negotiated the light air and adverse currents prospered once out of the lee of Angel Island.  Then, their fortunes got much richer riding the remnant of the flood and breeze deep in the Berkeley Flats.
Consequently, the counter-clockwise boats faired best while the clockwise boats were languishing in Raccoon Strait waiting for the wind- it was a spectacular sight as the cove filled with kites, lit by the soft orange glow of the sun in the late October afternoon!
In the end, it was the mighty J/22 TRINITY sailed by Greg Greenlee that took fleet honors overall, making hay with their decision to sail counter-clockwise and win the race by a country mile!  Next J/Team to finish was John Wimer's J/120 DESDEMONA, taking 17th overall.  Following them was Charles James' J/105 ROXANNE in 26th and then another J/22, Kyle Vaderspek's boat in 30th.  Great times were had by all!  Sailing photo credits- Erik Simonson/ h2oshots.com.  For more Great Pumpkin Pursuit Race sailing information
---
Seattle Grand Prix Report
(Seattle, WA)- This year's Seattle YC Grand Prix was a study in contrasts. Too little wind, too much wind for many, just right wind on Friday, and everything in between.  Whoever stands at the top of the score board after this regatta really earned it.
Sailing in Class 2 was Ron Holbrook's J/133 CONSTELLATION, taking 5th in class. In Class 4, Jerry Woodfield's J/109 SHADA took a 3rd in class. Class 5 saw Jerry Diercks J/105 DELIRUM take 2nd class followed by Jim Geros' J/105 LAST TANGO in 5th, Bob Mayfied/ Christie Nelson's J/29 SLICK in 6th and Steve Summers' J/105 LIFE IS GOOD in 7th.  For Class 6, the J/80 CRAZY IVAN sailed by Bryan Rhodes took second in class.    For more Seattle Grand Prix Regatta sailing information
---
J/Community
What friends, alumni and crew of J/Boats are doing worldwide
———–

* A quick report from Japan from Kebby Tokoro indicates that things are hopping in the Japanese offshore and one-design circuits.  There is great interest in the J/70 as well as the newly introduced J/88.  Kebby reports that, "we have been doing a lot of promotion for the J/88 and J/70 in Japan.  Please see the fantastic review of the J/88 for KAZI magazine.  Plus, we have been racing in several big fleet offshore races.
One of these events is the famous Tamori Cup, it is the biggest yacht race on the east side of Japan.  We got 5th Overall and 3rd in Class!  Many sailors were shocked to see how fast the boat goes, especially in lighter winds.  We hoped they would do more races, but the last day was canceled due to a huge typhoon!
The J/88 is so fantastic, we love sailing it and I have been working with at least three new owners for the boat.  There is strong interest for one-design sailing the J/88, too!  More later!  Best regards, Kebby"
---
J/Cruisers
J Cruisers continue their adventures around the world, below are a selection of most excellent "blogs" written by their prolific publishers.  Some terribly amusing anecdotes and pearls of wisdom are contained in their blogs. Read some! You'll love it.
*
J/160 SALACIA has been sailing in Australia in the Whitsunday Islands.  Guess who decided to throw themselves across their bow as they cruised comfortably to their next destination?  A giant whale!  Look at this amazing photo!

* Jim & Heather Wilson just completed a circumnavigation of our "blue planet Earth" in June 2013 on their J/42 CEOL MOR.  Said Jim, "The odyssey of CEOL MOR is over, for now.  We completed our circumnavigation on our J/42 when we crossed our outbound track in Britannia Bay, Mustique. We were, however, still 2,000 nautical miles from home. So we continued on through the Windwards, the Leewards, and then through the British Virgin Islands. After a farewell 'Painkiller' at the Soggy Dollar, and a last meal at Foxy's, we made the 1,275 nautical mile passage to the Chesapeake and completed our port-to-port circumnavigation when we arrived in Annapolis on June 28, 2013. We had been away 1,334 days, completed 259 days of ocean passages, and sailed 30,349 nautical miles (34,925 statute miles). Read more about their adventures in their  well-documented blog here:  http://www.svceolmor.com/SVCeolMor/Welcome.html

* J/160 AVATAR headed for the Caribbean, again!  We LOVE these updates from our cruising J sailors that continue to criss-cross the Seven Seas. This one comes from Alan Fougere, sailing his beloved J/160 AVATAR.   Alan sent us an email update commenting on their passage south this winter, "In mid-December AVATAR completed her sixth transit to her winter Caribbean home, Grand Cruz Bay, St. John, USVI (seen above)  from her home port in Quissett (Falmouth), MA.  A crew of three, Captain Alan (e.g. me), Crew Pablo Brissett and Mark Conroy, covered the 1,500 nm trip in in her best time to date- 7 Days 5 Hours, averaging 8.7 kts, that's about 208 nm per day!  Amazing passage it was!  Rainbow at right far offshore was some of the amazing phenomenon we experienced on this fast offshore passage.
AVATAR will participate in the BVI Sailing Festival/Regatta again in 2013, where last year she won the Nanny Key Cup Cruising Class race around the Island of Virgin Gorda.  Here are some photos for you to share with the J/Community at-large.  Enjoy!"
Best, Alan Fougere/ AVATAR

* Bill & Judy Stellin recently had an interview about cruising on their J/42 in the Wall St Journal called "Retiring on the Open Sea".  The Wall St Journal asked Bill to reply to dozens of questions that flooded into the WSJ's Editor desks. Here's the update:
Retiring on the Sea: Answering Readers' Questions
Advice about selecting a boat, ocean crossings, itineraries and safety

The article in our WSJ Online December retirement report about eight years spent sailing the Mediterranean— "Retiring to the Open Sea"— prompted many questions and comments from readers.  We asked William Stellin, who wrote the story, to answer some of the most common queries.
WSJ- "What kind and make of boat did you use? Looking back, would you have picked a different boat?"
Bill- "In 1995-96, J/Boats of Newport, RI, came out with a new cruiser/racer model, the J/42. We bought hull No. 6 of this popular 42-foot sailboat and named it JAYWALKER. This was our fourth boat since beginning sailing in 1975.
Although long-distance cruising wasn't what we had in mind when we purchased JAYWALKER, it soon became apparent it had the ability to carry us easily and safely anywhere we wanted to go. Because the boat is light, it sails well in light winds, which means very little motoring is necessary.
People often ask (and argue) about what boat is best for cruising. Any boat that is strong, safe, fast, comfortable and easily handled by two people should fit the bill. One thing for sure, fast is fun—and important when trying to avoid bad weather."
READ MORE ABOUT BILL'S INSIGHTFUL COMMENTARY AND THOUGHTS ON WSJ ONLINE HERE
* The J/42 JARANA continues their epic voyage around the Pacific. Continue to read about Bill and Kathy Cuffel's big adventure cruising the South Pacific headed for New Zealand.  Their blog is here:http://www.svjarana.blogspot.com/
* John and Mary Driver are sailing their J/130 SHAZAM for extended cruising in the Atlantic basin. At this time, John and Mary finished their double-handed crossing of the Atlantic, landing in Portugal on their J/130 Shazam after completion of their ARC Rally. Read the latest news athttp://www.sailblogs.com/member/shazam/.

* Several J/160 owners are island hopping across the world's oceans, fulfilling life long dreams to cruise the Pacific islands, the Caribbean islands, the Indian Ocean and all points in between.  Anyone for Cape Horn and penguins??  Read more about their adventures and escapades (like our J/109 GAIA, J/42s PAX and JAYWALKER and J/130 SHAZAM friends above).
–  Bill and Susan Grun on the J/160 AVANTE are also sailing in the Pacific archipelago, read more about their great adventures on their blog (http://web.me.com/susangrun).  Read about their latest adventures as they've gotten to New Zealand- "Avante Cruises the Pacific".
– Eric and Jenn on the J/160 MANDALAY also sailed the Pacific archipelago, read more on their blog athttp://www.sailmandalay.com.  Eric and Jenn are J/World alumni took MANDALAY up and down the West Coast (Mexico, CA), then to the South Pacific and New Zealand.  MANDALAY is back in San Francisco now, and in the J/World fleet–she is available for skippered charters, private instruction, and corporate/executive groups.