---
J/88 Winter Circuit Update
(Coconut Grove, FL)- The J/88 Winter Circuit has an update for J/88 sailors, crew and owners!  The circuit starts at Quantum Key West Race Week in Key West on January 17-22 for the first J/88 Midwinters and ends with Charleston Race Week in April. There are now confirmed dates and location for the Miami/ Biscayne Bay portion of the J/88 Winter Circuit.
Coconut Grove Sailing Club is hosting two events for the J/88s, one from Feb 19-21 and the second one is March 11-13 (links have registration information). If you are intereseted, please be sure to contact the Coconut Grove SC Fleet Captain- Susan Walcutt.  For moorings, contact Dock Master- Duane Smallwood– ph- 305-444-4571 ext 16.  If you have any questions, please contact Mike Bruno, owner of the J/88 WINGS- cell# (914) 649-6360 or email tomsb@stonebridgepartners.com.   For more J/88 one-design sailing information
---
J/22 Class Announces Sailing Industry Partnership for Youth Scholarship Boat
(Newport, RI)- The J/22 Class Association is excited to introduce its Youth Scholarship Boat Program!  The program, which is modeled after the Lightning Class Boat Grant Program, will award a fully outfitted J/22 (complete with trailer) to a promising youth team for the entire sailing season.
The award recipients will be expected to race the J/22 Scholarship Boat in several high profile, world-class J/22 regattas (including the 2016 J/22 Worlds in Kingston, Ontario); and participate in various Scholarship Program promotional events.
The Program is intended to encourage talented youth sailors (skippers aged 19-29) to experience the J/22 and the Class's tremendous community of one-design sailors- at virtually no cost. It is our hope that recipients' experience in the Program will escalate their level of competitiveness and inspire them to accomplish great things in the sailing world.
Join our team and help promote youth sailing!  We are actively seeking sponsorship partners for the 2016 grant.  Our partners can expect multiple advertising and PR opportunities.  Contact Mark "Stu" Stuhlmiller at Stuhlmiller@yahoo.com or (716) 725-4664 for sponsorship level details.  More information on our Program is available on our website
---
Youth Trophy Announced for Quantum Key West Race Week
(Newport, RI) – As a gold-level sponsor of Quantum Key West Race Week 2016, hosted by the Storm Trysail Club, Sailing World Magazine's editorial team announced today the creation of a new trophy to recognize the most outstanding performance of the regatta's youngest team.
"For the sport to be sustainable we need younger sailors engaged at all levels, not just in junior sailing but also at top-tier events such as Key West Race Week," Sailing World Editor Dave Reed said. "The intent with this trophy is simple: to recognize owners and teams that provide opportunities for young amateur sailors to keep racing during a period of their lives where they potentially drop out of the sport."
The Sailing World Trophy will be awarded to the best-performing team in any class whose average age of all crew members is less than 30 years old. Selection will be made by the Organizing Authority in consultation with Sailing World based on the average scores for the week, average age of the crew, and the relative difficulty of the competition in the class.
John Fisher, Chairman of Quantum Key West Race Week said on behalf of the Storm Trysail Club, "we applaud the decision by Sailing World to encourage participation of up-and-coming sailors at the grand prix level.  We are thrilled to introduce this new competition and thank Sailing World Magazine for sponsoring a special trophy that recognizes the best young team at Quantum Key West Race Week.  Storm Trysail Club has always believed it's important to give young sailors an opportunity to race at the highest level. The ultimate goal is to grow sailing overall and sailboat racing with friends and family is one of the best ways to do that- it helps to foster a lifelong interest in the sport for young people."
NOTE- to youth sailors.  You can sail Key West in a J/22, J/24, J/70 or J/80!  Many to be found in your backyards!  For more Quantum Key West Race Week sailing information
---
UK Sailing League Launches at Queen Mary Sailing Club
(Heathrow, United Kingdom)- RYA British Keelboat Sailing is launching the first ever club keelboat fleet racing league in the United Kingdom at Queen Mary Sailing Club. Ten teams will take part in the UK Sailing League Trial Event that will be run in partnership by the Royal Thames Yacht Club (RTYC) and the Royal Yachting Association (RYA).
The UK Sailing League Trial Event is a new club-oriented one-design sailing model that has been successfully run in Germany as the "Deutsche Segel-bundesliga" over a number of years and is running in thirteen European countries. The RTYC has bought into the concept and has partnered with the RYA to help launch the new enterprise. Sailing clubs have been invited from around the UK to compete at the trial event before the idea is rolled out nationally.
The event format is a round-robin schedule with teams racing each other a number of times before the team with the lowest number of points is crowned the winner. Six boats will compete in each 15-minute race with teams rotating boats throughout the weekend.  The RYA will assist in the running of the events of the UK Sailing League with the end goal being a greater participation in club keelboat racing around the country.
Nigel King, RYA Keelboat Manager said: "This new format of racing is really exciting for us and one we think will take off. The idea is to increase the numbers of sailors taking part in keelboat racing and help clubs build up a strong base of keelboat sailors. The RYA plans to work with all clubs that are keen to host events, helping them find and train race officials within their region as well as access to boats."
As the host club, Queen Mary Sailing Club, is really looking forward to the event, explained Commodore Sophie Jezierski: "We are delighted that the RYA and RTYC have chosen to hold the first UK Sailing League Trial Event at Queen Mary SC, the home of RTYC's fleet of matched one-design J/80s. As a trial event, QMSC is glad to help develop this series and support keelboat racing in the UK, so taking part is very important to us.  Of course the team will, like everyone, be sailing for victory, but we are also looking forward to enjoying some competitive racing and a friendly and sociable weekend both on the water and ashore."
Other participating clubs chimed in.  "Royal Corinthian YC (RCYC) can already see how the concept would work," said Justin Waples. "Certainly, we feel the RCYC at Burnham is well-suited to hosting an event both on and off the water."
Ramsay Leuchars said, "Port Edgar YC in Scotland is hoping to make an impact on the water as well as learning about the new concept. We are most looking forward to seeing how this event could work elsewhere and the chance to compete against other sailors that we wouldn't normally be able to due to logistics and types of boat normally sailed.  On the water we have a chance to do well, as we do have a strong crew who have competed at national, international and Olympic level in various classes of yacht, keelboat and dinghies."
The Queen Mary SC team is made up of some of their top Club and Open sailors: skipper James Baxter, Dave Freeman, Steven Fowles, James George from the Laser and RS400 fleets, and QMSC youth sailors Joseph Dormer and Federico Sirolla who are sharing the 5th crew slot, sailing one day each.
"How will we do?  Our Laser sailors triumphed in the 2014 and 2015 QMSC "Battle of the Fleets" sailing our J/80s- so they know their way around the bigger boats," commented Commodore Jezierski. "However, the team has not sailed together as a whole, so it will be a bit of a learning curve and a good test of our communication and teamwork skills.  We are particularly pleased that our youth sailors are involved, too: QMSC has a thriving and vibrant youth group with committed volunteers and enthusiastic young sailors who have performed at the highest level over recent years.  This chance to crew in a larger team with some of our top sailors, competing against high quality opposition, is a great opportunity for our youth sailors and something we hope will be repeated, to encourage and enable greater youth participation in keelboat sailing at QMSC and other UK clubs!"   Sailing Photo Credit- SCL/YYCS/Francesco Nonnoi    For more UK Sailing League information
---
J/Sailing News
The Sun Never Sets on J's Sailing Worldwide
It was a wild and rambunctious week of sailing in many places, particularly in Europe.  The French just completed their J/80 Nationals in Saint Cast, France and also crowned the winner of their season-long series- the J/80 Coupe de France.  The winds were quite blustery and breezy, although they were blessed with a bit of vitamin D most of the time!  Not so lucky across La Manche was the one-design and offshore handicap racers sailing in the second half of the Garmin Hamble Winter Series.  There, J/109s sailing OD and J/111s, J/122, J/97s, J/92s were having a tough go in fresh to frigid sailing conditions on the Solent.  Up north in the Scandinavian region of Helsinki, Finland, the first champion was crowned in their 2015 Sailing League with teams sailing matched J/80s.  Then, just south in Hamburg, Germany, the Norddeutscher Regataverein hosted the finale of the Deutsche Segel-bundesliga in J/70s on the fabulous Alster Lake.
Heading over the big pond to the west, we find some hardy Americans sailing in the far northwest corner of the continental USA.  Seattle's infamous Round County Race of 70nm was sailed over two days with two long random leg courses, with teams overnighting to lick their wounds and salve their souls with hot buttered rum at the fabulous Roche Harbor Resort.  Suffering from more sybaritic pursuits were southern Californian sailors.  They were partaking in San Diego YC's Hot Rum Series- Part 1 of their three part series that takes place until the first of December.  Masses of boats take part in the fun-loving pursuit-style race around the buoys offshore- first one home wins!  Down in Mexico, the J/24 summer series Part II is taking place on Valle de Bravo and other locations west of Mexico City.
Heading further west across the Pacific's plastic puddle, we find an enormous fleet of J/80s sailing in the International China Cup Regatta, the largest sailing festival in all of eastern Asia, hosted in both Hong Kong and Daya Bay, Shenzen, China. Over 1,000 sailors were sailing in an event hosted at a 5-star resort, needless to say the sailing was fun but the social events were off the Richter scale!
Read on! The J/Community and Cruising section below has many entertaining stories and news about J/Sailors as well as cruising blogs about those who continue to enjoy the Caribbean and the South Pacific, staying warm while others are trying to stay warm up north.  Check them out!  More importantly, if you have more J/Regatta News, please email it or upload onto our J/Boats Facebook page!  Below are the summaries.
---
Regatta & Show Schedules:
Oct 24-Dec 8- Garmin Hamble Winter Series- Hamble, England
Nov 26-30- J/24 South American Championship- Porto Alegre, Brazil
Nov 28- Dec 6- Peru J/24 National Championship- La Punta, Peru
Dec 4-6- J/22 Jamaica Jammin Regatta- Montego Bay, Jamaica
Dec 12-13- Quantum J/70 Winter Series I- Tampa, FL
Jan 9-10- Quantum J/70 Winter Series II- Tampa, FL
Jan 13- Lauderdale- Key West Race- Fort Lauderdale, FL
Jan 18-22- Quantum Key West Race Week- Key West, FL
Feb 6-7- Quantum J/70 Winter Series III- Tampa, FL
Feb 25-28- J/70 Midwinter Championship- St. Petersburg, FL
Mar 10-13- J/70 Miami Sailing Week- Coconut Grove, FL
Apr 16-19- Charleston Race Week– Charleston, SC
For additional J/Regatta and Event dates in your region, please refer to the on-line J/Sailing Calendar.
---
Pellissier Crowned French J/80 Champion!
(Saint Cast, France)- This year's French J/80 National Championship was hosted by CN Saint Cast for fifty-one teams from all over France, including one team from the United Kingdom.  The CNST's PRO was blessed by beautiful fall sailing conditions on the Bay with winds ranging from 10-20 kts all three days!
While initially getting off to a slow start, the eventual winner- Sylvain Pellissier skippering VOILERIE ALL PURPOSE (with crew of Matthieu Fountaine, Victor Barriquand and Loig Leon)- produced a flourish of top five scores in the eleven race series to secure the overall win.  Conversely, starting fast but wavering mid-regatta was Eric Brezellec's crew on COURRIER JUNIOR (with Julie Richeux, Nicolas Richard, Gery Trentesaux, Herve Corlay), ultimately finishing four pts back with 63 pts to take the silver.  Sitting third was Baptiste Choquenot's JUMPER with 78 pts.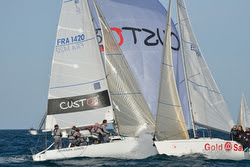 After the first day of racing, the PRO managed to run three races with winds blowing 10-20 kts from the south with a very flat sea.  As a result, good starts, hitting the first shift and maintaining a lane were keys to sailing fast the first day.  At the conclusion of racing, Brezellec's COURRIER JUNIOR was leading with just 7 pts due to a blistering pace of a 4-2-1 record.  Second was Pellisier's VOILERIE ALL PURPOSE as a result of a 3-7-6 for 16 pts and in third was Luc Nadal's GAN'JA with a 6-9-4 record for 19 pts.  Sitting on 4th at the time was VADK TWO skippered by Alexis Henry (15-3-3) and in fifth was SAILING FRANCE skippered by Simon Moriceau.  What no one could anticipate was the game of "snakes & ladders" they were all going to play on the second day of racing!  In fact, just about the entire top ten changed!

Monday's racing had more ideal sailing conditions with spring temperatures, sunny skies, flat seas and 12-22 kts of breeze again from the southwest.  The end of day tabulations showed that Pellisier's VOILERIE ALL PURPOSE held a 4 pts lead due to a 14-2-1-6 record for the day.   Their performance enabled them to slip ahead of Brezellec's COURRIER JUNIOR that compiled a 16-6-3-1 scoreline to end up with 25 pts total.  Leaping into third overall for the regatta with an absolutely brilliant day of sailing was Great Britain's Kevin Sproul skippering ULTIMATE SAILS; their 6-1-6-23 left them with just 36 pts total.  At this time, Hugo Abeguile's APCC EQUIPE JEUNE also had a terrific day with a 22-4-2-4 to jump into 4th overall with 40 pts while Nadal's GAN'JA dropped to 5th overall due to a 19-11-18-5.
For the third and final day of competition on Tuesday, the fleet was again blessed with yet another "post card perfect" day- southwest winds at 5-15 kts and shifting quite strongly with a long period swell rolling in from the northwest.  Again, skippers and tacticians were sailing all over the place and yoyo-ing up and down the standings.  The ultimate winner, VOILERIE ALL PURPOSE threw down a crazy daily score sheet of 1-31-17-2 to win it all!  Also experiencing similar "nosebleed" results was Brezellec's COURRIER JUNIOR team, compiling a breathtaking BFD-10-7-13 to hang on to the silver!  Baptiste Choquent's JUMPER nearly
pulled off an upset by scoring a 2-1-2-7 to close the regatta, by far the most consistent string of races by any team in the top five!  Nevertheless, they were happy to take the bronze on the podium.  Fourth was Nadal's GAN'JA and in fifth was Moriceau's SAILING FRANCE.
Taking the Women's National title (and Coupe de France J/80 Women's title) was Capucine Vitel's VITEL SAILING TEAM (pictured here) sitting 11th overall in the "open" fleet and 1st amongst the women skippers.  Her team of Jonathan Touyer, Mathieu Layus, Valentin Dantec and Damian Michelier sailed well, averaging 9th in most races, save for two trash races of 25-42.  Second amongst the women was Claire Montecot's STARTIJENN, her team finished 20th overall in the "open" class.  Third women skipper was Laura Simon sailing NANNI-DIESEL REGION PAYS DE LOIRE.
Finally, for the Coupe de France J/80 Championship series, it was Brezellec's team on COURRIER JUNIOR that took the overall title by virtue of finishing 2nd in the French Nationals in Saint Cast.  Formore Coupe de France J/80 Nationals sailing information
---
Deutscher Touring YC Wins Deutsche Segel-Bundesliga
(Hamburg, Germany)- It was a thrilling finale for the seventh act of the German Sailing League in Hamburg as the outcome also determined the overall DSBL Champion!  The favored team from the Bavarian town of Tutzing- the Deutscher Touring YC- became the 2015 German Champion by virtue of sailing consistently and staying out of trouble! The Berlin Yacht Club and the Norddeutscher Regatta Verein finished 2nd and 3rd, respectively, and qualify with DTYC for the SAILING Champions League 2016.
The finale of the German Premiere Sailing League in Hamburg shows the persistent, impressive performance of the sailing teams during the season: the "Deutscher Touring Yacht Club" (DTYC) kept everything under control on the last day of racing and defended its top position from the beginning until the end of the event.  As a result, they had every reason to be celebrating like mad men (and women) on the podium, enjoying the traditional "champagne shower" for champions!

"We achieved much more than our original goal for this season, which was the top five. The success was due to our persistent performance. This is how you get the title. Finally we made it", said skipper Julian Stückl.  Julian and their DTYC crew of Patrick Follmann, Phil Blinn and Luis Tarabochia were awarded with the much sought-after silver trophy by Robbe & Berking.
After the prize giving at the hosting club, the Norddeutscher Regatta Verein, the new German Champion- Deutscher Touring YC- was also awarded the "Yacht Club of the Year" at the 2015 Sailor Awards for the German Sailing Federation!  An amazing "double" to achieve at the pinnacle of sailing in Germany.

There are interesting insights and trends as to how DTYC won the overall championship and what makes the German Sailing League such a popular event (any sailing league, for that matter).  For starters, there were 36 teams participating in 2015, 52 clubs of various typessailed the qualifying events (beach clubs, sailing clubs, yacht clubs, community sailing programs, paper yacht clubs, etc).  In total, 384 sailors participated for the year, 215 in the 1st league and 170 in the 2nd league).  The teams sailed in 7 events (Tutzing, Kiel, Warnemunde, Travemunde, Berlin, Uberlingen, & Hamburg) and the host clubs/ PRO's managed to run 83 races (about 15 minutes each) across a broad range of conditions- drifting to 25 kts of breeze, shifty & streaky to steady and easy.  The format is proving very attractive to the "millennial" generation (those in their late teens to early thirties).  The average age of the champions (Deutscher Touring YC) was 23.6 years old and they were one of the youngest teams! But, in general, the average age is a touch higher, late twenties/early thirties.  Plus, women also LOVE the format; it's easy, approachable, friendly and social (you're only on the water for 30 to 45 minutes).  31 women sailed in the events, so women constituted 8% of the participants.  There was three times that amount of women on-shore providing support and volunteering.
How did DTYC win? Pretty simple, the same strategy used in college sailing in America!  The DTYC winners averaged 4th place in each regatta, out of 18 teams!  And, in 83 races, they averaged 2.82 in a fleet of six boats, e.g. just better than an average of a 3rd per race won the entire series!  That's a remarkably "modest average" and shows the level of hot, friendly competition between the clubs.

Here is how the outcome of the final regatta determined the ultimate German Sailing League Champions.  DTYC finished the last event of the year in 3rd place with 33 pts for a 2.54 average, which was enough to clinch the win for the overall title. The Berliner YC won in Hamburg with a great performance- 28 pts in 13 races for a 2.15 average, not bad for a bunch of lake sailors!  They were followed by the Munich Yacht Club in 2nd place only two points back, the one 5th place in Race 11 hurting their chances for the regatta win.  The only club with a realistic mathematical chance of winning overall was Berliner YC; they did what they had to do, which was, win the last event.  However, DTYC would've had to finish 9th place or worse to throw away their series lead; which, understandably, they were most determined to avoid at all costs.  Nevertheless, that possibility was in the cards since they had posted regatta finishes of 7th in Travemunde and 8th in Uberlingen.

The hosts for the Hamburg event, Norddeutscher Regatta Verein, were determined to put on a good show and fun sailing event.  However, despite the beautiful weather, cool and sunny, there was no wind for the first day of sailing on Thursday.  By 1600 hours, the NRV's PRO had to cancel racing for the day, as it was a perfect "glass out".  For all who had been working all day in the shade, on park benches or inside the club, it was time to enjoy the gorgeous sunset and dive into delicious beer and beer-soaked sausages cooked on the "barbie".  The party on the club's waterfront was a memorable one for many sailors enjoying the camaraderie and celebration of the end of the sailing season.
The second day began the same way as the first day ended- no wind and lots of waiting time. But, the long faces of the sailors didn't last long.  Soon, it was time to saddle-up and get out on the water. A total of 18 races (6 per team) were sailed in rapid-fire succession.  At the end of the day, the leader was the Berliner YC. They are followed by Düsseldorf YC and Seglervereinigung Itzehoe.

The wind started light, but very streaky and slowly built on the grey on grey day on the normally beautiful Alster Lake.  The level of anxiety was high as each race was shifting the regatta and overall rankings quite dramatically- the benefit of having SAP Sports Sailing database displaying not just mark-by-mark results per race, it was also showing regatta and overall series positions changing in "real-time", too!  Ouch!  Many of the sailing coaches could be seen pacing anxiously or sitting in subdued moods based on their position at each mark!  Talk about tension!
"Precise timing at the start, tight, tight races, pure adrenaline! That's the league. As the pulse races higher before the starting gun, it continues to stay really high around every mark," said Johannes Polgar from Norddeutscher Regatta Club. "Our goal is to be the Champion of the SAILING Champions League, it's not so easy," he said with a wry smile.
In their bid to win the overall DSBL, Berliner YC had one helluva day.  They performed like clockwork, posting a 1-1-1-2-5-1 to lead their friends from Tutzing (DTYC) who had ended the day in 5th place with a record of 1-4-3-3-2-3.  That meant DTYC's lead had shrunk to 8 pts, giving Berliner YC a shot at the overall win after one day of sailing!
On the last day, blessed with reasonable sailing conditions, the NRV PRO and regatta team managed to run another 21 races (7 per team) to complete the 2015 DSBL season.  DTYC stayed out of trouble by posting a scoreline of 2-5-1-1-3-4-1 to close out the series with 33 pts to take a third in the regatta and clinch the overall title.  Conversely, their Berliner YC friends stumbled a bit, but not enough to lose the regatta with their 1-4-3-4-1-3-1 tally to win with 28 pts and secure the silver position overall.  Munich YC had a brilliant last day, posting by far the best record (1-4-1-1-5-1-1) to take 2nd in the regatta and 5th for the series.
The third season of the National German Sailing League would again not have been possible without the support of its partners. A big "Thank You" to AUDI, BAY, Vattenfall, Mittelmann's Werft, North Sails, Bavaria, VODAFONE (new for Hamburg), as well as SAP for the live results & broadcasting!   Enjoy this DSBL Hamburg Finale sailing video on YouTube   For more Deutsche Segel-Bundesliga sailing information
---
Nyländska Jaktklubben Is Finnish League Champion
(Helsinki, Finland)- The excitement for the sailing league format has spread across Scandinavia; the league fever has also afflicted the Finnish sailing clubs. Twelve clubs started in the first year to find the best sailing club in Finland and crown the champion.
It was incredibly close racing for the three event series overall.  The events were hosted in J/22s in Vaasa, in 606s in Turku and J/80s in Helsinki for the finale.  Like their German and SAILNG Champions League counterparts, the outcome of the series came down to the last regatta and last set of races!  How close was it??  Well, the outcome was based on a tie-breaker! Nyländska Jaktklubben from the Helsinki
region had to win the regatta to win the championship over the series leaders Åländska Segelsällskapet (Mariehamn) and Wasa Segelförening.  Before the regatta, Nyländska Jaktklubben was lying in third place for the series.  In the end, NJC won with a 3-2-1 record for 6 pts, beating out their friends from Mariehamn that had a 1-3-2 record on the "who-beat-who" tie-break in the last event for teams with identical records!
Finishing third overall after the eleven-race finale was Wasa Segelförening for a final series tally of 4-1-3 for 8 pts.  Rounding out the top five were Esbo Segelforening in 4th place with 13 pts and Helsingfors Segelklubb in 5th overall with 17 pts.   Suomen Purjehdusliiga – Seglingsliga Facebook page    Suomen Purjehdusliiga – Seglingsliga sailing information
---
J/Teams Lovin' China Cup IX International Regatta
(Daya Bay, Shenzen, China)- The 9th Edition of the China Cup International Regatta took place in Hong Kong and Shenzhen (Guangdong Province), China from October 30th to November 2nd, 2015, under the auspices of the Water Sports Administration Center of the General Administration of Sport of China and Shenzhen Municipal Administration of Culture, Sports and Tourism.
As the largest international big boat sailing event in China and three-time winner of "Best Asian Regatta of the Year", about 100 yachts sail this South China Sea each each year including a new fleet of a dozen J/80s competing intensively in a one-design class, crewed by leading Asian sailors. The four-day event had eight different classes of competition and eight races: the Hong Kong to Shenzhen passage race, inshore races and round the island races, with around 1,000 sailors from more than 30 different countries and regions enjoying the intoxicating experience.

The event is distinctly oriented towards social festivities and provides simply extraordinary entertainment and parties in the evenings.  You do NOT want to be imprisoned in a protest room into the late evening while all your friends are cutting loose and having a fantastic time in the five-star resort!  Relaxation and fun are the theme and the daily prize-giving awards ceremony simply puts most others to shame.
Mr. David Zhong, Deputy Secretary-General of China Cup International Regatta Organizing Committee said, "We want to make the races as competitive as possible by attracting the world's top sailors to participate in one of the world's most enjoyable sailing events. Furthermore, we hope to strengthen our ties with the international sailing community."  To say the least, they've got the formula right, and there's no question several J/Teams took home their fair share of silverware.  Here is Jim Johnstone's (J/Boats China) report:

"J sailors had a nice showing in this years China Cup IX. With the J/109 WHISKEY JACK driven by Nick Southward and long time crew in IRC and a new J/80 fleet racing One-Design.  Teams came from China, Hong Kong, USA, United Kingdom and Holland to participate on the different J/'s sailing.  Thirteen J/80's registered with boats coming from Xiamen and Hong Kong as either private or charter boats.  SAILING IN performance sailing school also participated with two boats full of students- novice sailors lead by Martin Hingst and me.
As we all know, when you take out beginner racers it is much easier to sail when the breeze is light.  The China Cup this year was not particularly light, but not out of control either.  It was enough to challenge the novice sailors and help with their overall confidence.  We sailed most of the event in 15 to 20 knots of wind with moderate size waves.

This year, we decided that we needed to start enforcing the J/80 Class Rules a little more in China and we started this event with crew weigh-in's for the J/80 class only.  A notification was sent to all competitors before they arrived and teams still scrambled a little to figure out how to deal with being overweight!  Nothing new there, right!?  Being prepared includes checking what the crew weight is and making adjustments to get lighter crews- like this spinnaker trimmer.
We sailed 8 races over three days and there was a noticeable difference of experience between the top four J/80's and the rest of the fleet.  Henry Wong on the FOOTLOOSE team from Hong Kong, Liu Changlong from XIAMEN LIHAN Sailing Team and the two SAILING IN Teams were the boats everyone else had to beat.
The team that jumped out to an early lead was SAILING IN ONE lead by our team.  The noticeable difference in this team was that they played the shifts and tacked twice as much as the competitors in the class and were using very conservative spinnaker tactics on the sets and take downs- the stated goal was to minimize all errors!  Their tactics and strategy paid off for them, taking the overall victory with 7 firsts and 1 third.
Martin Hingst on SAILING IN TWO was sailing in the pack most of the time, but where Martin's team excelled was in their ability as a crew to make large gains downwind.  They pulled off second place overall all 4 points ahead of 3rd.

3rd place was Liu Changlong, a former Olympic Chinese Finn Sailor and coach in Xiamen, skippering the XIAMEN LIHAN Sailing Team.  Liu was a force that was very consistent in his overall sailing.  He was always there and always pushing.  The FOOTLOOSE team was 4th position, driven by Henry Wong. This team and the other Hong Kong Teams also did a Special J/80 Passage Race from Hong Kong to Shenzhen, which was not counted in the One-Design overall scores, but they enjoy frequent one-design racing in Hong Kong with the 26 local Hong Kong boats.
Red Dragon, builders of the J/80 in Xiamen, also sailed with their own RED DRAGON Team, finishing 5th place in the event.  They were also on hand providing two new charter boats and helping with any questions any of the J/80 sailors had during the event.  Overall, it was great to see the Chinese J/80 Class come together for this event.  In the past, it was always difficult since moving boats around china is not like it is in the US where you can simply tow them down the road. You need to ship them, which adds to the cost and reduces the participation.  We are currently working on a new fleet for the Shenzhen area, so we are looking forward to the potential of a much larger fleet next year. Congratulation to WHISKEY JACK for their dominating performance in the IRC Class."

According to Nick Southward, owner/skipper of the J/109 WHISKEY JACK, "the crew of Whiskey Jack was happy to be returning to the prestigious China Cup International Regatta. With the competition heating up, the team was ready to face all challenges and was ready to fearlessly plow through the seas in the hope of bettering last year's performance and regaining their title from 2013. In keeping with the team motto, "teamwork makes the dream work and whiskey never hurts", the team had another enjoyable and exciting China Cup!"  Indeed, they did!  They started out by winning their first race and, despite a DNF in the second race, laid down an amazing string of races (a 1-3-2-1-1-2) for a total score of 11.0 net pts!  The masses of silverware were theirs!  Imagine that, they absolutely HAD to be at the Awards cocktail party each night since top three prizes were given out each night for each race in each fleet! Eight awards in all- but who's counting anyways?  Good on ya Nick and gang!  For more International China Cup IX sailing information
And, a very brief report about the AUDI China Coast Regatta.  In IRC 2 Class, WHISKEY JACK was 5th place while fellow stablemate, the J/111 MOJITO sailed by Simon Blore took 3rd place and won some of their own silver along the way!  Congrats to both teams!   For more Royal Hong Kong YC China Coast sailing information
---

Fresh & Frosty Seattle Round County Race!
(Friday Harbor, Washington)- There were 114 entries for the 28th running of the Round the County race, hosted by the Orcas Island Yacht Club and Friday Harbor Sailing Association.  That was a record number for the beginning of winter race around some of the most stellar cruising grounds the world has to offer; racing took place over last weekend.
Two days of racing, under 35 miles each day, with an overnight in the amazing accommodations of Roche Harbor Resort.  To get there the fleet sails through conditions ranging from protected channels behind islands with tremendous adverse currents to wide-open straits that can bring everything that good Pacific Northwest winter sailing can offer.  Here are two reports fresh after some barbecue, brats and beer- one from Ben Braden from Sail Northwest and the other from a J/145 DOUBLE TAKE crew- Andy Cross.

Ben Braden report
"An old, wise (and possibly slightly inebriated) sailor once mumbled out of the side of his mouth the classic phrase – 'If the wind speed is approaching the temperature it may not be the best time to head out for a sail.'
Temperatures hovered around 44 degrees as the fleet zipped up their lifejackets, fired up their motors and snuck out of the harbor under the morning darkness Saturday, November 7th. The forecasted gale warning had been extended into the early afternoon and with the darkness giving way to that wonderful Pacific Northwest fall twilight, the fleet converged quickly on the starting area off Lydia Shoal in the Rosario Strait for the 8:35am starting gun.
Winds weren't into gale force yet as the first 3 classes reached off the downwind starting line, but with the winds out of the Southeast and rushing over the islands the wind quickly built up as the boats worked northward down the course through everyone's favorite little rock islands (the Peapods). Most all the boats in the first start left the Peapods to port, all except Bob Brunius' J/120 TIME BANDIT slamming the hammer down with their chute up and pulling hard towards the Orcas.  They struggled up around the headland at Orcas with a bit of flogging and round-ups but as soon as they could put their bow down they were lit up! That big J/120 was launched and kept the throttle down all the way around the course, correcting into the Overall 1st place PHRF finish for Saturday. For the rest of the fleet the chutes began popping up as the J/120 turned down around Orcas Island and everyone had room to run out under spinnaker – that is when the real fun began for those that put up their colorful sails.
The winds began pushing over 30 near Clark Island, the waves built up with the current and as sterns lifted at just the wrong moment or at just the wrong angle the wipeouts began.  Some of the bigger boats ended up flying pendants off their mast tops that looked distinctly like the top few feet of their spinnakers and the real big monster trucks, those flashy boats in the IRC fleet motored through the fleet with their A4's pulling rock hard and their helmsmen with eyes as wide as their leg stance, 25 knots of boat speed was a common number laughed about after the race.
The entire fleet was around the halfway mark on Patos Island well before the clock struck noon. Chutes down, reefs in and small jibs pulling everyone West through Boundry Pass on a long port tack tight jib reaches that never seemed to end. Reefing in breeze always is a risky bet, but a necessary maneuver.  Some boats didn't and paid with broken booms or bodies tossed accidentally overboard (everyone retrieved comfortably and a bit wet, I might add).
The fast boats made quick work of Saturday's race and were able to make the turn at Stuart and finish under strong winds in just under 3 hours from Lydia Shoals around Patos Island to Roche Harbor. For the slower boats, the gale warning ending at 1pm was more serious than they realized. It not only ended, but mainsail reefs were quickly shook out at Turn Point, then Genoas were hoisted minutes later and the back of the pack settled in for the long slow upwind sail against the current for the last few miles with the finish in sight! How aggravating.  The last boats were able to cross the line just after 3pm, and that was it, the wind was done and a handful of boats were left on course side and motoring in to harbor after such a windy day!  Just our typical PNW craziness with such fast moving frontal systems peeling off the chilly Gulf of Alaska.
Sunday's post frontal forecast didn't look good, light winds and drizzly rain, but as the fleet gathered once again off Snug Harbor for the start – there was actually wind out in Haro Strait! But, getting to it proved to be the demise of almost a third of the fleet – yes, fully one-third of the fleet. The pin end was obviously favored to the course and closer to the wind but with the current pushing the fleet at an angle back and away from the pin it wasn't the place to be as the start gun went off. Only a third of the boats in the first start made it across the line – just 19 boats in start 1 did not get swept back away from the line in the current and made it out into the wind in Haro Strait. Ultimately, over 34 boats did not get to start on day two of Round the County, turning tail and motoring home after the 30 minute start time grace period ran out.
For those that made it out into the wind they found a very pleasant mid-genoa range southerly wind that made for one seriously long port tack lift as the winds continuously clocked around to the southeast and ultimately easterly as the day went on.
Once into Rosario Strait boats were able to crack sheets a little on the easterly breeze, a few code zeros came out early but it wasn't until almost Cypress Island before spinnakers came out on the central group in the fleet. But, that didn't last long- – while the sun lowered to the west and the rainbows came out to the east the winds began their normal fickleness for the finish placed way back in under the big bluffs of the islands and the majority of the boats still trying to finish jumped from puff to puff trying desperately to make headway on that last mile to finish. Every once in a while a random wind lane would develop and a couple boats would shoot out and cross the finish. Not everyone made that last few yards to the finish and with darkness falling and the time limit running out it was time to throw in the towel and motor back to port."

Andy Cross report from the J/145 DOUBLE TAKE
"As I walked through Cape Sante Marina in Anacortes early on Saturday morning, halyards slapped in a chaotic harmony and a steady rain tested my foulies. Those conditions would prevail throughout the morning and into the early afternoon for leg one of Round the County 2015. And when the wind finally subsided, a different challenge awaited the wind-worn crews from the 115-boat strong fleet during leg two on Sunday — start and use every ounce of wind you can find to get to the finish.
Like the name suggests, Round the County is a 76-mile race around San Juan County over the course of two days, with a stop in Roche Harbor on Saturday night. The course around the San Juan Islands alternates between clockwise and counterclockwise, and 2015 was a counterclockwise year. Put on by the Orcas Island Yacht Club and the Friday Harbor Sailing Club, Round the County has become an immensely popular event for Northwest sailors and this 28th edition was a good one.
LEG ONE
A strong southeasterly wind whipped Rosario Strait into a frenzy as racers descended on the start line at Lydia Shoal, just east of Obstruction Pass on Saturday morning. The Race Committee was diligent in getting three starts and eight divisions off between 0840 and 0907 to send all the competitors northward in a breeze that crews reported seeing top out in the upper 30s.
Aboard the J/145 Double Take, we started nearest Lydia Shoal buoy and took off in leaps and bounds under our blue and white number four spinnaker. The big boys, including the TP 52s Smoke, Glory, Valkyrie and the Reichel/Pugh 55 Crossfire, rocketed northward like they had been shot out of a cannon and many boats reported setting new personal speed records during the first half of this leg.
The wind and seas seemed to kick up with vigor as we left Clark, Matia and Sucia islands to port and wipeouts were seen throughout the fleet with a few spinnakers blowing up in the process. In this same stretch, the five sailors aboard the catamaran Dragonfly pitchpoled and were all plucked out of the cold water. It was an ominous looking scene to pass by the overturned cat and we were glad to learn that everyone was ok and that the boat has been righted. Also, kudos to the boats that stopped to assist.
We had a few hairy moments of our own aboard Double Take, but kept the boat largely in control while topping out at nearly 18-knots of boatspeed. A big change awaited as we rounded Patos Island and sailed a close reach towards Turn Point on Stuart Island to the west. The wind was still up and a steady rain fell, soaking foul weather gear and creating some truly cold sailing conditions. It didn't matter, we were sailing fast and having a great time.
After rounding the lighthouse at Turn Point, it was a beat to the finish just outside of Roche Harbor. The wind finally seemed to lighten up a bit here and we passed a few boats while completing this final stretch of the race. Overall, Saturday was a heck of a lot of fun in the big breeze. Sunday would be a different story, though.
LEG TWO
The second leg started just outside of Mosquito Pass south of Henry Island and a light to nonexistent wind awaited the fleet. Boats from the first two starts struggle to get past the line and just enough wind filled in for the third start boats to get out and move southward. The boats that were close to San Juan Island only got to move so far, though, as a large windless whole greeted them just north of Lime Kiln Point. We sat for what seemed like hours and watched the boats ahead and to the west of us leg it out in the last of that breeze. With limp sails and an adverse current, frustration mounted for boats stuck in this position, but the wind eventually trickled in from the southeast.
When the breeze did arrive it built to a stead 6 to 10 knots and we took off. Double Take sails upwind well in those conditions and we did decent against the competition that had lagged with us in the windless zone. The boats who were able to make it out ahead proved hard to catch for the rest of the day as the fleet worked its way around San Juan Island, past Salmon Bank near Cattle Pass and then past the bottom of Lopez Island. Others were not so lucky; many first and second start boats were forced to retire as they couldn't quite pull themselves out of the hole, and when and if they did, it would have been difficult to finish before the time limit expired. Such is life in a sailboat race.
As we moved around the bottom of Lopez, we could see that another transition was going to take place farther up Rosario Strait. It looked as though a reach was going to turn into a beat and that is exactly what happened just north of James Island. Holes in the wind appeared as it moved forward on the bow, but we were able to claw our way through and pass a few boats in the process. By the time we reached Blakely Island and neared the finish line, the wind had filled in out of the north for us and we covered the last few miles in short order to complete leg two alongside the well sailed Evelyn 32-2 Poke & Destroy.
In the end, Round the County 2015 was a challenge in contrasts — big breeze on leg one and little to no breeze on leg two. That's all part of the fun of racing, as each set of conditions presented unique tests for the competitors. A great time was had by all aboard Double Take, and we look forward to battling clockwise around the islands with everyone in the 29th edition next November."  Thanks to ThreesheetNW.com blog for Andy's report.
Overall, the J crews faired well in the demanding conditions.  In fact, it's the highly variable weather that throws in reaching, running, beating and all types of different wind/ current scenarios that favor good all around boats (provided of course they go the right direction most of the time!).  In the IRC Division it was rough going for J/Teams this year, with the J/145 DOUBLE TAKE (Huseby & Baker) placing 7th for the weekend followed immediately by two stablemates, the J/160 JAM (Tom Mcphail/ Fox) in 8th position and the J/145 JEDI (John Tenneson) in 9th place.
In PHRF 0 Class, the J/122 JOYRIDE (Murkowski & Miller) sailed a solid series and took 4th place overall.
The PHRF 1 Class was simply dominated by J/Teams, especially Bob Brunius' J/120 TIME BANDIT!  Winning the class by a landslide by their virtuoso performance on Saturday.  Third was Picco's J/120 WILD BLUE and 7th was Hansen's J/109 MOJO.
PHRF 2 was a battle of vintage 35-36 footers from the J/Design team.  Leading the way home for the four teams was the Haflinger's J/35 SHEARWATER in 4th place, then Dougherty & Andrews' J/36 MONKEYBONES in 5th place, then two J/35s in a row- Butler's INTREPID and Meagher & Vanderveen's SUNSHINE GIRL- 6th and 7th, respectively.
Continuing their overall excellent performance all season long has been Jim Geros' J/105 LAST TANGO, sailing a solid race Saturday and escaping on Sunday to be able to place 3rd overall in PHRF 3 Class.
Finally, in PHRF 4 the three J/Teams all finished as a group. Scott Ellis' J/92 HIJINKS took 4th with Bottles J/30 CELEBRATION in 5th place and the Denney & Denney duo on their J/29 HERE & NOW in 6th position. Sailing photo credits- Sean Trew and Jan Anderson  For more Seattle Round County sailing information
---
TRES DOLORES Leading Mexico J/24 Circuit
(Valle de Bravo, Mexico City, Mexico)- Over the past few months the Mexican J/24 class has seen a fleet of thirty-five boats participating in its season long championship series.  To date, they have sailed two regattas at Club Nautico Valle de Bravo (Regata Mensual in August, Regata de Independencia in September), one regatta at Club Nautico Avandaro (Oktoberfest in October) and just this past weekend at Club Marina Azul (XXI Scotiabank Marina Azul Regatta).
After the four events, it is Jorge Murrieta's TRES DOLORES leading the series with 56 pts total with an overall record of a 2-6-1-3.  Sitting in second place is Ken Porter's COMEX with 67 pts total with regatta finishes of 3-1-35-1. Third in the overall standings is Valerio Parboni sailing BOTEYON with 71 pts with an overall record of 4-4-35-2.  All races count in the fleets overall standings.

OKTOBERFEST Report
For the top three boats on the podium, it was very tight racing throughout the weekend with the results of the last race determining the ultimate outcome for the regatta.  By winning the last race, Murrieta's TRES DOLORES sailed home as Oktoberfest Champion with a five race tally of 1-4-2-2-1 for 10 pts.  Only one point back with an easy shot at winning the regatta was Jorge Castillo's CASPIAN.  However, their regatta lead scoreline of 3-3-1-1 was not enough to win when they notched a 3rd in the last race; having to settle for the silver overall.  Taking third was Roberto Himmelbauer's crew on PRIMERO with a 4-1-4-3-2 scoreline for 14 pts.
COPA SCOTIABANK Report
With the return of Ken Porter's COMEX team for the Scotiabank Regatta, the amplification of high-level competition was self-evident in the outcome of the regatta.  Starting out with a 1st place where he left off in the Oktoberfest event, Murrieta's TRES DOLORES team found it hard to regain that same fifth gear advantage they had over the other teams.  Instead, while Porter's COMEX crew suffered a DNS in the first race, they were firing on all cylinders for the rest of the weekend and scored a sizzling 1-1-2-1 to win with just 5 pts net.  Sailing an extremely consistent series was Tito Benitez's team on LOS PEKAS, never finishing less than 2nd to secure a 2-2-2-1-2 record for second overall.  Playing third fiddle amongst the two leaders was Murrieta's TRES DOLORES; having added a 3-5-4-3 to their tally to secure the bronze.
---
Gorgeous Start To Hot Rum Series
(San Diego, CA)- According to Scuttlebutt, "the conditions couldn't have been better. Sunny and warm. Enough wind to keep boats moving, yet allow crews to confidently handle them. A couple reach legs out the harbor, with a two tack upwind beat returning the fleet to the finish.
The pursuit format mellows the vibe. Outcome almost doesn't matter. You are always surrounded by boats, types of which you don't normally see. The 12nm course is interesting. Tactics are simple. Pass the boats that started ahead, and hold off the boats that started behind. Most times the weather decides if it is your day.
Afterwards, a huge crowd gathers at San Diego Yacht Club. Maybe because everyone felt good about their effort. The entry fee at one time was rum, with a batch of hot buttered rum drinks dispersed to those of age. Progress ruined that tradition, but sailors are a resourceful bunch, so not all can be squashed.
On this day, with the big hitters on the race course, it was the fiberglass classics that dominated the fleet of 135 boats. The overall standings was led by a Ranger 33, a Catalina 30, two Ericson 35-2s, and a J/24. When boats from the 70s can beat the hot shots, it is a good day for the sport."  Thanks for that perspective from Craig Leweck at Scuttlebutt News.
How did things go for the dozens of J/Teams on the "fun track" out of the harbor, around two buoys off Pt Loma and back into the finish just off Shelter Island?  Pretty well for many of them.  In PHRF 1, Mark Surber's J/125 DERIVATIVE managed a 6th place followed by another J/125- Tim Fuller's RESOLUTE.  Tom Barker's magnificent navy blue J/65 MAITRI managed to glide gracefully & quickly through the fleet to secure a respectable 12th place- not bad for H/C pressurized running water, twin wine refrigerators, two 40" LED TVs, Hughes Direct TV/ HiSpeed Internet via satellite, watermaker, air conditioning and generator to keep the crew "cool", "gellin" & "chillin" with games down below when the going gets rough!
In PHRF 2 Class, the J/120s nearly swept the class, occupying 3 of the top 4 slots.  Leading the way was Chuck Nichols' CC RIDER in 2nd, followed by John Laun's CAPER and Mike Hatch's J-ALMIGHTY.
Like their colleagues in the class above them, the J/105s literally swept PHRF 3 Class, in fact, taking 6 of the top 8 positions.  Leading this gang of merry bandits home was Rick Goebel's SANITY in 1st place (6th overall), followed by Dennis Case's WINGS in 2nd place (8th overall), Dag Fish's VIGGEN 3rd place (12th overall), Ed Sanford's CREATIVE (13th overall), then Steve & Lucy Howell's BLINK! in 6th and Mike O'Connell's SPEEDPLAY in 8th.
The J/70s have learned how to sail their boats much faster in these benign, easy-going sailing conditions.  This weekend's wind angles were certainly to their liking despite the fact it was not planing conditions offshore.  Nevertheless, Dave Vieregg's SOGGY DOLLAR won PHRF 4 Class (11th overall) followed by Steve Wyman's NUHUNU- a sweep of the top two positions on the podium!   Other J/Teams near the top included Tom Reilly's J/100 JASWINDER in 8th, Bob Berkley's J/70 MOCKING J in 9th and Eduardo Saenz's J/70 DESTROYER in 11th.
The big winners overall this weekend were teams in PHRF 5 Class.  Taking 5th in class and 5th overall was Mark Clements' J/24 BRIGADOON.  Next J/Teams were Bob Noe's J/30 MAD HATTER in 12th and Ben Nieting's J/22 RIPPLE in 13th.  For more San Diego YC Hot Rum Series sailing information
---
Brisk'n'Breezy Hamble Winter Series!
(Hamble, England)- Competitors in the Garmin Hamble Winter Series on Sunday could have been forgiven for thinking that the weather gods would have their revenge for the balmy first half of the 2016 event. After a week's break, the event resumed this weekend, along with an ominous forecast that predicted a building and veering southerly breeze.
And so it was, with cautious sail plans that many boats ventured out to the racing area, where the committee boat was on station at Wilson Covers buoy. An eerily black cloud gave the impression that the wind was shortly to increase, but with wind instruments reading only 10 knots at start time, the bolder sailors changed to a full rig before their starts. The wind held off until the later starters were at the top of their first beat, whereupon it began to increase, reaching 22+ knots in some gusts!

This uncertainty, along with some crafty windshifts, led to upsets in some classes. Cornel Riklin and crew on J/111 JITTERBUG had their hitherto perfect score of 1st places in IRC 0 Class spoiled by Chris Body and crew on their J/111 ICARUS, who pipped JITTERBUG by 29 seconds on corrected time. Third this week was Christopher Daniel's J/122 JUNO.  Overall, the standings still have JITTERBUG in 1st with 6 pts, Louise Makin/ Chris Jones' JOURNEYMAKER II in 2nd place with 12 pts and JUNO in 3rd with 25 pts.
In IRC2, it has been a battle royale in the top five with Paul Ward's J/88 EAT SLEEP J REPEAT amongst the leaders.  However, their two hiccups (an OCS in race 1 and ZFP in race 7) are continuing to haunt them.  They currently lie in third overall for the series with 23 pts.

The J/92s UPSTART skippered by Robin Stevenson has been getting better and better results throughout the series, and continued her recent run of form to take another bullet in IRC 3 class to now sit firmly in second place with just 10 pts.  After suffering their worst race in the series, a lowly 4th place, Annie Kelly & Andy Howe's J/97 BLACKJACK II continue to lead the fleet with a perfect score of six firsts for 6 pts (after two toss races).  Sitting in 4th overall is David Greenhalgh's J/92 J'RONIMO.
The J/109s, also racing in IRC 3, were topped by Simon Perry's JIRAFFE, again.  They finished ahead of Roger Phillips' DESIGNSTAR 2 and the RED ARROWS skippered by Frank Gmitrowicz to maintain their position atop the class leaderboard overall.  Still hanging onto 2nd place overall based on a tie-breaker is DESIGNSTAR 2 followed by Joe Henry's JOLLY JACK TAR in 3rd- both teams have 12 pts each.
Crews were ashore by early afternoon as the wind began to howl, with most enjoying food and drink at the HRSC clubhouse, where day prizes provided by generous day sponsor Hudson Wight, were distributed to the highest-placed competitors present from each class.
Next Sunday sees the series continue, with One Sails providing day prizes. Should the current crop of Autumn gales blow themselves out in the meantime, we should enjoy some good sailing conditions!  Formore Garmin Hamble Winter Series sailing information
---
J/Community
What friends, alumni and crew of J/Boats are doing worldwide
———–

* The RORC Caribbean Race from Marina Lanzarote in the Canary Islands to the Caribbean will be graced by the presence of the J/120 NUNATAK, an extremely well-prepared boat that has done well all season long in the RORC Offshore series, skippered by the dynamic duo of Elin Haf Davies and Chris Frost.  Here is perspective from Louay Habib, the RORC's press officer:
"The RORC Transatlantic Race, organized by The Royal Ocean Racing Club in association with The International Maxi Association, attracts a huge variety of competitors. Racing 3,000 miles across the Atlantic Ocean from Marina Lanzarote is a huge challenge. The fastest yachts may take less than a week to reach Port Louis Marina Grenada, but for one team, it is more likely to be three weeks at sea.
Experienced sailor Chris Frost (Durley, Southampton) and adventurer, author and charity fundraiser and Elin Haf Davies (Bala in North Wales/London) will be competing two-handed on their J/120 Nunatak. Their campaign to race across the Atlantic started with eight races in the 2015 RORC Season's Offshore Points Championship, including the Rolex Fastnet Race. Chris Frost is an experienced sailor, winning World and European Championships in his Swan at inshore regattas, but he has never sailed across the Atlantic before.

Elin Haf Davies, from Bala North Wales only started yacht racing in 2011, but this will be Elin's fourth oceanic crossing, albeit not always in a sailing boat. Elin has rowed across the Atlantic double-handed and as part of a four-girl rowing team, rowed the Indian Ocean; both crossings took over 77 days. Elin's first oceanic sail was the Pacific, from Qingdao China to San Francisco (5,680 miles) with Clipper, Visit Finland.
Elin is an extraordinary woman. Besides her aquatic adventures, Elin played premiership rugby for the London Wasps and won 13 rugby caps for Wales A. For the 2012 London Olympic Games she was selected to carry the Olympic Torch through Bangor, North Wales.
An experienced academic and regulator for the development of drug treatments for rare diseases, Elin always dedicates her adventures to raising funds for charities close to her heart, including Great Ormond Street where she worked as a nurse for 15 years. Findacure is Elin's chosen charity for the RORC Transatlantic Race.
'It is all down to Andrew McIrvine,' commented Elin, referring to the RORC Admiral and Secretary General of the International Maxi Association. 'I went to a RORC crew match party in 2011 and met Andrew and he was brave enough to take me on board his yacht for the season, including the Rolex Fastnet. Andrew took me on as long as I became a RORC member at the end of it, which I now am.'
'Frosty (Chris Frost) and I have done a whole year of campaigning for the RORC Transatlantic Race and every mile has been about preparing for this race. I am still a novice at offshore racing, still learning compared to traditional two-handed sailors, but Chris has been great in teaching me; what I lack in experience and expertise, I make up with determination and enthusiasm.
'For me now is all about getting offshore experience and that excites me a lot. We know that the Atlantic is going to be tough; it is early in our development. We are looking at this race as experience to put the foundation in place to go on to a more competitive level. This is the start of a four year campaign and we really want to go on and take part in other big races, who knows even a round the world race. Our goals for this race are to have a safe crossing where we have learnt lots and put things in place for the future and to make the finish before the prize giving.
'Racing two-handed makes the difficult moments more intense but has the same effect on the good moments. Finding the right sailing partner is very important because you have to totally trust them and equally you have to understand and respects each other's strengths and weaknesses. When things do get tough, having worked as a children's nurse for 15 years, the reality check is that life in the RORC Transatlantic Race will be easy. Nothing will be as tough as I have seen at work.'   For more RORC Transatlantic Race sailing information

* A sweet report from Marblehead native Fred de Napoli (owner of the J/105 ALLEGRO SEMPLICITA) came rolling across the social media coconut telegraph.  Fred spends parts of his winter leisure time in Palm Beach, Florida sailing out of the Palm Beach Sailing Club.  Here's what he had to say about a recent sailing experience on his J/92 BRONSKI BEAT:
"Another fantastic day out on the water yesterday! Palm Beach Sailing Club sponsored the Fred Thomas Memorial. As usual it was a slug fest between an uber-J/30 fitted with a full inventory of brand new 3Di's and our J/92, both exactly 30 feet, but we owe them 39 seconds a mile.  We had 17 miles of racing and we saved our time on them by 40 seconds.  Only to later find out that the Gulf Stream (that little current outside our front door that rolls along at about 5.5 kts sometimes) had moved one of the marks about 1 km NORTH which made it a 19 mile race, reversing the finish order.  Damn, so we fell to 2nd place by 40 seconds! That was a buzz kill! But, what an amazing day (12 to 15 knots of breeze, sunny, 88 degrees). Huge shout out to the team of Richard Richardson, David Oswald, Owen M. Kaufman, Bryan Costello, et al!

Here's some interesting anecdotes for you.  Our Ft Lauderdale Porsche dealer commissioned the Palm Beach SC sailing coach to build the ultimate J/30 with virtually no budget.  He bought a 500 series boat, stripped it to the glass, re-gelcoated inside and out, new bottom job and keel to templates, custom designed and fabricated carbon fibre balanced rudder (which eliminates the J/30's weakest design feature), new carbon 3Di North inventory (main + 3 headsails), three spinnakers including two asymmetricals and one symmetrical (yes, they use both interchangeably….who knew you could do that?), and to their credit they sail the boat very well. It's driven by the club's coach who has been sailing in this area for 30 years. We're good friends with them and have had a lot of fun trying to crack their 3-year winning streak!"  We wish you luck, Fred!  Sounds like you have a guerrilla by the ears- not a safe place to be!

* EC Helme, owner of the J/92S SPIRIT sailed out of Conanicut YC in Jamestown, recently sent us a nice note.  He commented that, "Steve Caldwell from Quantum Sails said the J/92S SPIRIT (and the J/111 ODYSSEY) were featured prominently in some promotion from Quantum.  On the homepage (http://www.quantumsails.com/) you'll see a scrolling display of those two images, both of which were taken of us on a Tuesday night race early in the season on Narragansett Bay.  Moreover, they made a nice short video to promote sailing and their business, there are several video clips from the same race that feature the J/92S and the J/111. It's called 'To the Next Challenge'".
Ed Reynolds, a long-time J/Boats sailor and President of Quantum Sails, had this to say about their latest efforts, "As sailors, what's one thing all of us have in common? We relish a challenge. We sail because being on the water inevitably brings new opportunities to learn, grow and experience adventures that change us forever.  At Quantum, we're connected to sailors everywhere by our love of sailing – and our belief that facing a challenge head-on is infinitely rewarding."  Watch the promo sailing video here- https://www.youtube.com/embed/nye2FBRUFu0?rel=0

* From way, way Down Under, it's clear our comrades-in-arms racing J's all over eastern and western Australia, Tasmania as well as Auckland, New Zealand are having a wonderful time rolling from spring-time sailing into summer-time sailing conditions.  No more winter gales!
Racing in Port Phillip Bay from Melbourne is the J/111 JOUST.  Sailed by Sandringham YC member Rod Warren and crew, they continue to gather pickle dishes and random silverware for their trophy cupboards.  However, according to Mike, a crew on JOUST, apparently "Mum wishes we would win some pickling jars for our jam or, better yet, a bathtub beer-making kit for the crew!"  He goes on to say that, "we just wanted to let you know that on the other side of the world, the weather is perfect for keelboat racing!  Over 16 knots in a very shifty breeze here, but it's warm, too! Rip off the foulies and come join us, there are two J/111's at Sandringham Yacht Club havin a rollickin' good time and havin a go at each other!"  Cheers, Mike Harrison

* A follow-up from our friends in the Caribbean sailing the J/111 JBOSS in Pointe-a-Pitre, Guadeloupe.  Here's the report from the local French newspaper/ website on Guadeloupe:
"The second edition of the Jeff Campana Cup (formerly the Triskell Cup) saw the victory of Martinique sailor Eddy Chalono, whose crew won many races over the three-day weekend.
Twenty-three teams raced for the Jeff Campana Cup and all had a chance to win it in both categories- CSA Racing 1 or CSA Racing 2. However, Eddy Chalono's J/111 JBOSS and its crew of nine members had won five races! An excellent ratio that ensures the ultimate success!
Victor Jean-Noël, one of the members of that impregnable fortress describes life on board the winner; "It's a great competition and it is with pleasure that I respond to the invitation of my friends in Martinique. We have a fast boat and smart sailors who came from France, too. They brought us real added value; particularly in boatspeed! We have handled our boat well and we had really good technical and strategic analysis for each race. This allowed us to have good cohesion on board with specialists in each position. So, this is an excellent result!  And on Sunday, the conditions were very good."
The last word comes back to Jean-Michel Marziou, the Jeff Campana Cup event organizer. "The number of vessels was not significant, but it was the quality of sailing on the water; especially with the presence of boats from St. Maarten, Antigua and a large fleet that came from Martinique.   Even if the number of boats participating has decreased in recent years, the competition is still very popular with sailing enthusiasts! Thank you to everyone for sailing in this year's Jeff Campana Cup and al