---
International Women's Keelboat Championship- Open for Entries!
(Rye, New York)- US Sailing is now accepting applications from domestic and international teams to the new and improved International Women's Keelboat Championship on August 14–20, 2016 at the American Yacht Club in Rye, N.Y. The championship will feature 24 teams in J/70 class sailboats and half the fleet has been reserved for international teams.
Inaugurated in 1985 at the instigation of US Sailing's Women's Championship Committee, the IWKC quickly became the premier women's sailing event in the U.S. and worldwide. Held biennially, the event provides women keelboat and offshore sailors high quality racing and an opportunity to compete with the top national and international sailors. The Ida Lewis Yacht Club, Newport, RI became host for the event and hosted the championship until 2001, when it began to move around the country.  Rolex- sponsor at its inception- subsequently became the title sponsor until 2013.
The trophy is named for Bengt Julin, an international judge and sailor from Sweden and strong supporter of women's sailing.  A sailing philanthropist, Julin championed the event from its inception and was instrumental in making it an international competition.  Julin presented the very first trophy to Betsy Alison of Newport, RI and retired the original to her after she had won it three times consecutively.  Alison had an unbroken winning streak competing against teams from a dozen or more nations from 1991 through 1997. In 2007, Sally Barkow matched Alison by winning the championship for the third time (the same Sally that was a crew-member on the famous Volvo Ocean Race all-women's team- TEAM SCA).
This is a great opportunity for top-notch women sailors around the world. Any women's team can apply- just submit your application & resume. Application fee is refundable if not accepted.  Since the event is run using J/70 class rules, there is no limit on crew. 24 teams will be selected from around the world.  Half the teams will be from North America  and half from the rest of the world.
To ensure fast and competitive racing, the format will be "sailing league" style- just like the popular Sailing Champions League in Europe. The format consists of fleet racing, featuring two flights of six boats each with teams rotating after every two races. Each team will race an equal number of races against the others. Races will be approximately 15 minutes in duration. All racing will be held close to shore, providing an improved viewing experience for spectators.
All J/70's will be provided and will be tuned identically with a set of brand-new matched one-design sails.  For more International Women's Keelboat Championship sailing information
---
J/70 South American Championship Preview
(Punta del Este, Uruguay)- The first J/70 South American Championship, sailing from March 22-27, is about to get underway at YC Punta del Este off the beautiful isthmus known as the "Cote d'Azur" of South America- Punta del Este.  Resplendent with its miles of gorgeous beaches and deep cobalt blue waters offshore, it's hard not be amazed by the raw natural beauty of the southernmost point of Uruguay jutting out into the ferocious waters of the South Atlantic Ocean.
Three countries will be represented in this inaugural championship- Uruguay, Argentina and Chile.  The hosts will be fielding ten boats, including the former J/24 South American Champion- Pedro Garra, along with Alejo Morales, Philipp Umpierre, Sebastián Raña, Diego García and Aldo Centanaro (both of whom recently sailed the Bacardi Miami Sailing Week), Felix Leborgne, Harry Giuria, and Juan Grunwaldt.
The visiting crews include the recent Chilean J/70 National Champion- Per Von Appen, himself a leading J/24 sailor for years in the South American circuit.  And, from Argentina is Francisco Van Avermaete from Buenos Aires and YC Argentino.
The teams are looking forward to a windy weekend of racing.  Friday's forecast shows a classic "roaring 40's" type low blasting through in the morning with winds shifting rapidly from the north at 15-30 kts and swinging to the SSE at 20-25 kts, it should be an exciting start to the regatta!  Then, Saturday's andSunday's sailing looks to be a bit more comfortable, with winds settling in from the SSE at 15-20 kts and gradually backing into the easterly quadrants Sunday at 14-18 kts.   Please check the event at J/70 Uruguay Facebook page.   For more J/70 South American Championship sailing information
---
J/22 Midwinters Preview
(Fort Walton Beach, FL)- This coming weekend, the Fort Walton YC is hosting the 2016 J/22 Midwinters fromMarch 18th to 20th in the pristine blue-green waters off Fort Walton Beach, Florida (halfway between Pensacola and Panama City in the northeastern shores of the Gulf of Mexico).  Twenty-six teams are eagerly anticipating pretty spring weather off the miles of dazzling white-sand beaches.
Many leading J/22 teams are looking forward to their annual spring migration south to enjoy the weather.  Don't be surprised to see the likes of Kevin Doyle's MO'MONEY from Youngstown YC near the top of the pack.  Nevertheless, giving them a real "run-for-the-money" will be Chip Carpenter's WIZARD from Southern YC, Chris & Jennifer Princing's EVIL DR. PORK CHOP from Tawas Bay YC, Chris Doyle's THE JUG 4 1 from Youngstown YC, Terry Flynn's TEJAS from Fort Worth Boat Club (a past J/22 World Champion), and Jeff Todd's HOT TODDY from Annapolis YC.
There is an exciting international team looking forward to test the Gulf of Mexico waters from the Cayman Islands- Mike Farrington's JUST LEAVING crew from the Cayman Islands SC in the middle of the Caribbean.  Mike and crew posted a 3rd in the J/22 Worlds in South Africa, are the current Cayman Islands National J/22 Champions and also recently won the J/22 Jammin' Jamaica Regatta.  Forewarned is forearmed against this rambunctiously fun team- be careful if they start offering "island rum concoctions"!   For more J/22 Midwinters sailing information
---
San Diego NOOD Regatta Preview
(San Diego, CA)- This coming weekend, the San Diego YC will be hosting the HELLY HANSEN San Diego NOOD Regatta for one-design fleets of J/70s, J/105s and J/120s.
The regatta wouldn't be the same without Dennis Case's J/105 WINGS. Case and his wife Sharon long dominated the Shock 35 class here before switching to the J/105 many moons ago and doing the same. While Sharon has excused herself from duties of the pit these days, Dennis remains "Steady Eddy" at the helm. "We're not traveling out of town any more," he says, "so the NOOD is the number one regatta for us."
He has a few new sails for the occasion, a light No. 1 and an all-purpose spinnaker. The fleet now allows them to carry two jibs, and the AP opens up the wind range in his downwind inventory.
WINGS won its fleet last year, but only just, by a single point over Gary Mozer's well-sailed CURRENT OBSESSION 2 from Long Beach, California. It was the series' final race that Case fondly recalls. "It was one of the most memorable races in my time, he says. "Going up the last weather leg to the finish, they had a damn good lead, at least five boat lengths on us. After rounding the leeward mark I said, 'Guys, we're going into a tacking duel.'

"As soon as we tacked, they tacked to cover. Each time we tacked, we picked up half of a length, which is a lot. We were surprised they would come back at so frequently. At around tack 13 I ducked them and we swapped sides. They let me go and I got to the right of them. When we went back at them, I got a good piece of them, but they were still able to hold their leebow so I tacked away. On the 15th tack, I could lay the pin and figured we'd picked up another half-length, so I put the bow down to go a bit faster and forced them to tack early. When they did, I just stuffed it right up…and the faces on their boat said it all. I just kept the bow down and pushed out. I was really proud of my guys. I don't know what we did to be able to do that, but it was wonderful." Look for this J/105 rivalry to pick up right where these two left off and toss into the mix past class champions like Rick Goebel's SANITY and Chuck Driscoll's brand-new-orange-painted JUICED!
Similarly, the age-old rivalries in the J/120 class run deep in the San Diego offshore community.  Multiple NOOD J/120 Champion Chuck Nichols will hope to guide CC RIDER onto the podium again, but don't be surprised for other teams to have newfound speed and steely determination to keep them from the top spot; especially John Laun's CAPER and Mike Hatch's J-ALMIGHTY.

Finally, the "new kid on the block" has been growing fast and furious in SoCal.  As the largest fleet in the regatta by a wide margin, the twenty-three J/70s are hoping to gauge their level of performance against a hot fleet- one where many teams will be shooting for the Rolex Big Boat Series/ J/70 Pre-Worlds and the J/70 World Championship in late September at St Francis YC on San Francisco Bay.  The class is well represented from fleets up and down the Pacific coastline- with boats from San Francisco Bay, Los Angeles basin, Santa Barbara and even long-distance travelers from Minnesota in the Midwest and Mexico.
In the past year, the leading J/70 teams have continued to improve significantly and many new faces are also popping up near the front of the fleet.  Past J/24 North American Champion Pat Toole from Santa Barbara YC will be sailing 3 BIG DOGS and he's joined by fellow club members Scott Deardorff on CAKE and Steve Hendricks on MONKEY HOUSE.  The San Francisco contingent includes Tracy & Christy Usher's new CHRISTINE ROBIN, Justin Kromelow's LOOSE LUCY and Chris Raab/ Dale Williams' SUGOI.  From California YC in Marina del Rey are Jeff Janov's MINOR THREAT, Patrick Danly's TALLY HO and Beverly Burr's VIVACE.  The Alamitos Bay YC group includes Long Beach Race Week winner Bruce Golison on MIDLIFE CRISIS and Alex Cross' SWOOSH 3.  Craig Tallman's JAYA and Jim Murrell's HUCKLEBERRY are representing King Harbor YC.  The host SDYC is fielding four crews- Neil Senturia/ Lynsi Gibbons' CACHONDO, Chuck Sinks, Dave Vieregg's SOGGY DOLLAR and Rich Bergmann's ZUNI BEAR.
The "outsiders" joining in on the fun include Joel Ronning's CATAPULT crew from Lake Minnetonka in Minnesota and Luis Barrios' crew from Valle de Bravo, Mexico on ZUMBALE. Sailing photo credits- Bronny Daniels- JOY Sailing.   Sailing photo credits- Paul Todd/ Outsideimages.com   For more HELLY HANSEN San Diego NOOD sailing information
---
J/Sailing News
The Sun Never Sets on J's Sailing Worldwide
Thanks again to our dear friend, El Nino, the world was blessed with some remarkably nice weather in many venues.  While some had wicked weather temporarily, it was equally as spectacular when it all cleared, making for memorable experiences offshore and around the buoys.
In the Americas, a lot was happening.  The Bacardi Miami Sailing Week was taking place off Miami on the beautiful Biscayne Bay.  The weather Gods could not have delivered a nicer three days of sailing for the J/70 fleet.  Out West, it was quite a different story.  While the J/22 California Dreamin Series at St Francis YC experienced mostly wet and wild sailing weather due to the fronts whistling in off the Pacific, their friends up north in Seattle, Washington actually experienced an extraordinary juxtaposition of sun, wind, black clouds and mist.  Corinthian YC Seattle's famous springtime thrash, the Center Sound Series, featured the second event, the Scachet Head Race for J/160, J/145, J/122, J/111, J/109, J/105s, J/35s, J/30 sailors.  Concurrently, south of San Francisco's goofy weather, friends in southern California that sailed the Islands Race (a J/125, J/44, J/88) had to blow through a typical Midwestern-like "blast front" that lasts a few minutes to enjoy some spectacular sailing weather on the backside of it with good winds.
From the central America's, we got the report from the J/125 that sailed the Puerto Vallarta Race and MEXORC's Bahia de Banderas Regatta- fun and games for that crew as they played a game of redemption over their principal competitors to collect some bits & pieces of silver.
Across the big pond to the United Kingdom, the famous Warsash Spring Series got underway with the support of their new sponsor- HELLY HANSEN.  A veritable J/Navy was out on the waters of the Solent for their first springtime romp- fleets of one-design J/70s, J/80s, J/88s and J/109s were on the water accompanied by IRC class participants- J/111, J/122, J/92, J/97.
Finally, way down under we find the J/70s continue to multiply like wallabies in Australia.  Recently, they held the J/70 NSW States in Sydney, Australia with a great fleet of boats and many a tall tale to tell over a pint or so.
Read on! The J/Community and Cruising section below has many entertaining stories and news about J/Sailors as well as cruising blogs about those who continue to enjoy the Caribbean and the South Pacific, staying warm while others are trying to stay warm up north.  Check them out!  More importantly, if you have more J/Regatta News, please email it or  upload onto our J/Boats Facebook page  Below are the summaries.
---
Regatta & Show Schedules:
Mar 18-20– J/22 Midwinter's- Fort Walton Beach, FL
Mar 18-20– San Diego NOOD Regatta- San Diego, CA
Mar 18-20– J/80 Women's Italia Cup- Chiavari, Italy
Mar 22-27– J/70 South American Championship- Punta del Este, Uruguay
Mar 24-27– J/24 & J/70 Easter Regatta- Columbia, SC
Mar 24-28– SPI OUEST France Regatta- La Trinite sur Mer, France
Mar 25-27– St Thomas Regatta- St Thomas, USVI
Mar 26-28– J/22 French Open- Port Breton, France
Mar 28-Apr 3– BVI Spring Regatta- Tortola, BVI
Apr 2-3– J/70 Midwinters West- Marina del Rey, CA
Apr 11-16– Les Voiles de St Barth- Gustavia, St Barth
Apr 16-17– J/Fest San Francisco- San Francisco, CA
Apr 16-19– Charleston Race Week– Charleston, SC
Apr 23-29– Antigua Sailing Week- English Harbour, Antigua
Apr 29-May 1– Annapolis NOOD– Annapolis, MD
Apr 16-19- Charleston Race Week– Charleston, SC
For additional J/Regatta and Event dates in your region, please refer to the on-line J/Sailing Calendar.
---
FLOJITO Tops J/70 BACARDI Miami Sailing Week
(Coconut Grove, FL)- The seventh annual BACARDI Miami Sailing Week (BMSW) presented by EFG Bank took place from March 10th to 13th in Miami, Florida with the fleet greeted by absolutely spectacular sailing conditions for all three days of the event.  The Biscayne Bay YC RC/PRO team were brilliant in their execution, setting courses before any of the teams made it to the starting area and were ready to start the fleet on-time every day.
The thirty-five boat J/70 fleet was thrilled to be the ONLY fleet that sailed on Thursday, the start of the regatta. With 20-27 kt easterly winds, it was full-on blasting into big, steep chop upwind and thrill-a-minute sleigh rides downwind!  By Friday and Saturday, the wind continued well into the 10—20 kts range with the breeze slowly veering into the southeast as had been forecasted for nearly a week beforehand.  The monster high-pressure system offshore of Cape Hatteras kept feeding the Florida shoreline with plenty of breeze and waves, much to the delight of the J/70 fleet.

Taking advantage of the challenging conditions with brilliant tactics (they went left every race upwind) and strong boatspeed, the current 2015 J/70 World Champion team, FLOJITO Y COOPERANDO skippered by Julian Fernandez Neckelmann, sailed an excellent series to win with 12 pts total, never finishing below third in any race.  His team consisted of multiple World Champion tactician, Bill Hardesty, working the mainsheet hard; Willem Van Waay, bowman extraordinaire; and Daniel Velaust- chief spinnaker trim.
After the first day of sailing three races, three teams seemed to have mastered the conditions.  Leading with a 2-1-2 scoreline was Fernandez's FLOJITO crew.  They were followed by Carlo Alberini and his CALVI NETWORK team that posted a 1-2-3 for 6 points and Bob Hughes's HEARTBREAKER finished the day in third place with a 4-3-1 record for 8 pts. Rounding out the top five were Alan Terhune's DAZZLER in fourth place and Joel Ronning's CATAPULT in fifth position.

Hughes attributed their overall success and their Race 3 win to boat handling and communication. "Maintaining boat speed was the main focus today. Upwind we played with the jib leads a lot to help us power through all the chop. Downwind, we constantly communicated about puffs moving down the course and about moving efficiently through puffs and lulls when the pressure differentials were high. Also moving the body weight around the boat depending on the velocity was important to make sure the boat was always balanced from bow to stern."
"One of our primary strategies for today was to make sure we set ourselves up on the starting line in a position that allowed us to sail fast forward for the first 5 minutes after the start without having to tack," added Heartbreaker trimmer George Peet.
Leading the Corinthians after the first day was Heather Gregg & Joe Bardenheier's MUSE with a 14-4-10 record for 28 pts.  Lying in second and third, respectively, were two Uruguayan teams from YC Punta del Este- Diego Garcia's CHAPULIN and Aldo Centenaro (and family crew) on PURA JODA.

The second day of racing brought more most excellent sailing conditions.  Three more races were sailed in moderate conditions, but with the challenge of figuring out when to go into planing mode, soak/displacement mode, or wing-n-wing mode downwind!  It was a tough tactical challenge to figure out which wind-streaks to choose and when to use which mode to your advantage!  Continuing their master of the conditions, the FLOJITO crew again went left off the start each time and went left on every leg upwind to score a 1-3-2 to maintain their firm grip at the top of the leaderboard.  Concurrently, Alberini's CALVI NETWORK posted a 7-2-1 to also hang on to second place.  However, the balance of the top five went "topsy-turvy" rapidly.  With a 4-1-6, Peter Duncan's RELATIVE OBSCURITY crew discovered FLOJITO's formula and they, too, went left virtually every upwind leg to leap from 8th into third overall!  Next, Hughes' HEARTBREAKER was still working on their "formula" for success, but somehow got it wrong, posting a 10-6-25 to drop into 4th place.  Ronning's CATAPULT managed to sail a solid, consistent 3-7-9 to remain in fifth overall.

In the Corinthians division, Gregg & Bardenheier's MUSE sailed another consistent day to hold onto the lead with the same two Uruguayan teams following them, Garcia's CHAPULIN in 2nd and Centenaro's PURA JODA in 3rd.
The third and final day on Saturday dawned with a forecast for moderate winds diminishing into the 8-12 kts range by early afternoon.  The Biscayne Bay YC RC/PRO wisely decided to run two quick races and send the fleet in for awards and packing up their boats. By winning the first race of the day, Fernandez's FLOJITO crew celebrated and took DNS in the last race, sailing home to celebrate their well-deserved victory.  In the end, there were no changes in the top five standings despite two more races sailed.  Alberini's CALVI NETWORK finished 2nd followed by Duncan's RELATIVE OBSCURITY 3rd, Hughes' HEARTBREAKER 4th and Ronning's CATAPULT 5th.  The same held true for the Corinthians division, with Gregg/ Bardenheier's MUSE winning followed by Garcia's CHAPULIN in the silver and Centenaro's PURA JODA taking the bronze.
The Bacardi Miami Sailing Week hosts did an excellent job of running and managing the event.  Blessed with gorgeous weather and wind conditions, virtually everyone on the water went home smiling with a Bacardi rum & coke in hand.  They also produced great photos with the help of famous Newport photographer Cory Silken.  And, their video productions were excellent from Icarus Sailing Media. Here is a sampling of those sailing videos below.
Summary- J/70s @ Bacardi Miami Sailing Week   Day 1   Day 2   Day 3   Sailing photo credits- Cory Silken/ Bacardi Miami Sailing Week   For more BACARDI Miami Sailing Week information
---
J/Sailors Cruise The Islands Race
(Newport Beach, CA)- After a whirlwind of speculation and decision making regarding the official course for the 2016 Islands Race, the boats all finished safe in port after their 130nm adventure around the islands (Santa Catalina and San Clemente Islands) from Newport Harbor to San Diego.
The Friday start featured sunny skies and a disappointing southerly wind at just 4 knots! Not to worry – the front that the Organizing Authority and Race Committee was anticipating ripped through the start area not long after the start as the Race Committee boat was traveling back to Newport Harbor. Lighter winds followed the initial squall, then built steadily as the backside of the front filled in.
Smaller sea states with 6-8' swells and significant wind chop marked the hours following the start. Winds varied between 20 and 30 knots with gusts. According to crew member Stuart Bannatyne, "It rained hard. It was a point-to-point race, yet the way the wind was shifting made it really challenging. But it was that kind of challenge that made it an enjoyable race."

There was plenty of other race gear casualties though. Consider one of the smaller boats out there, BLUEFLASH, a J/88 who placed second in Division 4. According to crew member Sean Grealish, whose father Scott Grealish was skippering BlueFlash, "We shredded two sails because of a bad broach. We were sailing at 18 knots boatspeed which is amazing for this size boat!"
Others weren't as phased by the squalls. Jeff Brown onboard the J/65 MAITRI thoroughly enjoyed the rough weather and had a different idea on how to best cope with bumpy conditions and damaged gear. "This was our first time on the new boat and we were having an absolute blast. We were eating lasagna and salad from Old Venice right when our first kite blew up. So, we then we started going 10 knots with our main alone all while still enjoying our lasagna."
Event chair Wayne Terry commended the Islands Race staff for their decision-making skills. "I think the Organizing Authority did an exceptional job with excellent leadership. We appreciated the patience from competitors as we waited to watch forecasts and tried to make the best decision."
Upon finishing, many sailors reported that they celebrated the challenging day the only way they know how- by rushing straight to the warm, dry bar!  In fact, one of the first teams to the bar had to be Tim Fuller's team on the J/125 RESOLUTE- they took 2nd in PHRF 2 and 2nd Overall in Fleet. Then, in ORR 2 Class scoring, they were 1st class and 2nd overall!
Another winner was Paul Stemler's J/44 PATRIOT, taking 1st in PHRF 3 Class and 1st in ORR 3 Class scoring, too!
Finally, the aforementioned J/88 BLUE FLASH actually did remarkably well considering they blew up two sails.  Grealish's crew managed to secure silver in PHRF 4 Class and also a 2nd in the ORR 4 Class scoring!
For more Islands Race sailing information
---
Sunny Start to HELLY HANSEN Warsash Spring Series
(Warsash, England)- Glorious sunshine heralded the firstSunday of the six week Helly Hansen Warsash Spring Series on Sunday 13 March.
The breeze was shifty, as expected with a northeasterly coming off the mainland shore and it was swinging up to 45 degrees and quite variable in speed; average 10 knots that occasionally dropped to seven knots and rose at times to 13 knots. There was generally enough breeze to run against the strong spring tides, although this did mean each downwind turning mark opened up big tide gates in some fleets.
The White Group classes and Black Group IRC4 class were kept close to 'home' with their courses starting and finishing at hamblewinterseries.com buoy. Black Group classes were started on the Ryde Middle Bank and raced predominantly windward leeward legs, finishing near the north channel off Hill Head.

Several 'race rusty' White Group competitors were caught out by the strong easterly going tide, combined with the north easterly breeze, and were over the line at the start for race one. By race three of three they were back in the swing of it with a clean start.
Racing was tight with significant overlaps between the classes making for some exciting boat-on-boat competitive sailing. The White Group saw the J/70s and J/80s enjoy three races on the day.
At the end of the day, the J/70 COSMIC (Patrick Liardet) was leading the J/70 class, with INJUNCTION (Steve Venables) in second place and Andrew Barraclough's JENGA 8 sitting on third after a tie-breaker.
In the J/80s, last year's series champion, BETTY (Jon Powell) is leading the J/80 class followed by JUMBLESAIL (Rachel & Robert Hunt) in second and AQUA-J (Terence O'Neill) in third position.

The J/109 class sailed one race with Simon Perry's JIRAFFE taking the lead, with Owain Franks' jolly crew on JYNNAN TONNYX taking silver and Dave Mcgough's JUST SO in the bronze.
The IRC handicap world saw good performances across the board in the shifty, streaky conditions.  In IRC 1, Cornel Riklin's J/111 JITTERBUG took 2nd place.
The IRC 2 class has five J/88s racing each other for one-design honors.  First home was Paul Ward's EAT SLEEP J REPEAT followed by David & Kirsty Apthorp's J-DREAM in 2nd, Richard Cooper's JONGLEUR in 3rd, Gavin Howe's TIGRIS in 4th, and Dirk Van Beek's SABRIEL JR in 5th place.
The racing is close and competitive in the 28-32 footer class of IRC 3.  Leading the charge for J/teams this weekend was David Greenhalgh's J/92 J'RONIMO, taking 2nd in class.  Andy Howe's J/97 BLACKJACK crossed the line in 6th and Natalie Jobling's J/105 MOSTLY HARMLESS cruised home in 12th place.

There was a good crowd back in the clubhouse after racing to collect the winners' champagne prizes, presented by Annabel Shove from race partners Rolly Tasker Sails. The week's free draw for a Helly Hansen Salt Power jacket was won by Jon Powell (Betty, J/80) – although with two Betty's racing in the Series there was an undignified scramble as the two crews raced to be the first Betty to pick it up!
The Helly Hansen Warsash Spring Series is sponsored by Helly Hansen and supported by race partner's Crewsaver and Rolly Tasker Sails.
The Warsash Sailing Club runs Helly Hansen Warsash Spring Series and for the White Group Combined results is using the Warsash Handicap System which has been developed from the 2015 Championship results.  For more HELLY HANSEN Warsash Spring Series sailing information
---
JAMES Takes J/70 NSW State Title
(Sydney Harbour, Australia)- Eight boats faced the starter for the 2016 NSW Championships hosted by Middle Harbour Yacht Club.  What a sterling effort by the owners and a shame the other 6 x  J/70s from around the country couldn't make the event.  Racing was in The Sound, close to the heads of beautiful Sydney Harbour – home of the Rolex Sydney to Hobart Race start – with its unique challenges of swell, shifting winds and heavy on-water traffic.
The growing Sydney Harbour based J/70 fleet was joined by boats from Pittwater (Grasshopper Unit – owned by Stuart), Botany Bay (Infinity – Tony Brauer) and all the way from Melbourne (Javelin – Peter McFarlane).

Day 1
The regatta got underway with James called over the start in the first race and having to restart the race.   The lead changed so many times on the first work nobody could remember who led around the top mark.
James (Tim Ryan) eventually sailed through the fleet to record a win from Grasshopper Unit, skippered by Stuart, which produced lightning downwind speed in relatively light conditions.  Jester, with a new crew skippered by Brent Lawson, sailed through for a well-deserved third spot.
The breeze strengthened to around the 15 knots mark for the second and third races with James winning both races and Jester and Juno (Reg Lord) swapping turns for second place.
Day 2
The second day's racing started out with around 10 knots of breeze from the NNE again before strengthening to 18 knots for the final 2 races.  These conditions produced some spectacular downwind racing in difficult and choppy swell conditions.
The first race of the day saw Y Knot (Stephen Brady) lead around the first mark before Java (Paul Wood) took over to be first around the bottom mark at the halfway point.  James with Steve McConaghy calling the shots, headed to the right hand side of the course on the second upwind leg to sail through the fleet and held out for a close win.
James won the next 2 races of the day to score a clean sweep of the series but the racing for second and third place was very tight.  Jester scored a third and 2 seconds to take out second place overall.  Reg Lord in Juno scored a sixth and two thirds on the last day to edge out Stephen Brady's Y Knot on a countback for 3rd.  Y knot had a consistent series with 4 x fourths and 2 x fifth placings.

Summary
Overall, this fantastic regatta produced some very exciting racing with 5 boats recording placings and 3 different boats leading around the first mark in the series.  The closeness of the racing is demonstrated with only 36 seconds between second and sixth in the second race and 30 seconds between second and fourth in race 6.
The winner benefited from more time on the water as a crew and the experience of finishing 18th at the J/70 World Championship in La Rochelle France in 2015.  The winning crew of Tim Ryan, Steve McConaghy, Adrian Kiely and Narelle Barnes scored a heat win at La Rochelle, but was pushed hard at this regatta, particularly by Jester.  The local fleet is getting up to speed quickly.  Congratulations to all the J/70 skippers and crews for helping to make the 2016 Sydney Harbour Regatta such a spectacular success.
---
J/125 MEXORC Domination Nation Report
(Puerto Vallarta, Mexico)- The challenge and joy of racing in Bahia de Banderas is one to experience.  Gorgeous waters, 75 deg temperatures and reliable sea-breezes that pipe in at 10-18 kts around noon make for some epic racing and even more mind-blowing memories.  After all, it's not uncommon to see manta rays leaping about, big fat whales spouting all over the place in their annual spring mating rituals and thousands of fish leaping into the air to avoid getting eaten by some giant bluefin tuna rampaging below the surface.  Such is life in the tropics during the spring off Puerto Vallarta's famous coastline— one of Mexico's premiere resort areas.
As part of those spring rites of passage, sailors themselves congregate to participate in the Bahia de Banderas Regatta, long a favorite of the cruising crowd.  In recent years, the event has grown the cruiser/racer division and this year's classes saw some spirited competition.  Here's a report from Keith Magnussen from Ullman Sails Newport Beach, CA:
"It seems like a long time has passed since I wrote about the build up to the San Diego to Puerto Vallarta race and MEXORC Regatta on the J/125 "Timeshaver".  An abundance of adventuring has occurred and it is only natural that we choose the highlights to talk about.
First off, let us revisit the SD-PV Race.  The forecast was initially giving our navigator much distress.  Was it going to be windy?  Not windy?  Really windy?  No one really had a firm grip on what mother nature would bring us, all I knew was that I was sailing 1000 miles south regardless of the conditions.  It seems that this mindset helps me function at a higher level when the race finally does start.  In my mind, I am ready for anything and will work on making the boat fast in all conditions.
One thousand miles can appear like a long trek, unless you are on a J/125 with some good breeze.  Our first three days consisted of just that.  A couple of the new guys to the boat were used to a Santa Cruz 50 and their eyes lit up as the boat took off in 20 plus knots of wind.  By the end of the first day, we were into our 4A planing spinnaker, which means we are having fun.
As the race progressed, we found ourselves leading the charge.  We were leading the charge until the dreaded turn around the tip of Baja California.  This was actually one of my favorite parts of the journey, even though we ended up getting passed.  We decided to skirt Cabo San Lucas closely, and by close, I mean we were in the bay dodging pangas and Para Sailing tourists!  The view was spectacular as we glided across the bay and jibed away only to get stuck in some light air.  Oh well that it sailboat racing.
We ended up second in class with disappointment and a sense of "what if" surrounding the camp.
A few days of rest and contemplation ensued as we prepared for the week-long regatta that follows the bi-annual PV race.  The MEXORC regatta was a good opportunity for us to prove ourselves after falling short in the PV race.
The J/125 was put together in a class with three Farr 40's and two Santa Cruz 50's.  Racing was split between W/L and random leg racing which gave all the boats a chance to sail within their best conditions. Our first day was marred by a very unfortunate result for my football team.  Sailors are superstitious in nature, but I have one thing going against me.  Anytime Arsenal FC loses, I have a bad day on the water.  Arsenal lost and we placed fifth in the first race of the MEXORC series.  Monday was a different story.  No football games to mess me up!  Four races later, we had straight bullets and were leading the regatta.
Two days were spent doing random leg racing and it was here that the little J/125 really shined.  In the pursuit race, we marched to a victory well ahead of the nearest boats.  It was a crucial spinnaker change from the 2A to the 5A that helped us cross the finish line at 16kts of boatspeed while most of our competitors jib reached the final few miles.  It is a good feeling to see TP52's, SC-50's and a plethora of other yachts behind you at the finish.
Same scenario happened in the second random leg race.  Finished doing 16kts with the 5A up and correcting out on the nearest boat by a good 6 minutes or so gave us confidence that the regatta was ours.
We ended up clinching first place with one day to spare.  It was a great relief and we sailed the final day with a sense of ease.  The only thing that marred the day was some unscrupulous actions from the "professionals" on some other boats that were truly taking advantage of our laid back approach to the race.  Such is sailboat racing that it brings out the worst of a person's ego.  We did not let it ruin our day, as we knew that our actions and clean sailing was the core to our success.
I would again like to thank Viggo Torbensen and the entire Timeshaver team for working hard and sailing cleanly through two weeks of tough racing.  For me the trip was another adventure in this book of life and another opportunity to learn about myself and the nature of competition.  Always a fun time and I look forward to more.  K-Mag out."
---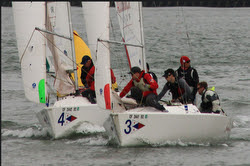 Young Dominates J/22 California Dreamin' Series
(San Francisco, CA)- The St Francis YC J/22 fleet continues to be put through its paces, this time hosting the next stage in the California Dreamin' Match Race Series over the March 12th to 13th weekend.  With the highly unusual El Nino throwing everyone a curve ball on San Francisco Bay, the sailors were greeted by less than hospitable weather conditions all weekend long.  Grey skies, rain, drizzle, mist, fog and, in fact, lots of wind blowing "dogs off chains" from time-to-time seemed to characterize the weekend.

Nevertheless, with spirits high, nine-layers of clothing to ward off the chill, the intrepid sailors marched down to the sea again, to that lonely sea and sky, hopping aboard their tall ship, using the stars to steer her by.  Indeed, there were many stars on the water that day (weekend), eight of them from across the spectrum of top California sailors.
After a series of two round-robins, it was abundantly clear that one team stood head & shoulders above all the rest.  Winning seven straight contests on Saturday and winning all but one on Sunday, the team of Shane Young with crew of Steve Flam, Ian Paice and Nick Santos won with a landslide victory of 13-1.  Taking second over the weekend was Steve Natvig's crew of Brian Martin, Wes Byrne, and Dillon Lancaster with a 12-2 record (his only losses coming from Young's team). Standing tall and forcing the lead two teams into intense duels, but getting the short end of the stick each time was Nicole Breault's women's crew of Molly Carapiet, Dana Riley and Karen Loutzenheiser, posting a 10-4 record (losing her 4 races to the two leaders).  For more J/22 California Dreamin Match Race series sailing information
---
Blustery Scachet Head Race
(Seattle, WA)- The morning dawned with rather spectacular scenery on Puget Sound for the second of three races in the Center Sound Series hosted by Corinthian YC Seattle.  The Scachet Head Race was a challenging one for many, chilly temperatures, black torn-cotton low-flying storm clouds scudding across the horizon, sunny patches of water to keep you temporarily warm, with winds howling in the 20-25 kts plus range for most of the day.
Comprised of all the "big boats" on Puget Sound, Class 9 saw John McPhail's beautiful J/160 JAM again sail a solid race to post a 3-4 for the series and hold onto third position.  Tom Huseby's J/145 DOUBLE TAKE has been consistent; posting double-5's to be tied for 5th in class.

Nearly half the Class 7 fleet did not start over the weekend.  Nevertheless, the brand new J/122E JOYRIDE sailed to yet another 4th place to hang onto 3rd place for the series.  Andy Mack's J/122 GRACE is sitting in 8th after two races.
The usual class leaders in Class 6 are J/109s.  However, both boats took DNFs for various reasons to drop them in the standings.  On a day that J/109s would have "rocked the casbah", they instead went home licking their wounds.  Jerry Woodfield's SHADA started the first race (Blakely Rock) in 2nd place and Stu Burnell's TANTIVY was 3rd.  Now after DNF's they sitting just 3 points out of second place; a strong statistical probability one, or both, of them will land on the podium after the last race.
Six of the top ten in Class 5 are all J/sailors.  Leading the charge for now is the quartet of J/35s.  Reveling in the blustery conditions, Don & George Leighton's TAHLEQUAH is 4th overall.  Karl Haflinger's SHEARWATER is 5th, Tyson Varosyan's SOLUTION is 6th and Sven Ellingsen's BERGEN VIKING is sitting in 7th.  Just behind in 8th (counting a DNC) is Bob Ross' J/88 BON-BINI and in 10th place is the classic J/36 MONKEYBONES skippered by the team of Jason Andrews & Shawn Dougherty.

Class 4 is the one-design J/105 fleet.  The fleet was tight until the spinnakers had to get set and a few boats exposed whether or not they got their bottom cleaned for the weekend's racing!  Winning the day and hanging onto first by virtue of a tiebreaker is Erik Kristen & Kathryn Meyer's MORE JUBILEE.  In second is Jim Geros' LAST TANGO, also with three points.  Third place counting two 3rd places is David Cohen & Lance Rummel's INCONCEIVABLE.  They are followed by Robert Blaylock's USAWI in 4th and Jerry Diercks' DELIRIUM in 5th.
As they have been doing for years, the top dog in Class 3 is Pat Denney's J/29 HERE & NOW, winning on the day but only winning based on a tiebreaker with a Ross 930.
After two races in the series, Mike Poole's J/80 JOLLY GREEN posted a 6th over the weekend to hang onto second place in Class 2.  However, Geoff Wolf & Adrien Felon's J/133 CONRAD J went racing up the ladder, winning class and vaulting in 4th place.  Derek Storm & Cindy Gosset's J/30 OUTLAW passed on the day but hang onto 5th place.
Next race in the Center Sound Series will be the infamous Three Tree Point Race next weekend onMarch 26th.  The entire fleet was treated to a Chalk Talk by hometown Olympic Gold Medallist Carl Buchan on Friday, March 11.  Apparently, some sailors took his sage advice well, why some others plainly forgot!  Good luck next time to all.   Sailing photo credits- Jan Anderson   For more Center Sound Series/ Scachet Head Race sailing information
---
J/Community
What friends, alumni and crew of J/Boats are doing worldwide
———–

* J/Sailors led the 70-boat Star class in a variety of ways during the Bacardi Miami Sailing Week.  In fact, against a star-studded group of sailors that are preparing for the upcoming Star World Championship held by Coral Reef YC on Biscayne Bay, the J/sailors left an emphatic impact on the top ten, taking five spots.  Leading the charge was local knowledge expert Augie Diaz (a past J/24 Midwinters Champion), landing on the podium in 3rd place.  Immediately behind him was the world-famous Paul Cayard taking 4th (he recently raced J/70s in the Rolex Big Boats Series, winning with Andy Costello on DOUBLE TROUBLE 2.0 and is sailing the 2016 J/70 Worlds in San Francisco with Carlo Alberini's CALVI NETWORK).  Less than ten points separated the next three J/70 sailors- Peter Vessella (owner of WILD CHILD) took 7th, George Szabo was 9th and Eric Doyle placed 10th.  As Szabo explained, "it's fun sailing J/70s because there are so few strings to pull, which makes it a tough class!  But, then again, if you know which ones to pull on a Star, you really go fast!"

* Women Sailors Developing an Unbreakable Love for the Sport– after considerable success in 2015 with teammate Briana Provancha, Annie Haeger (left) was recognized as the US Sailing Rolex Yachtswoman of the Year. But, it was just a year earlier her childhood friendStephanie Roble (below right) had won the same award. Notably, both Annie and Steph were very successful in college sailing (both multiple All-Americans, with Annie winning Women's Sailor of the Year) and both having proven themselves very competitive sailing on various JBoats- J/22s, J/24s, J/80s, J/70s.  In fact, most recently, Steph was sailing aboard John Brim's J/70 RIMETTE- placing 5th in the J/70 class at the St Petersburg NOOD Regatta.
Annie's acceptance speech offered a glimpse on how these two Midwest girls are toppling the sailing world:

"For two years in a row, sailors from a little tiny pond in Wisconsin have won this prestigious award. People were joking when the award was announced: what's in the water up there? Well, I'm here to tell you that there's no secret, but just an amazing supportive environment that can only lead to success.
The atmosphere at little Lake Beulah – only 800 acres in size – provided us a platform to love sailing first as a lifestyle and then as a sport. In contrast to this beautiful club, which I am currently a member, LBYC (Lake Beulah Yacht Club) has one big room that combines the dining room, kitchen, and dance floor, plus Lake Beulah's favorite room, the bar [chuckles].
There were no cooks but loving mothers and fathers making home cooked meals for youth nights, and cooked outs on Wednesday, and judging races on weekends. Learn to Sail classes are filled with laughing kids that can be found chasing greased up watermelons and practicing capsizing.
My drive at a young age was due to the countless local regattas and the desire to bring home the biggest trophy. I swear I am not competitive. For those of us in the ILYA (Inland Lake Yachting Association) who are developing into competitors, there needed to be a platform to continue to succeed. This is when MOST – the Midwest Opti Sailing Team – was created.
Out of the ten sailors on the team, we produced 15 All-Americans at the college level, six National Championship titles and most importantly, an everlasting love for the sport. The MOST team held a competitive atmosphere filled with love and encouragement (Ed's note- both Steph and Annie helped coach Stu Johnstone's sons, Hunter & Ford, in their Optimist sailng careers).

The respect we held for our teammates, if they beat us fair-and-square, was not to get upset but to get them back next time. There is no jealousy but an amazing support system through parents, friends and coaches that brought success.
Perhaps the most important lesson I learned during that time was the importance of team work. Together as a team, the information sharing and being able to push each other with compassion and love helped to accelerate our learning.
My early development was a pathway to my future success. Morals and values instilled in me, sailing in the ILYA have morphed me into the sailor I am today. Let's keep supporting our youth sailors not only through our words but also through our actions and help them develop an unbreakable love for the sport."
Annie Haeger speech on YouTube

* Eight Bells: Jim Allsopp-  Sailing industry leader Jim Allsopp died after a 4 year battle with brain cancer on March 12 in Annapolis, MD. Jim was 72 years of age.
Jim Allsopp was a sailing legend that has personally and professionally influenced many sailors. Jim was one of those naturally talented sailors – he won the 1975 Star World Championships, beating Tom Blackaller, Pelle Petterson, Malin Burnham, and Bill Buchan. He followed that up by winning the 1976 Star European Championships in Marstrand, Sweden.
Jim most probably would have continued winning in the Star Class had Lowell North not seen enough of his talents to ask Jim to be the trimmer on his 12 meter Enterprise for the 1977 America's Cup Defender Series. That was followed up by an offer from Lowell for Jim to run the new North Sails loft in Annapolis. Jim accepted and his loft became one of the most successful in the company.
Through his work with North Sails, Jim became an ambassador for sailing in Europe.
Jim survived the stormy 1979 Fastnet Race where 15 people died and 5 boats sank. He was sailing Ricardo Bonadeo's 50 footer "Rose Selavy" and brought his rookie team back home safely. Italy and Spain were just breaking into the international sailing scene and Jim was a frequent invite during the 1980's on the Italian Sardinia Cup and Admiral's Cup teams. Jim brought his sailing talent and good humor to those teams who were hungry to learn from the best.
In the 1990's, Spain's fledgling big boat group called in Jim to help get them up the ladder. Jim often sailed with King Juan Carlos and was a regular helmsman and tactician for the Spanish maxi, one ton, and Copa Del Rey teams.
Meanwhile, Jim kept his hand in the America's Cup and sailed as navigator on the 12m Eagle in the 1987 edition in Perth, Australia and as mainsail trimmer on Russell Long's 12m Clipper in the 1980 Defender Series. Not one to take a break, Jim sailed in the 1997-98 Whitbread Round the World Race on George Collin's entry- the Whitbread 60 called Chessie Racing.
After stepping down from running North Sails Chesapeake, Jim later managed North Sails' marketing department and influenced the company's worldwide image. He owned a succession of boats and most recently raced his J/70 with his two sons as well as being a highly sought after tactician in Superyacht circuit, primarily on the schooner Elena and J-Class yacht Shamrock.
Jim will be greatly missed by his family and friends.
---
J/Cruisers
J Cruisers continue their adventures around the world, below are a selection of most excellent "blogs" written by their prolific publishers.  Some terribly amusing anecdotes and pearls of wisdom are contained in their blogs. Read some! You'll love it.
* The J/40 HERON REACH sailed by Virginia and Jerry is participating in the Blue Planet Odyssey project and have recently joined them in the Marquesas Islands in the Eastern Pacific.  Learn more about their adventures and experiences here- http://heronreachodyssey.blogspot.com/

* J/160 SALACIA has been sailing in Australia in the Whitsunday Islands.  Guess who decided to throw themselves across their bow as they cruised comfortably to their next destination?  A giant whale!  Look at this amazing photo!

* Jim & Heather Wilson just completed a circumnavigation of our "blue planet Earth" in June 2013 on their J/42 CEOL MOR.  Said Jim, "The odyssey of CEOL MOR is over, for now.  We completed our circumnavigation on our J/42 when we crossed our outbound track in Britannia Bay, Mustique. We were, however, still 2,000 nautical miles from home. So we continued on through the Windwards, the Leewards, and then through the British Virgin Islands. After a farewell 'Painkiller' at the Soggy Dollar, and a last meal at Foxy's, we made the 1,275 nautical mile passage to the Chesapeake and completed our port-to-port circumnavigation when we arrived in Annapolis on June 28, 2013. We had been away 1,334 days, completed 259 days of ocean passages, and sailed 30,349 nautical miles (34,925 statute miles). Read more about their adventures in their  well-documented blog here:  http://www.svceolmor.com/SVCeolMor/Welcome.html
* J/160 AVATAR headed for the Caribbean, again, for 2015/ 2016!  We LOVE these updates from our cruising J sailors that continue to criss-cross the Seven Seas. This one comes from Alan Fougere, sailing his beloved J/160 AVATAR.   Alan sent us an email update regards their various improvements and refit to the boat (see above).  They will again be based at Proper Yachts in St John, US Virgin Islands.

* Bill & Judy Stellin were interviewed about cruising on their J/42 in the Wall St Journal called "Retiring on the Open Sea".  The Wall St Journal asked Bill to reply to dozens of questions that flooded into the WSJ's Editor desks. Here's the update:
Retiring on the Sea: Answering Readers' Questions
Advice about selecting a boat, ocean crossings, itineraries and safety

The article in our WSJ Online December retirement report about eight years spent sailing the Mediterranean— "Retiring to the Open Sea"— prompted many questions and comments from readers.  We asked William Stellin, who wrote the story, to answer some of the most common queries.
WSJ- "What kind and make of boat did you use? Looking back, would you have picked a different boat?"
Bill- "In 1995-96, J/Boats of Newport, RI, came out with a new cruiser/racer model, the J/42. We bought hull No. 6 of this popular 42-foot sailboat and named it JAYWALKER. This was our fourth boat since beginning sailing in 1975.
Although long-distance cruising wasn't what we had in mind when we purchased JAYWALKER, it soon became apparent it had the ability to carry us easily and safely anywhere we wanted to go. Because the boat is light, it sails well in light winds, which means very little motoring is necessary.
People often ask (and argue) about what boat is best for cruising. Any boat that is strong, safe, fast, comfortable and easily handled by two people should fit the bill. One thing for sure, fast is fun—and important when trying to avoid bad weather."
READ MORE ABOUT BILL'S INSIGHTFUL COMMENTARY AND THOUGHTS ON WSJ ONLINE HERE
* The J/42 JARANA continues their epic voyage around the Pacific. Continue to read about Bill and Kathy Cuffel's big adventure cruising the South Pacific headed for New Zealand.  Their blog is here:http://www.svjarana.blogspot.com/
* John and Mary Driver are sailing their J/130 SHAZAM for extended cruising in the Atlantic basin. At this time, John and Mary finished their double-handed crossing of the Atlantic, landing in Portugal on their J/130 Shazam after completion of their ARC Rally. Read the latest news athttp://www.sailblogs.com/member/shazam/.

* Several J/160 owners are island hopping across the world's oceans, fulfilling life long dreams to cruise the Pacific islands, the Caribbean islands, the Indian Ocean and all points in between.  Anyone for Cape Horn and penguins??  Read more about their adventures and escapades (like our J/109 GAIA, J/42s PAX and JAYWALKER and J/130 SHAZAM friends above).
–  Bill and Susan Grun on the J/160 AVANTE are also sailing in the Pacific archipelago, read more about their great adventures on their blog (http://web.me.com/susangrun).  Read about their latest adventures as they've gotten to New Zealand- "Avante Cruises the Pacific".
– Eric and Jenn on the J/160 MANDALAY also sailed the Pacific archipelago, read more on their blog athttp://www.sailmandalay.com.  Eric and Jenn are J/World alumni took MANDALAY up and down the West Coast (Mexico, CA), then to the South Pacific and New Zealand.  MANDALAY is back in San Francisco now, and in the J/World fleet–she is available for skippered charters, private instruction, and corporate/executive groups.