---
Moscow Show J/70 Project!
(Moscow, Russia)- You are invited to attend the 9th International exhibition Moscow Boat Show which will be held March 8th to 13th, 2016 in Crocus Expo Pavilion 3.  On display adjacent to the Russian Sailing Federation's booth the J/Russia booth at Stand C453.
It is an exciting year for the J/70 in Russia.  The class was selected by the Russian Sailing Federation (http://rusyf.ru/) to be the primary boat for the newly launched Russian Sailing League that features events at the Winter Olympics site- Sochi- as well as events in St Petersburg and Moscow.  The Russian sailors are learning fast, as evidenced by their recent excellent results at YC Monaco's Primo Cup- Credit Suisse Trophy regatta this past month.  Many of the top Russian Olympic sailors will be participating with the goal of qualifying for the Sailing Champions League Finale to be hosted by YC Costa Smeralda in Porto Cervo, Sardinia in September.
For more information or to make an appointment at the show, please be sure to contact J/Russia's representative- Grigory Aksenov- email- aksenov.grigory@gmail.com or mobile +79091576924.  For more Moscow Boat Show information
---
J/70 BACARDI Miami Sailing Week Preview
(Coconut Grove, FL)- The seventh annual BACARDI Miami Sailing Week (BMSW) presented by EFG Bank is taking place from March 10th to 13th in Miami, Florida.  The event begins on Thursday and continues until Saturday.  On the water, Coral Reef Yacht Club coordinates activities in collaboration with the Biscayne Bay Yacht Club and with the help of the U.S. Sailing Center and Shake-A-Leg Miami.
The enormous forty-one boat fleet may be blessed with epic sailing conditions on Biscayne Bay!  For the past week, the various weather models and GRIB files show a powerful easterly flow being fed by a stationary high-pressure system off the mid-Atlantic Coast feeding low-pressure troughs getting pushed across the continental Midwest.  The net effect is easterlies in the 15-25 kts range forecast for Thursday, sunny and in the mid-70s.  For the next two days of racing, it is anticipated that same flow slowing veers into the ESE then SE and slowly tapering to 10-20 kts by Saturday!  Such conditions produce the classic Biscayne Bay steep chop that is reminiscent of an outgoing tide on San Francisco Bay in 15-30 kts; great practice for those teams with an eye towards getting valuable J/70 Worlds practice in "fresh to frightening" weather.
Forty-one J/70 teams are traveling to Coconut Grove to compete from seven nations, including Italy, Bermuda, Canada, Brazil, Mexico, Great Britain and Uruguay.  Many of the leading teams from the midwinter regattas in Florida (Key West, Tampa and St Petersburg) will be participating.  The winners like Will Welles' SEA BAGS SAILING TEAM (Portsmouth, RI), Carlo Alberini's CALVI NETWORK (Pesaro, Italy), and current J/70 World Champion Julian Fernandez on FLOJITO Y COOPERANDO (Valle de Bravo, Mexico) will be fighting hard to stay in the lead pack; many new faces in the crowd are sailing fast and furious and are proving to be serious contenders in any condition.
Of the American teams you can count on the following to be factors overall: Brian Keane's SAVASANA (Weston, MA); Peter Duncan's RELATIVE OBSCURITY (Rye, NY); Joel Ronning's CATAPULT (Minneapolis, MN); Heather Gregg's MUSE (Boston, MA- J/70 World's Corinthians 1st and 3rd in last two Worlds); Allan Terhune's DAZZER (Annapolis, MD- current J/22 World Champion); Bob Hughes' HEARTBREAKER (Ada, MI- Farr 40 Mackinac Race Champion); Jacko Franco's JT3 BALL (Kemah, TX); Doug Strebel/ Jay Lutz's BLACK RIVER RACING (Dallas, TX); Tom Bowen's REACH AROUND (Charleston, SC); John Brim's RIMETTE (Fishers Island, NY); and Dick Lehmann/ Kevin Meier's WIND CZAR (Harbor Springs, MI).
Leading the foreign contingent should be Alberini's CALVI NETWORK, fresh off their Key West "two-peat" win.  However, there are a number of South American teams that are climbing the ladder rapidly, some of whom are Pan American or World Champions in classes like Snipes, Lightnings and J/24s.  If you recall, the J/24 Pan Am Games Gold Medalists were from Argentina.  It's happening "down under", after all their summers are twice as long as they are in the northern hemisphere.  The Brazilians are fielding several teams, including Phil Haegler/ Brian Kamilar's CLOUD NINE (Rio de Janeiro), Flavio Andrade's OCEANPACT (Rio de Janeiro), Jose Vita/ Marcelo Bellotti's SUDOESTE (Sao Paulo).  Sailing J/70s for the first time in a major North American event will be the Uruguayans from YC Punta del Este- they sail off that famous peninsula jutting into the South Atlantic at the opening of the Rio de La Plata (also host to the first J/70 South American Championships in a few weeks).  Diego Garcia/ Sebastian Rana's CHAPULIN (Montevideo) and the Centanaro family's (Aldo and Aldo Jr) PURAJODA (Montevideo) will be working on their performance as they prepare for the Worlds in San Francisco.  Finally, a competitive combination from Great Britain/ Italian entry is Marco Salvi/ Massimo Bortoletto's VERTIGO TOO from London and YC Costa Smeralda.
The BACARDI Village hospitality for BACARDI Miami Sailing Week will be set up in Kennedy Park, where sailors will enjoy BACARDI Rum, food and music. A special art exhibit, Sailing Dreams by Vicki DaSilva, will be set up in Coco Walk, Unit 115, and open every day. DaSilva will exhibit 10 light paintings (made by moving a hand-held light source while taking a long exposure photograph) that present to the community how she interprets the beautiful sport of sailing into art.  For more BACARDI Miami Sailing Week information
---
Islands Race Preview
(Newport Beach, CA)- The 130nm Islands Race takes off on March 11, and is San Diego YC's first offshore race of the year; followed by the SoCal 300 in May and the Rum Runner race in October. This is the seventh year that SDYC will partner with Newport Harbor Yacht Club for the Islands Race. The race will showcase impeccable scenery alongside the California coast as competitors start in Long Beach Harbor, navigate around the Santa Catalina and San Clemente Islands, before completing the race in Point Loma in San Diego.
The Islands Race is a staple in the offshore racing circuit for boats of all sizes.  This year twenty-eight of the best boats in the California offshore racing community are taking part on the start this Saturday.  Amongst them is a diverse group of J/Teams, covering the spectrum from the speedy J/88 up to the magnificent J/65.
At the top of the heap and most likely to be the first member of the J/Tribe to cross the finish line first is Tom Barker's beautiful navy-blue J/65 MAITRI from the Cortez Racing Association.  She will be chased hard by one of the veterans of the offshore SoCal wars, Tim Fuller's J/125 RESOLUTE from Newport Harbor YC. Watch out for Paul Stemler's J/44 PATRIOT from Newport Harbor YC, particularly if the breezes are strong from the southwest as they haven been with the advent of the El Nino induced "Pineapple Express" (e.g. a long slog to windward in big seas!). Similarly, such conditions would also be welcomed by Seth Hall's gorgeous flag-blue J/124 MARISOL from Cortez Racing Association.  Hoping for blast-reaching and planing-mode conditions is perhaps the "Swiss Army knife" in the quiver of J's racing down to San Diego- the J/88 speedster appropriately named BLUE FLASH and sailed by Scott Grealish and friends from Willamette SC in Portland, Oregon- the last offshore race they sailed they won by a country mile!  Watch this space, history may repeat itself!  Finally, there is no telling how the Sanford's J/105 CREATIVE from San Diego YC will fair in the race; as a proven commodity they can easily make the podium if they race in one-design configuration and get a blow from the WNW.  For more Islands Race sailing information- you can watch the fleet racing on the YellowBrick Tracker!
---
HELLY HANSEN Warsash Spring Series Preview
(Warsash, England)- The big news for this year's Warsash Spring Series is that HELLY HANSEN has jumped aboard to partner with the Warsash SC's premiere sailing regatta on that famous body of water called the Solent.
HELLY HANSEN has announced a three-year deal that will see the technical clothing brand become Title Sponsor of the prestigious Warsash Spring Series. Renamed as the HELLY HANSEN Warsash Spring Series, HELLY HANSEN will be the exclusive provider of technical sailing clothing to all competitors and race organizers until 2018.
As a long established event, the HELLY HANSEN Warsash Spring Series is the first of the Solent's annual yacht racing events. Organized and managed by Warsash Sailing Club, the series takes place over six consecutive Sundays throughout March and April, and will see over 180 yachts and 1,200 sailors taking part.
With HELLY HANSEN as Title Sponsor, all entrants and organizers will benefit from exclusive clothing discounts, enabling them to purchase innovative and technical sailing kit, designed to keep them warm, dry and protected whether competing or spectating. Class and other winners will be awarded prizes of Helly Hansen sailing kit.
Commenting on the sponsorship, Peter Bateson, Chairman of the event, said, "We are thrilled to welcome HELLY HANSEN on-board as our Title Sponsor. HELLY HANSEN is the brand of choice for many sailing professionals, and will be the perfect partner for ensuring competitors and organizers can keep warm and dry. We're very excited to develop our partnership over the next three years to the benefit of the event and the participants."
Marketing Manager for HELLY HANSEN in the UK and Ireland, Emma Russell, commented, "We're delighted to be announced as the Title Sponsor of the Warsash Spring Series. As a Norwegian brand, we understand the importance of keeping sailors warm and dry at sea, leaving them free to focus on their performance. The Warsash Spring Series, and the cold water in the Solent during the spring, provides the perfect location for HELLY HANSEN to associate itself with the UK's sailing community, from professional to amateur sailors." For more information about Helly Hansen, please visit-http://www.hellyhansen.com.
Looking forward to accumulating as much of that awesome "swag" as possible will be a veritable J/Navy.  In Black Group/ Championship IRC fleets, the queen of the fleet is Chris Daniel's J/122 JUNO.  She will be joined by two J/111s- Paul Griffiths' JAGERBOMB and Cornel Riklin's JITTERBUG. Then, two 35-footers are in the mix, the J/35 BENGAL MAGIC and the J/105 MOSTLY HARMLESS (Natalie Jobling).  Chasing them all hard will be a frighteningly fast group of 29-31 footers led by the J/97 BLACKJACK (Andy Howe), the David Greenhalgh's J/92 J'RONIMO and a rogue's gallery of five J/88's- Paul Ward's EAT SLEEP J REPEAT, David & Kirsty Apthorp's J-DREAM, Richard Cooper's JONGLEUR, Dirk Van Beek's SABRIEL JR, and Gavin Howe's TIGRIS.
The Black Group/ Championship J/109 classes have yet another nice turnout with eight boats.  Numerous past class leaders should be in the hunt for the silverware, including Dave Mcgough's JUST SO, Owain Franks' JYNNAN TONNYX, the RAFSA's RED ARROW and David Richards' JAZZY JELLYFISH.
Nearly a dozen J/70s are participating in the White Group/ Championships, including Patrick Liardet's COSMIC, Andrew Barraclough's JENGA 8, Dave Mcleman's OFFBEAT and Yannig Loyer's J OUT OF THE BOX!  Similarly, the top J/80s in their White Group/ Championship fleets include Jon Powell's BETTY, Mike Lewis' JESTER and Terence O/Neill's AQUA-J.  For more HELLY HANSEN Warsash Spring Series sailing information
---
J/Sport Cruisers Oceanvolt Option For 2017
(Newport, RI)- The Oceanvolt innovative, fully integrated SEA (Silent Electric Autonomy) system is currently offered on the USA built J/88.  And, starting this fall (2017 model year), it will also be offered on the J/95, J/97E, J/112E and J/122E.
Imagine sailing on a beautiful day knowing that, even if the wind dies and you're forced to turn on the motor, peace and tranquility are not lost. Every minute sailing, the battery pack is being charged, allowing you to later silently power back to the harbor. "There is no quicker way to break the magic and silence of a beautiful day for sailors than having to turn on the diesel engine," says Jeff Johnstone, President of J/Boats.
Oceanvolt electric motor systems are standard on more than 45 boat models, both monohull & multihull, represented by 30 different boat manufacturers worldwide. The systems are highly reliable, silent, maintenance free & create energy while sailing, even with folding propellers. The batteries of the propulsion system can be charged using the hydro-generation feature on the motors, solar power, shore power or a small DC generator. The generation feature creates hardly any drag, only 0-0.5 knots depending on the speed.
The Oceanvolt refit attachment flange has been designed for easy installations to fit directly onto existing sail drive beds of Yanmar and Volvo motors, so it is possible to install it into your existing J/Boats model as well. In addition to sail drive motors (up to 45hp), Oceanvolt also offers shaft drive models that are compatible to motors up to 25hp. Because the systems are 48V they are safe and can be installed without any special certification.
Contact salesusa@oceanvolt.com for more details about refitting. Learn more about the J/88 Oceanvolt model here- http://oceanvolt.com/jboats-j88. And, contact J/Boats to get more information about the different electric motor packages on the new J/Boats.
---
J/70 Worlds San Francisco- Open for Entries!
(San Francisco, CA)- The St. Francis Yacht Club has a long history of hosting World Championship for a wide variety of classes of sailboats.  In 2016, the club is excited to be hosting the J/70 Class for its third World Championship event from September 24th- October 1st.  As of the end of January,  there are already 20 boats from 7 nations registered!
The StFYC committee and the local fleet are busy working on the planning for logistics, measurement, on the water racing and shoreside events.  No event at StFYC is done when you get to the docks; you can look forward to cold beer upon arrival, and fun parties post-racing.  From the Opening Ceremony & Parade of Flags, to evening socials and wrapping up with the Trophy Ceremony on Saturday night,  you and your teams will enjoy camaraderie with the other sailors.
The StFYC Committee are working on more surprises to make it a great week for all.  StFYC is a full service yacht club, with a bar open daily, three dining rooms, locker rooms, and more.  They are planning to provide reusable water bottles, and encourage you to plan to use these instead of single-use water bottles each day.  Both ice and a bottle-filling station will be located at the top of the ramp to the guest docks.
One week before the Worlds is the Rolex Big Boat Series, which the J/70's are invited to sail in.  With 100+ boats and racing on a variety of courses around the bay, it's a great opportunity to get used to the San Francisco Bay, the courses that the Worlds will be raced on, and the local conditions.  The NOR is posted and registration is open.  August 1st is the deadline for entries for RBBS- register here:http://www.RolexBigBoatSeries.com
For your housing logistics, San Francisco offers a variety of housing options, please check the Worlds website for the link to local options. There are motels within walking distance, higher end hotels a short Uber/Taxi ride or car ride away. You cannot go wrong with picking restaurants in San Francisco either.  Plus, San Francisco is the hometown of both Uber and AirBNB!  For your boat logistics, the club does not have the space to store boats before the regatta, so you are encouraged to make plans to keep your boat at a local boat yard.  The Committee is gathering info and contact details, watch the website for these links.   For more information, please do not hesitate to contact the J/70 Worlds Regatta Chair- Susan Ruhne- email- sruhne@yahoo.com  For more J/70 World Championship sailing information
---
TORQEEDO J/70 North Americans- Enter Now!
(Houston, TX)- The J/70 North Americans have been the premier event with North America's top amateur and professional sailors competing for the top prize!  It's a great opportunity to compete with the best of the best on Galveston Bay.  The ideal venue for a J/70!  The title sponsor, TORQEEDO, is also sponsoring the "Legacy" family awards for teams that have two or more family members on board!
It's important to know that the city of Seabrook caters to sailors!  The city logo is a sailboat!  Of all the places to go race sailboats, Seabrook Texas has to be one of the best bargains.  Reasonable hotel rates with additional J/70 room discounts available!  Reasonable driving distance from Houston, Hobby and Houston Intercontinental airports, and lots of great dining and entertainment venues!  Drive down for the Shoe Regatta stay the week, make a vacation out of it and then race the NA's!
The hosts, Lakewood Yacht Club, has been earning their stripes by putting on top notch regatta's with superb race committee work on the water.  The attitude is to provide the competitors with a challenging and fair race each time the starting gun is sounded.  The on-the-water attention to detail is matched with the off-the-water dockside environment.  LYC wants sailors to keep coming back year after year and the on land experience consists of great event support, food, and entertainment.  Learn more about Lakewood YC here.

A prime "practice regatta" is the Shoe Regatta on May 14-15th!  Come down the weekend before and race the Shoe Regatta!  Who knows, you might just win a new pair of shoes to wear the following weekend at the J/70 North Americans.  Either way it would be a great opportunity to tune up for the J/70 NA's! Learn more about the incredibly fun "Shoe" here.
Gas prices are at a 8 year low!  The J/70 is the easiest towing 23 footer out there!  Combine the low gas prices with the low cost of lodging in Seabrook and there is no other major regatta in North America that will be a better travel bargain than this event!  Combine that with a first class racing opportunity and the shore side activities and your fun meter will be pegged! Remember, this is truly legendary Texas hospitality, a red carpet ride you won't want to miss!   Register now!  For more J/70 North Americans sailing information
---
J/Sailing News
The Sun Never Sets on J's Sailing Worldwide
As spring begins to bloom ever so slowly in one of the warmest winters on record in the northern hemisphere, thanks to a powerful El Nino phenomenon off the western coast of Chile, sailors are enjoying the remarkably benign weather that coincidentally is producing fairly breezy weather patterns, much to the delight of all J sailors everywhere.
In the European orbit, the YC Monaco completed the fifth and final act of the YCM's Sportsboat Winter Series for the J/70 class on the Mediterranean and it also completed the YCM J/70 Sportsboat Winter Series.
In the Caribbean, the first of many winter regattas took place, starting with the famous Heineken St Maarten Regatta and the Gill Commodore's Cup in St Maarten that had J/122s, J/120s, J/39s, J/105s, J/30 and others participating.
Down in South America, the Peruvian Offshore series saw a J/111 make a significant impact over the course of their Summer Series.
Finally, in the USA we find two significant events take place on the West Coast.  One was Corinthian YC's Blakely Rocks Race, part of their season-long Center Sound Series.  The other was the Spring One-Design Regatta at St Francis YC that hosted one-design fleets of J/70s, J/105s and J/120s.
Read on! The J/Community and Cruising section below has many entertaining stories and news about J/Sailors as well as cruising blogs about those who continue to enjoy the Caribbean and the South Pacific, staying warm while others are trying to stay warm up north.  Check them out!  More importantly, if you have more J/Regatta News, please email it or upload onto our J/Boats Facebook page  Below are the summaries.
---
Regatta & Show Schedules:
Mar 10-13- J/70 Miami Sailing Week- Coconut Grove, FL
Apr 16-19- Charleston Race Week– Charleston, SC
For additional J/Regatta and Event dates in your region, please refer to the on-line J/Sailing Calendar.
---
Loro Piana's MARY J Wins Monaco Act V!
CARPE DIEM Wins Sportsboat Series
(Monte Carlo, Monaco)- The 5th and final Act of the Monaco Sportsboat Winter Series for the J/70s ended on Sunday after three days and six races, with Italian Giacomo Loro Piana's MARY J from YC Costa Smeralda taking top honours ahead of Filippo Pacinotti's Italian crew on PENSAVO PEGGIO and the Nicolas Groux's Swiss team on APROTEC in third. The outcome of this last event was notable in that three "newbies" in the regatta series took the top three spots on the podium and there were six different winners in six races-  that has never happened before in any J/70 regatta worldwide and is evidenced that new teams are getting up the learning curve rapidly on the fun, easy-to-sail speedster.
Held once a month from October to March, an initiative of Valentin Zavadnikov (SYNERGY), the regattas give amateur and professional teams an opportunity to establish their winter training base in Monaco to prepare for the summer's big meetings.

The win for Loro Piana was an exciting one as they were trading the lead back and forth over the first five races with Pacinotti, just three points separating them after four races.  However, a fifth race 2nd for Loro Piana over Pacinotti's 3rd place virtually assured the MARY J crew of the overall win with just one race to go.  In fact, the final race proved to be Loro Piana's toss race, counting a 5-1-9-3-2 for 20 pts net.  The PENSAVO PEGGIO crew posted a 1-3-9-3-6 record to take the silver.  Groux's APROTEC from Switzerland took the bronze based on their record of 3-10-11-1-4 for 29 pts.
Rounding out the top five for the regatta was Ludovico Fasitelli's ARROW-JUNDA with 31 pts in fourth and Jacopo Carrain's CARPE DIEM in fifth place with 35 pts.  The British teams showed up in force for this final regatta, with three teams all finishing in the top ten- Geoff Carveth's GILL RACE TEAM- JOYRIDE in 7th, Charlie Esse's BABY J in 9th and Charles Thompson's BRUTUS in 10th place.  The top German team was Jorg Saeger's JUKEBOX in 13th, part of a contingent of seven German teams preparing for their famously competitive Deutsche Segel-Bundesliga.

CARPE DIEM Monaco Winter Series Champion
After 23 races for the 2015-2016 edition, which saw a total of 64 teams competing, the President of the Monaco Class Association, Jacopo Carrain (CARPE DIEM) retained his title in coming top of the overall ranking. Hard on his heels just half a point behind was the British boat led by Sam Carter (BRUTUS) and in 3rd place Monegasque Stefano Roberti (PICCININNA). "The level was very high," commented the winner, "and it was great to see the Monegasque fleet of 18 boats, which has made such progress, with seven boats in the top ten this season at the end of five Acts. It really bodes well for the next challenge, the Italian J/70 Championship that starts in the Principality 1st to 3rd April before San Remo. It's a great opportunity to prepare for the Europeans in Kiel as there are six teams from the Yacht Club de Monaco planning to make the trip."  For more Monaco Sportsboat Winter Series sailing information
---
J/111 CHALLWA Makes History in Peruvian Offshore Series
(Lima, Peru)- The offshore fleet racing in Perú is held under ORC Handicap Rule and the Championship has twelve regattas, with one event per month.  The regattas are divided 70% windward–leeward courses and 30% offshore races.

In 2015, the J/111 "CHALLWA" ("fisherman" in Peruvian Language) was awarded with the gold medal for the best yearly performance in the ORC fleet.
Nevertheless, the J/111 being a multi-purpose boat and the smallest in the fleet, managed to beat racing boats like the Soto 48R, Grand Soleil 42R, Sydney 46R, Soto 42R, Dufour 44P and others.
Also, CHALLWA won the International Regatta "Sin Fronteras 2015" consisting of 4 W/L races and 3 offshore courses of 50nm, 30nm and 24nm, over boats from Ecuador and Perú.
CHALLWA is raced mostly by a family crew of eight- it consists of the Grandfather (of German Fuchs), the son-in-laws and two grandsons- 14 and 13 years old!
---
J/122 EL OCASO Dominates Heineken Regatta!
(Simpson Bay, St. Maarten) – For the last day of the St. Maarten Heineken Regatta, Caribbean sunshine and 12 knots of warm south-easterly breeze, greeted the 193 teams taking part in the 36th edition of the regatta. Just one nerve-jangling race was scheduled with all competitors enjoying spectacular conditions on the leeward coast of St. Maarten. With no discard, every class was hanging in the balance and Super Sunday produced some of the closest racing in the long history of the regatta.
The headliner performance of the event was none other than past Caribbean Winter Circuit Champion, Rick Wesslund's J/122 EL OCASO.  The Florida based team came storming back to win the last race and take the class.  Their fellow J/122 team on LIQUID skippered by Pamala Baldwin from Antigua took 8th in class.  Behind them was the J/120 PAULISTA skippered by Phillipe Champion in 9th position. Another J/120 SUNSET CHILD was 10th and yet another J/120 custom called JAGUAR took 11th.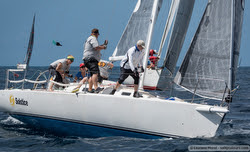 Another close regatta took place in the CSA 4 class.  Jonathan Lipuscek's Puerto Rican team on the J/105 DARK STAR narrowly missed winning class, taking second by one second overall.  Third was Jordan Mindich's crew from Long Island Sound on the J/105 SOLSTICE.  Amazingly, with one race left the J/105s were 1st and 2nd with SOLSTICE in 1st with a 2-3-2 and DARK STAR in second with a 1-4-4.  It was the last race that torpedoed the chances for SOLSTICE to win class, posting an uncharacteristic 6th place to drop into 3rd on the podium. Taking 7th in class was Remco van Dortmondt's Curacao team on the J/35 SUNBELT REALTY DASH.
Then, in CSA 5 class five, an excellent performance was turned in by Sir Robbie Ferron racing the J/39 TEAM BUDGET MARINE MICRON 99.  His team fought hard to take the class title and in the end settled for the silver in class with an amazing 2-1-2-3 record.
The J/30 BLUE PETER sailed by Peter and Shari Tanner from Antigua had a beautiful series with a 5-1-3-3 to take third in CSA 6 class.  Finally, in the CSA 2 Class, Henry van Melle's Netherlands crew on the J/46 JENT took a fifth in class.   For more Heineken St Maarten Regatta sailing information
---
EL OCASO Gill Commodores Cup King!
(Simpson Bay, Sint Maarten)- The 10th edition of the GILL Commodore's Cup featured a record entry of 84 boats for the stand alone event prior to the St. Maarten Heineken Regatta. David Pritchard, President of Gill North America, was delighted with the record entry and the long association with the St. Maarten Heineken Regatta. "Coming to the Caribbean is a joy for us and working with an outstanding partner like Heineken really energizes us. Heineken is not just a co-sponsor but a customer of this regatta and ours lets us collaborate with Heineken and many of our customers, as well as several Gill race teams. These connections with our customers and partners are very valuable to us. In addition, I must mention the great effort by over 80 volunteers working at the Gill Commodore's Cup and I would like to say thank you to every one of them. Without them giving up their precious time, this event would not be possible."
With a rough sea state and the wind piping up to over 20 knots, boat handling was at a premium in the racing off Marigot Bay. The big boats reveled in the conditions, Race Officer Stuart Childerley; officiating at the regatta for the first time, set three windward leeward courses.
Rick Wesslund's J/122 EL OCASO scored a perfect three bullets to win Gill 1 Division.  In Gill 3 Division, Jordan Mindich's J/105 SOLSTICE took third place despite having led the fleet after the first two races.  Sir Robbie Ferron's J/109 TEAM BUDGET MARINE MICRON 99 took 4th place and Remco van Dortmondt's J/35 SUNBELT REALTY DASH was 6th.  For more GILL Commodore's Cup sailing information
---
Spring One Design: A Wet and Wild Ride
(San Francisco, CA)- The 2016 racing season kicked off with a blustery start this weekend, as the sailors in Spring One Design experienced gale-force winds, rain and even a bit of hail. Despite the gnarly conditions on Saturday, Race Committee and Regatta Chairperson, Peggy Lidster, managed to get off five successful races on one course for the nearly 60 boats in attendance. Fleets in attendance included J/70s, J/105s and J/120s.
Saturday delivered consistent rain and heavy summertime air from 150 degrees, along with a strong ebb. Experienced NRO Bartz Schneider strategically planned a successful course layout working within the challenging conditions, some of which included a strong crosscurrent and winds from the southwest. There were three successful races in each fleet after which the sailors poured into the Northwest Room for warmth and camaraderie.
On Sunday, the conditions were a bit drier and the breeze a bit lighter. After a 30-minute postponement waiting for a wind shift, there were two successful races run in each fleet.
The J/70 class saw Craig Healey's BOTTLE ROCKET and Scott Sellers 1FA in a titanic struggle for the top spot in the class.  In the end, Healy's crew posted a 1-2-2-2–1 for 8 pts to take the title.  Sellers sailed an equally consistent 2-1-3-1-2 for 9 pts to take the silver.  Third was class newcomer Tracy Usher's CHRISTINE ROBIN from St Francis YC with a 3-3-1-3-3 for 13 pts.
The twenty-two boat J/105 class produced close, competitive racing as usual in this famous fleet on San Francisco Bay.  On the comeback trail is Shannon Ryan & Rolf Kaiser's DONKEY JACK, never winning a race in the five race series but sailing consistently in the top five to finish with a 4-2-2-3-6 scoreline for 17 pts.  Taking second was Bruce Stone & Nicole Breault's ARBITRAGE, also compiling a steady record of 3-6-4-1-8 for 22 pts.
There were a couple of new faces in the top five for the J/105 class; that included Tom Kennelly's WONDER from Richmond YC taking the bronze on the podium with a 9-1-1-11-7 tally for 29 pts.  Rounding out the top five were Steve Kent's PERSEVERANCE crew from Balboa YC in 4th and Scooter Simmons' BLACKHAWK in fifth place from San Francisco YC.
Finally, in the "big boat" J/Class, the J/120s saw the return of MR AGOO at the top of the leaderboard, with Steve Madeira's St Francis YC crew posting an amazing 1-1-1-3-1 record for a mere 7 pts- a dominant performance in the class.  Another top crew took second place, Barry Lewis' CHANCE managed to compile four 2nds on the way to an 11 pt total score.  Just one point behind in third place was David Halliwill's PEREGRINE.  SF Bay yachting photographer Erik Simonsen was on the water on Sunday and grabbed some great photos.  For more Spring One-Design sailing information
---
J/Crews Enjoy Blakely Rocks Race
(Seattle, WA)- The first of many races in the Center Sound Series took place this past weekend.  The Blakely Rocks Race is a 16.7nm dash up and around a famous rock in the Sound and back to the finish line.  Hosted by Corinthian YC of Seattle the Center Sound Series continues all year long and concludes in the fall.  There are dozens of J/Teams that compete in the event.
Starting with Class 2, Mike Poole's J/80 JOLLY GREEN won class, followed by Derek Storm/ Cindy Gosset's J/30 OUTLAW in third, Leo Morales' J/27 WIZARD in fourth and David Schulte's J/80 TAJ MAHAL in sixth.
Class 3 saw the classic J/29s giving everyone a run-for-the-money.  This time it was Patrick Denney's J/29 HERE & NOW taking third and Tom McDonald's J/29 JOYRIDE in sixth.

The J/105s sailed one-design as Class 4.  It was Jim Geros LAST TANGO taking the class win followed by Erik Kristen/ Kathryn Meyer's MORE JUBILEE in second, David Cohen/ Lance Rummel's INCONCEIVABLE taking third, Jerry Diercks' DELIRIUM in fourth and Chris Phoenix's JADED in fifth position.
There was a real battle in Class 5.  This time, it was the J/35s taking it to everyone in the class.  Karl Haflinger's J/35 SHEARWATER placed 4th.  But, it was Bob Ross' J/88 BON-BINI upsetting the J/35 train by taking fifth position.  They were followed by Don & George Leighton's J/35 TAHLEQUAH in seventh and Tyson Varosyan's J/35 SOLUTION in eighth.
The world of J/109s in the Pacific Northwest is famous for long-time enduring rivalries.  Not surprisingly, in Class 6 they are always factors in the top of the class.  It was Jerry Woodfield's J/109 SHADA securing second and then Stu Burnell's J/109 TANTIVY taking third.  Then, Chris Johnson's J/120 WITH GRACE finished sixth.
In the "big boat" categories, we see that Class 7 had some good performances by 40-45 foot J/Teams.  Taking fourth was the brand new J/122E JOYRIDE in fourth.  They were followed by Brian Duchin's J/133 TANGO in sixth, Lynn Adkins' J/111 ADALGISA in eighth and Andy Mack's J/122 GRACE ninth.  Class 9 division saw the magnificent big blue J's sailing a solid race overall.  Leading that group was John McPhail's J/160 JAM taking the bronze followed by Tom Huseby's J/145 DOUBLE TAKE in fifth.  Sailing photo credits- Jan Anderson   For more Blakely Rocks Race sailing information
---
J/Community
What friends, alumni and crew of J/Boats are doing worldwide
———–

* Sail Canada Sailor of the Month– J/24 sailor Rossi Milev!  Sail Canada's Sailor of the Month award acknowledges sailing achievements by Canadians involved or associated with the sport in all its forms. February marks a month full of midwinter championships with a flurry of competitive regattas hosted in the sunny state of Florida.
2007 Pan Am Team competitor Rossi Milev (PCYC) captured the J/24 Midwinters title against an extremely competitive 25-boat fleet at the Davis Island Yacht Club. "I'm very happy to have finally won it, but it really wasn't me, it was my crew," crediting Mark Liebel as tactician, Jim Traun on mast, Ron Hyat on bow and Arthur Blodgett as trimmer. "At least five other boats could have won it," conceded Milev. "The top boats were here…maybe five out of the top 10 in the world!" Victory is tasting sweet after several near misses for a title in past years.
Rossi will aim to clinch another title at his home club, Port Credit Yacht Club, in September at the J/24 North American Championships. Until then, Milev savors the Lambert Lai Trophy along with the distinction of Sailor of the Month – February!
---
J/Cruisers
J Cruisers continue their adventures around the world, below are a selection of most excellent "blogs" written by their prolific publishers.  Some terribly amusing anecdotes and pearls of wisdom are contained in their blogs. Read some! You'll love it.
* The J/40 HERON REACH sailed by Virginia and Jerry is participating in the Blue Planet Odyssey project and have recently joined them in the Marquesas Islands in the Eastern Pacific.  Learn more about their adventures and experiences here- http://heronreachodyssey.blogspot.com/

* J/160 SALACIA has been sailing in Australia in the Whitsunday Islands.  Guess who decided to throw themselves across their bow as they cruised comfortably to their next destination?  A giant whale!  Look at this amazing photo!

* Jim & Heather Wilson just completed a circumnavigation of our "blue planet Earth" in June 2013 on their J/42 CEOL MOR.  Said Jim, "The odyssey of CEOL MOR is over, for now.  We completed our circumnavigation on our J/42 when we crossed our outbound track in Britannia Bay, Mustique. We were, however, still 2,000 nautical miles from home. So we continued on through the Windwards, the Leewards, and then through the British Virgin Islands. After a farewell 'Painkiller' at the Soggy Dollar, and a last meal at Foxy's, we made the 1,275 nautical mile passage to the Chesapeake and completed our port-to-port circumnavigation when we arrived in Annapolis on June 28, 2013. We had been away 1,334 days, completed 259 days of ocean passages, and sailed 30,349 nautical miles (34,925 statute miles). Read more about their adventures in their  well-documented blog here:  http://www.svceolmor.com/SVCeolMor/Welcome.html
* J/160 AVATAR headed for the Caribbean, again, for 2015/ 2016!  We LOVE these updates from our cruising J sailors that continue to criss-cross the Seven Seas. This one comes from Alan Fougere, sailing his beloved J/160 AVATAR.   Alan sent us an email update regards their various improvements and refit to the boat (see above).  They will again be based at Proper Yachts in St John, US Virgin Islands.

* Bill & Judy Stellin were interviewed about cruising on their J/42 in the Wall St Journal called "Retiring on the Open Sea".  The Wall St Journal asked Bill to reply to dozens of questions that flooded into the WSJ's Editor desks. Here's the update:
Retiring on the Sea: Answering Readers' Questions
Advice about selecting a boat, ocean crossings, itineraries and safety

The article in our WSJ Online December retirement report about eight years spent sailing the Mediterranean— "Retiring to the Open Sea"— prompted many questions and comments from readers.  We asked William Stellin, who wrote the story, to answer some of the most common queries.
WSJ- "What kind and make of boat did you use? Looking back, would you have picked a different boat?"
Bill- "In 1995-96, J/Boats of Newport, RI, came out with a new cruiser/racer model, the J/42. We bought hull No. 6 of this popular 42-foot sailboat and named it JAYWALKER. This was our fourth boat since beginning sailing in 1975.
Although long-distance cruising wasn't what we had in mind when we purchased JAYWALKER, it soon became apparent it had the ability to carry us easily and safely anywhere we wanted to go. Because the boat is light, it sails well in light winds, which means very little motoring is necessary.
People often ask (and argue) about what boat is best for cruising. Any boat that is strong, safe, fast, comfortable and easily handled by two people should fit the bill. One thing for sure, fast is fun—and important when trying to avoid bad weather."
READ MORE ABOUT BILL'S INSIGHTFUL COMMENTARY AND THOUGHTS ON WSJ ONLINE HERE
* The J/42 JARANA continues their epic voyage around the Pacific. Continue to read about Bill and Kathy Cuffel's big adventure cruising the South Pacific headed for New Zealand.  Their blog is here:http://www.svjarana.blogspot.com/
* John and Mary Driver are sailing their J/130 SHAZAM for extended cruising in the Atlantic basin. At this time, John and Mary finished their double-handed crossing of the Atlantic, landing in Portugal on their J/130 Shazam after completion of their ARC Rally. Read the latest news athttp://www.sailblogs.com/member/shazam/.

* Several J/160 owners are island hopping across the world's oceans, fulfilling life long dreams to cruise the Pacific islands, the Caribbean islands, the Indian Ocean and all points in between.  Anyone for Cape Horn and penguins??  Read more about their adventures and escapades (like our J/109 GAIA, J/42s PAX and JAYWALKER and J/130 SHAZAM friends above).
–  Bill and Susan Grun on the J/160 AVANTE are also sailing in the Pacific archipelago, read more about their great adventures on their blog (http://web.me.com/susangrun).  Read about their latest adventures as they've gotten to New Zealand- "Avante Cruises the Pacific".
– Eric and Jenn on the J/160 MANDALAY also sailed the Pacific archipelago, read more on their blog athttp://www.sailmandalay.com.  Eric and Jenn are J/World alumni took MANDALAY up and down the West Coast (Mexico, CA), then to the South Pacific and New Zealand.  MANDALAY is back in San Francisco now, and in the J/World fleet–she is available for skippered charters, private instruction, and corporate/executive groups.