---
J/97E NW Yachting Review
(Seattle, Washington)- The first J/Boat created after the revolutionary 24-footer was the J/30 in 1979. The Johnstone team saw a place in the market for a fast 30-foot +/- racer-cruiser, and the J/30 fit that bill nicely. They're still great boats.
In 2009, J/Boats introduced the J/97 (31.5′), which targeted that same racer-cruiser market with a much more modern design paradigm. Much had changed in the nearly 30 years since the J/30. The new boat, though heavier, was dramatically faster and arguably more comfort-able with an aft double and aft head.
With the asymmetrical spinnaker and non-overlapping headsails, it was also easier to sail shorthanded. The new J/97E hull design may not be new, and the general arrangement and target market not much different from the J/97, but when the "e" (take your pick, either evolution or elegance) is added, there are some meaningful changes. The interior still features an aft head and double berth under the cockpit. The galley to port and nay station to starboard are both compact but definitely practical, and with port and starboard settees, the whole crew can gather together for drinks when it's raining (note- you can tell a Seattle sailor is thinking smartly!).  Read more of the NW Yachting review here.
Please note, the NEW J/97E (with wheel option) will be featured at the Newport Boat Show, September 17-20, and the Annapolis Boat Show, October 8-12.
---
YC Costa Smeralda Hosting SAILING Champions League
(Porto Cervo, Sardinia, Italy)- The SAILING Champions League and the Yacht Club Costa Smeralda (YCCS) are pleased to announce their collaboration for an event in 2015. YCCS will organize and host the SAILING Champions League Final in its European home waters in Porto Cervo, Sardinia, from 18th to 20th September 2015.
The YC Costa Smeralda is awaiting delivery of a new fleet of eight J/70s at the end of this month that will be used for the SAILING Champions League Final. The fleet will also be used in the future for inter-club events, team racing and will be available to YCCS members.

Riccardo Bonadeo, YCCS Commodore is looking forward to the inaugural edition of the regatta in Porto Cervo: "We are very pleased to be part of this exciting new format which encourages competitive racing between clubs and in which we see great potential. As hosts of the final of the SAILING Champions League, it will be an honour for us to welcome an international fleet of teams representing clubs from all over Europe to the waters of the Costa Smeralda."
Joachim Hellmich, Project Manager of the SAILING Champions League is excited about the first visit of the SCL in Porto Cervo: "The YCCS was the first club that was thrilled to host an SCL event in 2015 and we decided to partner with them right away at the premiere in Copenhagen in October. So we are very pleased to bring the SCL to Porto Cervo at the unique location of the YCCS."
YC Costa Smeralda is expecting 32 clubs from the 14 nations. Nations with a National Sailing League as of the summer 2015 include: Austria, Denmark (two leagues), Finland, Germany (two leagues), Italy, The Netherlands, Norway, Poland, Russia, Slovenia, Sweden, Switzerland, and the United Kingdom.  Formore SAILING Champions League sailing information
---
J/Sailing News
The Sun Never Sets on J's Sailing Worldwide
The "dog days" of summer have hit many places, characterized by sweltering hot days, mugginess, mosquitoes, biting flies and light airs.  It's not surprising that hordes of people are hitting beaches or cruising as far north as Maine, Nova Scotia, the Pacific Northwest or Scandinavia to escape the heat.  In Germany, the J/22s just completed their World Championship off Travemunde; the big fleet experienced just about everything the Baltic Sea could throw at them, from light, hot, sunny days to blowing a near gale!
In the Americas, things were quite busy on both coasts and the Great Lakes.  Out East, the J/30s had their New England Championship on Narragansett Bay, hosted by Barrington YC.  The Penobscot Pursuit Regatta was sailed on picturesque Penobscot Bay off Rockland, Maine with a range of "cruising" J's- J/32, J/40, J/35c and a J/24.  Not too far south, the Eastern YC hosted the J/70 New England Championship concurrent with the HELLY HANSEN Marblehead NOOD Regatta- fleets of J/105s and J/24s raced, too.  Out off Cape Cod, the Edgartown YC hosted the popular Edgartown Regatta and Round the Island Race took for a range of J teams from J/30s up to J/160s.  Then, in the Midwest there were two fleets of J/70s racing one-design, one group sailed the Great Lakes Championship at the CanAm Challenge Regatta in Youngstown, New York (hosted by Youngstown YC) and the others raced in Little Traverse YC's Ugotta Regatta off Harbor Springs, Michigan.  At the CanAm Challenge Regatta, the J/88s sailed their Great Lakes Championship and fleets of J/105s, J/22s and J/24s joined in the fun.  The Ugotta Regatta also had various J/105s, J/109s, J/111s and J/120s sailing in PHRF fleets.  Out West, major events took place up and down the greater Pacific coastline.  In the Northwest, Whidbey Island Race Week (a.k.a. "the adult summer sailing camp") enjoyed amazingly bright sunshine, wind and anything but "normal" misty Washington sailing conditions.  Further to the south, the 81nm Santa Barbara to King Harbor Race, co-hosted by Santa Barbara YC and Kings Harbor YC, also saw somewhat atypical sailing conditions for the popular downhill sleigh-ride through the Channel Islands.  Finally, out in Hawaii, J/125 teams and a J/44 were enjoying celebratory Mai-tais after collecting some silverware in the famous 2,225nm Transpac Race.
Read on! The J/Community and Cruising section below has many entertaining stories and news about J/Sailors as well as cruising blogs about those who continue to enjoy the Caribbean and the South Pacific, staying warm while others are trying to stay warm up north.  Check them out!  More importantly, if you have more J/Regatta News, please email it or upload onto our J/Boats Facebook page!  Below are the summaries.
---
Regatta & Show Schedules:
Aug 1- RORC Channel Race- Cowes, Isle of Wight, England
Aug 7-9- J/27 North American Championship- Oakville, ONT
Aug 7-9- Verve Cup Offshore Regatta- Chicago, IL
Aug 7-9- Buzzards Bay Race Week- Dartmouth, MA
Aug 8-11- J/111 EuroCup Regatta- Cowes, Isle of Wight, England
Aug 8-15- AAM Cowes Race Week- Cowes, Isle of Wight, England
Aug 8-16- Nantucket Race Week- Nantucket, MA
Aug 14- Ida Lewis Distance Race- Newport, RI
Aug 16- RORC Fastnet Race- Cowes, Isle of Wight, England
Aug 28- Sep 4- J/24 World Championship- Boltenhagen, Germany
For additional J/Regatta and Event dates in your region, please refer to the on-line J/Sailing Calendar.
---
Doyle Crowned J/22 World Champion
(Travemunde, Germany)- The setting for the 2015 J/22 Worlds could not have been nicer for this popular little J class.  Over time, the Worlds have been hosted in Europe, the USA and South Africa.  This year, the German J/22 Class and Lubecker YC (Chairman Andrea Varner Tümmler) threw out the red carpet treatment for all and ensured the Travemunde Week sailing organizers and the primary sponsors MARINEPOOL and SAP SAILING ANALYTICS provided "first-class" treatment for all, both onshore and on-the-water.  To say the least, the organizers provided all that in "spades" and then some.  No one came away from their experience in Travemunde and could say, after 14 races sailed in the highly competitive 44 boat fleet, that they were not exhausted- be that from the epic social program ashore or the amazing sailing on the water.
Demonstrating why they've been a top crew for the past few years in world-class J/22 competitions, Chris Doyle and his American team of Chris Stessing and Phil Wehrheim simply dominated the event, posting only top 10 scores, winning four races and closing the regatta with 47 pts, just a 3.65 average in 13 races!  Nevertheless, the regatta was far closer than the actual numbers, as Jean-Michel Lautier's crew from the Netherlands (Peter Jensen and Giuseppe D'Aquino) were never far off the pace. Here is what took place for the first four days.

Day One
Tuesday, the first racing day, welcomed the participants with heavy rain on the way to the race course but after a while the sun was breaking through. However, cockpits and crews still got really wet due to increasing wind.  The Black flag was required to get the 45 boats going on the first race, perfect sailing!
During the day, the wind was still increasing and waves of 1.5m were leading to rough conditions for the second race. It was a real fight for all crews, especially for the lightweight crews – but downwind was the great fun of the day for most everyone!!  But, it was not for all the crews, because the fleet saw the first spinnaker poles cracking and spinnakers blown up!  Yikes!!
Lining up at the starting line for the third race, the wind was still increasing and readings showed up to 30 knots, leading the race committee to send the boats back to the harbour.
Seeing 43 J's tacking back into the harbour with those wind conditions was a real spectacle for the visitors at the shore line. The only disadvantage of the day was, that more than 30 boats got a penalty for crossing another race course on the way back.  At the close of the racing day, the J/22 Class evening BBQ was at the beautiful garden of the 5-star Hotel Columbia.

Day Two
The second racing day was showing a completely different side of the Baltic Sea; no wind and the first start had to be delayed for 2 hours. Once again the black flag had to be pulled to get the boats on the course.
We managed having 4 races in tricky conditions with heavy wind shifts – wind between 5 to 10 knots. More than once the leading teams have seen the whole spinnaker field from a new angle – from behind!
Leading after 6 races was the American team with helmsman Chris Doyle sitting on 10 points; followed in second by Jean-Michel Lautier from the Netherlands with 13 points; and third is Martin Menzner from Germany with 15 points (one of THE most famous German Olympic and World Champion sailors).
A perfect sailing day with lots of sunshine that was perfectly finished with excellent German beer being served on the jetty, sponsored by the Lübecker Yacht Club and the J/22 Dutch class association.
Day Three
Thursday morning started once again with a two hour delay but at 11:30, the 10-12 knots wind appeared and the J's left the harbor going immediately to race course "FOXTROT".

A good seabreeze wind from 320 led to very good race conditions for the first race and we (GER 1562) finished fifth ahead of Chris Doyle after a niche downwind battle – our best result so far. During the second race the wind shifts and decreasing wind were once again leading to "tricky conditions".  Chris Doyle (USA), who was leading the Worlds at the second day of racing slipped to second overall. Jean-Michel Lautier (NED) had taken over the lead with Martin Menzner (GER) sitting in third overall.
However, there was bad luck for Menzner, who was blocked by a day-sailor at the pin end side of the starting line; his protest for redress was rejected.
At the conclusion of the day's racing a special event was held- the so called "Trave-Race".  The Trave-Race doesn't count for the Worlds but is a perfect event to present the J/22 to the sponsors and visitors.  Life, moderation, coolness, and the location were perfect to promote sailing and the J/22 Class.
The Trave-Race takes place on the Trave River directly in front of thousands of visitors. 12 boats have been nominated, the best from each nation participating at the J/22 Worlds, the best of last year's ranking of each nation participating at the J/22 Worlds, and the remaining places filled up with the best of each nation, according to the J/22 Worlds ranking after the second race.  Plus, a wild card for the oldest and youngest team!!  If that doesn't make sense, don't worry, the spectacle more than made up for it!  Three short distance races of six boats are sailed – the best three out of the semifinal make it to the final.

The Trave is a narrow channel of approximately 200 to 300 meters width at the entrance where the race takes place, so that the visitors are almost able to grab the boats.  The light wind blowing down the channel allows three perfect races – Reiner Brockerhoff, the German helmsman with his French Crew Christophe Declercq and Charles Michaux (FRA 1444) finished first, just before Ernst Tschentscher, who at age the 81(!) is the oldest skipper at the J/22 Worlds!  This once again shows the great potential of the J22; from young student crews to the age of 81– it's fun sailing J/22 and a great community around the world! But, that was just the first round of sailing.
In the end, the Trave-Race Finalists saw Jean-Michel Lautier (NED) take first, followed by the American Chris Doyle (USA) in 2nd and Mike Farrington from the Cayman Islands in 3rd. The day ended with a sunset BBQ at the Lübecker Yacht Club and many a tall tale was told over giant 16oz steins of the world's best German beer.
Day Four
Prophetically enough, the Trave-Race was a harbinger of how the Worlds would play out for the top boats.  While Doyle won with relative ease, demonstrating speed, smarts and minimizing mistakes, the balance of the field in the top five were in a very close fight for the podium.
Taking the silver was Lautier's Dutch crew with 66 pts net, the best result for a Netherlands crew in the J/22 Worlds in a long, long time.  Similarly, the bronze goes to the French crew of Reiner Brockerhoff (with team mates Christophe DeClercq and Charles Michaux) with 70 pts net, also the best French result in the J/22 class in the last decade.  Not surprisingly, after a few setbacks, one of Germany's top sailors, Martin Menzner and his crew of Christian Drews and Frank Lichte took 4th place with 78 pts.  Lying in 5th place was one of the Caribbean's best sailors, Mike Farrington from the Cayman Islands, with 98 pts, with his CISC crew of Kristine Verner, Peter Unger and Karin McGrath.   For more J/22 World Championship sailing information
---
Gorgeous Edgartown Round Da' Island Mon'!
(Edgartown, Martha's Vineyard, MA)— Located just seven miles off the coast of Cape Cod, Martha's Vineyard has long been known as an idyllic summer destination despite being accessible only by air or boat– which naturally posed no problem for the hundreds of sailors who made the trek to the eastern end of the island for Edgartown Yacht Club's 2015 Edgartown Race Weekend in Edgartown, MA.
Over three perfect summer days, competitors had a full schedule with 'Round-the-Buoy Races on Thursday and Friday, July 23-24, and the historic 'Round-the-Island Race on Saturday, July 25. On the social side of things, Friday evening's Mount Gay "Jump-Up" party – which followed the awards presentations for the 'Round-the-Buoy Races – was a highlight of the weekend.

First held in the summer of 1938, EYC's 'Round-the-Island Race covers 56 nautical miles, with the 68-strong fleet passing the island's most distinguishing features, including seven lighthouses and the cliffs of Gay Head.  In the J/120 One-design division, Steve McManus' SAYKADOO walked off with class honors followed by Steve Beese's APRES in second and Richard Joy's KINDRED SPIRITS in third.
In PHRF A class, it was the two J/111s that crowded out the podium, with Doug Curtiss' WICKED 2.0 (a 3x past Round Island Class champ) taking second and Mike Williamson's BRIGADOON finishing third.
The ten-boat PHRF B class looked like a J division with six teams participating.  First J home was Ed Dailey's J/109 RAPTOR from Beverly YC followed in third by Eliot Shanabrook's HAFA ADAI from Marblehead YC.  Fifth was long-time champion Richard Eagan's J/46 WINGS.
Steve Dahill's J/35c RIVA from Beverly YC managed a good race in PHRF C class, taking 4th position.  Just behind in 6th and 7th, respectively, were two J/105s- the Joyce/ Reservitz/ Wagner trio on DARK'N'STORMY from Plymouth YC and the Nantucket Community Sailing program with youth sailors aboard led by skipper Chris Raymond.
The PHRF Non-Spin division saw the J/42 PANASEA sailed by Kent Nicholas from Red Brook Harbor YC take a well-earned 2nd in class!
For the Round Buoys event on Thursday-Friday, Williamson's J/111 BRIGADOON won PHRF A followed by McManus' J/120 SAYKADOO in second.  Fifth was Beese's J/120 APRES.  Dominating PHRF B class was Ted Herlihy's championship team on the J/109 GUT FEELING, averaging just over a 1st for the 6 race series!  Just off the mark and hanging onto 4th and 5th places were two J/105s- Matt Schmitt's HARDTACK and the DARK'N'STORMY trio.   For more Edgartown Regatta sailing information
---
TIGGER Wins Santa Barbara- King Harbor Race
(Santa Barbara, CA)- This year's Santa Barbara to King Harbor race, co-hosted by Santa Barbara YC and King Harbor YC,  started off the 81nm distance race Friday noon time in a drifter.  The weather forecast was not promising, to say the least. The more weather models anyone looked at, the more variance there was, leading to all kinds of confusion as to what strategy might pay off in the end.  Some models showed no wind.  Others forecasted southwesters going to west then back again.  Still others showed westerlies going to northwest and blowing 20 kts!  In short, it looked like it was either going to be a roll of the dice, or yet again another "classic" SB-KH strategy.
The reality was a mix of everything.  The race starts just off Stearns Wharf in Santa Barbara, heads 31nm through the Channel Islands, leaving Anacapa Island to port, then 50nm to the finish at the Kings Harbor entrance.  While the start was light, most boats took off on a light air beat on starboard tack hoping to stay somewhat close to the rhumbline course of 150 degrees.  Some boats tacked off onto port shortly after the start to head towards the source of the new breeze, hoping to steal a march against those boats that kept working towards Anacapa on starboard.  In short, the boats that stayed on starboard and kept up their speed caught the new breeze around 2-2:30pm and fetched the gap carrying spinnakers in a building WNW breeze in the 10-15 kts range!  Once at Anacapa, the straits between the islands produced very strange wind effects.  In fact, the wind nearly "shut the door" on the fleet as it went back forward to the WSW and very light, some boats even had to drop chutes and hoist genoas to make it through.

After rounding Anacapa Island, some boats went straight, sailing about 10 degrees high of the rhumbline course on starboard to Kings Harbor buoy.  Others did the "same old, same old" and gybed as soon as they could with breeze and headed at nearly 90 degrees to the rhumbline course in a beeline to the Malibu shore.  For those boats, they hit the shoreline somewhere near Pt Mugu, far, far north of the usual "meeting point"- Malibu's Pt Dume!  Apparently, most boats that got to Pt Dume simply gybed back onto starboard and headed more or less to the finish line at Kings Harbor.  An example of that course is what you see here!
Making the most of the confusion was the J/33 TIGGER, skippered by Fred and Suzanne Cottrell from Kings Harbor YC.  TIGGER won her PHRF B class by nearly 10 minutes corrected time, finishing at 5:39 AM on Saturday.  Taking fourth in their class was Tom Cullen's J/109 FUEGO, finishing at 6:10 AM.
In ULDB A class, Dr Laura Schlessinger's beautifully prepared J/125 WARRIOR from Santa Barbara YC had an ongoing battle with a Santa Cruz 70, Santa Cruz 50 and a Farr 400.  In the end, the entire fleet hit just about every corner one could find on the race course; both on the approach to Anacapa Island as well as the last 50nm from Anacapa to Kings Harbor.  With a fleet so dispersed, it was nearly impossible to gauge which strategies were working as the boats disappeared into the haze.  Despite boats zipping far northeast to Pt Mugu or way southwest to Catalina Island (seemingly almost Hawaii!), Dr Laura's team managed to pull off a third in class.  To say it was an atypical race for course management and strategy would be a slight understatement!
Similarly, in ULDB B class, the J/111 sailed by Glenn Griley from Kings Harbor YC saw similar strategies being exercised in their group.  Just about all their boats also explored "corner shots" from Anacapa to Kings Harbor!  In the end, they managed a 5th in class.  Talk about extremes, the winner took nearly 12 hours to complete the course, finishing just after midnight, while a boat rated just 20 sec/mi slower took double that time- 24 hours- and finishing just after noon Saturday!!   For more Santa Barbara- King Harbor sailing information
---
FUN Whidbey Island Sailing Camp!
(Whidbey Island, WA)- 68 boats made their way to beautiful Oak Harbor, Washington for 5 days of racing and festivities hosted by Oak Harbor YC in that eternally warm Pacific Northwest weather we are becoming to know and love.  Whidbey Island Race Week 2015, on its first year of new ownership, brought out some solid numbers with a 10 boat J/105 fleet, 2 making the long delivery from Portland, Oregon, a small J boat Asym class and various J's spread throughout the PHRF fleets.
10 boats for a one-design class may seem small to some but it's a huge step in the rapidly growing PNW J/105 fleet. To get 10 J/105s sailored-up and committed to a weeks' worth of racing is pretty awesome stuff.  12 races over 5 days to be exact, and all the logistics that come with deliveries, managing the crew, housing and festivities, the J/105 fleet is overcoming a large amount of adversity to get together for some great races.

James Geros and crew aboard #212 LAST TANGO jumped out to a quick lead after Monday's races on both the Southerly morning breeze in Saratoga Passage and then up in Penn Cove for the afternoon Westerly off the Straits.  LAST TANGO was given a bit of trouble by those sailors from Portland aboard Kent Siks' #604 TROUBLEMAKER yet through consistent finishes and solid crew work LAST TANGO held on throughout the week to finish 10 points ahead of TROUBLEMAKER after the final flags came down.  TROUBLEMAKER wasn't without their own nemesis as their cohorts from "stumptown" gave them a run for their money.  Fresh off last year's class victory in the Pacific Cup (that's that short race to Hawaii, yep, on a J/105), Eric Hopper's #519 FREE BOWL OF SOUP was only 1 point behind TROUBLEMAKER after 12 races to hang on the podium in third place.

PHRF Class three sailed hard with 2 J/109's, a J/120 and a not often seen J/90(!!).  Four Asym boats battling hard with the two J/109s not giving an inch all week.  One day Jerry Woodfield's J/109 #44 SHADA captured the podium and the next day it was Stuart Burnell's' J/109 #248 TANTIVY taking the podium.  Back and forth they went and in the end the two 109's were just 1 point apart with SHADA taking home the blue ribbon, leaving TANTIVY in second and the J/90 EYE EYE, owned by David Cohen in third.

PHRF 4 finished with Brian Whites J/35 GRACE E in 5th and Ernie Catham's J/35 JIBARU in 7th.  PHRF 7 had 3 J/29s out of the 10 boats and Pat Denny's BEER & NOW lost the tie breaker for 3rd and finished in 4th, Mayfield's SLICK finished in 6th and Kirk Schroeder's BLAZING SALSA finished in 7th.
PHRF 8 had Rex Dupuis' J/30 GADZOOKS finish solidly in 7th and just behind them the boat that started it all for the J/Boats company strutted its stuff.  The J/24 ITCHY & SCRATCHY, #3593 owned by Richard Demmler, held on after their mid-week string of first place finishes to show that the old design can still make it happen in PHRF by taking 1st place in the 9 boat division, 8 points in front of second.  The J/24 #3747 ROSHAMBO, owned by Mark Daniel finished the week in 3rd and the Race Week stalwart LUCKY JIM, J/24 #3202 owned by James McAlpine rounded out the week in 6th.

If you're ever looking for a true week of racing and want to do it with some stellar race committee work, extraordinary shore side activities, complete with a kids sail camp, rum tent, nightly bands, camping, cabin rentals and the smooth PNW summer lifestyle followed by some time in the best cruising grounds the world has to offer – make the trip to Oak Harbor Washington in July!!  YOU WILL NEVER REGRET IT!!  So says, "Sasquatch" from the ooohhh soooo coooll Olympia mountain range.
In short, Race Week 2015 was EPIC! "Rabbit Wilde" (the band) rocked the post race party Tuesday night. And, after hearing from many of you who were there, they're booked again for Race Week next year (July 11-15, 2016)!! Finally, a big thanks to all the racers who participated and the event sponsors and partners for supporting WIRW including Bacardi, Tesla Motors, Helly Hansen, Fisheries Supply, CSR Marine, Ullman Sails, Prism Graphics, Sea Bags, Brenda Van Fossen and the Oak Harbor Yacht Club.   Sailing photo credits for Best Northwest Yacht Shots- Jan Anderson.  For more Whidbey Island Race Week sailing information
---
AFRICA J/70 New England Champion
ALLEGRO SIMPLICITA Tops J/105s, SEA BAGS Overwhelms J/24s
(Marblehead, MA)– More than 130 boats in nine classes competed in the Helly Hansen NOOD Regatta in Marblehead, featuring the J/70 New England Championship. According to one sailor, "It was a very tough weekend of sailing.  There was everything from light air and flat water, to heavy air and high seas."  Indeed, Mother Nature tossed everything including the dirty dishes and the kitchen sink at the fleet all weekend long!
The first day saw clear skies and temperatures in the high 70s. Winds topped out at 6-8 knots, making for a slow but competitive day on the water.  The J/70s had 23 boats in the class and finished the day with three races. Jud Smith's AFRICA sat in first place with four points, followed by Will Welles' SCAMP with seven points and RASCAL, in third place with 17 points, skippered by Henry Brauer and Stewart Neff.
Smith thought the team overall did great. "Winds started in westerly, and ended southerly. It was a challenging day with breeze changes, but we held the lead." Smith's crew consists of his wife, Cindy, along with Will Felder and Marc Gauthier. He continued and said, "We got a clean break in one of the races when the race got called back. Not sure if tomorrow will be more wind, but Sunday should be how I like – a little more wind, a little drag-racey."

Mark Masur and his crew, aboard the J/105 Two Feathers, were winning their class after the first day of racing, with two first place finishes followed by a tenth place in the third and final race of the day. The performance was enough to win them the Wilmington Trust Leader Spinnaker, awarded to the daily winner of the J/105 class to fly on the course the next day. "We're used to sailing in chop, so the smooth water was a whole lot of fun," says Masur. "We've been getting great starts, besides the last race when we got buried, but the crew was great and we picked up four boats."
Bowman Sean McGuire chimed in with his point of view: "We're at a point where we've been sailing together for so long, we're all comfortable on the boat. We communicate, but we're already on top of our jobs. It's an intuitive part of sailing together—it all clicks."
Masur and his crew are in Marblehead for the NOOD from Texas. "The fleet has welcomed us with open arms," says Masur. "The cost of the J/105 has gone down, new people have come in, and the fleet has rejuvenated. It makes it an excellent, fun experience. We can't finish in the back of the pack tomorrow while flying this spinnaker," says Masur. "It's good motivation."
After the second day or racing, the J/105 lass was now led by Fred deNapoli's Allegro Semplicita with 12 points, followed in second place for a tie by Mark Masur's Two Feathers, and Mark Lindquist's Sterling with 20 points.

"Today's racing conditions were a lot like last year's in the New England regatta, so the team knew which side of the course to go on," says deNapoli. "We have a new tactician, Hugh Greville, better known as "Cookie," and it was his first race with the boat, crew, and overall class. He had never been on a J/105 before. The entire crew is awesome – we have the best boat handling out there and it makes my job very easy. In 2003, I borrowed a J/105 and came in second by a point or two. Last year I again came in second by a point or so. We've always been the bridesmaid, and never the bride. It would be nice to win, but anything could happen with a seven point lead."  He finished saying, "It isn't over until it's over. We need to keep our head in the game and do well tomorrow."
In addition to leading the J/105 class, deNapoli's boat wins a black Wilmington Trust Spinnaker, signifying the winning boat in each day's heat. The "leader spinnaker" will be given away one last time tomorrow, and will go home with the overall winner as a keepsake.

de Napoli's perspective was somewhat prophetic.  After the third day of racing, they became the J/105 class winner, taking home the black Wilmington Trust Leader Spinnaker. The "leader spinnaker" was given to the winning boat of each day, and switched owners a few times over the regatta. Ultimately, the overall class winner took it home for good. In second place in the class was Mark Marsur's Two Feathers, followed by Mark Lindquist's Sterling.  Fourth was Ric Dexter's CIRCE's CUP and fifth was Jon Samei's BLOWN AWAY.
Jud Smith's AFRICA simply walked away with the J/70 New England Championship title, his best regatta performance in the class to date, counting five 1sts in their scoreline for a total of just 16 pts net.  Taking three 1sts and three 3rds enroute to a solid second overall was Will Welles' SCAMP with a total of 25 pts net (Welles is the current J/24 World Champion, too).  Like his J/105 friends from Texas, Bruno Pasquinelli's crew on STAMPEDE from Fort Worth, TX sailed one of their best series to date as well, counting a 1-2-4 in their record to take third overall with 48 pts net.  Rounding out the top five was Dave Franzel's SPRING from Boston, MA in fourth and fifth was John Brim's RIMETTE from Long Island Sound.

The J/70 New England Corinthians Champion is Tyler Doyle sailing USA 245 with 72 pts net.  The racing was close in this group, with second place just 5 pts back- Sam and Martha Altreuter's LEADFOOT with 77 pts.  Third went to Daan Goedkoop's FLUFF on a tiebreaker on 88 pts with Frank McNamara's CHINOOK.  Fifth sitting on just 89 pts was Ted Johnson's VITAMIN J.
The world of J/24s saw top dogs like Carter White's SEA BAGS SAILING TEAM from Portland YC win 7 of 9 races to win by just a few points— like 16 to be exact!  A crushing performance by the "Maine-iacs"!  Second was John Denman's AIRODOODLE from Jubilee YC in Beverly, MA. with 25 pts.  Only one point back in third was Mike Taber's XINGU.  Rounding out the top five were Fred Deom's HIJACK in 4th and Andrew Sayre's LITTLE MARTHA in 5th.  Sailing photo credits- Paul Todd/ Outside Images.  For more Helly Hansen Marblehead NOOD regatta sailing information
---
Jay Walkin' @ Ugotta Regatta?
(Harbor Springs, MI)- For the better part of last weekend's eponymous Little Traverse YC Ugotta Regatta, the fleet enjoyed the usual gorgeous weather served up by what many consider to be the St Tropez of the Great Lakes—- Harbor Springs, MI and its spectacular Caribbean blue-green crystalline waters of Little Traverse Bay.
Having seen more than their fair share of such spectacular waters around the world, at least 40,000nm worth by last count, the J/42 JAYWALKER sailed by Bill and Judy Stellin and family felt right at home and walked off with not only PHRF Non-Spinnaker class honors, but also 3rd Overall PHRF!  They corrected out better than all but two other boats in all the PHRF sections including TP-52's, a host of other J Boats and all the other hot boats from the Mac races. This happy crew pictured here are the Stellin's (Bill and Judy) with son Dave in white and his two friends- Tim 2nd from right and Brian behind that young gal Judy!
The LTYC's Ugotta Regatta is open to all sailors and it's so popular, that the city-required cap of 88 boats for registration is usually hit in late spring as sailors begin to contemplate their summer sailing plans!  While the Stellin crew on JAYWALKER may be considered "hotshot" locals amongst the cruising crowd, their friends on various J's had their fair share of fun, too.

The biggest one-design fleet happened to be the J/70 class. Such is its popularity on the Great Lakes, that even this corner of northern Lake Michigan attracted ten boats while simultaneously just to the east on Lake Erie a fleet of 19 J/70s were racing and even further east a fleet of 23 boats were sailing in Marblehead, MA!  Winning the first J/70 Ugotta Regatta Trophy was Scott Sellers' team on TRES BURRITOS from Larkspur, California!  There's was not a landslide affair, posting four bullets on their way to a win with 15 pts.  Only two points back was Ed Furry's SAIL22 FALE from Culver, Indiana with 17 pts.  While these two battled for the fleet lead, it was quite the battle royale for the next four places overall. In the end, Mr. DOWNTOWNER himself, Jeff Towner from Grand Rapids, Michigan, snagged the last spot on the podium to walk home with the bronze.  Insanely enough, there was a three-way tie for 4th place on 38 pts each!  Past J/111 North American Champion, Richard Lehmann from Paradise Valley, Arizona, sailed the baby WIND CZAR to a 4th overall based on the tiebreaker.  Settling for 5th and 6th overall, respectively, were Polk Wagner's ESCAPE from Harbor Springs and Chal Curtis' SUNDOG from Harbor Springs.  OK, well all these three guys are considered "locals", but Richard's the "old man'o'the'sea" so the "young bucks" need to make sure they photocopy some of his secrets from the Black Book of Little Traverse Bay Racing!

The seven-boat J/120 fleet experienced spirited racing in the often-complex winds of Little Traverse Bay.  Local knowledge helps here for sure!  Taking the class title was Charlie Hess' FUNTECH RACING from Bloomfield Hills, MI.  Proving their performance in the Bayview Mackinac Race was no fluke, Curt Kime's crew on VICTRIX from Grosse Pointe Farms, MI took home the silver.  The bronze went to long-time class stalwarts, Mike & Bob Kirkman's HOT TICKET from Novi, MI, beating their NAUTI BOYS friends on a tie-breaker on 7 pts- bro's John Hughes and Edward Vermet from Grosse Pointe Farms, MI.  Gazillion-mile J/120 champion, Frank Kern's crew on CARINTHIA from Grosse Pointe Park, MI, settled in to a fun, reflective 5th place— only 3 pts out of 2nd place, such was the closeness of their racing.  Ever want to get anything done in "Day-Twah"??  Call them.  Even 2x Moth World Champion, Bora Gulari, considers the GPYC J/120 fleet friends his "home-away-from-home"!!

If there wasn't enough "local knowledge" at play in the J/70s and J/120s, the PHRF 2 fleet was loaded with enough talent to sink any ship before it ever left the harbor! No surprise was the fact that Dave Irish's J/111 NO SURPRISE took 3rd in class.  In a nip and tuck battle was Mitch Padnos' Holland, MI team on the J/122 SUFFICIENT REASON, settling for 4th in this highly competitive class.  Sixth was Brad Farber's team on the J/111 UTAH and 7th was another local, Robert Mampe's J/122 GOTTA WANTA.
Not to be outdone by their larger stablemates, Ed Bayer's J/35 FALCON from Grosse Pointe Park, MI took 3rd in PHRF # and Phil Velez's J/35 AMANT took 6th.  Melia Carter's crew was perhaps having too much fun, but still managed 8th on her J/35 SPECIAL K.
The PHRF 4 class was about as crazy a mixed bag of boats as anyone has ever seen.  Nevertheless, the J/105s had fun.  Top boat was Sam Powers' GRYPHON at 3rd in class with Bill Petzold's GREEN FLASH in 4th.  Past J/105 Class President, Carter Williams, sailed CREATIVE DESTRUCTION to a fashionably easy-going 9th with friends and family sailing the boat.
Separately, the J/105s sailed a one-design regatta the day before the weekend event.  Four W/L races were sailed.  Bill Petzold's GREEN FLASH won a tie-breaker on 9 pts each with Sam Powers' GRYPHON.  Third was Carter Williams' CREATIVE DESTRUCTION.   Sailing photo credits- Gretchen Dorian.com   Formore Ugotta Regatta sailing information
---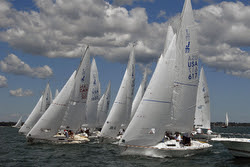 CanAm Challenge- Sailing or Street Hockey Duel!?
(Youngstown, NY)- Instead, consider the following.  Use the LAKE EFFECT to REACH AROUND, avoid DEVIATION, and meet the MO'MONEY MANDATE defined by the EU! LOL! Such would be world politics defined by sailors, and the names of their boats!
Just about as much fun was had by anyone this past weekend by the clan of J sailors that gathered together in Youngstown, New York for the second edition of the Can Am Challenge.  Yes, there was sailing.  Yes, there was plenty of camaraderie.  Indeed, MOLSON ALE supplied a few keggers of beer.  Even better yet, there was a street hockey game on the waterfront in front of the fleet of J/105s.  Long-time local Marty McKenna, owner of J/70 168 RARITY, commented on his experience this year sailing the CanAm Challenge.

"Ever since the mid-80's, the fourth weekend in July has drawn me to Youngstown, New York for two good days of racing.  In three decades the venue has changed a little bit – large stages for bands have been replaced with a unique hockey challenge and 14 boat rafts have been replaced with a more subdued one-design focus.
That has worked well for me since my needs have changed from sailing.  In three decades I was able to pursue education, manage a career with many location changes and to build a family.  Over that time, I also changed from being the older brother on site to being Bill's brother, which I always find amusing.
The draw to sailing and to Youngstown has remained strong that entire time.  While overall I have spent time wondering why sailing matters – other activities have larger public followings, better returns for fitness and better financial returns. So finding the answer to the draw to sailing and the small town in Western New York has been important to me.
For me it is an intense chess match played out on a changing board.  And the struggle to compete has been important to share with my family and to teach my children.  I have enough activities that pull me away from family, so when we bought the J/70 it was with the intent of sailing as a family.  Others have come to the same place – you will see multiple Weibel children on "Tigress" and three siblings on Paxhia's "Penny Pincher" just within the competitive J/70 class.  We have sailed both CanAm Challenges with just McKenna's on board.

What has not changed is that YYC really knows how to put on an event.  After 30 years, they have put many tricks into the event they run.  Great racing has always been a hallmark and they have always pulled the best PROs and committees from all over the lake.  But the little stuff always stands out.  Tim Finkle with his wheel barrow of pizzas on the pad for boat breakdown, teams of volunteers running ice our to boats, Adam Burn's racing off the course to manage logistics for the pad, Commodore Suitor last year creating an award for youngest crew for my children, immigration officers at check-in to make the Canadian crossings easier and the new twist…  hockey.
A family team from Pittsburgh competing well against a strong professional laden class is a story.  We were thrilled to compete well Sunday in very light air winning the last two races.  For me it was interesting to see the journey my brother and I have taken in Youngstown, my wife sailing very well and
my 12 year-old daughter that named the boat after her favorite "My Little Pony" flying spinnaker all weekend and having the opportunity to fly the purple spinnaker across the line to close out the regatta.  Many thanks to the YYC team and surrounding clubs for making this weekend a huge success…  for a very long period of time."
After the smoke cleared on the hockey tarmac and on the race course, Tom Bowen's REACH AROUND won the J/70 class and was crowned Great Lakes Champion.  Adam Burns' KRAKEN crew could not envelope their long tentacles far enough to hold Bowen back, settling for 2nd place.  on the comeback trail from San Francisco, CA was Morgan Paxhia's PENNY PINCHER, taking 3rd for the event.  Corbo Corbishley's LATE LIFE CRISIS crew pulled through to secure 4th and Scott Weakley's REX rounded out the top five.
The thirteen-boat J/105 class was made up of all Canadian teams competing for their Great Lakes Championship. Fittingly, it was the Pan Am Games J/24 silver Medallist and current J/105 North American Champion, Terry McLaughlin, and co-owner Rob Wilmer that took the J/105 class Great Lakes title with four bullets in their scoreline.  Almost exactly as what happened in the Toronto NA's, Jim Rathbun's HEY JUDE took 2nd and Peter Hall's JAMAICA ME CRAZY placed 3rd.  Fourth was Paul Martini's ENDEAVOUR and 5th Mike Mountford's LIVE EDGE.

Also competing for their Great Lakes title for the first time were the J/88s.  A very strong fleet of eight J/88s sailed seven races to determine the King of the Great Lakes.  Building on her momentum from sailing fast at the Storm Trysail Block Island Race Week was Iris Vogel's crew on DEVIATION, winning the last four races straight to add to her three 2nds to win by an emphatic 7 pts.  Her primary competitor, Rob Butler's TOUCH2PLAY Racing, won two races and took two 2nds, but was no match for Vogel's tough crew.  Consequently, T2PR took 2nd overall.  Joe & Jeff Pawlowski's EASY EIGHTS sailed fast and are rapidly ascending the learning curve;
their finishes included a 1-2-3-3 in their 7 race dance card, but it was only good enough for 3rd!  Fourth was Don Finkle and Jim Egloff's SEAWEED with 30 pits, just edging out Richard Lohr's NIGHT OWL by one point.
While hometown "boy wonder" Chris Doyle was off winning the J/22 Worlds in Travemunde, Germany, it was up to one of his friends, Vic Snyder and crew on MO'MONEY, to take home the J/22 class title.  The next three spots in the top five were occupied by Canadians!  Shocking?? Not really.  Paul Davignon's THREE'S COMPANY have been top competitors for years and secured second, including two bullets and two thirds in his tally.  Third was Trev Collins' ALTERNATIVE GIRLFRIEND and fourth was Ron Harris' BROOMSTICK.  Fifth was the American team TRAINWRECK led by Adam Masters.
Finally, the PHRF Pursuit races saw Bob Hesse's J/111 LAKE EFFECT totally eclipse the Spinnaker Division with two firsts.  Second was Paul-Angus Bark's J/35 CRIME SCENE taking the 6 pt tiebreaker over third finisher- John Reinhold's J/124 FUTURES.  Fifth was Denys Jones' J/109 CARPE VENTUS.  In PHRF Pursuit Non-spin division, Doug Clarke's J/35c ROGUE WAVE took second place!   Sailing photo credits- Tim Wilkes
For more CanAm Challenge sailing information
---
J/125s Crush Transpac Race
J/44 Breezes To Silverware
(Los Angeles, CA)- The 2015 edition of the Transpac YC's 2,225nm Transpac Race was "not like it's supposed to be".  A familiar refrain heard from many sailors in what was easily one of the most bizarre Transpac's ever.  Light winds.  Pouring rain at the starts!?  Taking off on port tack?!  Then, hundreds of miles of trash, fishing nets, and what not forcing boats to stop, shed the junk and restart??  Is this serious offshore racing??  What happened was nothing short of astonishing for any sailor who's crossed the Pacific to Hawaii more than a dozen times. The left over remnants of a tropical cyclone moving north from Mexico wrecked havoc on the fleet for days (another by-product of global-warming, El Nino and magnetic-pole flipping over??).  As a result, many boats ended up so far north that their Expedition routing software had them pointed at the end of the Aleutian Chain in far western Alaska!  Nuts?? According to many anxious navigators, beyond manic or even panic!

Nevertheless, taking advantage of the deviant weather patterns were a host of top J teams in three classes.  Dominating their class from nearly the first day was the J/44 PATRIOT led by Paul Stemler's team from Newport Harbor YC.  They never let up, leading the fleet in class and overall 1st place in ORR over the world's hottest, fastest 100 footers and TP52s for days on end.  Only in the last two days did PATRIOT relinquish its lead to take 2nd in Division 7 and 10th overall!  An amazing performance and congrats to their team.
The balance of the J teams in Division 7 also sailed well with Ed Sanford's J/105 CREATIVE from San Diego YC taking 5th in class! Just behind was Yasuhide Kobayashi's J/120 JULIA from Japan in 6th place, beating the famous Transpac Race winner- the 1D35 Alpha Puppy!
On a similar basis, the J/125s have proven yet again they're pretty damn hard to beat in a long-distance offshore content. Give them enough "rope" and they will either reel you in or simply blast away from you, such is the performance and ease of sailing the 40 ft rocketship.  In Division 4, Greg Slyngstad's Seattle, WA crew on HAMACHI threw down the gauntlet from the start and simply stayed north, sailed fast to lead their class after the first 24 hours, and never relinquished their lead; winning their division by nearly 4 hours. Chasing them hard from the very beginning was Tim Fuller's crew on RESOLUTE, ultimately sailing fast but not fast enough to chase down their J/125 stablemate; settling for 2nd in division.

Of note, the J/46 ANDIAMO skippered by Robert Pace was very much in the hunt for the lead in their Division 8, but stayed a bit too far south relative to their classmates to hang onto a podium finish, instead settling for 6th in class.
Here are some interesting progress reports from boats during the race to give you a feel for what happens when you race for up to 12 days straight!
7/23- Sail Hamachi update…
"After 3 days of upwind sailing in moderate to light conditions, 3 days of downwind slogging in big confused seas with 5-12 knots of wind, we finally found some breeze! This is more like what the brochure promised.
Since early this morning we've been sailing in 14-18 with squall generated 18-23 knots and boat speed topping out at over 17 knots. This is what it's all about! We're clawing back some of the distance lost over the last couple days. Lots of sailing to go and everyone is in good spirits. We have Varuna in sight. Boat has been very dry thanks to the moderate conditions so boat smell quite tolerable. Food, water and Rum are holding out OK.  Hamachi Out."
7/23- Resolute Racing report…
"Well Resolute fans, as of about 8:00 this morning we battened down the hatches! After an 8-10 knot breeze all last night, the wind came up to 21 knots this morning and is holding steady still as I write this. Our bow leak is minimized at least, but will continue to the finish it appears. I just saw Erik hit 17 knots of speed as I type with all kinds of water running over the deck. Our auto pilot can not handle these kinds of surfing conditions and has become a little flaky as time has gone on making us have to hand steer more. Good news is we are clicking off the miles with 1275 to go. The bad news is we have not really slept in the last 12 hours making it difficult to keep up this pace driving. This morning before the wind came up, we had to drop our spinnaker to clear some debris we picked up under the boat. With that down, we head the boat into the wind and try to back off (reverse) anything that may have been caught on the keel, rudder or Sail Drive (propeller). That is the second time we have had to do that. There still remains a lot of Tsunami debris from Japan a few years ago, as well as commercial fishing. I have sailed within feet of large nets, floats and many 5 gallon buckets. Also today, I passed by a large metal tank of some kind that was all dented up and floating just below the surface. Hitting such a thing could be disastrous for us. Anyway we try to sleep, eat and other personal things as we edge forward to Diamond Head. Thanks for following along. Tim Fuller – Skipper"
7/24- Sail Hamachi update. . .
"In what appears to be a concerted effort, a flock of flying fish is attacking Hamachi. Numerous flying fish have struck the deck, hull and main sail. One crossed six inches in front of Greg's nose and in the most vicious incident, Fritz J was struck in the side of the head. Fritz is expected to make a full recovery. LOL!"

7/25- Resolute Racing report. . .
"Well, folks today was (and continues) to be a tough one. Squall conditions with winds to 25 knots began early this morning and have lasted all day. Good news is, we are hauling the mail at boat speeds to 20 knots. The bad news is the Resolute packs a lot of "grunt" in these conditions, and with 2 people aboard concentration is key. Fatigue is a factor again with no real sleep in the last 24 hours. I have slept in a bean bag on the cabin sole, or the cockpit the entire trip so far. With a very confused sea state out there you are constantly slamming about. Anyway enough about my problems, I have a sailing quiz. This may take a sailing glossary but let me explain a mishap today, and see if you can determine how in quick order we solved our problem. I cannot see Facebook responses so I'll have to read them when I get ashore. OK, it's blowing 25 and we crash and round up. With me so far? We have a 2.5A kite up and a small spinnaker staysail. Here's the tricky part, we have a single tack line with a Martin Breaker rigged. As we try to round back down from our scenic tour into the wind the Tylaska shackle on the kite sheet opens so the kite is flying from the halyard and the tack alone. To make matters worse the upper 3rd of the kite is wrapped on itself. OK kids, how in God's name did we solve this problem unscathed and get back sailing again. The first person who responds correctly wins a "Resolute" long sleeve crew/sun shirt as a prize. Good luck and "Prayer" does not count though I was praying at the time…. Tim Fuller – Skipper"
7/26- Sail Hamachi update. . .
"Almost aloha time! Our final post from sea — We're about 110 miles from the finish loping along in the hot sun in 11 knots of wind. The boat is going to be a candidate for the toxic waste superfund. It is like a steam bath with the addition of eau de rotten shoes and clothing. We spend most of our time on deck except sleeping. Last night ended a run of 3 days of awesome sailing in 18-24 knots of wind with boat surfing down wave at 21+ in squall winds up to 30 knots. We pushed hard non-stop and gained on all of our competition during this stretch putting us at the lead of our class. Finish estimate is around 8AM on Monday PDT. Looking forward to real food and Mai Tais!!"
7/26- Resolute Racing report…
"Well, folks it turned out to be somewhat of a discouraging day. Despite us sailing very fast in a straight line to Makapu point on Oahu (turning point before finish), the 3 boats in front of us all gained on us as of of late afternoon position report. They must have had more favorable conditions than us all day. Anyway, we are hanging on for 2nd behind our sistership Hamachi. Those guys are sailing a fantastic race. They must have been killin' it yesterday in the big breeze with a sheet grinder (guy turning a winch) where we had to sail under our kite to try to keep it from collapsing. That is a hard thing to do especially in the dark! We did hit speeds in excess of 20 knots a few times yesterday, which was awesome. If the breeze holds, we will finish later tomorrow afternoon it appears. We heard today they were holding out finishing boats due to high surf in the harbor channel. I hope the tide is high when we get there because it's time to get off this damn boat and take a shower right away! That after a mai-tai or two…. Stay tuned as we are pushing as hard as we can. Tim Fuller – Skipper"
All boats had GPS trackers provided by Yellowbrick, where the boat's position, speed and heading were continuously reported on the Yellowbrick website. Sailing photo credits- Sharon Green/ Ultimate Sailing.  Relive the race and see Yellow Brick tracker.  For more Transpac Race sailing information
---
Lovely Penobscot Pursuit Race Weekend
(Rockland, Maine)- An increasingly popular race on Penobscot Bay happens to be a "pursuit-style" race that takes place over a weekend.  Thirty-five boats made the starting line of the Penobscot Pursuit Regatta in Rockland, Maine last weekend.  Sailing "lights out" against all comers were a J/40, a J/34C, a J/32 and a J/24.
The Pursuit Style race started on time at 11:00am with the first (slowest) boats on Saturday just off the Rockland breakwater.  The faster boats then started afterward between 11:00 and 12:15 and made their way up West Penobscot Bay over a roughly 25NM course that was mostly downwind.  The fleet finished just outside Belfast Harbor with the majority of the fleet within 20 minutes of each other.  A very nice 10 to 15 knot southerly wind helped the fleet make the journey in just over 4 hours.
First boat to cross the line was KAHIKI, a J/24 skippered by Ken Russell at 15:00:27. Boats finished in rapid-fire procession after KAHIKI, with Jacob Gerritsen's J/40 EX LIBRIS winning Cruising Class 1, Gary Bennett's J/35 JAI TU taking 3rd in Racing Class 1 and James Bennett's J/34C ASTRAEA sailing into 2nd place in the Shorthanded Class.

All boats arrived at Front Street Shipyard to a wonderful meal, live music and plenty of refreshments provided by Rising Tide Brewing Company.  "Catcha Vibe", a reggae band, played some great tunes that kept the crowd dancing for hours. After the party wrapped up most everyone stayed to enjoy the long and impressive fireworks show put on within feet of all the boats and Front Street Shipyard in the town of Belfast for the Celtic Celebration that takes place the same weekend.
On Sunday, the story was a bit different.  The Race Committee postponed onshore immediately at the first timed radio transmission.  Fog and light air were preventing an on-time start.  The fleet made their way to the rendezvous point of Turtle Head near the north tip of Islesboro Island but after more lack of wind and some fog the Race Committee decided to move south towards Seal Cove off Islesboro.

The race committee was able to start the sequence around 1pm with a course of about 14.5NM with the last boat starting just past 1:40pm.  A nice 5 to 8 knot southerly had filled in the bay, however, it wouldn't stay and by the time most of the fleet had made it near Camden the wind had shut down to 2 to 3 knots.  Most boats kept moving and didn't give up, however, and after about an hour of very light wind the evening sea breeze kicked up and brought the fleet home to a bell off Rockport Harbor which was the next mark of the course.  With the unstable wind and a very late afternoon in progress, the race committee shortened course at the Rockport Bell with boats finishing between 5 and 6pm.
In the abbreviated race, the various J teams sailed well, with many taking home lots of silverware and pickle dishes for their mantelpieces.  Gerritsen's J/40 EX LIBRIS too a 3rd to finish 2nd overall in Cruising Class 1.  Bennett's J/35 JAI TU placed 2nd and, consequently, took 3rd in Racing Class 1.  Racing Class 3 saw the top two spots swept by J sailors with Russell's J/24 KAHIKI taking another 2nd to win the class.  Winning the last race and taking 2nd place was Henry's J/32 MIGIS MAGIC.  Finally, also winning the last race and sealing the deal to take Shorthanded Class honors was Bennett's J/34C ASTRAEA.  For more Penobscot Pursuit Regatta sailing information
---
JEROBOAM J/30 New England Champion
(Barrington, RI)- A nice fleet of seven "classic" J/30s took to the starting line on Narragansett Bay last weekend to vie for the J/30 New England Championship.  Host for the event was Barrington YC, with Mike Levesque acting as the RC's Principal Race Officer.  Over the two-day weekend, they managed to conduct seven (!) races, keeping the fleet incredibly, but happily, busy between races.  Hardly any time for refueling with sandwiches, beer and chips!
After starting out the series slowly with a 3-5, Ken Dyett's crew on JEROBOAM reeled off a blistering record of two 1sts and three 2nds to take the championship with 11 pts net.  Sailing a somewhat roller-coaster, snakes & ladders, series was Mark Rotsky's NEMESIS, posting a 67-1-4-1-3-3-3 for 15 pts to secure second overall.  Only one point back, the bronze went to Charles Stoddard's WICKED with a 4-6-1-6-2-1-2 for a total of 16 pts.  The balance of the top five saw Kevin Dakin's BLITZ in 4th and Robert Rude's MMMMM in 5th.  For more J/30 New England's sailing information
---
J/35 RITUAL Sails Perfect Lake Erie Interclub
(East End Lake Erie)- The J/35 RITUAL, owned by John Vallee from the Port Dover Yacht Club in Ontario Canada, dominated this year's Lake Erie Interclub Regatta which ran over five days from June 27 to July 1.  RITUAL had a perfect score of 1, 1, 1, 1, 1 to claim first place in Class B (J/35's, Beneteau 36.7's and Shock 35's) over Jim Kondziela's J/35 POISON IVY II in second place, and Bill Hertel's J/35 MAGIC in fourth place.
Vallee and his crew lead the overall fleet of 54 racing boats to win the overall event title with a score of 3, 3, 1, 1, 2 for a total of 10 points over 5 races. This is the lowest overall score in the events recorded history! POISON IVY II was 5th in the overall and MAGIC was 8th in the overall.
The crew of RITUAL was proud to take home the Buffalo Courier Express Trophy for the overall win, as well as the Hadley Jackson Trophy for the Erie to Port Dover race on day 2 and the Ivey Trophy for the race on day 3.
RITUAL is a repeat winner of this event, taking the overall award in 2010 and being a regular winner of the highly competitive J/35 / Beneteau 36.7 / Shock 35 Class B.
Pat Huntley (a multiple overall winning skipper in the this regatta) sailed his J/80 GRAFFITI for the first time in the event and came away with an clear win in the Class C with a line score of 1, 3, 1, 1, 2 for a total of 8 points and an 8 point lead over second place.  GRAFFITI also placed third in the overall event, being an impressive result for the relatively small boat in some very heavy and extreme sailing conditions.
The Lake Erie Interclub Regatta is the premier racing event in the east of Lake Erie.  Over 5 days of racing in late June, the regatta includes three days of port-to-port racing and two days of in-port racing.  The regatta attracts boats from both Canada and the United States, with the majority of the fleet coming from Port Dover Ontario, Erie Pa., and Buffalo NY.

Race 1 was a blustery in-port race in Erie Pa.  Originally scheduled for racing in the open waters of Lake Erie, the race committee moved the even to inside Erie's Presque Isle Bay due to extremely high wind and waves on the lake.  This resulted in a short course, tight race in heavy conditions and two competitors breaking their booms.
Race 2 was the traditional 40-mile race around Long Point from Erie Pa to Port Dover Ontario.  It is said that this is the oldest continuously run fresh water sailboat race in the world.  Again, the fleet was faced with heavy conditions, high winds and waves for what turned into a beat to the finish line.  RITUAL enjoyed the heavy air upwind and a solid performance in this race moved RITUAL into first place in the overall, a position that she would never give up.
Race 3 was the in-port Long Point Bay Race starting off Port Dover, beating to Turkey Point and then running to a shortened course finish off Nanticoke.  Crews enjoyed a lighter air day after physically demanding days in races one and two.  RITUAL was able to claim first in Class and first Overall on this lighter air day.
Race 4 opened with a short beat to a weather mark and then a fetch as the boats left Port Dover and headed for Port Colborne, 40 miles easterly down the north coast of Lake Erie.  The wind clocked through the day resulting in the fleet gybing their way down to the finish line in lighter air.  RITAUL was again first in Class and first Overall with the added pleasure of taking line honours placing her in control heading into the final race on day 5.
Race 5 saw the fleet race in a spinnaker downwind start heading east from Port Colborne, past Point Abino, down to Buffalo.  With a building breeze, RITUAL engaged Peter Lund and his crew aboard TAZ 3 (second place in the overall standings) in a heavy air gybing dual as the fleet approached the leeward mark, providing RITUAL with significant gains and allowing her to round the Buffalo mark first and lead going into the dramatic heavy air beat to the final finish line in Abino Bay.  RITUAL finished with line honours, first in Class and second overall in the final race.  Good enough to take the overall regatta honours.  For more Erie Interclub Regatta sailing information
---
J/Community
What friends, alumni and crew of J/Boats are doing worldwide
———–

* J/42 Trans-Atlantic Race report- Steve Berlack (the Alpine FIS Ski Coach at Burke Mountain Academy in Vermont) and his crew raced across the Atlantic on his J/42 ARROWHEAD.  This boat originally belonged to Rod Johnstone and Rod sailed it to Bermuda.  Then, Howie Hodgson bought it and now Steve is owner # three.  Here's Steve's report about their experience sailing Trans-Atlantic:
"We're here in the U.K. packing the boat up after the Transatlantic Race and want to report the boat was super!  We averaged 7.45 knots for 3,225 nautical miles— a simply amazing performance for this wonderful cruising boat! I had could have pushed the boat harder in the heavy weather, which there was a lot of, but recognized that some of the crew were a bit nervous surfing above 14 knots. We hove to for seven hours during one gale of 40-50 knots with 15-20 foot steep waves. This move was, while comfortable, costly in the overall as 7 hours separated places 6 through 8 in the class.
Of note, the boat was exceedingly dry in large seas, and we only filled the cockpit up a couple of times as compared to other boats that were getting pooped excessively. We ran under double reefed main, alone, at hull speed in high winds with exceptional directional stability. Wing and wing with a number 4 poled out, and two reefs in, produced great boat speed and control as well.
Running in large seas, the rudder on the J/42 is magical. You are always at risk of overdriving the boat because it reacts so positively to input, given its size. I told the guys to drive the boat like you were holding eggs in your hands, as you simply do not need much muscle to drive the boat. If you do, you are typically over correcting for too much steering input.
We were the smallest boat in the race along with a Hinckley Southwester 42. I can't imagine a better ride for our crew of four. The Bermuda race, with one day in the Gulf Stream, does not give you the proper perspective on what this small boat can take and can deliver. We were in the Gulf Stream for five days with the ice gate set so far south of Newfoundland this year. We had a full-on North Atlantic Gale, and strong winds the entire race. Many boats suffered all kinds of problems and lucky for us, we had few if any. Not bad for a J/42 with 26,000nm on it!!
While it is surely outfitted as a cruising boat with a luxurious interior, it now has six Bermuda races, two Marblehead to Halifax Races, and one Trans-Atlantic race under its keel! It may be a 'cruiser', but it's a helluva ocean racer!! Cheers, Steve"

*  J/105 Chicago to Mackinac Race report- Carter Williams has enjoyed sailing his J/105 CREATIVE DESTRUCTION for years.  Having grown up sailing in Harbor Springs during the summers, Carter decided to again sail the Chicago-Mac Race this year, but with a youth sailing team.  Here's Carter's report:
"CREATIVE sailed with a mostly Junior Crew, finishing 3rd in the hugely competitive J/105 class!  We had Libby Forsen as our navigator– she's taken the Starpath Navigation course and, at 16 years old, this was her first time sailing the Mac Race.  Sonny Jenema was sailing his 2nd Mac at 18 yrs old.  JT Ludington, 21 yrs old, was on his first time mac.  Preston Carey, 16 yrs old, was on her second-time Mac. It was a young crew!  The old guys were Carter Williams, Mike Duff, and Robert Matthews.

Sunday morning it was hot, with little wind and lots of biting flies.  Despite the lack of wind, the kids stayed focus, which we attribute to close attention to the watch schedule.  As the wind built Sunday evening into the Manitou's, everyone was well rested, so we were able to get the whole crew on the rail late Sunday ni


__________________________________________________________________
Click for our Brokerage
SAIL LISTINGS   –   POWER LISTINGS
Click the logo for our New Sailboat Listings
Murray Yacht Sales is your Gulf Coast Beneteau & J/Boats Dealer and has been serving the Gulf Coast Boating Community since 1974