---
J/111 North Americans Preview
(Harbor Springs, MI)- The 2nd annual J/111 North American Championship will be hosted by Little Traverse YC from July 23rd to 
27th
 in Harbor Springs, MI.  Eight states are represented amongst the thirteen competitors that range from Arizona to Florida and Maryland to Ohio; the largest contingents coming from the Great Lakes fleets in Michigan and Illinois.
Many of the teams recently experienced a spectacular Chicago-Mackinac Race with sunny weather, starlit skies and mostly Code Zero to A2 reaching conditions for over 35 hours straight.  Some of that experience may help in the race format being introduced to the teams for the upcoming event. In addition to the traditional windward-leeward race courses, the teams will also join the "random leg" Bay Tour that is a popular race within the Harbor Springs Regatta being held at the same time.
Coming off their dominating performance in the Chicago-Mackinac will be Dave Irish's crew on NO SURPRISE, who not only won the J/111 Class with ease but also finished 2nd overall in the 150+ boat Mackinac Cup Division.  Many other top teams will be participating from the Great Lakes fleets, including Key West Race Week winners Ryan Ruhlman's SPACEMAN SPIFF from Lakeside YC in Ohio; last year's J/111 NA winners Dick Lehmann's WIND CZAR from Paradise Valley, AZ; Chicago NOOD Regatta winners KASHMIR (Karl Brummel, Steve Henderson, Mike Mayer); Great Lakes Double-handed winners NIGHTHAWK (Dabrowski & Edman); and East Coast Champion Marty Roesch's VELOCITY from Annapolis YC.  Newcomers to this year's event include Don Hudak's CAPERS from Mentor, OH; George Gamble's Gulf Coast Offshore Series champion MY SHARONA from Pensacola YC; Dan Kitchens's SKULL CRACKER from Huntleigh, MO and Brad Farber's UTAH from Owosso, MI.
The racing promises to be close and exciting.  After two year's of one-design and offshore racing in various parts of the country, most J/111 teams are experiencing similar speeds and it has been the basics of racing (tactics/strategy, boat-handling, and starts) that are the primary determinants of ultimate success sailing around the race track.   For 
more J/111 NA's sailing information
---
SB-King Harbor Race Preview
(Santa Barbara, CA)- One of the most popular mid-summer offshore races in Southern California is the Santa Barbara to King Harbor race.  The race has been a tradition for 42 years and this year's 94 boats is one of the largest in decades; a notable increase in the fleet size is attributable to the seventeen fun-loving J/Teams spanning three divisions (18% of the fleet).  It's no wonder, the race is one of the premier distance races, its part of the Wilson Offshore Series, and the teams love the legendary hospitality of the co—hosts- Santa Barbara and King Harbor YC's- famous for their pre-race party and the giant crab & beer awards luncheon.
The PHRF Sprit Division might as well be called the "J-Sprit" class, as 11 of 16 boats are all J/teams.  Amongst those participating are two J/133s- Joe Simpkins's FORGIVENESS and Roy Jones's TANGO.  Joining them are two J/111s, Bill Webster & Mike Moorhead's JATO (2nd in class for 2013) and Glenn Griley's STAMPEDE, both from King Harbor YC.  Giving those two a run-for-the-money is Tom & Terri Manok's J/120 POLE DANCER.  The race will feature the debut of the J/88 CRAZY 88 sailed by Dr Laura Schlessinger from Santa Barbara YC.  A trio of J/109s will be tackling the course that includes Tom Brott's well-known, Long Beach Race Week winning ELECTRA from Seal Beach YC, Jack Mayer's ZEPHYR, and Bryce Benjamin's PERSISTENCE from Cal YC.  Chasing them will be Tom Bollay's J/105 ARMIDA from Santa Barbara YC as well as Brian Kerr's J/92 DOUBLE DOWN also from SBYC.
The PHRF Sprit ULDB Class is loaded with many of the top California offshore speedsters and the top carbon-flyers from the J design team.  At the head of the J class is Carolyn Park's J/145, the beautiful red RADIO FLYER from Santa Barbara.  She will have to contend with a duo of J/125s that include Viggo Torbensen's Dana Point Offshore series winner TIMESHAVER as well as Mark Surber's DERIVATIVE from Coronado YC.  One of the 125 teams, TIMESHAVER, was recently out testing some ideas, here's commentary from Keith Magnussen on their progress: "We are continuing to improve our speed and understanding of the J-125 and part of our learning process is testing sails.  Here is a short video of what that looks like.  I know it seems like all we do is have fun but trust me we are working hard at almost 15kts (see 'Rinsed Lifestyle' sailing video- 
http://www.rinsedlifestyle.com/j-125/).
"
In the huge 34 boat PHRF Racing class, there are two J/33s sailing including Fred & Suzanne Cottrell's TIGGER from King Harbor YC and Mark Weinberger's PRIMA from San Diego's Cortez Racing Association.  They will be up against Shawn Ivie's J/30 FRICTION LOSS from the Santa Barbara Yacht Racing Club.  For
more Santa Barbara-King Harbor Race sailing information
---
Marblehead NOOD Regatta Preview
(Marblehead, MA)- The upcoming Sperry Top Sider Marblehead NOOD Regatta also marks the 125th time the event has been held in Marblehead, MA with its three leading clubs (Eastern YC, Corinthian YC and Boston YC) playing hosts to the event for a wide variety of local one-design classes.  This year's primary host will be Corinthian YC and the event is expecting as strong a turnout as it has seen in recent years.  Featured amongst the J/Classes will be J/24s, J/70s and J/105s.
The J/24s have a solid eight boat turnout featuring many new faces in the crowd along with class stalwarts from the area.  Notable teams that have participated actively in Marblehead events include AIRODOODLE (John Denman), GRACE UNDER PRESSURE (Greg Williams) and SHELDON J (John Wells).  Looking to make their mark this year could be ASTERI (George Aangnostopoulos), BLACKFIN (Mike Lachmayr), LITTLE MARTHA (Chris Clancy) and XINGU (Mike Taber).
The J/70 class has an excellent fleet of sixteen boats registered and many in the fleet will be competing for some of the last slots to qualify for the 2014 J/70 Worlds in Newport this coming September.  While some experienced teams like Jud & Cindy Smith's AFRICA, Doug Strebel's BLACK RIVER RACING, Will Welles's RASCAL, Dave Franzel's SPRING are already qualified for the Worlds, other new teams with top talent could be in the hunt.  Some of the new teams include ASTERIA (Holly Fabyan), HALF FULL (Marc Poirier), HURRICANE (Alex & Ian Cook), JOUST (Tim Molony), SCAMP (Bill Lynn & Matt Hooks) and WINTER WIND (Nancy Glover).
The J/105 class has seen one of its best turnouts this year with eighteen teams competing from the New England region. Expect to see local hotshots like Fred deNapoli's ALLEGRO SIMPLICITA, Marty Galligan's ATALANTA, Ric Dexter's CIRCE's CUP, Steve Hollis's SIROCCO, Mark Lindquist's STERLING ben amongst the leaders.  In addition, a Dallas, Texas crew led by Mark & Jolene Masur sailing the well-traveled TWO FEATHERS will always be a factor amongst the top crews.   For 
more Marblehead NOOD sailing information.
---
CanAm Challenge Regatta Preview
(Youngstown, NY)- For decades the Youngstown YC has run many popular regattas on Lake Ontario, inviting everyone and virtually any boat that floats to its beautiful location in Youngstown, NY at the western end of the lake, not far from the famous Niagara Falls.  In keeping with their one-design traditions, the club created a new event called the CanAm Challenge that was focused primarily on popular one-design classes in their region and, in addition, created a fun "pursuit-style" race for PHRF sailors.  
Due to their tremendous group of enthusiastic volunteers, great reputation for hosting social events each day and, perhaps important to some, the fact that Youngstown YC has an excellent Race Committee and PRO's running the various courses, the sailors look forward to lots of good sailing and camaraderie ashore.
This new event features FIVE J/Classes, including the J/22s, J/24s, J/70s, J/88s and J/105s.  In the J/22s, it looks like PROST (Darcy Fuller), RAISED J (Michele Cimon), RUFUS (David Krystaf), THREE's COMPANY (Paul Davignon), TRAINWRECK (Adam Masters) will all have fun determining bragging rights for their new event.
It also looks like the J/24 class will have an equally challenging time figuring out who's going to be top dog with teams like A1 (Tom Taylor), HANG LOOSE (Gabriel Lewis), IN THE MOMENT (Rick Sherk), J-TRIPPER (Tom Raes), and Skylar Munger flying around the race track.
The biggest one-design fleet in the regatta happens to be the fifteen boat J/70 class, an exceptional attendance record for this new class.  The fleet is deeply talented and boats to watch for amongst the leaders include HONEY BADGER (Travis Odenbach), JUNIOR (Tim Finkle), LATE LIFE CRISIS (Corbo Corbishley), RARITY (Marty McKenna), RISK (Gary Tisdale/ Adam Burns), SUPERFECTA (Kris Werner) and two Canadian teams- REX (Scott Weakly) and HONGI HIKA (Mark Bird).
The newest of the fleets surely must be the debut of the new J/88 one-design fleet- the first regatta in the world for J/88s!  The fleet of five boats includes NIGHT OWL (Rick Lohr), RUMBLE BEE (John Frank), SEAWEED (Don Finkle), SQUIRMY (Joe O'Brien) and USA 2 (Joe Pawlowski).  It will be quite interesting to see what these teams learn about making J88s go fast around a one-design windward-leeward "sausage course".
The J/105s are hanging in with a trio of good teams from Canada sailing in preparation for their J/105 North Americans in Toronto, Ontario in early October.  Those teams include ALI-KAT (Ed Berkhout), LIVE EDGE (Mike Mountford), and TRIDENT (Jenny Farrand).
An innovative addition to the regatta is the PHRF Pursuit Class style format (where slowest boats start first and fastest go last, whoever crosses the line first wins).  Sailing in that division are two super-fast J's, the J/111 LAKE EFFECT skippered by Bob Hesse and the J/92 J-HAWK helmed by Eric Herbert.   For
more CanAm Challenge Regatta sailing information
.
---
Win A J/70 One-design Speedster!
(Jamestown, RI)- The Conanicut Island Sailing Foundation (CISF) and East Coast Yacht Sales are conducting a raffle for a J/70. The raffle will be held at CISF's annual auction on 
August 30th
 at Conanicut YC in Jamestown, RI.
Only 650 tickets will be sold at $100.00 USD each- in other words the "odds" are incredibly good!  CISF is a 501(c) 3 non-profit charitable organization promoting marine access and education and has teamed up with East Coast Yacht Sales to raffle a brand-new J/70 sailboat complete with trailer, valued at over $47,000!  Note- you do not have to be present to "win the J/70" at the raffle!
For 
more "Win a J/70 Raffle" information, please contact Suzy Leech at cell# 860-995-4300
 or email-
s@leechline.com
   For 
more information and how to buy raffle tickets- please see the J/70 Raffle website
.
---
North Sails J/70 Worlds Sponsorship
(Newport, RI)– The J/70 Class Association is pleased to announce that North Sails has committed to a Gold Sponsorship and will be the Official Regatta Support Partner for the 2014 J/70 World Championship presented by Helly Hansen, which will be contested
September 8-13, 2014
, in Newport, Rhode Island, and hosted by the New York Yacht Club at Harbour Court.
As the Official Regatta Support Partner, North Sails' North U Regatta Services team will be onsite all week working with sailors to improve their boat setup, rig tune and sail trim. Available to all competitors, expert sailing performance analysts Andreas Josenhans and Chuck Allen will offer on-the-water performance analysis followed by daily photo and video debriefs. Additionally, North Sails' J/70 class experts will host dock talks immediately after sailing throughout the regatta; North's sail care van will be available to pick-up and drop-off sails needing overnight repair; and North Sails has partnered with Sailing Weather Service to provide free detailed daily weather forecasts for all competitors.
"The J/70 has quickly become one of the fastest growing one-design classes in North America and I have firsthand knowledge of how fun it is to sail and how competitive the racing has become," said
North Sails One Design President Tim Healy
 (Jamestown, R.I.). "The boat is a solid design, and J Boats has done a great job backing the class's growth, which has contributed to its popularity. This regatta is sure to be a marquee event with huge participation, and personally I can't wait for September."
North Sails President Ken Read
 (Newport, R.I.) will kick off the week at Sail Newport on Sunday, September 7, with a local knowledge presentation followed by the North Sails-hosted J/70 Worlds Welcome Party featuring beverages from local brewery Newport Storm.
"The J/70 Class is exploding right now," said Read. "North Sails has been a supporter of the boat since its inception, and we're proud to sign on for J/70 Worlds. Newport is the perfect venue and the New York Yacht Club will ensure the regatta is well run. We look forward to welcoming all J/70 sailors, especially the international competitors, to Newport in September."   For more information about the inaugural 
J/70 World Championship presented by Helly Hansen
---
Spinlock IRC Welsh Championship Announcement
(Pwllheli, Wales, England)- The inaugural 'Spinlock IRC Welsh Championships' is only a few weeks away and is hosted by Pwllheli Sailing Club (PSC) on 
1st
 to
3rd August
.  The event has used the successful 2013 J Cup hosted by PSC as a spring board with the added award of the 'Spinlock IRC' regional title.
There is a strong and competitive fleet of J/Boats based in Pwllheli and in the Irish Sea, including the current Irish Sea Champion, the J/109 SGRECH, and MOJITO, the recent class winner in the grueling 700nm  Round Ireland Race.
PSC Commodore Stephen Tudor said: 'The Club is very proud to be offered the opportunity to host the first Welsh IRC Championships and is delighted to see competitors already entered from Ireland, Isle of Man, Scotland and Liverpool in addition to the local competitive fleet. Entries are still being received and we still have free berths available for the event on the new Academy pontoons'.
The event is supported by 'Irish Cruising Racing Association' (ICRA) who has just completed a very successful Championships hosted by the Royal Irish Yacht Club in Dún Laoghaire. ICRA Chairman and Event organizer, Norbert Reilly, commented that the two events strengthen the ties already established across the Irish Sea. A trophy will be awarded to the competitor with the best combined results in the two events.
On 
26th July
, there is a feeder race from Dún Laoghaire to the Welsh Championships in Pwllheli. This is the 7th race in the Irish Sea Offshore Racing Association's 2014 series and is sponsored by KONA. The ISORA fleet will be the first visitors to use the new pontoons in Pwllheli. ISORA Chairman, Peter Ryan, said 'the ISORA fleet regularly visits Pwllheli either for a race start or finish and the Welsh welcome is always warm and friendly. The new facilities in Pwllheli will make the sailing waters easily accessible and a great destination for visiting offshore fleets, flotillas and for keel boat regattas and Championships.'
The social programme will start shortly after the arrival of the KONA crew bus from Holyhead 
on Thursday
 evening with the KONA ISORA reception/prize-giving for the feeder race. A crew dinner is planned with entertainment for 
Friday
 evening and a Championship party for 
Saturday
 evening.   For
more Spinlock IRC Welsh Championship sailing information
---
J/Sailing News
The Sun Never Sets on J's Sailing Worldwide
The third week in July brought a number of important events to the fore, including the second annual J/70 North Americans held in Rochester, NY and hosted by Rochester YC.  A fleet of 71 boats sailed the four day regatta with some remarkable developments in the overall competition.  Out East, the J/109 North Americans and New York YC Race Week were held concurrently by New York YC in Newport, RI.  While the J/109s sailed one-design, the J/111s, J/122 and others enjoyed close handicap racing in IRC and PHRF fleets.  Also out East, the J/80s held their East Coast Championships in conjunction with the Screwpile Challenge Race Weekend held in Solomons Island, MD.  In the Midwest, the granddaddy of all Great Lakes offshore races took place; the Chicago Mackinac Race featured for the first time five one-design fleets of J's- J/35s, J/105s, J/109s, J/111s and J/120s.  In addition, a raft of other J's sailed that ranged from a J/145 down to a J/29.  Out West, the Pacific Cup Race finally finished with some outstanding performances from a J/105, a J/120, and a pair of J/125s.

Over in Europe, the Deutsche Segel-Bundesliga held its next installment of their famous sailing league in Travemunde, Germany.  Eighteen sailing clubs from across Germany enjoyed the most amazing weekend of sailing ever on the Baltic Sea in the matched fleet of J/70s.

Read on! The J/Community and Cruising section below has many entertaining stories and news about J/Sailors as well as cruising blogs about those who continue to enjoy the Caribbean and the South Pacific, staying warm while others are trying to stay warm up north.  Check them out!  More importantly, if you have more J/Regatta News, please email it or upload onto our J/Boats Facebook page!  Below are the summaries.
---
Regatta & Show Schedules:
Jul 23-26– J-Cup Regatta- Hamble, England
Jul 24-27– J/111 North Americans- Harbor Springs, MI
Jul 24-27– Marblehead NOOD Regatta- Marblehead, MA
Jul 26-27– Can-Am Challenge Regatta- Youngtown, NY
Aug 1-3– Hans Fogh J/80 Canadian Open- ABYC- Toronto, ONT
Aug 2-9– Cowes Week- Cowes, England
Aug 2-5– J/111 Europeans- Cowes, England
Aug 4-9– Copa del Rey- Palma Mallorca, Spain
Aug 8-10– J/27 North Americans- Oakville, Ontario
Aug 9-15– J/24 Europeans- Angelholm, Sweden
Aug 14-17– Chester Race Week- Chester, Nova Scotia
Aug 14-17– Penobscot Bay Rendezvous- Rockland, Maine
Aug 19-24– J/111 World Championship- Royal Yacht Squadron- Cowes, England
Aug 21-24– J/35 North Americans- Muskegon, MI
Aug 22-24– J/24 USA Nationals- Beverly YC- Marion, MA
Aug 28-31– Pornic J/80 Cup- Pornic, France
Sep 8-13- J/70 World Championship- New York YC- Newport, RI

For additional J/Regatta and Event dates in your region, please refer to the on-line J/Sailing Calendar.
---
Healy Wins J/70 North Americans
(Rochester, NY)- As two-time winner of the J/70 Midwinters at Key West Race Week, no one was surprised that Tim Healy's crew (John Mollicone, Gordon Borges and Geoff Becker) sailing HELLY HANSEN would end up be crowned as the 2014 J/70 North American Champion.  It was a tough battle all the way through the regatta for Healy to overcome numerous obstacles along the way.  What is clear is that after two years of competition, the J/70 class has achieved "parity" in terms of boatspeed and boat-handling amongst the top 25 teams, with the ultimate outcome primarily determined by good starts, sailing in clean air and minimizing massive mistakes around the race track.  That Healy did not win until his last race when his primary competitor bombed a race underscores that development.  Even more remarkable, no one in the top ten won more than one race and, in fact, every team in the top ten all counted at least one double-digit score! The average of 11th was all that was needed to finish in the top five.
The second annual J/70 North Americans was sailed in Rochester, New York and hosted by the Rochester YC.  An enormous fleet of 71 boats sailed just six races with no discards.  Unfortunately, there was no sailing on the last day due to no wind.  
On the first day, it was a very tight battle for first between Healy and Brian Keane's SAVASANA after three races were completed.   Only one point separated Healy and Keane for the top position, with Healy holding the advantage 12 points to 
13
. Mauricio Santa Cruz's BRUSCHETTA from Brazil sailed well and took third place on the day with 21 points. Healy tallied a 3-3-6, while Keane managed a 5-6-2.
Thursday
 dawned with winds between 6-8 knots, as Jenn and Ray Wulff began the regatta with a victory. Marco Teixidor and Healy completed the top three. With sunny skies and temperatures around 70 degrees, the breeze increased to 10-12 knots in the next contest when Brian Elliott grabbed the win, and Joel Ronning and Healy followed. Santa Cruz ended the day successfully in the final bout, which saw winds build to 12-14. Keane trailed in second, and Ian Atkins in third.
On the second day of racing, two more race were completed and Keane continued to post consistent scores, with nothing lower than a 6th and moved solidly into first place with a 5-6-2-4-5 score for only 22 pts. Healy dropped to second with 33 points, and Ian Atkins sailing 
BOATS.COM
 from England moved into third with 49 pts.  Brian Elliott led the Corinthian division after the first five races.
Teams were briefly postponed on shore as the wind filled in. When it did, the breeze ranged between 6-8 knots under clear skies. Bennet Greenwald scored the victory in race four, just ahead of Martin Johnsson and Jud Smith. Joel Ronning grabbed a bullet in the next battle, as Martin Kullman and Allan Terhune finalized the top three spots.
And that is how it all ended 
on Saturday
!  Rounding out the top five behind Healy, Atkins and Keane were Brazil's Mauricio Santa Cruz in 4th and in 5th was Allan Terhune from Annapolis, MD.  Martin Johnsson won the Corinthian Division, with Adam Burns in second and Brian Elliott in third.
Healy praised the Race Committee, led by PRO Hank Stuart, saying, "Hank and his crew did a really great job getting races off in the tough conditions that we had. The race management was excellent." He also complimented the welcoming hospitality at the Rochester Yacht Club. "For the J/70 Class, this is a great place to have a Championship regatta," Healy continued. "Everything was done first-class. We enjoyed every part of it, and stayed for all the dinners. It was fun for us; we had
a great time in Rochester."   For 
more J/70 North Americans sailing information
---
J/Teams Sail Tough Chicago Mackinac Race
(Mackinac Island, MI)- This year's Chicago Mackinac Race was up to its usual tricks again, offering the fleet the dilemma of starting off with breezes in the NE to SE quadrants, with a hole forming in the middle of the rhumbline on late 
Saturday
 evening after the start, and then forcing teams into choices of staying west of rhumb and playing anticipated pressure arriving from the west or heading across the lake towards the classic eastern shore "dunes acceleration" of southerly breezes and playing the "point strategy" going up the Michigan coastline before rounding Pt Betsie halfway into the race.  Then, the choice again was whether to hang outside and north of the Manitou Islands or stay the rhumbline course inside and south, the more direct route to Greys Reef before the 35nm sprint down the Straits of Mackinac to the finish line.  
No matter what fleet you were sailing in, it seemed everyone had slightly different variations on the three main choices on the menu from a strategic standpoint.  What was self-evident was that all five one-design J/Fleets all had variations on those themes and no one could point to the "perfect" race. Nevertheless, 10 of the top 25 boats in the Mackinac Cup Division were J/Teams in a fleet of 135+ boats; J/111's again took 3 of the top 6 overall!
For the Level 35 Division, BAD DOG (Larry Taunt) and TOUCH OF GREY (Larry Schell) were virtually glued together the entire race, matching each other's tactics all the way up to the finish line at Mackinac Island.  Both stayed west of rhumb all the way up to Pt Betsie and both took the rhumbline track inside the Manitous to Greys Reef.  In the end, BAD DOG took 2nd in class and edged out TOUCH OF GREY in third place.
As one of the earlier classes to start, the J/105 class simply took off up the Illinois/ Wisconsin shoreline as one huge pack.  Like most other boats in the area off Racine to Milwaukee, the big hole emerged over rhumbline around 
11:00pm
 and their class rapidly evolved into two schools of thought— one group kept heading north along the Wisconsin shore while another pack took off on starboard tack west of rhumbline.  It was the latter group that took 1st and 2nd in class and both of them also went inside the Manitous on the way to the major turning point at Greys Reef.  Leading the fleet home was HERE'S JOHNNY (John Moore), followed by BUZZ (Mark Gurney) in 2nd, then PTERODACTYL (Mark Symonds) 3rd, GREEN FLASH (Jane Enterline) 4th and VYTIS (Gytis and Tomas Petkus) in 5th place.
The fleet of nine J/109s followed a similar course of action as their J/105 colleagues.  The leader was established between the 
11pm
 "shutdown" and the new breeze that filled in by 
3:00am
 from the SE around 175.  The boats that could maintain headway in 2-5 kt winds dramatically lengthened, or newly established, their leads over the fleet at that time.  As one of the top three boats, NORTHSTAR (Dave Gustman) made the most of the situation and established a jump on the fleet they never relinquished.  Behind them the balance of the top five juggled positions all the way to the finish with MOMENTUS (Kevin Saedi, George & Robin Simkins) taking 2nd, followed by CALLISTO (Jim Murray) in 3rd, DRIVEN 2 (Jim Milliken) 4th and SLAPSHOT (Scott Sims) 5th.  
Having started quite a ways behind the J/109s and J/105s, the J/111 class roared up the lake in the building Easterly breeze under jibs and by late afternoon were already setting their mind-numbingly fast Code Zeros to continue to rapidly catch the fleets in front of them.  By 
11pm
 when the wind shutdown, the top three boats were IMPULSE (Miz, Dreher & Hatfield) in 1st, WIND CZAR (Rick Lehmann) in 2nd and NO SURPRISE (Dave Irish) in 3rd.  For the next three hours, the boats all juggled positions with half the fleet gybing early in the new SE breeze and headed for the Michigan shoreline, another group continued to struggle north in hopes of more breeze.  Emerging from the "mix-master" at 
midnight
 was NO SURPRISE in 1st with a pack of boat hot on their tail spread across just behind them.  At sunrise, KASHMIR had leapt in 2nd followed by WIND CZAR in 3rd and IMPULSE dropping to 4th.  For the next hours, the four boats played a game of "cat & mouse" along the eastern side of rhumbline along the Michigan shore.  By Pt Betsie, IMPULSE had jumped back into 2nd followed by WIND CZAR in 3rd and KASHMIR in 4th.  The standings jumbled again as a late-arriving pack of 4 boats from way out west of rhumbline headed by Martie Roesch's VELOCITY stayed out and rounded the Manitous outside and to the north.  That plus the fact that KASHMIR took one more fateful gybe into shore before Pt Betsie dropped them into 5th.  Meanwhile, the battle between WIND CZAR and IMPULSE was finally settled when an enormous 35 degree header rolled in from 175 degrees at 15-17 kts and WIND CZAR jumped back into 2nd place.  From there on end the "die was cast" for the top five, NO SURPRISE sailing an excellent race to win class and take 2nd overall in the Mackinac Cup Division.  Second in class and 4th in fleet was WIND CZAR, followed by IMPULSE 3rd in class and 6
th in fleet.  The balance of the top five was VELOCITY 4th and KASHMIR 5th.
The J/120 Class report is courtesy of Frank Kern (owner/skipper of CARINTHIA).  He reflects what others had done from a tactics/ strategy standpoint during the race.  Here is Frank's commentary: "This week the Detroit area fleet moved on to Chicago with 7 of the 8 J/120 fleet participating. The race began with an 8 knot wind out of the northeast with the fleet flying genoas for the first few hours on the Illinois shore. When the spinnakers went up as the wind shifted to the southeast the J120s spit with half sailing out in the lake and the other half continuing to sail up the shore towards Wisconsin. On the left was last week's Bayview Mackinac winner Bob and Mike Kirkman's Hot Ticket initially in the lead, Canada Sarnia based Irresistible 2 owned by Gerry Hines, Dennis Dettmer's Perversion, and Frank Kern's Carinthia. To the west was Jerry Bresser's Flyin' Irish, 2012 winner Henry Mistele's Night Moves, Chicago based Frank Giampoli's Jahazi, and new entrant John Hughes and Ed Vermet's Nautiboys.   As the racers approached Point Betsy, Irresistible 2 was leading the fleet with Carinthia sailing much farther west on Lake Michigan. Much of the fleet was sailing the Michigan shore in pursuit of shore breeze. Hot Ticket was no longer in the lead and Perversion was in 2nd, Carinthia in 3rd. At the Manitou Straits, the majority of fleet passed through and Carinthia passed through farther north, south of the Fox Islands. As the wind was stronger on the outside and using a hotter angle, Carinthia gained the lead at Greys Reef. She managed to finish 54 minutes ahead of the next J/120s but the battle was not over. Irresistible 2 was 1.3 miles ahead of Perversion with the two yachts gybing to the finish. Perversion managed to take 2nd place by one second at the finish line. Flyin' Irish was 4th, Night Moves was 5th, Hot Ticket 6th, Jahazi 7th, and Nautiboys 8th."
In the big handicap divisions, the J/145 MAIN STREET sailed by Bill Schanen and family from Port Washington, Wisconsin finished 4th in Division 2.   The Cup Division 3 fleet had two good performances, the J/130 EDGE skippered by Bob McManus took 4th and the J/133 SCIROCCO 3 sailed by Bob Klairmont took 5th.
The J/122s battled it out this year in Division 4 and basically sailed a match race from start to finish.  Both boats ended up east of rhumb after the 
11pm to 3am
 black hole and proceeded to match each other off the Michigan dunes, but never taking advantage of any of the "point acceleration" strategies.  In the end, Matt Songer's EVVAI got the upper hand early and never let go, taking 5th in class and 21st in Mackinac Cup division overall.  Mitch Padnos's & Tracy Brand's famous SUFFICIENT REASON (the 2013 Overall and Class Division winner) had a rougher go of it this year and settled for 8th in class.
In the Double-Handed Division, the J/29 TFWB RELENTLESS sailed by George & Scott Petritz sailed well, finishing late afternoon 
on Monday
 to take 2nd overall in their division.
In Chicago-Mackinac Trophy Division 6, it was the Mac "debut" of the J/88 HOKEY SMOKE sailed by Richie Stearns.  Their strategies were similar to most of the fleet, starting due north and staying west of rhumbline until the infamous Racine "hole" between 
11pm to 3am
.  However, HOKEY SMOKE gybed earlier than most and ended up in less pressure along and just east of rhumb as they approached Big Sable dunes on the Michigan shoreline.  Nevertheless, Stearns and crew sailed very fast, capturing not only 2nd in Division but managed 13th overall.   For 
more Chicago Mackinac Race sailing information
---
SCOOT Wins J/109 North Americans
J/44 MAXINE Wins class, J/111s Sweep PHRF @ NYYC Race Week
(Newport, RI)- Smooth sailing sealed the deal on the last day of racing for IRC, PHRF and One-Design winners in Part II of the ninth biennial New York Yacht Club Race Week at Newport presented by Rolex.  After 
Wednesday's
 (July 16) opening day races were cancelled due to the threat of thunderstorms, 
Thursday's
 and 
Friday's
 racing was pushed from mid-morning to early afternoon to allow Newport's dependable southwesterly sea breeze to kick in, and although that breeze was light on both days, there was still plenty of action for the 73 teams competing. Rotating each day to one of three different circles, one on Narragansett Bay and two on Rhode Island Sound, sailors counted 4, 5, 6 or 9 races in their score lines going into today when a light easterly kicked in early to allow three races each in J/109 and IRC 3 classes and two each in J/44 and PHRF class.
One of the big winners for the week was Jim Vos from New Canaan, CT.  Jim's team on their J/109 SKOOT were declared winners of the J/109 North American Championship and Jim happily walked off with a brand new ROLEX Submariner stainless-steel timepiece.
"We are elated but we're not going to gloat, because there are some very good boats that had a tough day today," said Vos, giving a nod to his tactician Danny Cameron and adding that the class has been joined by lots of new "incredibly competitive" teams this year, including J/109 newcomer Jonathan Rechtschaffer's EMOTICON, which held the lead for the first two days.  "The J/109 fleet is stronger now than it has ever been, so if you're behind at any point during a race it is very hard to come back. The outcome could have gone many ways this week."
Behind SKOOT in the 17 boat fleet was Don Filipepelli's CAMINOS in 2nd with 43 points, narrowly beating out EMOTICON that scored 44 pts total (they had posted an 11-10-7 in their last three races to drop out of the overall lead).
In PHRF class, which sailed both buoy races and navigator's courses, David and Maryellen Tortorello's (Bridgeport, Conn.) J/111 PARTNERSHIP turned in five victories over eight races to win.  They were followed Dave Brodsky's and Fred Van Liew's J/111 ODYSSEY in 2nd and Sedgwick Ward's J/111 BRAVO in third; both boats were tied on points at 27 each and the tie-breaker went to ODYSSEY based on count-back.
After the Bermuda Race, most of the J/44s headed back to Newport to compete in Race Week.  It was Bill Ketcham's (Greenwich, Conn.) MAXINE that won class on a tie-breaker with Jim Bishop's (Jamestown, R.I.) perennial favorite GOLD DIGGER, which was leading going into the last day.  This was Jeff Willis's CHALLENGE IV from Huntington, NY.
Finally, in IRC 3, Mike Bruno's beautiful J/122 WINGS from American YC sailed yet another strong series in Newport to take 2nd in class.   For 
more New York YC Race Week sailing information
---
NRV Wins J/70 Bundesliga- Travemunde
(Travemunde, Germany)- Travemünde Week was a week of championships, and it also featured the J/70 Deutsche Segel-Bundesliga (18 – 22 July).  The SAP Media Race Course at the mouth of the river offered a spectacular program for the sailors from all eighteen clubs participating in the event.  
The waterfront festival and regatta is so enormous and has such broad appeal to Europeans that even German Chancellor Angela Merkel offered her perspectives on this popular summer destination event: "Travemünde is considered to be the jewel in the crown of the city of Lübeck. Indeed, Travemünde offers no less than an ideal backdrop to an international maritime sporting festival. The Travemünder Week – which originally came about as a result of a contest between two merchants over a bottle of wine – has long been a major event that attracts around one million visitors each year. No wonder so many come – a very special regatta week awaits them. Some 2,000 yachtswomen and men from 30 nations come together to pit their skills against each other in various competitions.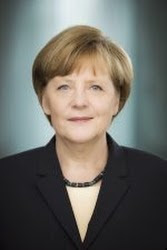 Whether you're looking for a sporting event or a festival with a programme of activities suitable for all the family – the Travemünder Week has something for everyone. This also applies to Travemünde itself, considering the wonderful opportunity to showcase the town as a coastal resort rich in tradition and an important ferry port.
As patron, I am pleased to see that the Travemünder Week is already into its 125th year. I would like to congratulate the organizers on this remarkable anniversary. My special thanks go to the Lübeck Yacht Club and the numerous helpers who are ensuring that the Travemünder Week runs smoothly. All that remains is for me to wish all yachtsmen and women and sailing enthusiasts from near and far an unforgettable Travemünder Week jubilee!"
The kick-off for the next event of the Bundesliga in Travemünde could not have been more perfect: fantastic sailing conditions with sun, summer, beach and wind with nine races completed – three for each club. After taking three firsts in winds approaching 25 kts and 6 foot waves, the Flensburg Sailing Club team were comfortably in the lead (FSC's crew were Sven Koch, Alexander Erichsen, Hans Henning Hoeft and Morten Massmann).  They were followed by four clubs who tied: the Norddeutscher Regatta Verein, YC Berlin-Grunau, the VS Am Wannsee and the Deutscher Touring YC.
The second day of sailing was phenomenal, winds around 20 kts, sunny, big waves and perfect conditions.  After ten races, the Flensburg SC was still in the lead and just one point back tied for second were Norddeutscher RV and the Deutscher Touring YC.  At this point, a total of 30 races had been sailed, ten for each club.  Said Kathrin Kadel Bach, a team member of VS am Wannsee, "everything hurts, today was really exhausting. All clubs are fighting for every point, because it matters in the end."
After the final set of three races on the last day, it was Norddeutscher RV that took over the lead with a strong showing on the last day.  Taking second in Travemunde was Flensburger SC and ending up third despite a great, effort on the last day was Deutscher Touring YC.  
For sailing fans, sailors and spectators, they were completely thrilled with the live broadcast of SAP and the highly exciting race taking place on the waterfront.
Second placed Flensburg SC led to the penultimate race and lost to the favorites from Hamburg by a whisker. "We had it in our hands today. Unfortunately, we made a stupid error in the penultimate race itself," says Morten Massmann (his crew was Sven Koch, Alexander Erichsen and Hans Henning Hoeft).  Despite giving up first place, FSC made a big jump from 8th to 4th place in the overall Bundesliga season series.
"There is still a long way to the title. We did not expect to have a win here in Travemünde. The competition was really strong," said helmsman Johannes Polgar (his crew was Klaas Höpcke, Florian Spalteholz and Niklas Meyerinck).
Besides the two northern clubs, the Deutscher Touring YC from Lake Starnberg that finished third is now standing in second place in the overall season standings.  "The Bundesliga is really intense. Even during the breaks between races, it's hard to relax, because we are still thing of the last race. And now it's back on the water and we get going again. Real madness," says Max Weiss, skipper of DTYC.
After the top three (NRV, FSC and DTYC), the balance of the top five at Travemunde includes Wurttemberg YC in 4th and VS am Wansee in 5th.  
At this stage of the series, behind NRV in 1st and DTYC in 2nd, the series is quite close for the top five.  Third is VS am Wansee with 31 pts, just one point back from 2nd.  Fourth is Flensburg SC with just 28 pts and
fifth is Wurttemberg YC with 27 pts.  Each regatta is producing a juggling of the standings, thus putting a premium on strong, conservative racing to avoid an unnecessary bad race.
Here 
are YouTube J/70 Bundesliga sailing video summaries:
Day 1- 
https://www.youtube.com/watch?v=BVTZkNo-lyo
Day 2- 
https://www.youtube.com/watch?v=ZZ9q249n-IU
Day 3- 
https://www.youtube.com/watch?v=uo0Icxxq01E
For 
more J/70 Deutsche Segel-Bundesliga sailing information
---
White Wins J/80 East Coasts
(Solomons Island, MD)- The 2014 J/80 East Coast Championships were run in conjunction with the Screwpile Challenge Regatta hosted at Solomons Island, MD.  The big winner of this year's regatta was John White.  Despite never winning a race but never finishing out of the top four, White's remarkable 3-3-3-4 record for 13 pts won the regatta by a country mile.
Taking second in the regatta despite winning the first two races was David Andril's VAYU.  Equally eye-opening was the performance of the third place finisher- Clarke McKinney sailing KNEE DEEP.  Despite winning the last two races, McKinney still had to win a tie-breaker to maintain third position.
Rounding out the top five were Ken Mangano sailing MANGO in fourth and Vince Kalish in WHITE LIGHTNING in fifth.   For 
more J/80 East Coasts sailing information
---
The SOUP & HAMACHI Crush Pacific Cup
(San Francisco, CA)- What an amazing outcome for one of the slower and crazier trans-Pacific races in a long, long time.  This year's Pacific Cup that runs from San Francisco to Hawaii was not exactly a barn-burner.  Many in the fleet suffered light airs in the beginning of the race and at least midway through the race due to the wobbly Pacific High that couldn't make up its mind which way to move next.
After 13 days at sea, the big winner in the Weems & Plath PHRF Division B, was the J/105 FREE BOWL OF SOUP from the Corinthian YC Portland, OR (Eric Hopper skipper with crew of Eric Albertson, Scott Davey, Keith Sheets, and Doug Schenk as Navigator)!  What a fantastic achievement for this brazen crew from Oregon who believed after surviving gale forces winds and winning their "warm-up" event, the Oregon Offshore, that they could continue to cross the Pacific and vanquish all competition!  
In PHRF C Division, the J/109 BLUE CRUSH (Eric, Will, Yong, Ken and Eric Devaney with Scott Prysi as a watch captain) managed a fourth overall in their division.
The Kolea PHRF Double-Handed Division saw the J/120 SHEARWATER sailed by Justin & Christina Wolfe from Seattle, WA, scouring for breeze headed west all week long and managed to score a 4th overall, too.
Finally, the SONNEN BMW Division D ORR fleet, featuring the battle of the J/125s- Greg Slyngstad's J/125 HAMACHI from Corinthian YC Seattle and Tom Garnier's J/125 REINRAG 2 from Los Angeles YC was, indeed, a "rope a dope" to the most for the entire 2,070nm race.  In the end, HAMACHI sailed near flawlessly to win line honors in their class by over 9 hours, also taking handicap honors along the way.  Second in an equally awesome performance was REINRAG 2's family crew!    
Sailing photo credits- Leslie Richter/ Rockskipper.com
  For 
more Pacific Cup sailing information
---
J/Community
What friends, alumni and crew of J/Boats are doing worldwide
———–
*  J/125 TIMESHAVER Flies Dana Pt Offshore
. This years' Seal Beach to Dana Point Offshore race had around 50 boats and they were treated to a beautiful day.  From Ericsson 38's to a J-125 the race had a plethora of boats, each with a good shot at the overall.  Here's the report from Keith Magnussen from the perspective aboard the J/125 TIMESHAVER:
"For most of the race, we were hoping to use our new Code 0 on the J/125 TIMESHAVER.  Viggo Torbensen (who owns the J-125) is keen to optimize his boat for Transpac 2015 and has chosen Ullman Sails to power his awesome boat.  Viggo had this to say about the Code 0 and working with Ullman Sails, 'It starts with a desire to win then comes the boat keeping it dialed in and in top top shape, next would be align yourself with a sailmaker that understands the goal and is willing to go the extra mile to make the boat go fast, Ullman has become an easy choice for me because of Keith, yourself (Erik Shampain) and the team behind you. The code zero proved to be an amazing sail yesterday, but again, I recognize it came out right because someone sat down and put thoughts into and designed the sail for the boat. All of the sails I have purchased from you guys have come with the same impressive attention to detail."
We started the race in a southerly and were the first boat to put up any sort of spinnaker when we raised our Code 0 about 30 seconds after the start.  Immediately we powered through the slower boats that started in front us.  We also put a substantial gap between us and the Farr 40.  The Melges 32 "Pendragon" had the ability to keep up with us in the light stuff and stayed close on our heels.  As the race progressed, we easily sailed at 70 TWA at wind speed or more.  Fantastic conditions for us and we excelled when the wind went to 110+ TWA and we changed to the 3A.  This was short lived and we went back to the Code 0 and put more distance on the fleet.
We were thinking about the overall as we rounded the iconic Dana Point and switched to the 1A.  In the end we got nipped by a bunch of friends on another well-sailed offshore program."
For 
more J/125 sailboat information
---
J/Cruising Community
J Cruisers continue their adventures around the world, below are a selection of most excellent "blogs" written by their prolific publishers.  Some terribly amusing anecdotes and pearls of wisdom are contained in their blogs. Read some! You'll love it.
* Jim & Heather Wilson just completed a circumnavigation of our "blue planet Earth" in June 2013 on their J/42 CEOL MOR
.  Said Jim, "The odyssey of CEOL MOR is over, for now.  We completed our circumnavigation on our J/42 when we crossed our outbound track in Britannia Bay, Mustique. We were, however, still 2,000 nautical miles from home. So we continued on through the Windwards, the Leewards, and then through the British Virgin Islands. After a farewell 'Painkiller' at the Soggy Dollar, and a last meal at Foxy's, we made the 1,275 nautical mile passage to the Chesapeake and completed our port-to-port circumnavigation when we arrived in Annapolis on June 28, 2013. We had been away 1,334 days, completed 259 days of ocean passages, and sailed 30,349 nautical miles (34,925 statute miles). Read more about their adventures in their  well-documented blog here:  
http://www.svceolmor.com/SVCeolMor/Welcome.html
* J/160 AVATAR headed for the Caribbean, again!
  We LOVE these updates from our cruising J sailors that continue to criss-cross the Seven Seas. This one comes from 
Alan Fougere, sailing his beloved J/160 AVATAR.
   Alan sent us an email update commenting on their passage south this winter, "In mid-December AVATAR completed her sixth transit to her winter Caribbean home, Grand Cruz Bay, St. John, USVI (seen above)  from her home port in Quissett (Falmouth), MA.  A crew of three, Captain Alan (e.g. me), Crew Pablo Brissett and Mark Conroy, covered the 1,500 nm trip in in her best time to date- 7 Days 5 Hours, averaging 8.7 kts, that's about 208 nm per day!  Amazing passage it was!  Rainbow at right far offshore was some of the amazing phenomenon we experienced on this fast offshore passage.
AVATAR will participate in the BVI Sailing Festival/Regatta again in 2013, where last year she won the Nanny Key Cup Cruising Class race around the Island of Virgin Gorda.  Here are some photos for you to share with the J/Community at-large.  Enjoy!"
Best, Alan Fougere/ AVATAR
* Bill & Judy Stellin 
recently had an interview about cruising on their J/42 in the 
Wall St Journal called "Retiring on the Open Sea"
.  The Wall St Journal asked Bill to reply to dozens of questions that flooded into the WSJ's Editor desks. Here's the update:
Retiring on the Sea: Answering Readers' Questions
Advice about selecting a boat, ocean crossings, itineraries and safety
The article in our WSJ Online December retirement report about eight years spent sailing the Mediterranean— "Retiring to the Open Sea"— prompted many questions and comments from readers.  We asked William Stellin, who wrote the story, to answer some of the most common queries.
WSJ-
 "What kind and make of boat did you use? Looking back, would you have picked a different boat?"
Bill-
 "In 1995-96, J/Boats of Newport, RI, came out with a new cruiser/racer model, the J/42. We bought hull No. 6 of this popular 42-foot sailboat and named it JAYWALKER. This was our fourth boat since beginning sailing in 1975.
Although long-distance cruising wasn't what we had in mind when we purchased JAYWALKER, it soon became apparent it had the ability to carry us easily and safely anywhere we wanted to go. Because the boat is light, it sails well in light winds, which means very little motoring is necessary.
People often ask (and argue) about what boat is best for cruising. Any boat that is strong, safe, fast, comfortable and easily handled by two people should fit the bill. One thing for sure, fast is fun—and important when trying to avoid bad weather."  
READ MORE ABOUT BILL'S INSIGHTFUL COMMENTARY AND THOUGHTS ON WSJ ONLINE HERE
* The 
J/42 JARANA
 continues their epic voyage around the Pacific. Continue to read about 
Bill and Kathy Cuffel's
 big adventure cruising the South Pacific headed for New Zealand.  Their blog is here:
http://www.svjarana.blogspot.com/
* 
John and Mary Driver
 are sailing their 
J/130 SHAZAM
 for extended cruising in the Atlantic basin. At this time, John and Mary finished their double-handed crossing of the Atlantic, landing in Portugal on their J/130 Shazam after completion of their ARC Rally. Read the latest news at
http://www.sailblogs.com/member/shazam/
.
* 
Several J/160 owners are island hopping
 across the world's oceans, fulfilling life long dreams to cruise the Pacific islands, the Caribbean islands, the Indian Ocean and all points in between.  Anyone for Cape Horn and penguins??  Read more about their adventures and escapades (like our J/109 GAIA, J/42s PAX and JAYWALKER and J/130 SHAZAM friends above).
–  Bill and Susan Grun on the J/160 AVANTE
 are also sailing in the Pacific archipelago, read more about their great adventures on their blog (
http://web.me.com/susangrun
).
  Read about their latest adventures as they've gotten to New Zealand- "Avante Cruises the Pacific".
–
 Eric and Jenn on the J/160 MANDALAY
 also sailed the Pacific archipelago, read more on their blog at 
http://www.sailmandalay.com
.  Eric and Jenn are J/World alumni took MANDALAY up and down the West Coast (Mexico, CA), then to the South Pacific and New Zealand.  MANDALAY is back in San Francisco now, and in the J/World fleet–she is available for skippered charters, private instruction, and corporate/executive groups.