December 18th, 2014
---
Speed + One-Design Excitement @ Key West
(Key West, Florida)- High-speed foiling catamarans, 72-foot Maxi yachts, and large classes of exciting sportboats are heading to the Florida Keys. Quantum Key West Race Week 2015 will once again showcase the full spectrum of sailboat racing amid the beautiful setting of aqua-colored waters and warm sunshine from January 18 to 23, 2015.
Many of the world's best sailors will come to the Conch Republic for the 28th edition of Key West Race Week. For the fourth consecutive year, Quantum Sail Design Group will serve as title sponsor of the iconic event, which is organized by Premiere Racing.

"One important thing Key West has done for Quantum: It's brought us closer to our clients," said Farley Fontenot, a managing partner for Quantum Sails. "We are a company that wants to help sailors achieve their goals. A week in Key West gives our professionals a great opportunity to get out on the docks and interact directly with clients and do whatever possible to help them improve their boat's performance."
One-design racing continues to increase in popularity worldwide and there will be several strong classes at Key West. For the third straight year, the J/70 will be the largest class in Key West with a whopping forty-seven boats entered so far. Jud Smith (Africa- Marblehead, MA), Mauricio Santa Cruz (Bruschetta- Brazil) and Carlo Alberini (Calvi Network- Italy) are among many well-known skippers that will be competing this year.
In addition, Premiere Racing is thrilled to have a pair of J/Boat classes making one-design debuts at Race Week. To date, the J/111 has attracted seven boats while the J/88 has six on the scratch sheet.

Cleveland skipper Rob Ruhlman steered his J/111 SPACEMAN SPIFF to victory in PHRF 1 last year and is looking forward to one-design racing against other J/111s.
"I think it's absolutely outstanding that we have a one-design start and we are very excited about the caliber of competition," Ruhlman said. "It's really a great class because the boats are so evenly matched."
This will be the 13th Key West for Ruhlman, who is President/CEO of Preformed Line Products. Ruhlman started coming to the Conch Republic in 1994 with a Tripp 26 and has also raced a Mumm 36, Farr 40 and 1D35 in the regatta.
"It's January and I get the heck out of Cleveland!" Ruhlman said when asked what he loves most about Key West. "Seriously, the whole event is just fantastic. I think the format has greatly improved over the years. Not much has changed on the water- – the race management is still top-notch. However, some of the off-water tweaks the organizers have made over the years have been for the better. There is a sense of camaraderie at Key West that you don't find at other big events."
Chelsea Clock is providing their classic "Shipstrike Clocks" for the "Boat of the Day" trophies!  Event Sponsors include Title Sponsor Quantum Sails and Day Sponsors Lewmar (Official Marine Hardware), and Mount Gay® Rum (Official Rum). The Supporting Sponsors are B&G (Official Marine Electronics), Marlow Ropes (Official Rope), and Gaastra (Official Clothing and Footwear). Key West Race Week is also supported by The Florida Keys & Key West Tourism Council. Sapporo USA is the Official Beer and Regatta Ginger Beer is the Official Ginger Beer.  For more 2015 Quantum Key West Race Week sailing information
---
Whether Ur Naughty or Nice? It's Not Too Late!
Get The Perfect Gift For Your Favorite Sailors!
(Newport, RI)- HOT Off the Press!  Order your J/Calendar 2015 now!  There's still enough time to fill stockings or toss some gifts under the tree for your favorite sailors!
For 2015, we have created another beautiful calendar for J sailors who love the joys of sailing a J in some of the most spectacular harbors and waters of the world.  Whether you are a cruising, racing or armchair sailor, these stunning sailboat photographs will transport you to wonderful sailing experiences in far away places.
The 2015 sailing calendar features photos of J/70s flying off Monte Carlo & Lake Garda; J/24s dueling off Sweden, Newport & Seattle; surrealistic J/80s off Santander, Spain; J/120s gliding off San Diego; J/111s serenely sailing on the Solent; J/22s sailing off the Netherlands; and other gorgeous images of J/105s and J/122.  A great gift for loved ones, family, friends and crew (see gallery here). Order your 2015 J/Calendar today here!
---
J/Sailing News
The Sun Never Sets on J's Sailing Worldwide
With 2014 slowly winding down towards the holidays around the world, a number of intrepid sailors have taken the opportunity to dive into warmer weather with more hospitable conditions for sailing (at least for those Over the Top versus our friends Down Under).  In fact, several J alumni are preparing for the infamous Rolex Sydney Hobart Race, including Ken Read (past J/24 World Champion) on the mighty "Comanche"- a 100 ft "wedge of cheese" he hopes to safely navigate through the Tasman Sea with the help of Stan Honey (uber navigator and J/105 Masters sailor)!
Another long offshore race just completed, the RORC Trans-Atlantic Race from the Canary Islands to Grenada in the Caribbean.  A lovely J/133 made the adventure with a bunch of friends from Great Britain and had cause to celebrate at the end!
In Europe, the J/70 Monaco Winter Series Act II was sailed in Hercules Bay off YC Monaco's spectacular location in Monte Carlo.  The event has become popular with European J/70 sailors from Germany, Moscow, the Solent and Italy.  It serves as excellent practice for the upcoming 2015 J/70 Europeans being held in the same location after the J/70 Worlds in La Rochelle, France.
Yet another excellent fleet of J/70s participated in the J/70 Quantum Winter Series Act I at Davis Island YC in Tampa, Florida.  Blessed with fantastic facilities, the DIYC Race Committee and members ensured the 70 sailors were warmly welcomed— the weather was simply gorgeous.
Further down in South America, the J/105 Chilean Championship was just completed in Algarrobo, Chile- a beautiful seaside resort town due west of their capital city of Santiago.  With good weather, strong competition, and tremendous regatta management, the J/105 class in Chile has become the "de facto" offshore one-design class for all of Chile!
Finally, on the far side of the Pacific and up the Indian Ocean, we find an entirely new set of J sailors developing in India and off the famous "gateway harbor" of Mumbai.  Recently, a spectacular new J/122E cruiser/ racer has been showing her heels to much of their offshore fleet.
Read on! The J/Community and Cruising section below has many entertaining stories and news about J/Sailors as well as cruising blogs about those who continue to enjoy the Caribbean and the South Pacific, staying warm while others are trying to stay warm up north.  Check them out!  More importantly, if you have more J/Regatta News, please email it or upload onto our J/Boats Facebook page!  Below are the summaries.
---
Regatta & Show Schedules:
Oct 24- Mar 8- Monaco J/70 Winter Series- Monte Carlo, Monaco
Dec 13- Feb 7- Quantum J/70 Winter Series- Davis Island, FL
Jan 18-23- Quantum Key West Race Week- Key West, FL
Mar 4-7- Bacardi Miami Sailing Week- Miami, FL
Boat Shows:
Jan 9-18- London Boat Show- London, England- J/70, J/88, J/97e, J/122e
Jan 10-18- Toronto Boat Show- Toronto, Ontario- J/70, J/88
Jan 14-18- Chicago Strictly Sail Boat Show- J/88 and J/70
Jan 17-25- Boot Dusseldorf- Dusseldorf, Germany- J/122E and J/70
Jan 22-25- San Diego Sun Road Boat Show- J/70, J/88, J/111
Jan 22-25- San Francisco Boat Show- J/70, J/88, J/111
Jan 23- Feb 1- Seattle Boat Show- J/122E, J/70 and J/88
Apr 9-12- Apr 9-12- Strictly Sail Pacific- Oakland, CA- J/70, J/88, J/111
For additional J/Regatta and Event dates in your region, please refer to the on-line J/Sailing Calendar.
---
Germans Lead Monaco J/70 Winter Series- Act II
(Monte Carlo, Monaco)- After the success of the 1st edition, the Monaco Sportsboat Winter Series 2014-2015 is back to liven up the waters off the Yacht Club Monaco over the winter. Divided into five Acts scheduled once a month from October 2014 to March 2015, these regattas are designed to give experienced and amateur J/70 crews a chance to prepare at the highest level for the upcoming season's big regattas.
This last weekend's winter gathering of sixteen dedicated high-level J/70 teams from all over Europe, produced great racing and some surprises in the fleet sailing Hercules Bay. The YC Monaco's PRO, Englishman John Coveney, welcomed the foreign crews to the J/70 Monaco fleet.  Many of the crews are already looking forward to the 2015 J/70 European Championships that are being held in October at YCM.
"It is a great pleasure to come here once a month for the Monaco Sportsboat Winter Series," said Ekaterina Skudina, double European Champion and World Champion from Russia. She continued to say, "Three crews from the Pro-Yachting Sailing Team project came from Moscow early in the week to train, work on theory/ tactics/ strategy, go through training on the water, and work on both mental and physical preparation for offshore sailing.  In addition, the teams get a direct assessment of their progress and development during the Winter regatta series. At this time of year, the YC Monaco is undeniably one of the best training bases in the Med!"  There is no question the Russian team member efforts paid off; with the trio posting solid top ten performances.

The German LED ZEPPELIN team, led by the 22-year-old skipper Yannick Hefner, was able to master the breeze and the Monegasque current for their first ever competition in the Principality!  After posting two 2nds on the first day, they sailed brilliantly the second day to coast home with two bullets and the overall win for the weekend with just 4 pts net.
The J/70 Class President of Monaco, Jacopo Carrain, sailed his CARPE DIEM both smart and fast on the first day, posting two bullets.  However, on the second day, they couldn't maintain the pressure on the LED ZEPPELIN team, posting a 3-4 to drop to second with 5 pts net.
The German team from Bayerischer YC sailed UNITED DOMAINS into a well-earned third place with a 5-3-bfd-2 for 10 pts net.  Just behind them were a veteran Monegasque one-design campaigner, Dennis Fredriksen sailing ARIA into fourth place just three points back.  Rounding out the top five was the top Russian team, Alexander Mikhaylik sailing ALEX TEAM.  In fact, the balance of the three Russians also placed well, with Alexander Kurbeko on SKOLKOVO taking 8th and Igor Puzanov on SKOLKOVO II taking 9th by virtue of losing a tie-breaker on 21 points with his Russian teammate!
After counting results from the first two Acts, Jacopo Carrain's crew on CARPE DIEM is leading the Winter Series for the twenty boats that are registered to compete.  The next Acts are the following:
ACT 3: 16 – 18 January 2015
ACT 4: 06 – 08 February 2015
ACT 5: 06 – 08 March 2015
For more J/70 Monaco Winter Series sailing information
---
SCIMITAR Repeats J/105 Chilean Championship
(Algarrobo, Chile)- Over a three-day weekend in December (the 6th to 9th), the last event of 2013-14 Chilean J/105 National Championship took place off Algarrobo.  An excellent, highly competitive field of seventeen teams were on the starting line, ready to do battle to determine the season-ending leaders for this hot local offshore fleet.
The weekend's weather Gods smiled on the 105 sailors, providing them great wind conditions, with 10 to 15 knots southwest breezes (the best local wind) and enormous waves over 6.5 foot tall!

From the earlier regattas, it was clear the three teams that were dominating those events would have to settle in for a three-way battle for the top spots on the podium.  Or, they would have to contend with a "late bloomer", a new team ready to ascend the leadership with better tacticians or crew.
Repeating as they had from 2013, Team SCIMITAR skippered by José Ugarte, finished in the first place thanks to their consistent 1sts, 2nds and 3rds.  Miguel Salas' BIG BOOTY followed closely with 34 points to take second overall, but had to win a tie-breaker over the PLAN B team skippered by Jorge González.  PLAN B got the short end of that stick due to fewer top three finishes.
The Chilean J/105 fleet will race again in the "Sailing Week 2015", where many class and fleets join to celebrate this event. This will take place from 24 to 31 January of 2015 off Algarrobo as well.
---
NEW WAVE Draws First Blood @ J/70 Quantum Winter Series
(Tampa, Florida)- The second annual J/70 Quantum Winter Series hosted by Davis Island YC saw an enormous turnout of forty-seven teams eager to enjoy sailing in the warm, southern climate of Florida.  While the weather looked promising, with sunny skies all weekend, it was the breeze that proved difficult for both competitors and race management.  A waning cold front produced decent NNW breezes on Saturday's racing, permitting DIYC PRO Judy Hanlon to squeeze in four races before the breeze diminished.  However, Sunday dawned bright and sunny and no amount of praying by all was enough to summon the seabreeze by early afternoon.

The sailing on Saturday produced remarkable results for just about everyone in the top ten, perhaps the first time in recent memory that literally every single boat had a double-digit score to drop in just four races!  As it turns out, the top three boats were nowhere near the top five after two races!  Nevertheless, in the end, it was "home boy" Marty Kullman and his able-bodied crew aboard NEW WAVE that took the regatta win with a 15-2-2-1 for 20 pts total.
Starting in a similar manner, current J/22 World Champion Allan Terhune sailed his J/70 DAZZLER to second overall with an equally crazy "snakes & ladders" scoreline of 14-3-1-3 for 21 pts.
Perhaps remembering that amazing first day of glory at Key West two years ago, Cole Allsopp and friends on MOXIE dialed it all in and sailed a solid series to take 3rd overall with a record of 5-12-3-2 for 22 pts.  Close it was for the top three!  Notably, all the top three overall took the top three spots in the last race— guess it took this talented group a few tries before they all finally got it right!

Rounding out the top five were the 2013 Key West Midwinters Corinthians winner, Dave Franzel on SPRING, taking fourth place.  They were followed by Will Welles on RASCAL.  Notably, class newcomer Jack Franco from Houston, Texas sailed USA-3 to a 3-4-5 to be leading the regatta after three races!  However, whatever the genie was telling them to do suddenly called it quits and dove back into the magic bottle- their last race 26th dropped them to 8th overall- ouch!
As he has done in the past, Rob Britts sailed HOT MESS to the overall Corinthians Team win with 31 pts.  They were followed by Andrew & Melissa Fisher's BUTTON FLY in second and in third was Noel Clinard's LOONATICTU.
A
n excellent "training" feature for the regatta was the introduction of "live" broadcast of any teams using the RaceQs.com "tracking app" (Android and Apple iOS).  There was a lot of lively conversation in the subsequent coaching analysis post-racing at the Davis Island YC bar! Check out the app here at RaceQs.com (http://www.raceqs.com).  The "live" broadcast 3D replays are available here.  In particular, do the comparison of NEW WAVE vs DAZZLER vs SPRING on a race-by-race basis; it provides some fascinating insights on how each "player" approached the upwind and downwind legs!
The three-part J/70 Quantum Winter Series continues just after New Year's 2015 with Act #2 on January 10th to 11th, just prior to the J/70 Midwinters in Key West, Florida.  Then, the final Act #3 takes place from February 7th to 8th.   For more J/70 Quantum Winter Series sailing information
---
J/133 Wins RORC TransAtlantic Race!
(Grand Canaria, Canary Islands)- In the mix for both IRC Class 2 leadership and also IRC Overall honors for nearly the entire duration of this year's 2,995nm Trans-Atlantic Race was the J/133 APOLLO 7 from the United Kingdom, skippered by her owner Nigel Passmore.  As they approached the final part of the race from the Canary Islands down the tradewinds route to Grenada, the APOLLO 7 team worked incredibly hard to milk the breeze for every advantage possible.
In the end Passmore's British team on APOLLO 7 crossed the finish line off Quarantine Point, Grenada at 18:45:15 UTC on Monday 15th December 2014 with an elapsed time of 15 days, 08 hours, 45 minutes and 15 seconds.  After time correction, APOLLO 7 not only won IRC Class Two, but took 4th IRC Overall!
Nigel's team included three close friends from his hometown of Plymouth, Devon: Steve Wassell, James Slater and Mark Davies. Also on board were two offshore specialists: Dan Gohl, a past Class 40 World Champion and Sevenstar Round Britain and Ireland Record holder as well as Brett Aarons, who has won class in the Rolex Fastnet Race with Nigel Passmore in another yacht.
Nigel spoke dockside in Camper & Nicholsons Port Louis Marina about the race and why he decided to take part:
"This morning the sun came up and I thought about home where it would be cold and miserable, and there I was at the wheel, flying along under spinnaker, in just a pair of shorts, thinking this is just heaven, and 10 of the 15 days have been just like that.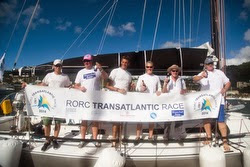 At the beginning of this race, we went through the hard bit; getting out of the Canaries was tough work, fully oil-skinned up and I was thinking, what is this all about? We had a blustery period mid-Atlantic and I remember one night at the wheel in well over 30 knots of wind. It was pitch black with torrential train and difficult to read the waves, but we were racing and doing 16 knots into the abyss. We didn't take the kite down or put another reef in, we kept pushing hard and the challenge of a race is that on top of seamanship, you have the tactical consideration of beating other boats. You know you have to keep driving on if you are going to succeed.
This is something I have wanted to do for 20 years or more and to do it, you have got to get yourself in the right frame of mind. Two years ago, something happened to an old friend of mine and I thought I had to do it now. I had my 50th birthday recently and I thought, come on, you have to start doing a few of these things.
I have always liked to sail with good friends and I don't like to single anyone out, but I have to give a big hand to Brett (Aarons). He has been fabulous. He has looked after us totally and been an absolute rock for the whole campaign."
After a wee-bit of celebration on the docks, the crew anticipates enjoying the delights of the island, including scuba diving the beautiful reefs and taking island tours of the stunning interior famous for its rainforest with secluded waterfall locations.   Sailing photo credits- RORC/ Arthur Daniel & Orlando Romain
Background: The RORC Transatlantic Race started November 30 from Puerto Calero Marina in the Canary Islands. The 11-boat fleet departed Puerto Calero Marina, Lanzarote bound for Camper & Nicholsons Port Louis Marina, Grenada West Indies, 2,995 nm away across the Atlantic Ocean.  For more RORC Trans-Atlantic Race sailing information
---
J/122E SKADOOSH Loves Indian Sailing!
(Mumbai, India)- The 16th of November saw an armada of sailboats sailing out of Mumbai's harbor (the Gateway to India) to participate in a regatta organized by Commodore Rabi Ahuja in memory of his father. The late Gokaldas Ahuja had set up the first "Sea Scout" group in 1938 that came to be known as the Sea Cadet Corps- its goal was to introduce Indians to the sea and sailing and to enjoy friendship and teamwork together.
Weather conditions on the land were the best Mumbai had seen all month – owing to the surprising showers a few days earlier. However, the sea had been rough the day before and several people at the jetty were discussing how the erratic wind conditions would affect the outcome of the race. The team members on the J/122E, were confident of the boat's ability to adapt to the shifty wind conditions and out sail the competing boats.
The race spanned three fleets, including one for children under 15, and the J/122E's course was a loop finish on the beat. We went out to sea an hour before the race was scheduled to ensure everything was working properly. Nandan (the proud owner of the boat he's christened SKADOOSH) was at the helm discussing the strategy for the race with his crew. The position of the flags seemed a little worrisome since we weren't sure the race course had the minimum seven feet depth that is needed for the J/122E's keel.  Nevertheless, we decided to start the race and sail away if it got too shallow.
The tactician Ayesha Lobo wasted no time arriving at a game plan for the races.  Since they were sailing with 17 boats she figured it would be advisable not to start with the fleet and instead a running start a minute later was more beneficial (and safer!).  The pre-start tactic worked and before they were heading to the windward mark at an average speed of 7.9 knots, striving to find a balance between speed and point. Halfway through the race, they had an altercation with another boat and had to "un-wind" themselves (admirably done by Nandan at the helm).  Nevertheless, the team worked like clockwork and systematically played a number of shifts with some great crew-work to finish in second!

At the start of the second race the same strategy was applied— steer well clear of the chaos at the start gun!  At first, it appeared this was a smart move considering the fact that the race had three false starts (general recalls).  However, on the final start, we had an encounter with another boat!  As you can guess by now, the "ISAF sailing rules" are still being learned in Mumbai's offshore community!  To avoid a collision, they were forced to spin around 360 degrees and start behind the other boats. On any other boat, this would have cost them the race.  However, SKADOOSH managed to catch up sailing high and fast with her main and jib and managed to finish a very satisfying second place. As a result, with two seconds they won the regatta!
After the racing, the wind picked up speed and the crew enjoyed practicing tacks as they zigzagged their way through the mooring field.  Ultimately, it was time to celebrate their successful outing aboard the beautiful SKADOOSH.  They dropped anchor and sat back to enjoy a few sandwiches and refreshments while watching the beautiful sunset on-board the magnificent J/122E.  "SKADOOSH is a perfect cruising and racing sailboat," according to Nandan!  "Plenty of room and light below and, on deck, great seating for everyone to enjoy themselves! Plus, it's fast!"
The regatta was an undoubted success – the Chief of Naval Staff for the Indian Navy was suitably entertained from his helicopter that hovered around the fleets as they raced!  The prize ceremony convened at Jawahar- a giant ship-shaped concrete structure, named after our first Prime Minister- Pandit Jawaharlal Nehru- who laid the foundation stone for it in 1968. The large number of participants and the growing numbers of Sea Cadets and volunteers around Mumbai paint a wonderful picture of promoting the spirit of adventure through sailing.  Hopefully, Gokaldas Ahuja's aims and dreams are being realized now, one new sailor at a time!  Thanks for the report from Ayesha Lobo of J/India.
---
J/Community
What friends, alumni and crew of J/Boats are doing worldwide
———–

* J/22s "Jamin' Jamaica stylee"— check out this YouTube video below.  Gorgeous weather.  10-25 kts warm trade wind breezes from the ENE all day.  Gorgeous sunsets.  Amazing hosts.  Laid back atmosphere- that is what Montego Bay Yacht Club is all about.  Lots of warm, engaging camaraderie!
Thanks to "Cookie" for this fun video compilation of the Silver Anniversary J/22 Jamin' Jamaica regatta!  http://youtu.be/20O5cNigUC4

* U.S. Sailing's Best of 2014 Compete for Rolex Yachtsman & Yachtswoman of the Year Awards.  The nominees will be reviewed by a panel of notable sailing journalists who discuss the merits of each sailor's racing results before voting to determine US Sailing's 2014 Rolex Yachtsman and Yachtswoman of the Year.  The winners will be announced in mid-January and honored on Thursday, February 26, 2015, during a luncheon at the New York Yacht Club in Manhattan, when they will be presented with specially-engraved Rolex timepieces.
Many of the top nominees are past or present J/Sailors from the top J one-design classes (J/22, J/24, J/70, J/80).  Of the ten contenders for Yachtsman of the Year, seven (70.0%!) have extensive sailing experience on J's, including Etchells World Champion Bill Hardesty (San Diego, Calif.); J/70 World ChampionTim Healy (Jamestown, R.I.); Rolex Farr 40 World Champion Terry Hutchinson (Annapolis, Md.); J/80 World Champion Brian Keane (Weston, Mass.); Extreme Sailing Series Champion Morgan Larson (Santa Cruz, Calif.); ISAF Sailing World Cup 470 Men's Bronze Medalist Stu McNay (Providence, R.I.); and J/24 World Champion Will Welles (Portsmouth, R.I.).
Of the seven contenders for Yachtswoman of the Year, five (71.0%!) have spent considerable time sailing J one-designs; including J/70 Worlds Corinthian Champion Heather Gregg-Earl (Boston, Mass.); ISAF Sailing World Cup 470 Women's Bronze Medalist Anne Haeger (Lake Forest, Ill.); Etchells skipperShannon Bush (Refugio, Texas); ICSA Women's National Champion Deirdre Lambert (Cumberland, Maine); and US Women's Match Racing Champion Stephanie Roble (East Troy, Wisc.).
Established in 1961 by US Sailing and sponsored by Rolex Watch, the annual presentation of US Sailing's Rolex Yachtsman and Yachtswoman of the Year awards are considered the sport's ultimate recognition of an individual's outstanding on-the-water achievements for the calendar year.  Over its history the coveted award has been presented to 42 men and 34 women, including these distinguished sailors who have claimed the honor multiple times:  Ed Adams, Betsy Alison, Sally Barkow, Dennis Conner, JJ Isler, Allison Jolly, John Kostecki, Buddy Melges, Ken Read, Cory Sertl, Lynne Shore, Jody Starck, Anna Tunnicliffe and Ted Turner (10 of this group of 14 notable sailors also cut their teeth sailing J one-designs for years)!

* Where have all the young sailors gone? A good philosophical and practical question.  Don Finkle, the J/Dealer at RCR Yachts, often has some interesting points of view regards the growth of sailing for both young kids and adults.  Lately, he offers his perspectives on junior sailing:
"We have always believed in and supported youth sailing, which has now expanded from junior sailing schools to high school to college. The latter programs continue to pop up everywhere and young people can now start out at 6 years old and sail extensively on teams up into their early twenties. They have terrific opportunities that we never had at that age.
We are cranking out more well trained sailors than ever before. At the same time we hear that not enough young people are sailing and racing once they graduate out of these programs. We have more skilled young sailors but they are not sticking with it. Why doesn't this add up?
I don't buy the idea that kids (I use that term loosely) stop sailing because boats are no longer given to them to use. There are so many crew shortages, even boats they can borrow, that opportunities to sail are everywhere. Used boats are very inexpensive right now; being in the business I can say that with confidence. Many small used one-design boats are practically being given away. In our opinion, the problem lies elsewhere.

If a youngster starts sailing at six years old and stays with it through college, he/she will have been sailing for most of their lives to that point. Frankly, for them to opt out at this point, it is often a case of "been there, done that". Those hours and days spent sailing in dinghies were hours they were not playing golf, tennis, softball, fishing, scuba diving, swimming, biking, and many other activities they now want to try.
Young people today have so many opportunities and are accustomed to doing many different things for entertainment. Sailing gets crossed off the list and they are ready to catch up on what they missed. The other issue is that if sailing as they know it means more short-course races in small boats many of them have had their fill after 10-15 years of doing it. Some are just plain burned out.
A percentage of these skilled and enthusiastic dinghy sailors will stay with it. Others will come back to the sport when they are older, often much older. But if we want to keep more young sailors engaged in the sport in their 20s and 30s, they need to see more of a return on their time in the form of fun and social interaction. This likely means a different type of sailing than what they have been doing.
We should ask them and find out!!"
---
J/Cruisers
J Cruisers continue their adventures around the world, below are a selection of most excellent "blogs" written by their prolific publishers.  Some terribly amusing anecdotes and pearls of wisdom are contained in their blogs. Read some! You'll love it.
*
J/160 SALACIA has been sailing in Australia in the Whitsunday Islands.  Guess who decided to throw themselves across their bow as they cruised comfortably to their next destination?  A giant whale!  Look at this amazing photo!

* Jim & Heather Wilson just completed a circumnavigation of our "blue planet Earth" in June 2013 on their J/42 CEOL MOR.  Said Jim, "The odyssey of CEOL MOR is over, for now.  We completed our circumnavigation on our J/42 when we crossed our outbound track in Britannia Bay, Mustique. We were, however, still 2,000 nautical miles from home. So we continued on through the Windwards, the Leewards, and then through the British Virgin Islands. After a farewell 'Painkiller' at the Soggy Dollar, and a last meal at Foxy's, we made the 1,275 nautical mile passage to the Chesapeake and completed our port-to-port circumnavigation when we arrived in Annapolis on June 28, 2013. We had been away 1,334 days, completed 259 days of ocean passages, and sailed 30,349 nautical miles (34,925 statute miles). Read more about their adventures in their  well-documented blog here:  http://www.svceolmor.com/SVCeolMor/Welcome.html

* J/160 AVATAR headed for the Caribbean, again!  We LOVE these updates from our cruising J sailors that continue to criss-cross the Seven Seas. This one comes from Alan Fougere, sailing his beloved J/160 AVATAR.   Alan sent us an email update commenting on their passage south this winter, "In mid-December AVATAR completed her sixth transit to her winter Caribbean home, Grand Cruz Bay, St. John, USVI (seen above)  from her home port in Quissett (Falmouth), MA.  A crew of three, Captain Alan (e.g. me), Crew Pablo Brissett and Mark Conroy, covered the 1,500 nm trip in in her best time to date- 7 Days 5 Hours, averaging 8.7 kts, that's about 208 nm per day!  Amazing passage it was!  Rainbow at right far offshore was some of the amazing phenomenon we experienced on this fast offshore passage.
AVATAR will participate in the BVI Sailing Festival/Regatta again in 2013, where last year she won the Nanny Key Cup Cruising Class race around the Island of Virgin Gorda.  Here are some photos for you to share with the J/Community at-large.  Enjoy!"
Best, Alan Fougere/ AVATAR

* Bill & Judy Stellin recently had an interview about cruising on their J/42 in the Wall St Journal called "Retiring on the Open Sea".  The Wall St Journal asked Bill to reply to dozens of questions that flooded into the WSJ's Editor desks. Here's the update:
Retiring on the Sea: Answering Readers' Questions
Advice about selecting a boat, ocean crossings, itineraries and safety

The article in our WSJ Online December retirement report about eight years spent sailing the Mediterranean— "Retiring to the Open Sea"— prompted many questions and comments from readers.  We asked William Stellin, who wrote the story, to answer some of the most common queries.
WSJ- "What kind and make of boat did you use? Looking back, would you have picked a different boat?"
Bill- "In 1995-96, J/Boats of Newport, RI, came out with a new cruiser/racer model, the J/42. We bought hull No. 6 of this popular 42-foot sailboat and named it JAYWALKER. This was our fourth boat since beginning sailing in 1975.
Although long-distance cruising wasn't what we had in mind when we purchased JAYWALKER, it soon became apparent it had the ability to carry us easily and safely anywhere we wanted to go. Because the boat is light, it sails well in light winds, which means very little motoring is necessary.
People often ask (and argue) about what boat is best for cruising. Any boat that is strong, safe, fast, comfortable and easily handled by two people should fit the bill. One thing for sure, fast is fun—and important when trying to avoid bad weather."
READ MORE ABOUT BILL'S INSIGHTFUL COMMENTARY AND THOUGHTS ON WSJ ONLINE HERE
* The J/42 JARANA continues their epic voyage around the Pacific. Continue to read about Bill and Kathy Cuffel's big adventure cruising the South Pacific headed for New Zealand.  Their blog is here:http://www.svjarana.blogspot.com/
* John and Mary Driver are sailing their J/130 SHAZAM for extended cruising in the Atlantic basin. At this time, John and Mary finished their double-handed crossing of the Atlantic, landing in Portugal on their J/130 Shazam after completion of their ARC Rally. Read the latest news athttp://www.sailblogs.com/member/shazam/.

* Several J/160 owners are island hopping across the world's oceans, fulfilling life long dreams to cruise the Pacific islands, the Caribbean islands, the Indian Ocean and all points in between.  Anyone for Cape Horn and penguins??  Read more about their adventures and escapades (like our J/109 GAIA, J/42s PAX and JAYWALKER and J/130 SHAZAM friends above).
–  Bill and Susan Grun on the J/160 AVANTE are also sailing in the Pacific archipelago, read more about their great adventures on their blog (http://web.me.com/susangrun).  Read about their latest adventures as they've gotten to New Zealand- "Avante Cruises the Pacific".
– Eric and Jenn on the J/160 MANDALAY also sailed the Pacific archipelago, read more on their blog athttp://www.sailmandalay.com.  Eric and Jenn are J/World alumni took MANDALAY up and down the West Coast (Mexico, CA), then to the South Pacific and New Zealand.  MANDALAY is back in San Francisco now, and in the J/World fleet–she is available for skippered charters, private instruction, and corporate/executive groups

Click logo for Our J/Boats