August 24th, 2016
---
Sailing Champions League- St Petersburg Preview
(St Petersburg, Russia)- The SAILING Champions League (SCL) will start this Friday (August 26th) in St. Petersburg. Clubs from all over Europe will arrive in the far north to obtain a starting position for the big SCL finale at the end of September on Sardinia. As a technological partner of the SAILING Champions League, SAP will provide technical support for professional live coverage. Organizers and partners expect a thrilling weekend with spectacular sailing pictures on "Sail TV."
"This is the first season that the SAILING Champions League stages Act I and our Club is happy to be among the pioneers of the sailing league movement that is fast growing every year. With support of the Gazprom Company, SAP, SailTracks and the SCL professionals, we aim to make this Act one to remember", said Vladimir Lyubomirov, St. Petersburg Yacht Club Commodore.

The sailing will take place on Neva Bay with matched international J/70 one-designs.  The Bay, also known as the Gulf of Kronstadt, is the easternmost part of the Gulf of Finland between Kotlin Island and the Neva River estuary where Saint Petersburg city center is located. The entire bay has been separated from the Baltic Sea/ Gulf of Finland by the 25 km long Saint Petersburg Dam.  As a result, the Bay is also informally known as "the Marquis' Puddle"- named after Jean Baptiste, Marquis de Traversay, the Russian naval minister who regarded the shallow waters of the bay as an ideal place for holding naval exercises.
Twenty-three of the best sailing club teams from across Europe have been invited; all are leaders in their respective sailing leagues.  Participants include Austria's Segelclub TWV Achensee, Denmark's Hellerup Sejlklub and Roskilde Sejlklub, Finland's Nylandska Jaktklubben and Wasa Segelforening, Germany's Berliner YC, Munchner YC & Norddeutscher Regatta Verein, Italy's Societa Velica di Barcola e Grignano and YC Adriaco, Malta's Royal Malta YC, Norway's Nesodden Seilforening, Netherlands' RR & ZV Maas en Roer and WV Almere Centraal, Poland's Jacht Klub Wielkopolski and Towarzystwo Zeglarstwa Regatowego PMT, Russia's St Petersburg YC and YC PIRogovo, Switzerland's Regattaclub Bodensee and Societe Nautique de Geneve, and Sweden's Ekolns Segelklubb, Halmstads Segelsallskap and Varmdo Jolleseglare.
On Saturday and Sunday, the SCL will broadcast live from St. Petersburg. Races will then be streamed from 12:00 to 04:00 pm live in the Internet. International sports reporters and sailing experts will comment on the races and make the sport of sailing easily accessible to everyone with the help of descriptive graphics and comprehensible explanations.  Live broadcasting: Watch the Races of Act I LIVE!
For more J/70 St Petersburg Russia SAILING Champions League information
---
Ullman Sails J/70 UK Nationals- Sponsors Announcement
(Plymouth, England)- The J/70 Class Association is thrilled to announce the support of a number of sponsors for their National Championships, taking place2nd- 4th September from the Royal Western Yacht Club, Plymouth.
Chris Davison from Ullman Sails said, "Ullman Sails is extremely proud to be the title sponsor of the 2016 J/70 UK National Championships. The leading international sailmaker is completely dedicated to the J/70 class and its competitors and is exceptionally excited to be so involved with the J/70 sailing community – one of the fastest growing fleets in the world. It is the goal of Ullman Sails to work with the class association to ensure the event is of the highest quality, run professionally, and offers each sailor the best possible experience on the water – a set of standards that Ullman Sails sets for itself in each sail delivered." Ullman Sails are also sponsoring the 2016 World Championships in San Francisco, CA.

Additional sponsors, Sol and Sagres, will be helping the dockside entertainment get off to a lively start. Fitting isn't it, being that our current World Champions are a Mexican team! Competitors can look forward to a Sol dock party after racing on Friday and a Sagres pre-party before the class meal on Saturday. Sol is the true original and much-loved Mexican classic lager and is an undeniable part of the Mexican spirit. Sagres, Cerveza Portuguesa, is the number one beer of Portugal, named after a small town where Portuguese sailors learned to navigate the oceans. These new sponsors for the class have timed their support well, as a number of owners are considering a winter training program in Portugal. There will no doubt be much discussion of the finer details in Plymouth.
The J/70 class are also extremely grateful for sponsorship from Grapefruit Graphics, Allspars, Force4, Thistle Park Tavern, Spinnaker Wealth Management, and Carbon Yachting, who will be at the event to promote their dedicated J/70 page, offering parts and services, as well as a repair service, as mistakes do happen! SOAK will be providing some terrific prizes for the winners too.
More than 15 boats are expected to compete at the three day Championships. Included in the entry list is Jack Davies' YETI team, fresh from winning an incredible three awards at Cowes Week, including the Best Young Skipper award. Jack said "After a fantastic result for us in Cowes Week this year, Team YETI are really excited to be heading to Plymouth to contest the J/70 National Championship. The entry list looks extremely competitive so it will be great to have the chance to mix it with the top J/70 teams in the UK. It'll also be great to be racing in Plymouth again after mainly racing in the Solent thus far this year."  An extremely competitive fleet is heading for Plymouth, and the standard of racing will be first class.  For more Ullman Sails J/70 UK Nationals sailing information
---
Record Fleet for Rolex Big Boat Series
(San Francisco, CA) – The waters of San Francisco Bay will be churned by more than strong winds and tidal currents next month when a record-size fleet of 112 boats lines up for the 52nd Rolex Big Boat Series, hostedSeptember 15-18 by the St. Francis Yacht Club.
This year's fleet eclipses by eight boats the previous record of 104 that was set in 2013 during the 50th anniversary regatta. Throughout its storied history, the Rolex Big Boat Series has showcased the top end of the sport and this year's fleet features everything from a 70-foot multihull down to a multitude of trailerable sportboats. The fleet epitomizes the variety of shapes and sizes that grand-prix racing offers these days.
"The new-looking Rolex Big Boat Series, a rose by any other name, continues the tradition of serving the best of a sport that is ever-changing, ever-evolving," said St. Francis Yacht Club Commodore Kimball Livingston, who has competed in many Rolex Big Boat Series. "Every generation makes its own legends, and we'll have a full spectrum fleet this year."
The largest class by far is the J/70, with more than 30 boats entered. The class is using the regatta as a tune-up for the J/70 World Championship, which the St. Francis Yacht Club will host one week after the Rolex Big Boat Series. Among the entrants are boats hailing from Australia, Brazil, Cayman Islands, Chile and Mexico, giving the regatta an international flair.

To accommodate this massive one-design fleet race officials have made the unprecedented decision to host a third racing area on the Berkeley Circle, an area in eastern San Francisco Bay, in addition to the two traditional areas west of Alcatraz Island. The J/70s will sail two days of windward/leeward races on the circle to become familiar with the area where the worlds will be held.
The rest of the fleet will sail a combination of windward/leeward and buoy races around San Francisco Bay, in which the J/70s will also partake for two days. The buoy races are expected to take the fleet past landmarks such as the Golden Gate Bridge and Marin Headlands, with the traditional finish line placed off the St. Francis yacht Club.
"The Rolex Big Boat Series is an awesome event," said Chris Howell, the executive director of the J/70 Class Association. "With our Worlds just a week later this gives people a chance to sail in the same venue, and everyone's excited about it because the boat is built to go off the wind. With the asymmetrical setup, it loves a big breeze. Most of the sailors in the San Francisco Bay area who have the boat love the way it performs."
The second-largest class in the regatta is the 34-foot J/105, which currently has 21 boats entered and has many past Rolex Submariner watch winners participating.
"We're excited to be hosting a record number of entries at this year's Rolex Big Boat Series," said Lynn Lynch, race director at St. Francis Yacht Club. "In preparation, we've compiled a world-class Race Committee who'll ensure that racing runs smoothly and is as fair and competitive as possible. In addition to our race professionals, we are organizing more than 100 volunteers who will help out on the race course. It's incredible to think that more than 110 boats will be racing on the Bay. It's a massive logistical challenge, but we'll be ready for it."  Sailing photo credits- Pressure-Drop.us   For more Rolex Big Boat Series sailing information
---
J/Sailing News
The Sun Never Sets on J's Sailing Worldwide
It was a busy week in August in the Americas.  On the east coast, the Ida Lewis YC hosted its increasingly popular Ida Lewis Distance Race- a 121nm course from Newport to Buzzards Tower to Montauk Point buoy and back to Newport.  A nice fleet of nearly four dozen boats participated, including a J/44, J/111, J/120, J/35 and J/92S, amongst others.  Then, down in Long Island Sound, the newly renovated International Women's Keelboat Championships, hosted by US Sailing and American YC in Rye, New York, had sixteen women's teams from five countries participating in a "sailing league" style event in provided, evenly matched J/70s.  Up north of New York, the Kingston YC was yet again hosting their famous CORK International Sailing Week, but this time adding into the mix the J/22 World Championship, 46 teams are currently sailing in eastern Lake Ontario.  Out in the Midwest, there was an enormous fleet of fifteen J/120s that sailed their first J/120 USA Nationals in years, hosted by Bayview YC in Detroit, MI- the boats were sailing on tricky Lake St Claire.  Then, over on Lake Michigan, the Chicago YC Verve Cup Offshore took place for fleets of J/105s, J/109s and J/111s and a PHRF handicap division for J/88s and others.  Farther West, the St Francis YC hosted their end of summer classic- the Phyllis Kleinman Swiftsure Cup for J/105s and a PHRF division for J/111s and friends.
Over in Europe, the J/24 Europeans sailed off Plymouth, England, with the Royal Western YC managing the event for the thirty-seven boats from eight nations- a fantastic turnout for this legendary 40-year old design!  Further to their east, the Royal Ocean Racing Club hosted the newest addition to their summer offshore racing series- the RORC Ile d'Ouessant Race- a 400nm tour around the buoys from the RYS Squadron line at Cowes to St Malo after rounding the "rock" of Ile d'Ouessant- it proved to be a very challenging race course, indeed!  Finally, the incredibly popular sailing leagues in Europe were going full tilt this past weekend, with events taking place in Norway, Denmark and Germany.
Read on! The J/Community and Cruising section below has many entertaining stories and news about J/Sailors as well as cruising blogs about those who continue to enjoy the Caribbean and the South Pacific, staying warm while others are trying to stay warm up north.  Check them out!  More importantly, if you have more J/Regatta News, please email it or  upload onto our J/Boats Facebook page  Below are the summaries.
---
Regatta & Show Schedules:
Aug 19-25- J/22 World Championship- Kingston, ONT, Canada
Aug 25-28– J/80 Obelix Trophy- Benodet, France
Aug 26-28– Marblehead ONE Regatta- Marblehead, MA
Aug 27-29– J/80 UK Nationals- Lymington, England
Sep 2-4– J/70 UK Nationals- Plymouth, England
Sep 2– Windjammers Race- Santa Cruz, CA
Sep 8-11– J/24 North Americans- Port Credit, ONT, Canada
Sep 9-11– ALCATEL J/70 Cup- Riva del Garda, Italy
Sep 9-11– German J/80 Nationals- Glucksburg, Germany
Sep 9-11– US Sailing Women's Match Race Nationals (J/22s)- Annapolis, MD
Sep 10-11– J/105 Long Island Sound Championship- Riverside, CT
Sep 10-12– J/24 Downeast Regatta- Portland, ME
Sep 15-18– Rolex Big Boat Series- San Francisco, CA
Sep 16-18– Netherlands J/22 Nationals- Hoorn, The Netherlands
Sep 17-19– J/105 Canadian Championship- Toronto, ONT
Sep 19-23– J/24 World Championship- Wakayama, Japan
Sep 22-25– SAILING Champions League (J/70s)- Porto Cervo, Sardinia, Italy
Sep 23-25– J/30 North Americans- Eastport, MD
Sep 24-Oct 1– J/70 World Championship- San Francisco, CA
For additional J/Regatta and Event dates in your region, please refer to the on-line J/Sailing Calendar.
---
Everett Crowned J/70 Women's Worlds Champion!
(Rye, New York)- Communal experience as a team and college sailing experience in shifty winds paid dividends for Clemmie Everett (Rye, N.Y.) and her crew, who took home the Bengt Julin Trophy for winning the 2016 International Women's Keelboat Championship at American Yacht Club on Friday.
"Wednesday's racing was coming right off the shore so it was very shifty," said Everett. "Alix sailed at Tufts. Tufts sails at Mystic Lake. I sailed in the Charles River in college. We both do a lot of frostbiting. We were totally comfortable with puffy and shifty conditions."  The team made a conscious effort to avoid penalties that would have cost valuable standings points.
"The biggest thing was sailing clean," said Carolyn Russell of Greenwich, Conn., who trimmed spinnaker for the winning crew. "You don't want to make contact, because that really kills you."

"We tried our hardest never to realize we were really close," said Erin Sprague, who trimmed the mainsheet and traveler. "After the second round robin, once we looked at the numbers, we had a little taste of the fact that it was possible."
But, until their J/70 was close to the final finish line, Everett and her crew tried to keep it out of their heads.
"We didn't talk about it a lot, we were just out for a sail," said Alix Hahn, who grew up sailing at American Yacht Club and trimmed jib and called tactics for the winners. "After the second race in (the championship flight) we knew this was ours to lose, and we went out and won that last one, and it felt really good.
When the boat crossed the line, tears flowed, hugs were given, and the spinnaker came down. But Everett's team knew what an amazing week of sailing they had shared.
"Every minute in the boat counts," said Alix Hahn, who grew up sailing at American Yacht Club and trimmed jib and called tactics for the winners. "Without question, this is a peak victory for all of us. I don't think any of us have had a sailing moment that's as special as this one."
For the winners, the influence on younger female sailors could not be understated. "I would say to any young girl who is scared of sailing right now, just keep at it, ask a lot of questions, and find some mentors or find some coaches and get determined, and decide this is what you want to do, and go do it."
First day report
The sixteen teams came from Germany, Canada, New Zealand and 12 US states. Included were two teams from Rye.  After a four-year hiatus, U.S. Sailing restarted the International Women's Keelboat Championship, choosing the 130-year-old American Yacht Club in Rye as host.
Held in Long Island Sound, the regatta spanned four days, beginning Tuesday, and featured 16 four-member crews who rotated boats, competing 10 races each.  At least, that was the plan.
The teams used 12 provided J/70 sailboats that were all tuned identically for mast rake and rig tension and used a brand-new inventory of North Sails.

Megan Ploch, who at only 16, was skippering a boat, wasn't taking anything for granted.  Ploch, a Pelham resident whose dad is a sailmaker, has sailed at American Yacht Club for years. She competed with a team that included Christine Klinger, 18, of the Larchmont Yacht club, Barbara Gold and Anne Schwagler.
"I love how I actually know a lot of the people sailing or know of them. It's like 'Oh, gosh, I'm sailing against world-class sailors. Wow, insane – Germany," said Ploch, who'll start her senior year at Pelham High in the fall and plans to sail in college.
"There are some really, really good sailors here. I really want to have a good time and to do the best we can. All the people (on my team) are really capable sailors. We'll sail the best we can and see where it gets us," she added.

The German team Ploch mentioned, the Deutscher Touring YC team out of Tutzing, Germany, which is near Munich, includes Monika Linder, Anna Seidl, Laura Fischer and skipper Mareike Weber, all of whom are in their early to mid-20s.  Their club and sponsors, including BMW, sponsored their trip and entry.  The squad, which has competed together since March, is hoping for a top-five finish.  It did not take long for these sailors to be treated to the heart-quickening pace that is attributed to the "sailing league" format.
The fleet experienced an amazingly good first day of sailing.  The forecast was for an early easterly breeze of 6-8 kts to die by noon and, with a pending front arriving overnight, to switch into the SSW and increase to 10-15 kts.  The US Sailing PRO- Sandy Grosvenor, worked closed with her assistant PRO- Sandy Weil of American YC, to provide incredibly fast-paced racing.  After getting in a quick three races in the morning, then a quick lunch break for the wind to settle in, the fleet zipped through a flurry of eight races (averaging 20 minutes each) in the afternoon to complete 11 of the 16 races necessary for a complete rotation in Round 1.
After the first day of racing, it was pretty clear that two teams were sailing fast and consistent and were hoping to be leading after the completion of Round 1 the next day; Melinda Henshaw from Remuera, New Zealand and Allie Blecher from California.

Day Two Report
After two days of intense competition, it was Henshaw's New Zealand crew that was leading after Round 1 of 16 races in very puffy, shifty wind conditions.  Henshaw was counting all top four finishes for just 25 pts in her ten races- an astonishing average of just 2.5 pts.  After closing with a 2-1-2 in her last three races, Allie Blecher leapt into second place with 32 pts, just seven points clear of the German Deutscher Touring YC led by skipper Mareike Weber, sitting on 39 pts.  Fourth was Emily Maxwell's team with 40 pts, winning the tie-breaker for Round 1 over Giselle Nyenhuis, the leader of the Netherlands team.
The stage was now set for Round 2 of the regatta.  Would the standings get jumbled yet again?  It was evident the fleet was beginning to play a fierce game of "snakes & ladders" in the exceedingly shifty, blustery winds on the second day of racing.
The forecast for the day was for a strong NNW breeze to slowly die off by the evening.  The morning dawned with winds blowing 10 to 20 kts from the NNW and shifting a good 35-45 degrees on both the upwind and downwind legs.  It paid to get in phase on the lifted tack as early as possible off the start.  Getting flushed to the wrong side of the course produced disastrous consequences.  And, not gybing early into wind streaks filling off the New York shoreline would cost you dearly as boats that worked into the leading edges of puffs would simply streak past you on a full-on plane.

"We felt really comfortable today, which was sort of surprising," Blecher said. "We never really lost our cool. Anything's possible. If we were on the wrong side of a shift, we knew hopefully that something else would be there to gain it back."  Blecher's boat, crewed by Rebekah Schiff, Molly Robinson Noble and Sarah Somes, had won three races, finished second twice and third twice to stay in the hunt for the overall lead…but there was a lot of racing still left to go.
Henshaw, with Carla Holgate, Zib Campbell and Wendy Faulkner aboard, had taken three bullets and finished second three times. "Perhaps a few of our starting tactics weren't right today, and I think that cost us the consistency we were looking for," said Henshaw. "That cost us two or three races where we could have been further up there."
Racing out of her home club, Clemmie Everett and her crew of Alix Hahn, Carolyn Russell, and Erin Sprague had taken three races, finished second three times and third once.  "The wind was coming right off the land, which was really shifty," Everett said. "We were able to get into that 'play the shifts' mode, and though we had a penalty for contact early in the day, after that, we played it conservative, didn't take crazy risks. We're just aiming to be top three or top five every race."
Day Three Report
The third day of racing ended up being a complete washout.  After a four hour postponement, the "Sandy & Sandy" PRO team made a valiant effort to get the fleet motivated to get racing going on Thursday.  However, the wind Godz would simply not cooperate.  The forecast was for "less than zero to two" all day, and that is exactly what was delivered.  It was simply a classic Long Island Sound "glass-out".
Day Four Report
At dawn on Friday, the fleet was required to show up at American YC for an 8am skipper's briefing and roll-call.  Some teams showed up a bit glassy-eyed, one was even "AWOL", apparently they took advantage of all the time off on Thursday to visit the exciting "bright lights and big city" of the Big Apple- downtown New York!  Just as promised, the Sandy & Sandy team took off early, set the course in the light to moderate easterly, and fired off the first race on-time at 0930 hrs to complete Round 2 by 11:45am.  With just ten races completed of Round 2 on Wednesday, their work was cut out for the RC team to sail five races, organize the top ten boats for a final three race "Gold Championship" Round, and rotate boats!  Incredibly, with amazing organization by the RC, PRO's, and the "swap boat drivers" (Jamie Everett and Stu Johnstone), it all came to fruition with all racing completed by 1:45pm!

The completion of Round 2 brought several surprises.  The biggest issue for all the teams was maintaining a consistent scoreline in the shifty winds on Wednesday, then putting it together again on the last day where breezes were mainly steadier and streaky from the East.  Henshaw's team stumbled a bit mid-round, posting four finishes of 6th or worse and closing Round 2 with 69 pts with just a four point lead.  Meanwhile, loving the shifty winds Wednesdayand maintaining that pace on Friday morning was Everett's local American YC team, finishing their round with 73 pts and closing fast on the leaders— there's was the most meteoric rise in the fleet as they were not even in the top five after the completion of Round 1!  Lying third only 3 pts back was Blecher's California crew with 76 pts, fourth was Weber's German DTYC crew with 82 pts and fifth was Nyenhuis' Netherlands team with 84 pts.
The stage was now set for the 3-race Gold Championship round. And, what a nail-biting, anxiety-inducing finale it was for the leaderboard!  In Gold race #1, Henshaw's crew were trying to nail the port end start and in the process was OCS, had to restart and, concurrently, fouled another boat by hitting them.  As a result, they not only did a 720 to absolve themselves, but had to take a 100% collision penalty- about as costly a mistake anyone could make- adding an instant 23 pts to their no-throwout scoreline!  Meanwhile, Weber's German crew took a 2nd and Blecher's crew a 3rd, for both teams to close within 4 and 1 pt, respectively, to the new regatta leader- Everett's AYC team (now that Henshaw's scoreline was eviscerated)!  Yowza!!  Snakes & ladders, everywhere!! In the second race, Weber nailed the start and race to again take 2nd, Blecher took another 3rd, but Everett's crew regrouped and won the race to open up a 3 pt lead on Blecher and 5 pts on Weber!  Meanwhile, Henshaw's Kiwi crew just could not get it together and produced a 9th place- a devastating second blow in an otherwise brilliant week of sailing.

The drama continued to build and the crescendo of thundering hooves could be heard everywhere as the horses were on the track heading for the final curve and the photo finish!  In the final race, it was Weber's team that blinked, posting an uncharacteristic 8th place, but holding on to the bronze medal.  Meanwhile, Everett's crew finished in triumphant style, winning the last race and the championship, their amazing comeback now completed!  Henshaw's Kiwi crew had a mini-redemption race, easily taking 2nd and closing with 5th overall.  Blecher scored yet another 3rd place to take the silver medal.  And, Nyenhuis' Netherlands crew sailed consistently to take 4th overall.  Nothing like a bit of drama on the last day and in the Gold Round!  Needless to say, it was great racing and the big winners were the women's teams themselves that participated in the regatta— a great many new friends were made and many are determined to continue practicing and head for Bermuda for 2017!  Watch this nicely done sailing video recap of the Women's Worlds here.  For a beautiful photos from Matt Callen- check out the IWKC Flickr album here.   For more J/70 Women's Worlds Keelboat Championship sailing information
---
J/22 Worlds Update
(Kingston, ONT, Canada)- The world-famous CORK International Sailing Week is playing host to the 2015 J/22 World Championship, held in Kingston, Ontario and being sailed on the eastern end of Lake Ontario until the end of the week.  Forty-six teams participating from Canada (15 boat), the Cayman Islands (three teams) and the USA (28 crews).
Day One report
Chris Doyle of New York showed why he's the reigning J/22 World Champion on the opening day of the regatta. Three races were completed in gorgeous Lake Ontario conditions. Doyle, sailing with Will Harris and Adam Burns, finished Monday with 10 points, after scoring a 4,4,2. Mike Marshall won the opening contest, then added a 5,10 for 16 points and second place. Brad Julian recovered from a 19 to earn two bullets for 21 points and third overall.
After an on-water postponement as the seabreeze settled in, the winds began at 6-8 knots but built to 8-12, as Marshall, Marvin Beckmann and Terry Flynn made up the top three in the opening battle. Race two saw the highest breeze at 12-17 with gusts in the low 20s. Behind Julian were Jeff Todd and Zeke Horowitz. The winds dropped to 13-15 in the day's final duel, won again by Julian, as Doyle and Travis Odenbach took the next two spots.

Among the regatta entrants are the recipients of the first ever US J/22 Class Association scholarship boat, led by skipper Patrick Shanahan of Brown University. Also racing is the Warrior Sailing Program, which introduces active military and veterans with disabilities to sailing. Ed Norton is helming USA1367
Day Two report
The day before the Worlds started, Mike Marshall led a panel discussion focused on techniques for heavy breeze and waves. Tuesday, he and his crew of Todd Hiller and Luke Lawrence put those practices to good use in winds that began in the mid-teens and quickly built to a steady 19 knots with gusts into the 20s and 2-4 foot waves. Recording a 2,1,3, the Newport-based helmsman now posts a net score of 12 points in six races, able to discard a 10th from race three. Chris Doyle dropped to second place with 18 net points, and Jeff Todd moved up to third with 22.
Travis Odenbach opened the day with the race win, as Marshall placed second and Terry Flynn third. Flynn again followed Marshall in the middle contest, as Chris Gaffney made the top three. Flynn continued his solid day with a bullet in Tuesday's final race, ahead of Zeke Horowitz and Marshall.
The 41 teams will enjoy dinner at Fort Henry in Kingston this evening, and racing continues throughThursday.  For more J/22 World Championship sailing information
---
PHOENIX Arises to Win J/24 Europeans!
(Plymouth, England)- The 2016 J/24 Europeans were hosted by Royal Western YC in Plymouth, England for a fleet of the 37 boats from eight nations (France, Great Britain, Germany, Ireland, Italy, Japan, Netherlands, Sweden).  After battling with strong winds and a reasonable sea state for the first three days of the J/24 Europeans, the winner was finally declared after a light final day of racing- Andy Taylor on the mighty PHOENIX from Parkstone YC!
The course for both races on Friday was in a tricky southerly varying in strength and direction. The smart tactic was to head out to starboard to catch the slightly stronger breeze and a lift off the Rame Headland.
In the first race of the day Nick McDonald's CACOON had to defend hard at the finish to fend off William Pollock in FLYING COLOURS, who was able to keep clear on the run and overtake some six boats. But, was not able to beat McDonald to the line, only losing by a second, and closely followed by Andy Taylor in PHOENIX.

In the second and final race of the championships, the UK Chairman of the class, David Cooper in JAWBREAKER, finally showed his true potential by winning. He was followed over the line by Mike Mackie from Dartmouth in JIGGY with Japanese GEKKO helmed by Tokuma Takesue in third place.
Behind Taylor's PHOENIX, second place went to Daniel Frost's JJONE from Germany and in third place was the young Irish team of Cillian Dickson from Howth Yacht Club in KILCULLEN.  Fourth was Manfred Konig's VITESSE from Germany and fifth was Till Pomarius' TINTO from Svaoe, Germany.  Of note, third in the "Open" Division was the Japanese team- Tokuma Takesue's GEKKO from the Japan Sailing Federation.
Winning skipper Andy Taylor, commented: "We've had a fantastic week's sailing, across all wind conditions. We were fortunate to go into the final day without a bad discard that gave us options.  JJone have been phenomenal all week, we knew they had the speed to escape from a poor start or tricky first beat and in final race put us in a boat on boat which was exciting, even as we crossed the line we didn't know if we had done enough."

Taylor continued, "We've had a great team and got on, both on and off the water, brilliantly. Huge thanks to team Phoenix (Rob, Paul, Zoe and Izzy) for putting up with me as well as PRO David Lovegrove and his team for a brilliant regatta, hosted by the always excellent Royal Western Yacht Club and Plymouth J/24 fleet."
A team worthy of note, JOOL helmed by Dirk Olyslagers, came over from Holland having only been together six weeks. After mastering the conditions on day one, they proved themselves by achieving five top ten results in the last six races. The team from Sweden, sailing a chartered boat ANOTHER CACOON, was heard to say: "This is a fantastic location, as soon as you let us know when the next event is, we'll be back."
The main sponsor, Nick McDonald of CACOON, said: "I'm delighted to have been a able to sponsor the Championships in my home port, and hearing comments like Dirk's above from visitors makes it all worthwhile."
All the competitors wanted to extend their special thanks to the organizing team from the Plymouth fleet headed by Stig McDonald with Neil Dunkley, Helen Peat, David Cooper and Nick Triscott. Stig said: "Everyone has worked extremely hard over the past eighteen months to bring the event to Plymouth where we have a very active /J24 class. The event couldn't have gone better, the weather has been perfect, the racing has been competitive and the après sail has been welcoming."   Sailing photo credits- Robin Price   For more J/24 Europeans Sailing information
---
J/120 USA Nationals Got "Hammered"!
(Detroit, MI)- The mighty SLEDGEHAMMER, based out of the Buffalo Yacht Club, won the J/120 National Championship August 19-21 with a first place finish in last race of regatta held on Lake St. Clair outside of Detroit. Bayview Yacht Club in Detroit hosted the event. The SLEDGEHAMMER team beat fourteen boats from Detroit, Toronto, Buffalo and Hudson, OH in the regatta billed as "the heavyweight fight on the lake".

In three days of racing on Lake St. Clair, owner and helmsman Tom Lewin led his son Tommy and Mark Christensen of Santa Cruz CA, Doug Bienko, Pat and Mike Augello, Larry Militello, Peter Johnson, Anthony Alexander (all from the Buffalo area) to the hard fought victory.  The regatta featured very close racing in high winds for most of the 11 races. The winning team had five 1st place finishes and 31 total points to beat NIGHT MOVES skippered by Henry Mistel of Bayview Yacht Club, that ended with 46 points in the low point, no throw out, scoring system.
In third place was JAYHAWKER, who battled her way up in the standings on Sunday. One of the co-skippers, Doug Scheibner of Bayview and Crescent Yacht Club, was a previous winner in the year 2000 Nationals. Notably, SLEDGEHAMMER also won the Bayview Port Huron to Mackinac race in 2013.

This is the first time since 2003 the Nationals have been held on the Great Lakes and there was an overwhelming enthusiasm from owners and crews. The sailing conditions were from 14 knots on Friday to 25 knots on Sunday. Amazingly there were zero protests although there were some penalty turns.  Eleven J/120s are now based in the Detroit area, that makes a very strong offshore one-design fleet in big 40 footers!
Special thanks go out to Race Chairman Charlie Hess for all time in putting together a successful event. When the event goes back out to the west coast, it will be a very tough order to top this regatta!  Many other huge "Thanks" go out to:
Paul Halsey, Assistant Race Chairman- three days is a huge time commitment that is really tough with two kids at home. Being on the water to help with the mark-set boat and observe the racing is where stepping up to be Race Chairman was completely exceeded in the call of duty.
Dick Neville, PRO, his willingness to travel to Detroit and stay at local housing is appreciated as well. It is a big commitment of time and energy for certain.
Eric Peterson for the thankless job of measuring all those sails.
Luiz Kahl, his mentorship was valuable and because of it, we avoided so many mistakes that could have dulled the quality of this event.
Lance Smotherman, chief judge, encouraged Corinthian conduct by racers at every opportunity. This is a high-value leadership quality that allows an event like ours turn out to be a success. Being the avid racer that he is, we also appreciate the time commitment he made to assemble a judge panel, coordinate their travel, and support this event. Four days is a big contribution of time and energy.
Greg McCliment, CujoGraphyx contributed the numbers, set up the website and delivered a lot of shirts to our teams.
Kelly Olligschlager, instrumental with the social side of our event. The steel drum band was a terrific hit, and with her help, we pulled together a complete social agenda.
Nick Vincent is the 'quiet champion' for our facility. Providing berthing for our visitors and making them feel welcome through his attentiveness gave them an extremely positive impression of BYC. After setting up the tent and finding it a mess, Nick and his team went the extra mile to make it look as good as new. Everyone enjoyed the outdoor atmosphere 'under the tent', so it was well worth the effort.
Jarvis Hales and his team were fantastic with both the quality of the food and the service. There was never much food left, nor were the kegs or punch bowls left with any reserves. This team is responsive to the needs of guests and strives to please. We are very grateful for the job they did all weekend, as are all of the guests that attended.
Aaron Wagner, club manager, he has great energy and ideas and has the priorities right. He collaborated with the chef and myself to successfully meet the requirements you and the board have set for him with food and beverage, while meeting my somewhat demanding pricing requests. I really enjoyed the planning and collaboration with Aaron that could have otherwise have been a stressful or contentious process. Most importantly, Aaron stayed 'present' with the details and flow of the weekend.
Finally, special "kudos" go out to the owners and crews of SLEDGEHAMMER, VIVA LA VIDA, and STORM WARNING for traveling to Detroit from Lake Erie, and especially THE CAT CAME BACK who had to travel from Lake Ontario to get here!  For more J/120 USA National Championship sailing information
---
Glorious RORC Ile d'Ouessant Race
(Cowes, England)– The inaugural edition of the Royal Ocean Racing Club's Île d'Ouessant Race produced a fascinating strategic battle for the new 400nm ocean race from Cowes to France via a somewhat circuitous routing. In an ever-changing wind and tide scenario, the outstanding performers needed to make bespoke tactical decisions to achieve success. Speed is always king in offshore racing, but the fastest time is not always achieved by adopting the shortest route. The course is Cowes– Wolf Rock– Ouessant– St Malo (400nm), and was run on August 12, 2016.  Overall, a number of J/Crews did exceptionally well in the challenging race.
One navigator commented, "it was very slow past St Alban's, pushing the tide. We were close to kedging in 30 metres of water when just enough wind came to get us going again. After that, the wind angle was really good for us. Reaching towards Wolf Rock, we made up a lot of time on boats in front of us. For the leg to Ouessant, the main strategy was to stay east of the rhumb line and go for speed.  We felt that the wind would go northeast, and when it did we had a perfect approach to Ouessant. For the last part of the race, the decision was to go offshore, even though there was more tide; we felt that there was more wind there and if the wind was going to shift more to the northwest then it would work to go that way.  During the early part of the race, we saw much of the English coast because we were inshore trying to beat the tide, and it was the same for the Brittany coast. Inshore among the rocks, with nearly a full moon for a souvenir, it was beautiful!"

In IRC Two, three British yachts made the podium, including the second-place team- David Richards' J/122 JUMPING JELLYFISH. Taking 5th place in class was the Army Sailing Association's J/111 BRITISH SOLDIER, earning valuable points towards the over RORC Season Points Series.
Holding their own in IRC Three class was Nick Martin's J/105 DIABLO-J, taking a 5th place in the demanding race, sailing in the Double-handed Division as well.  Similarly, in IRC Four class, the long-standing J/105 at the top of the RORC season leaderboard, Robert Nelson's BIGFOOT, was also sailing Double-handed and took third to gain solid points for her season-series efforts.
As a result of this latest race, a valuable 1.3x counter to the RORC Season Series, Nelson's J/105 BIGFOOT still sits in 3rd overall with the Army Sailing Association's J/111 BRITISH SOLDIER sitting in 4th place.   In IRC Two for the season, the J/111 BRITISH SOLDIER still lies in 1st, followed by Gilles Fournier's J/133 PINTIA in 4th, Elin Haf Davies & Chris Frost's J/120 NUNATAK in 5th, Chris Schram's J/120 MAVERICK in 6th and Andy Theobald's J/122 R&W in 7th.
The IRC Three division series has Martin's J/105 DIABLO-J in 5th, the top British boat behind four heavily campaigned, virtually all-professional French teams on various JPK 1080s and 1010s.  Not far off the pace is Chris Palmer's J/109 J-T'AIME in 8th place.
In IRC Four division, Nelson's J/105 BIGFOOT is still hanging in there at the top of the leaderboard, currently holding 2nd place.  For more RORC Ile d'Ouessant Race sailing information
---
Classic Chicago Verve Cup
(Chicago, IL)- The Chicago Yacht Club end-of-season finale has been a well-attended event for decades and the 2016 version continued in that tradition, with strong ORR handicap fleets and also great turnouts for the top one-design fleets in Chicago- like the J/111s, J/109s and J/105s.
After a successful hosting of the J/111 North Americans, the Chicago YC PRO/ RC crew continued to provide great racing for the local fleet of eleven boats.  This time, it was San Diego sailor Bennet Greenwald's PERSEVERANCE that won the tough class.  They were followed by Brad Faber's UTAH in second, Jeff Davis' SHAMROCK in third, Rich Witzel's ROWDY in fourth and Dorin Candea's WOOTON in fifth.

After winning their division in both Mac Races this year (Chicago-Mac & Bayview-Mac), it was not surprising to see that Bruce Danly & Jim Mitchell's TOA won the seven boat J/109 class by just one point over Peter Priede's FULL TILT.  Third was David Gustman's NORTHSTAR, fourth Robert Evans' GOAT RODEO, and Jack Toliver's VANDA III.
A familiar face was sitting atop the podium for the J/105 class; winning the competitive seven-boat class was Clark Pellett's SEALARK, with Mike Sheppard's FLYING PIG in second, Jon Weglarz's THE ASYLUM in third, Sandy Curtiss' ROCKING HORSE in fourth and Gyt Petkus' VYTIS in fifth.
In the ORR 2 Division, Andy Graff's new J/88 EXILE took second and Tim Wade's J/88 WINDSONG placed fifth. Rick Stage's J/35 ALPHA PUPPY ended up 7th, though only 4 pts out of fifth!  For more Verve Cup Offshore sailing information
---
DTYC Wins Deutsche Segel-Bundesliga IV
(Berlin, Germany)- The Deutscher Touring YC won the fourth round of the German Bundesliga sailing in Berlin and takes the overall lead in the 1st League. The Lindauer Segler Club was just one point behind the leaders from Tutzing.
The fourth act of the DSBL in Berlin demanded the best performance from the sailors; they faced difficult conditions with little wind, very streaky puffs and long waiting times between races. The reigning DSBL champions from Tutzing, the Deutscher Touring Yacht-Club (DTYC) adapted best to the conditions on the Wannsee and secured a big win, thanks to their consistent performance, steely nerves and tremendous patience.

"We had to fight hard here in Berlin with very difficult conditions. We had the best of luck and are very happy that we won here. If you want to be champion, you have to come with all your best tactics and crew work to win such crazy weather conditions. We are very pleased," said Julian Stückl, skipper of the DTYC team. Sebastian Bühler, Jonas Vogt and Luis Tarabochia completed the crew from Tutzing. The Lindauer Segler Club and the Bayerischer Yacht-Club ended up finishing 2nd and 3rd, respectively, in the Berlin event.
Prior to the regatta, Anke Butzmann, the team manager of the organizing club- Verein Seglerhaus am Wansee– offered her remarkably prescient insights regarding the event and its ultimate outcome:
– Anke, how do you assess the current DSBL leaderboard situation?
"The equality at the top of the Bundesliga reflects the concentration of highly talent teams that are sailing at nearly world-class levels.  We are very happy that we are at the forefront of this, but also know very well that it will not be easy to keep this position and to defend it to the final in Hamburg. Our goal for the home event is, of course, to get on the podium. The team is strong with the crew of Malte Kamrath, Jens Steinborn and Julian Bergemann- all three sailors have been very successful already in Starnberg. Ulrike Schümann, who has extensive experience, will be joining them to call tactics. The Lindauer Segler-Club with their same team from Starnberg and, thus, should be a contender for the podium in Berlin. The Deutscher YC with Farr 30 World Champion Julian Stückl on the helm will be formidable- it's no wonder DTYC won last year!  It is a big competition for us, but something that gives us inspiration- it's fun and motivating!"
– Has VSaM team had the chance to train together?
"Yes.  Last weekend, we trained together with the other Berlin League teams from BYC, YCBG, KaR, SV03 and PYC. The training is always very effective; especially due to the large number of sailing league clubs in Berlin.  These training regattas have quite the same feeling as an actual DSBL League event."

– Is there a home advantage on the Wannsee?
"We do not believe there is any direct home advantage on the Wannsee- the wind on the Wannsee is too unpredictable.  Steel nerves mean the strongest teams will be at the front and we are committed to belonging up there with the best. Our main sponsor, Dr. Dirk Pramann, is also onsite and will help motivate us with his enthusiasm! And – the VSaW Segel-Bundesliga team is a large team (25 sailors)- almost all of our sailors will be present for three days! We have the support of a large fan club!"
In the end, Anke's perspective was quite accurate.  Light winds, streaks, and tough competition meant the best teams would rise to the top in the rankings.  While DTYC prevailed, VSaW could only manage three 1sts in their eight races sailed, finishing off the podium in sixth overall- a disappointing outcome for a top team.   Watch this Berlin Act IV DSBL sailing video summary.   For more Deutsche Segel-bundesliga sailing information
---
Furesøen Tops Denmark J/70 Sailing League- Act III
(Thisted, Denmark)- Even before the Sejlsportsligaen.dk season's last rally in the Danish Sailing League Division 2, the YC Furesøen may be able to celebrate their advancement to the Sailing League's Division 1! It is clear after their triumphant victory in Thisted that YC Furesøen is ready for "the big leagues"!
The talented YC Furesøen struck again and secured their season's second victory of three possible in Sailing League's second division. The team rallied in Thisted, the four young YCF sailors won six races in 11 races, never finishing out of the top three!  A simply incredible performance!  With such a strong record, it provided them a comfortable lead for the three races in the Gold Finale.  Ironically, their competitors grew quite excited when they bombed their first race in the finale, posting an uncharacteristic last place!  But, their hopes were soon dashed as YCF simply smoked the fleet in the last two races with a 1-2 to win with ease.

"We lead around the first windward mark in the first race, but then we got locked in by starboard boats behind us on the run who had slid inside on puff.  As a result, the entire fleet rounded inside us on the favored side of the course," explained Kasper Skiveren from YCF.
"We came back with a second place in the next race and the last we raced we got a bullet. It was super nice to come back that way," said Jacob Pjetursson, a YCF crew member.
Behind Furesøen, it was Gilleleje YC in second and Sejlklubben Sundet in third place. Sejlklubben Copenhagen, Thurø Sailing Club and Silkeborg Yacht Club also reached the FINAL 6 and finished in that order in places 4th to 6th.
As a result of their win, YC Furesøen have a 5pt lead over Sejlklubben Sundet in the season series after three events.  Lying third is Silkeborg Sailing Club with 44 points.
Only one event is left in Skovshoved, scheduled for September 10th-11th. While it is clear that YC Furesoen will emerge as the ultimate winners, it is "clear as mud" what is happening for the balance of the podium.  The balance of the top five all sits within 8pts of each other, so anything can happen in the finale at Skovshoved for Sejklubben Sundet, Silkeborg Sejlklub, Sonderborg YC and Struer Sejlklub.  For more Danish J/70 Sailing League information
---
Moss SF Leads Norwegian J/70 Sailing League- Act III
(Stavanger, Norway)- Moss Seilforening went to the top in Sunday's Norwegian Seilsportsliga Division 2 match in Stavanger, Norway.  As a result, they have continued to extend their lead in the overall series with a 1-3-1 record.
The sailors were faced by broad range of conditions over the weekend.  Saturday was characterized by massive wind shifts, huge streaks and a refreshing downpour or two.  Conversely, Sunday was relatively quiet, streaky but steady breezes and a simply beautiful day!  As a result, the teams were treated to thirteen races each.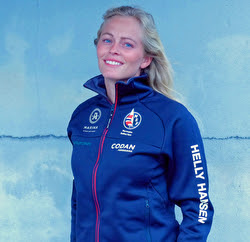 The Moss Seilforening crew managed to win 10 of 13 races, posting just one race below 2nd in the entire regatta.  In other words, it was a "runaway" for the MSF team!  The big battle was for the balance of the top five and the podium places.  Bergens SF managed to hang in there, winning four of their last five races to take the silver with 54 pts.  Third was Grimstad SF just two points back with 52 pts total.  Fourth was Handelshoyskolen BI with 50 pts and fifth place went to Asker SF with 46 points, mostly due to their last place in the final race.
The overall leaderboard sees Moss SF with a commanding lead for the series with 43 pts.  However, behind them it's a wide-open field for the silver and bronze positions.  Currently, Asker SF is second with 36 pts due to their 2-4-4 record; Grimstad SF is third with 35 pts based on their 3-7-3 tally; and fourth is Oslo SF with 33 pts due to their scoreline of 6-1-8.  In this series, "snakes & ladders" seems to be the theme of the day!  Whomever can acquit themselves in the finale avoid massive mistakes and sail somewhat consistently might eventually land themselves on the podium!  Everyone will find out after sailing in Bergen at the next event from September 3rd to 4th.  For more Norwegian J/70 Sailing League information
---
Gorgeous, Moonlit Ida Lewis Distance Race
(Newport, RI)- The 12th edition of the Ida Lewis Distance Race concluded on Saturday, August 20 after thirty-seven boats completed either a 121 nautical mile course (Doublehanded, PHRF Spinnaker and IRC classes) or a 107 nm course (Cruising Spinnaker) that started and finished off Newport, R.I.
One of the first critical decisions of the race had to be made after the rounding the Buzzards Bay Tower- which way to go around Block Island to get to the government mark just east of Montauk Point.  Most boats all went south on that long leg.  However, the next critical decision was how to then head back to the finish off Newport's infamous finish line at the mouth of the harbor.  Some boats went south of the island again on the way back to Newport, this worked fine for the early big boats. However, for others who got there later in the evening, a route north around the island would be the faster, better bet.

As one navigator pointed out, the race was going to be decided between 10pm and 4am.  Many boats had planned in advance, to go north of Block Island on the way back, because if the wind went light, the current would be favorable and sweep them north back to Newport.  And, that is exactly what happened!
It was a beautiful race.  The brilliant, full moon added to the remarkable conditions, which included light air at the start, but better-than-expected winds of 10-12 knots over much of the course.  The biggest issue for many boats occurred at the Montauk mark.  A good number of them had to anchor to stop from going backwards in the current.  As one skipper said, "all the boats were stacked up there, and we were there for about three hours and couldn't tack around it"
In the IRC Spinnaker class, Chris Lewis' team on the J/44 KENAI from Houston, Texas managed to get around the track well against a slew of custom 45 to 57 footers, including the winning TP52 Spookie!  KENAI finished in fifth place.
The PHRF Spinnaker I class was the largest and most competitive with thirteen boats.  Greg Leonard's J/120 HERON hopped onto the podium, taking third place.  The other J/120, Bob Manchester's VAMOOSE placed ninth.
The next largest class was PHRF Spinnaker 2; it was inundated with a fleet of J's.  Taking third was Paul Grimes' Youth Challenge crew on his J/35 BREAKAWAY.  Fifth was Bill Kneller's J/109 VENTO SOLARE, followed by EC Helme's J/92S SPIRIT in sixth, Brooke Mastrorio's J/109 URSA in 7th and Dwight McMillan's J/109 AVIATO in 8th place.  Sailing photo credits- Cate Brown.   For more Ida Lewis Distance Race sailing information
---
Windy, Grey J/105 Swiftsure Cup
(San Francisco, CA)- The Phyllis Kleinman Swiftsure Cup took place this past weekend on San Francisco Bay, hosted by St Francis YC.  This memorial regatta has been a popular one in the Bay area for years and is always well-attended by the J/105 one-design class as well as PHRF and ORR offshore racers.
Winning the huge nineteen-boat J/105 class was Phil Laby's GODOT with an amazingly consistent 4-1-2-3-1 record for 11 pts.  The Simmons Family, led by skipper Ryan, took their famous BLACKHAWK and guided it around the race track in good order to take the silver with yet another all top five record, posting 5-5-1-2-3 for 16 pts.  After these two boats, the scores were all over the map, inconsistency for some reason or another due to all manner of extenuating circumstances.  Third was Bruce Stone & Nicole
Breault's ARBITRAGE with a 3-3-5-1-10 for 22 pts, just squeaking out that scenario by one point over Adam Spiegel's JAM SESSION with a 2-4-7-4-6 for 23 pts.  Fifth was Tom Kennelly's WONDER with a 6-10-4-5-2 for 27 pts.
The PHRF "sportsboat" division saw Gorkem Ozcelebi's J/111 DOUBLE IGIT sail fast to just miss taking the class win by two points. After five races, they were tied on points for first place overall, however, a 5th in the final race dropped them into the silver position.  Meanwhile, Dick Swanson's J/111 BAD DOG didn't make the first race (scoring a DNC), but won two races on their way to finishing 4th overall!   Sailing photo credits- Chris Ray   For more J/105 Swiftsure Cup sailing information
---
J/Community
What friends, alumni and crew of J/Boats are doing worldwide
———–

*  Isabella Bertold provided some wonderful perspective on their experience sailing J/70s at the recent Women's World Championships at American YC in Rye, New York.  The Royal Vancouver Yacht Club Team finished 6th at the International Women's Keelboat Championships!
"From August 15 to 19, I had the privilege of competing with three other British Columbia women at the International Women's Keelboat Championships in Rye, New York.
Along with myself, the team consisted of fellow Royal Vancouver Yacht Club member Maggie Drinkwater, Royal Victoria Yacht Club member Maura Dewey, and Vancouver sailor Elizabeth Dier.
Our team was unique in that both Maggie and Elizabeth had never raced outside of the Vancouver area, the team had never actually sailed together, and we were brand new to the J/70 sailboat. The other teams were made up of past Olympians, experienced international J/70 sailors, and former All-American college crews.  Even former America's Cup champion, Dawn Riley, captained a team.   Needless to say, we went in with low expectations!

Our Canadian entry rounded out a truly international fleet including teams from Germany, New Zealand and 15 U.S teams.
American Yacht Club in Rye, NY hosted an incredible regatta, and wowed us with their hospitality. The regatta was raced following the league sailing format in J/70's. J-boats provided a fleet of brand new J/70's for us to race with, and even in strong breeze, the boats were not only manageable but also incredibly fun for the all female teams. It didn't take long for us to understand why there have already been over 1100 J/70's sold.
The championship was also unique for me in that it was my first time racing in a league sailing regatta, and it was my first time skippering a team.

The regatta was a 5-day event with up to 10 races each day.  The races lasted an average of ten minutes and consisted of a windward leeward twice around racecourse.   After five races, a crew would sit out one to three races before switching back into a new boat. The racing was intense, tiring, and I have never been involved in as many photo finishes as I was that week.
As the results show, we had a few races filled with learning moments, but otherwise we had consistent top 5 finishes, a couple of race wins, and finished 2nd overall in round two.
One of the more memorable moments happened on the final day of the regatta. Our team had come together seamlessly, and we were suddenly disappointed to finish races outside of the top three. We flew to New York ready for a learning experience, and with low expectations; we flew home to Vancouver satisfied with our 6th place finish at this prestigious championship, but hungry for more and with a clear goal of winning the 2017 championship to be held in Bermuda."

Isabella Bertold is a member of the Canadian National Sailing Team in Laser Radials.  She has represented the Royal Vancouver Yacht Club on the international stage since joining the race team in 2001.
* Viggo Torbensen has been the proud owner of the J/125 TIMESHAVER for a long time.  He recently sent us this note as he is getting prepared for Long Point Race Week and, soon, the Rolex Big Boat Series:
"Hi guys- just wanted to tell you that our J/125 is STILL the BEST boat EVER!  See you all soon flying down the Pacific Coast someplace!  And, for certain will see you at Rolex BBS on San Francisco Bay!"
---
J/Cruisers
J Cruisers continue their adventures around the world, below are a selection of most excellent "blogs" written by their prolific publishers.  Some terribly amusing anecdotes and pearls of wisdom are contained in their blogs. Read some! You'll love it.
* The J/40 HERON REACH sailed by Virginia and Jerry is participating in the Blue Planet Odyssey project and have recently joined them in the Marquesas Islands in the Eastern Pacific.  Learn more about their adventures and experiences here- http://heronreachodyssey.blogspot.com/

* J/160 SALACIA has been sailing in Australia in the Whitsunday Islands.  Guess who decided to throw themselves across their bow as they cruised comfortably to their next destination?  A giant whale!  Look at this amazing photo!

* Jim & Heather Wilson just completed a circumnavigation of our "blue planet Earth" in June 2013 on their J/42 CEOL MOR.  Said Jim, "The odyssey of CEOL MOR is over, for now.  We completed our circumnavigation on our J/42 when we crossed our outbound track in Britannia Bay, Mustique. We were, however, still 2,000 nautical miles from home. So we continued on through the Windwards, the Leewards, and then through the British Virgin Islands. After a farewell 'Painkiller' at the Soggy Dollar, and a last meal at Foxy's, we made the 1,275 nautical mile passage to the Chesapeake and completed our port-to-port circumnavigation when we arrived in Annapolis on June 28, 2013. We had been away 1,334 days, completed 259 days of ocean passages, and sailed 30,349 nautical miles (34,925 statute miles). Read more about their adventures in their  well-documented blog here:  http://www.svceolmor.com/SVCeolMor/Welcome.html
* J/160 AVATAR headed for the Caribbean, again, for 2015/ 2016!  We LOVE these updates from our cruising J sailors that continue to criss-cross the Seven Seas. This one comes from Alan Fougere, sailing his beloved J/160 AVATAR.   Alan sent us an email update regards their various improvements and refit to the boat (see above).  They will again be based at Proper Yachts in St John, US Virgin Islands.

* Bill & Judy Stellin were interviewed about cruising on their J/42 in the Wall St Journal called "Retiring on the Open Sea".  The Wall St Journal asked Bill to reply to dozens of questions that flooded into the WSJ's Editor desks. Here's the update:
Retiring on the Sea: Answering Readers' Questions
Advice about selecting a boat, ocean crossings, itineraries and safety

The article in our WSJ Online December retirement report about eight years spent sailing the Mediterranean— "Retiring to the Open Sea"— prompted many questions and comments from readers.  We asked William Stellin, who wrote the story, to answer some of the most common queries.
WSJ- "What kind and make of boat did you use? Looking back, would you have picked a different boat?"
Bill- "In 1995-96, J/Boats of Newport, RI, came out with a new cruiser/racer model, the J/42. We bought hull No. 6 of this popular 42-foot sailboat and named it JAYWALKER. This was our fourth boat since beginning sailing in 1975.