---

(Annapolis, MD)- With fall now officially upon us, having just passed the Autumnal Equinox on Tuesday, it's high time to get your ducks in a row with family and friends and march on down to the US Sailboat Show in Annapolis, Maryland, running from October 9th to 13th along the downtown City Docks.
There will an exciting range of J's on display at the traditional J/Boats location directly facing the Marriot Hotel & Pusser's Rum Bar.  Featured will be the International J/70 One-design, the world's fastest growing sportboat and keelboat class ever since the famous J/24! Learn more about the fun-times everyone had at the J/70 World Championship in Newport from many of the world's top sailmakers that will be on-hand from North Sails, Quantum Sails, Doyle Sails and Ullman Sails, to name a few.

The "big brother" to the J/70 is the J/88 family speedster.  And, this boat is proving to be a rocketship, having sailed major events on virtually every coast (West, Gulf, Great Lakes, Chesapeake and East Coasts) and won or placed in various major offshore events.  Easy-to-handle by a family crew, goes like the greased lightning off-the-wind, stiff, stable and with a comfy weekending interior, it's an awfully hard combination to beat. Plus, the simple "single-point lift" on a standard yacht club hoist (and simple, hinge-up ultra-light carbon mast) means you can trailer behind a mid-size SUV anywhere in the world.  In fact, Rich Stearns from Chicago calls it "my perfect boat!"  Find out more from Rich why he thinks so at the Annapolis Show.

Next in line is the J/95, the quintessential all-around shoal-draft, performance cruising boat.  Perhaps one of the most versatile boats to ever come out of the J/Design office, the J/95 draws just "waist-deep" water, only 3.25 feet, enabling sailors to daysail/ cruise anywhere in Florida, the Bahamas, the Chesapeake or shoal bays in Maine or lakes in the Midwest!  Plus, it's perhaps one of the most amazing "camper/ cruisers" you can buy!  Throw it behind a truck and take it anywhere for your vacation needs— a portable "caravan" that can sail anywhere with that legendary J/Performance!  Imagine this, sail all of America's most awesome lakes, at least one per state. That's the challenge, anyone ready to take it?

Having just experienced the inaugural J/111 World Championship in Cowes, England, the J/111 class continues to experience solid class growth in some of the world's hot spots for offshore and buoy racing.  With growing fleets in Europe (UK, France, Benelux) and in the Americas (the Great Lakes, San Francisco/ West Coast, Northeast (Chesapeake to Boston)) and an upcoming 2015 J/111 Worlds in Newport, RI from June 17-21, interest is high for both one-design and offshore racing.  In fact,J/111s are expecting a one-design class start at Quantum Key West Race Week this coming January 2015!   For more US Sailboat Show information.
.


---
J/80 World Championship Preview
(Annapolis, MD)- The upcoming J/80 World Championship, to be sailed from September 28th to October 5th, will be hosted by Eastport YC on the beautiful Chesapeake Bay.  The 33 boats will be treated to a top notch Race Committee led by Principal Race Officer Sharon Hadsell, an International Jury with Charlotte Greppe (Sweden) as Chief Judge, and a professional staff and volunteers experienced with running large scale world-class events.
The principal foreign team is Sophie Faguet's French team (Benoit Charon, Maxime Mesnil, Noemie Bessec) sailing WHITE LIGHTNING from YC de Cherbourg.  They will be challenged by many of America's top J/80 teams, including past champions like Terry Flynn's QUANTUM RACING (current 2014 NA Champion) from Houston, Texas; Glenn Darden's LE TIGRE crew from Fort Worth Boat Club in Forth Worth, Texas; Kerry Klingler's LIFTED crew from Norwalk, CT; Les Beckwith's FKA from Lake Winnipesaukee, NH; Mike Hobson's MELTEMI from Annapolis, MD; Paul Parsons PARSONS PROJECT from Houston, TX; Will & Marie Crump & Tom Klok's R80 from Annapolis (2013 J/80 NA Champion); John Storck Jr and John Storck III from Huntington, NY (2010 J/80 NA Champion), Brian Keane's SAVASANA (J/80 Key West Midwinter Champion); and Curt Johnson sailing AVET from Los Angeles, California (West Coast Champion).   For more J/80 Worlds sailing information
---
J/70 Europeans Preview
(Riva del Garda, Italy)- The first J/70 Europeans is being hosted by Fraglia Vela Riva from September 24th to 27th on the fabulous waters of Riva del Garda.  Famous for their impeccable regatta management, the FVR RC are promising some new and fun innovations for the J/70 class.  If last year's J/70 EuroCup experience was any indication, the record turnout of 37 J/70s from 10 nations will have the fantastic experience of the early morning northerly mountain winds that are shifty and streaky for at least one race, then break for lunch and wait for the afternoon southerly seabreeze to fill at 15-20 kts for 2 or more afternoon races!
Despite the fact the J/70 Worlds just took place in Newport, Rhode Island, the J/70 Europeans will have a deep and talented fleet from Austria, Spain, France, Great Britain, Germany, Italy, Monaco, Russia and Slovenia.  Some of the notable teams participating have been champions in other leading European J classes.  Perhaps one of Spain's best one-design sailors, and past J/80 World Champion, is Hugo Rocha, sailing his first major J/70 event and certainly no stranger to racing fast on Lago di Garda.  From France is a cadre of top teams, led by J/80 Champion Ludovic Senechal, Fred Bouvier and Luc Lajoye.  English teams have Joe Woods, Dave Atkinson and Charlie Esse participating, many having sailed on the lake as well in other boats, like M32s and M24s.  The second largest contingent are the Germans with well-known lakes and one-design sailors in their midst like Frank Tusch, Michael Tetzner, Theresa Ober, Yannick Netzband, Holger Neuhaus and Marvin Frisch.  With the largest number of teams, the Italians are hoping their "local" knowledge will be helpful, especially for the J/70 series leader- Carlo Alberini on CALVI NETWORK.  However, they will be pushed hard by Pietro Saccomani, Mario Beraha, Andrea Magni, Vittorio di Mauro and Alessio Marinelli.  Monaco has two teams represented, including Jacopo Carrain and Alessandro Mango.  From the Netherlands comes the past J/22 Europeans Champion, Wouter Kollmann; from Russia are Dmitri Zaritskii and Sergei Ezhikov and from Slovenia is Igor Lah.   For more J/70 Europeans sailing information
---
Record Entries @ J/70 SAILING Champions League
(Copenhagen, Denmark)- For the premiere of the SAILING Champions League (SCL) from 17th to 19th October 2014in Copenhagen, the number of entries is growing. 23 clubs have already registered. They will be sailing at this international event to gain the title of the best sailing club on the pan-European continent.
When the new SAILING Champions League was announced six weeks ago, the news was quickly spread among sailors across Europe and the rest of the world.  As of this week, Konzeptwerft in Hamburg has received registrations from 23 sailing clubs from 16 nations in total. "We are expecting 25 clubs from at least 17 nations", said Oliver Schwall, Managing Director of the SAILING Champions League.
In the SAILING Champions League, the participating clubs are sailing according to the format of the national sailing leagues in Germany and Denmark on International J/70 One-Design sailboats. In Copenhagen, 45 races are planned in three days, each of the races lasting between twelve and fifteen minutes.
All invited nations can send two representatives to the SCL. The countries with existing national sailing leagues are sending their top three from their premiere year. The Danish are sending the top three from 2014 and the Germans those from the 2013 championship. "We are overwhelmed from the positive feedback", says Hans Natorp, President of the Danish Sailing Association, "when leading yacht clubs of Europe and across the world are showing such a big interest.  We are convinced that our idea about national and international sailing leagues has a great future ahead."
Hosts of the SAILING Champions League are the German and Danish league as well as the Royal Danish Yacht Club (KDY). Patron of the event is the European Sailing Federation (EUROSAF). The first 23 participants of the SAILING Champions League in Copenhagen include the following clubs so far: Austria (Union-Yacht-Club & YC Bregenz), Czech Republic (YC Cere), Denmark (Hellerup Sejlklub, Kerteminde Sejlklub, Kongelig Dansk Yachtklub), France (Sport Nautique de l'Ouest), Germany (Norddeutscher Regatta Verein, Verein Seglerhaus am Wannsee, Württembergischer YC), Great Britain (Royal Thames YC), Italy (Circolo Cannottieri Aniene & YC Costa Smeralda), Monaco (YC de Monaco), Norway (Royal Norwegian YC), Oman (Oman Sail), Poland (Chojnicki Klub Żeglarski), Russia (Royal YC Moscow & St Petersburg YC), Spain (Real Club Náutico de Gran Canaria), Sweden (Royal Gothenburg YC), and Switzerland (Thunersee YC).
For more SAILING Champions League information, please contact Sophie-Karolin Wehner, Tel. +49 40 226 316 4-63 or EMail- press@sailing-championsleague.com or Web: sailing-championsleague.com.  SeeSAILING Champions League Facebook page- http://www.facebook.com/SailingCL
---
J/80 Italian Nationals Preview
(Loano, Italy)- Big names in international sailing are going to take part in the J/80 Italian National Championship, being held in Loano from 25th to 28th September.  The regatta is organized by YC Marina di Loano in collaboration with Blueproject, the J/80 Italian Class, and Marina di Loano.  The program includes three days of racing for a total of eight races.
Fifteen teams are already registered; most of them are Italian boats and some foreign crews.  Among the Italian crews there will be some famous sailors such as Tommaso Chieffi (offshore & one-design champion), Francesco de Angelis (past J/24 World Champion and America's Cup champion), Simone Ferrarese, Lorenzo Bressani, Francesco Ivaldi, Fabio Ascoli, Giorgio Benussi, Anne-Soiciz Bertin, Massimo Rama (past J/80 National Champion), Paul Montedonico, Stefano Ferraro and Taito Sanchez. This group of sailors assures the fleet of a very high level of competition.
Expert sailors participating for the first time in the class include: Edoardo Lupi, Michele Galli, James Loro Piana (of the famous fashion house- Loro Piana), Alberto Signorini, David Albertini Petroni, Stefano Polti, and Santiago Cow.  On the Blue Project Team is the Match Race Champion Anne-Soiciz Bertin with Andrea Trani, Martino Tortarolo, Mattia Capurso, and Fausto Surini.
Blue Project is partners for the event with its nine J/80s all equipped with brand-new sails by North Sails. Michele Rayneri from Blue Project commented: "Our company was specifically founded with the aim to supply the top racers with the best equipment possible. Our philosophy is excellence and technological leadership in sailing. We believe in the J/80 class and we want to develop it in Italy. That's why we chose to equip our International J/80 class boats with the best sails by North Sails, the worldwide leader in sailmaking."  For more J/80 Italian Nationals sailing information
---
J/105 North Americans Preview
(Toronto, ONT)- The J/105 North American Championship will be hosted this coming week by the Royal Canadian Yacht Club in Toronto, Ontario, Canada. 27 teams are competing from Bermuda, Canada and the United States. Racing begins Thursday, September 25 and continues through Sunday, September 28.
The fleet boasts an impressive array of home-grown Canadian talent including James Rathbun and crew on HEY JUDE, the 2013 J/105 North American Champion, and Terry McLaughlin skipper of MANDATE, the current J/105 Midwinter Champion and a past runner-up in the J/105 NAs as tactician for Rathbun!  Other leading Canadian teams include Peter Hall's JAMAICA ME CRAZY, Greg Mezo's FORRO, Mike Mountford's LIVE EDGE and THE USUAL SUSPECTS syndicate.
On the American side, there is a "hybrid USA/Canadian" team participating, that is Rick Goebel's SANITY from San Diego, CA.  Goebel is a native Canadian and so is his famous tactician- Greg Tawastjerna who is now living in Monterey, CA.
Perhaps the top American team may be Bruce Stone's ARBITRAGE from San Francisco, CA.  Stone's team recently won the Rolex Big Boat Series in San Francisco against the "best of the West" and was also the 2009 J/105 North American champ. Two top Great Lakes teams are participating, including Mac Race J/105 Division winner PTERODACTYL, skippered by Mark Symonds from Lake Angelus, MI and Jim Murphy's WINDSHADOW from Bloomfield, MI. Finally, a "dark horse" contender that is always a perennial top five finisher in major events is TWO FEATHERS from Dallas, TX, skippered by Mark & Jolene Masur.  For more J/105 North Americans sailing information
---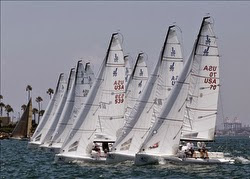 Announcing J/70 San Diego Winter Series!
J/Fest Regatta Ready-to-Roll!
(San Diego, CA)- Join the fun as the J/70's hit the water in full force over the next six months, starting with J/Fest and sailing through Yachting Cup, incorporating the popular One Design Weekends, and the even more wildly popular Hot Rum Series!  Sponsored by JK3 Nautical Enterprises and sailed out of San Diego YC, the J/70 sailors will be assured of excellent racing, great social entertainment on the lawns of the club, and obtaining early "insider info" on the location for the 2015 J/70 North Americans to be hosted by San Diego YC!
As the first regatta, J/Fest promises a nice turnout of J/Teams for SoCal.  The fleets include J/70s, J/105s and J/120s in addition to PHRF Classes.  The J/105s and J/120s are turning out in strength with many of their SoCal fleet leaders partaking.  Familiar faces like Dennis & Sharon Case's WINGS, Sean O'Keefe's DECOLORES 2, Jon Dekker's AIRBOSS and Steve & Lucy Howell's BLINK! will be part of the J/105 fleet.  The J/120s have John Laun's CAPER, Mike Hatch's J-ALMIGHTY, Gary Winton's SHENANIGANS, Chuck Nichols CC RIDER and John Snook's JIM.
In addition to the traditional racing format, J/Fest is also adding a "Fun Pursuit Race" on Friday for all participants that starts off the "Cupola" @ SDYC out to the bay and return to finish just off the guest dock at SDYC. They will have a staggered start with Tom Barkers' J/145 GOOD CALL as fastest (and last boat to start) with a mix of J/PHRF boats participating like a J/44, J/109s, J/70s, J/22s, J/80s, J/105s etc.
The J/70 Winter series events include the following:
Sep 26-28– J/Fest- http://sdyc.org/race/calendar/events/2050/
Nov 8 & 22/ Dec 6– Hot Rum Series- http://sdyc.org/race/calendar/events/2057/
Jan 17-18– SDYC One-Design Weekend- http://www.sdyc.org
Feb – SCYA Midwinters- South Bay
Mar 13-15– San Diego NOOD- http://www.sailingworld.com
April – SDYC One-Design Weekend- http://www.sdyc.org
May 1-3– Yachting Cup- http://www.sdyc.org
Storage at SDYC for the 2014/15 J/70 San Diego Winter/Spring Series will be available starting at J/Fest. Plan to leave your boat so that you can participate in the SD Winter/Spring series, starting in October!  SDYC Dockmaster, Joe Ravitch, is arranging the details on storing boats, mast up, over the course of the 2014/15 J/70 San Diego Winter/Spring Series.  Parking the boats at SDYC with rigs up, the dockmaster will move the boats to the hoist ready for you to launch on regatta days!  Storage Fee – $186 per month.  However, for each regatta that your boat enters, you will be credited back an amount toward the monthly fee!  The storage will be available from September 26 – May 15. Contact Joe at joe@sdyc.org or(619) 758-6308.   For more information regarding the J/70 San Diego Winter Series, contact SDYC J/70 Fleet Captain, David Vierreg at david_vieregg@intuit.com
---
U.S. Adult Sailing Championship Preview
(Fort Worth, Texas)– Top-notch J/22 sailors will put their skills to the test against a talented fleet this week on Eagle Mountain Lake at the U.S. Adult Championship, hosted by the Fort Worth Boat Club.
This historic US Sailing National Championship gets underway this Wednesday, September 22 and concludes Saturday, September 25.  Any sailing community can field a team to compete in the regional area events and national levels.  This year, teams will compete in a J/22 round robin format with a minimum of three crew including the helmsperson.  Ten races are scheduled.
The U.S. Adult Championship honors the traditional club vs. club competition by mixing the best elements of the former Mallory Trophy and Adams Cup events, while recognizing that sailors may be representing a community sailing organization.
A "Texas-style" welcome reception, with a barbecue buffet, will take place Wednesday night. Sailors are encouraged to wear their western attire and two-step to live country music. There will also be a mechanical bull riding challenge!
Out of the ten teams participating, there are some very talented teams that know J/22s well and should be near the top of the leaderboard.  Locals Matt Arno, Craig Johnson and Bryan Dyer from Fort Worth Boat Club are no shrinking violets, nor is the Youngstown YC team, that includes Chris Doyle, Peter Doyle and Mike DeDario.  Toss in Southern YC's trio of ringers (Benz Faget, Randy Richmond, Tom Sweeney) and you can easily see a battle forming for the top three between them and Youngstown.  Don't count out some "dark horse" teams like Rush Creek YC's Jake Scott, Max Scott and Blake Billman or Vineyard Haven YC's Paul Wilson, Brett Davis, Reilly Scull and Sonya Stevens.  Should be great sailing if the weather Gods and breeze cooperate.   For more US Adult Sailing Championship sailing information
---
J/Sailing News
The Sun Never Sets on J's Sailing Worldwide
Now that the autumnal equinox passed by Tuesday, that means two things:  first, it will be getting colder quicker in the northern parts and, secondly, our friends "down under" will be enjoying their southern hemisphere spring equinox and look forward to another long summer of fantastic sailing in balmy, windy conditions everywhere.  Having said that, a few classic events are still in the process of completing in the north.
For one, the J/111 BLUR.SE sailed the Silver Rudder Challenge, the world's largest single-handed offshore race that recently took place sailing around an island off Denmark.  Think "Three Bridge Fiasco" and you might have a picture of what took place!  Elsewhere around Europe, the J/80 Copa de Espana, emblematic of the Spanish J/80 National Championship, was recently sailed off the fabulous resort of Sotogrande and hosted by the YC Bevelle.  Not far north of them, the French J/80 sailors participated in their J-Cast Cup sailed off Saint Cast, France, the second to last event in the season-long J/80 Coupe de France, hosted by Centre Nautique de Saint Cast.  Also, the J/22 class in Germany also had a wonderful time sailing the Alster Cup on the gorgeous Alster Lake in the middle of Hamburg, Germany and hosted by the Hamburger Segel-Club.
Over in the Americas, the J/24s are currently sailing their World Championship in Newport, Rhode Island.  Also, way, way out West, the J/70s hosted their West Coast Championship at Newport Harbor YC in conjunction with their Ahmanson Cup regatta.
Read on! The J/Community and Cruising section below has many entertaining stories and news about J/Sailors as well as cruising blogs about those who continue to enjoy the Caribbean and the South Pacific, staying warm while others are trying to stay warm up north.  Check them out!  More importantly, if you have more J/Regatta News, please email it or upload onto our J/Boats Facebook page!  Below are the summaries.
---
Regatta & Show Schedules:
Sep 19-26– J/24 World Championship- Newport, RI
Sep 24-27– J/70 Europeans- Riva del Garda, Italy
Sep 25-28– J/80 Italian Nationals- Loano, Italy
Sep 25-28– J/105 North American Championship- Toronto, ONT
Sep 26-28– J/Fest San Diego- San Diego, CA
Sep 27-28– American YC Fall Regatta- Rye, New York
Sep 28- Oct 5– J/80 World Championship- Annapolis, MD
Oct 10-12– Lorient J/80 Open- Lorient, France
Oct 24-26– J/105 Masters Regatta- San Diego, CA
Oct 24-26– Seattle Grand Prix Regatta- Seattle, WA
Oct 25-28– China Cup International Regatta- Shenzhen, China
Oct 30- Nov 2– French J/80 Nationals- La Rochelle, France
Oct 31- Nov 2– J/105 Lipton Cup- San Diego, CA
Nov 1-2– J/70 Chesapeake Championship- Deltaville, VA
Nov 8- Hot Rum Series #1- San Diego, CA
Nov 10-16– J/24 South American Championship- La Punta, Chile
Nov 16- Around Island Race- Hong Kong, China
Nov 19-22– J/105 International Invitational- Hamilton, Bermuda
Nov 22- Hot Rum Series #2- San Diego, CA
Dec 4-7– J/22 Jamaica Jammin' Regatta- Montego Bay, Jamaica
Dec 6- Hot Rum Series #3- San Diego, CA
Jan 18-23- Key West Race Week- Key West, FL
For additional J/Regatta and Event dates in your region, please refer to the on-line J/Sailing Calendar.
---
J/111 BLUR Wins Silver Rudder Challenge
(Copenhagen, Denmark)- The Silver Rudder– Challenge of the Sea- is an annual single-handed regatta, that took place on the 19th of September in Svendborg on the island of Funen (Fyn), Denmark.  It has become the world's biggest single-handed offshore race, with almost 200 boats participating in the 134nm race around Funen Island.  Like similar races in America (e.g. think Three Bridge Fiasco in San Francisco Bay), you get to choose which way you get around the island, its rocks, its islets and channels!  A challenge for even the best navigators, much less trying to do it all by yourself!

In 2012, the race was launched and attracted 15 tough contestants. In 2013, 100 contestants signed up, among them sailors from Sweden, Germany, Switzerland, Slovenia and Denmark. Silver Rudder 2013 was the biggest international offshore singlehanded regatta in world for that year.  In the end of May 2014, nearly 170 were enlisted for the 2014 edition, which meant this year's Silver Rudder Challenge would be the largest non-stop singlehanded offshore race ever.  By August, the entrants reached the maximum of 200 participants!
As the number of contestants increased, the competition was also getting tougher. But the challenge was still the same- 134nm around Funen – only you and your boat and your way to choose to go around!
So, who won this epic challenge?  None other than Peter Gustafsson on the J/111 BLUR.se.  Peter not only recorded the fastest circumnavigation yet for the Large Keelboat Class, but he eclipsed all other keelboats and was only beaten boat-for-boat by a powerful trimaran!
The early weather forecasts indicated there would be a period of high pressure and easterly winds. If this weather pattern stayed put, the race would most likely be sailed for the first time ever leaving Funen Island to starboard and going "clockwise" around, instead of the traditional strategy of "leave it to port" counter-clockwise. The reason is that the sailors will try to avoid upwind sailing during the starts and in the most narrow and tricky part of the Sound of Svendborg.

Out of seven classes, there were only three Danish winners in this year's regatta. In the Large Keelboat Class (35-40 ft), it was Peter Gustafsson's J/11 BLUR.SE that took overall winners with a time of 29:11:05, to win by well over 55 minutes over his next closest competitor. Gustafsson is known among many Scandinavian sailors for his website with the same name as his boat, but not many people were aware of how good he sailor he is!!  He led the race from the Great Belt Bridge to out of Langeland, in which the front flerskrogbåd was passed by.  Then with only 0.5 miles to the finish line, Gustafsson managed to overtake Andraz Mehilin in Svendborgsund where both skippers had frequent sail changes. A spinnaker sock made the difference when it jammed a headsail change for Mehilin on his IMX 40. The old truth that one can sail a small boat closer to 100% singlehanded over a larger boat turned out to be true. Despite the extremely difficult conditions and long periods without wind, Gustafsson's BLUR.SE managed to outdo William Friis-Møller's IMX-40 elapsed record time of 2012; that resulted in a shift of Silver Rudder Challenge Trophy from Denmark to Sweden.  Plus, BLUR.SE was also the fastest overall keelboat in the Silver Rudder Challenge 2014!!
As Gustafsson explained, "For me it was 29 hours of hard work – but I won the class and was the fastest monohull around the course!!  BLUR.SE also set the new record for Keelboat Large Class, beating the old time of 31:28:55 set by an IMX 40 with the new time of 29:11:05!
This year we've won the biggest races in three different categories with our J/111 BLUR.SE (fully crewed, double-handed and solo) in three different countries- Norway, Sweden and Denmark.  I LOVE this boat!!"
Behind Peter G, in the Keelboat Small division, the J/80 CLEAN eMARINE took 5th in class.  Plus, in the Keelboat Medium class, the J/105 JAVELIN took 4th in class.  A great showing by J/Teams in tough, mentally-taxing conditions!  Yet again, a demonstration of why J/Teams are always so successful offshore against other brands & designs— J's are simply easier to sail, faster, nearly 100% of the time, while their competitors struggle to even keep sailing their boats in a straight course!   See the Silver Rudder Challenge Facebook page here.   For more Silver Rudder Challenge sailing information
---
BRIBON-MOVISTAR Stars @ J/80 Copa de Espana
(Puerto Sotogrande, Spain)- Over the September 3rd to 6th weekend, the highlight of the J/80 summer sailing season in Spain took place at the famous seaside resort of Sotogrande, hosted by Club Nautico Bevelle.  An extremely competitive fleet of thirteen boats participated from Santander, Barcelona, Murcia, Palma de Mallorca and a large Andalusian local fleet.
The stage was set earlier in the season with the local Andalusian boats having to fight off an armada of powerful teams visiting their city.  Teams like Marc Antony's BRIBON-MOVISTAR from Barcelona and the formidable duo of Carlos Diaz and Alex Latapia sailing OXITAL from Santander would be their toughest opponents.
Despite the strong visiting teams, the local knowledge favorites lead by Juan Luis Páez's HERBALIFE or Pablo de Villar's PUERTO SOTOGRANDE could easily be factors at the top of the leaderboard.
After nine very competitive races, it was clear the battle was going to be between the visiting BRIBON-MOVISTAR team from Real Club Nautico Barcelona and the locals- Paez's HERBALIFE team sailing for Club Nautico Sevilla.  Both teams won four races and neither team finished outside of the top four!  Quite an impressive performance for both boats.  Starting out fast was BRIBON-MOVISTAR, ringing up a 3-1-1-3-1 for the first five races while HERBALIFE was just managing to hang onto second place.  However, in the last four races, HERBALIFE must've drunk their own concoction of Herbalife remedies and took off on a tear with a 1-3-1-1 to nearly win the series.  In the end, BRIBON-MOVISTAR was declared J/80 Spanish Champion, winning with a total of 16 pts while HERBALIFE settled for second place with 17 pts total.
While the two lead boats were wrapped up in a fierce duel for J/80 Spanish supremacy on the high seas, behind them was yet another strong fight for the top five.  Notably, places 3rd to 6th finished within 7 pts of each other!  Taking the brass ring (bronze, as it were) was the duo of Carlos Latapia & Jesus Gonzalez-Amaliach on OXITAL, sailing for Real Club Maritimo Santander, finishing with 32 pts total.  Just one point back in fourth was Dinisio Martinez and skipper Julia Vallo sailing PUERTO SHERRY from Club Maritimo Puerto Sherry, sitting on 33 pts.  Four points back in 5th was Pablo de Villar's PUERTO SOTOGRANDE, sailing for their local club- Club Nautico Bevelle.   For more J/80 Copa de Espana sailing information
---
Brezellec Tops J/80 J-Cast Cup
(Saint Cast, France)- The season-long J/80 Coupe de France had their next event sailed off the city of Saint Cast, the J-Cast Cup.  The event was organized by the Centre Nautique de Saint Cast from the 19th to 21st of September.  The J/80 sailors were treated to excellent racing and, after eight solid races on Friday afternoon andSaturday, the fleet sailed two races on Sunday (for 10 total races) in northerly, clear breezes of 10-20 kts, enabling the teams to get into "planing mode" for most of the day, blasting downwind under spinnaker!  It was a wonderful way to close the regatta for all.
After a slow start to the season, it was clear that Eric Brezellec's crew on COURIER JUNIOR were starting to get their teamwork better organized and improving on their overall tactics and strategies.   Their hard work paid off with a win at the J-Cast Cup.  Sailing with Brezellec were Nicolas Richard, Julie Richeux, Morgan Riou, Damien Dayot Corentin Kieffer and Camille Jondeau.
Taking second was CN ST CAST GRAND WEST LABELS skippered by Clement Commagnac and crewed by Yann Hamon-Pol, Matthieu Legrand and Alexis Aveline.
Then, long-time archrival for Brezellec, Simon Moriceau, managed to sail yet another good regatta to continue to lead the Coupe de France series standings.  Moriceau's INTERFACE CONCEPT SCHOOL NAVAL team included Jean Hugo Kerhascoet, Hervé Pierree, and Corlay Laouenan.
The French J/80 Class wishes to "thank" CN Saint Cast Race Committee and Jury (Annick Martin, Patrick Brehier, Bernard Richomme, and Loic Durand), and all of their volunteers, who without them this race would not have been as successful! Sailing report contributed by Maxime Rousseaux.  For more J/80 France J-Cast Cup sailing information
---
Garret J/70 West Coast Champion!
(Newport Beach, CA)- A keynote event on the Newport Harbor Yacht Club circuit is the famous Ahmanson Cup Regatta held on the third weekend of September every year- this year from September 20th to 21st.  Featured for this year's event was the J/70 West Coast Championship.
Posting a riveting performance against an all-star cast of competitors, local favorite Tom Garret's SLOOP JOHN B from Newport Harbor YC carefully orchestrated a massive come-from-behind victory to take J/70 class honors and be crowned the first J/70 West Coast Champion!
Garret's path was not an easy one, for they were up against multiple World Champion (J/24, Etchells 22, Star) Vince Brun crewing for John Fuller on BLISS, also an NHYC "local".  The Fuller/Brun team posted an extremely consistent performance in the first four races, taking a 1-2-2-2 home to be leading by over four points on the fleet.  However, a most unfortunate incident in race 5 resulted in their DSQ, effectively putting them into an effective with SLOOP JOHN B going into the last race.  That scenario setup the proverbial match race for "who-beats-who" to win the regatta in the 6th and final race.  Taking the gun was SLOOP JOHN B and securing 2nd place with a 3rd in that race was BLISS.
It was tight racing for the balance of the top five with only six points separating the three boats, again the last race becoming the determining factor in the overall standings!  Pulling their version of a "rabbit-out-of-the-hat" was Karl Pomeroy's ZERO TO 60, posting a 4-1-1-3-4-4 to just hang in for 3rd with 13 pts.  Taking fourth was Dan Gribble's GO-RILLA from Balboa YC with finishes of 2-4-3-4-3-5 for 16 pts.  Then, rounding out the top five was Eric Kownacki's DFZ, starting quite slowly but finishing with a flourish, posting a 6-5-5-5-2-2 tally for 19 pts net.  Next up for this crowd is J/Fest in San Diego!  Sailing photo credits- Cate Brown. For more J/70 Westerns sailing information
---
Hartog J/22 Alster Cup Winner
(Hamburg, Germany)- One of the highlights of the J/22 summer sailing season in Germany is always the Alster Cup, hosted by Hamburg Segel-Club on the spectacular Alster Lake, right in the middle of Hamburg's beautiful lakes district in the middle of the city— a bit like sailing in a "large garden", with famous old buildings and green lawns and manicured trees surrounding the race course!
The J/22 sailors consider it one of their favorite events and it always gets a strong turnout, with this year seeing over two dozen boats registered.  Sailing like a man possessed, Svend Hartog and his Luebeck Segel-club crew of Christian Maas, Anne Westfehlling and Steffi Schweder sailed to a 1-10-2-1 to win with just 4 pts net!
Hoping to apply some pressure after leading in the first three races was Kai Freese's crew.  However, their last race performance torpedoed their chances at the top spot.  Consequently, their 2-4-1-6 for 7 pts net was good enough for the silver.  Taking the bronze was Hamburger Segel-club's Andreas Jungclaus and his crew of Amin Splitsteser and Lutz Thiel, scoring a 4-2-5-2 for 8 pts net.  Rounding out the top five was Menu Buelow in fourth from the Luebeck Segel-club and Inken Steppat in fifth from the host Hamburger Segel-club.  For more J/222 Alster Cup sailing information
---
J/Community
What friends, alumni and crew of J/Boats are doing worldwide
———–

* More Rolex Big Boats 2014 San Francisco reports!  "Let the good times roll!," says Erik Simonson of Pressure-drop.us.  "The 50th anniversary of the Big Boat Series will go down as perhaps a turning point where size really doesn't matter, it's the length that counts. Four days of long courses with a nice variety of conditions will be remembered long after the bruises and strains have subsided. Taking a page out of the Key West Race week where the numbers of larger handicap and one-design boats had also declined, the inclusion of high-end sportboat one-designs seems to have provided a needed shot in the arm to the Fall Classic.
Without a feeder race like the Pan-Am Clipper Cup or Kenwood Cup in mid-summer to provide a Pacific Rim contingency for the larger offshore programs, and many other interests like the TP 52 series have moved to the Med, owners have opted to keep their other assets in locations closer to warm water winter retreats and perhaps pick up a less expensive, yet just as exciting sportboat they can compete with, at a much reduced expense an time commitment. "We saw it with the Farr 40's back in the 90's", said Bill Colombo, sail maker at Doyle Sails Pacific, who has sailed in countless Big Boat Series in the past. "The 1st move was to the up and coming M32's and then the M24's and now the J/70's that I sailed. Owners seem to be finding just as much fun with these fast sportboats and the competition is very high."
Bill, who sails as a regular with Frank Slootman on his RP 63 INVISIBLE HAND on offshore campaigns, was tactician with Frank during the series on Frank's J/70 LITTLE HAND.  "We were a little off on our tactics and boat handling, as we have not practiced together in a while, but at the end of the day, it was great fun," Frank relates! " It was a bit of a struggle for us. We had not sailed the boat since last year's BBS, and the conditions didn't help, was rough out there, very windy in the afternoon." On the J/70 class Frank adds, "Great One-Design class, super competitive. Fast down wind. We saw 15-17 kts on a tear. Upwind in chop is painfully slow. OD sailing is a humbling experience!"
And comparing the J-70 to Slootman's larger offshore ride:  "It is physically much more demanding, there is not a comfortable dry spot on that boat, and it gets tricky downwind in breeze (note- 25-30 kts they saw), broaches etc."  Translated, he loves it! Frank mentions the J-70 Worlds coming to SF in 2016, so expect to see much more of the LITTLE HAND on the Bay.

Another bigger boat sailor that decided late in the game to get on a J-70 was Andy Costello, who had set the bar high with 7 aces in 2011 with his J-125 DOUBLE TROUBLE, which Andy usually reserves for offshore races. This year, Andy has been absent for most of the events we usually see him and DOUBLE TROUBLE attending, due primarily to time constraints and enjoying spending time with his kids while they are still in the formative years. "I had been given the chance to deliver a J-70 prior to the Jazz Cup and took the kids along. When we set the kite and the boat popped out of the water, it was all ear-to-ear grins," Andy explains. "On the bigger boat, the forces are just too overwhelming, but with the 70, it's just about perfect. That got me to thinking and when I mentioned it to Jeff at Quantum Sails, he said, I think Mark Howe isn't racing in the BBS.  Anyways we ended up borrowing Mark's boat, and I gave Paul (Cayard), Nick (Cately) and James (Clappier) a call and they were all available, so we made it happen."
What happened was a decisive win in a 13-boat one-design fleet. With only a few days to get their act together and a new set of sails which Andy plans to use on his own J-70 when that time arrives the foursome got their act together in rapid fashion after a mid pack finish in race 1, to collect a series of aces and deuces to win the regatta with plenty of room to spare. Andy acknowledges Paul's tactical calls and freely shared knowledge to making a difference on the current heavy courses, but also James's boat captaining skills, which included the tuning of the rig on a daily basis and tweaking the boat with the latest class mods and settings and Nick Catley solid trimming and bowman skills, the very same which helped with DT back in 2011.
It all came together quite nicely for Andy, who said regardless of outcome, "It was a hell of a lot of fun, the funnest sailing I have done in a long time!!" The J/125 DOUBLE TROUBLE program is slated to return in 2015 with Farallones, Spinnaker Cup and a possible Transpac in the forecast!  Read more of Erik Simonson's Rolex Big Boat Series article here.

* Secrets to One-Design Success?  Carter Williams, President of the J/105 Class, shares important observations in the J/105 Summer 2014 newsletter that can apply to all one-design classes, and some advice to insure the long-term health of the sport.
"In Harbor Springs, MI this summer, we celebrated the 80th anniversary of the Northern Michigan, also known as an NM. First launched in 1934 at the height of the depression, my historian friends at New York Yacht Club tell me the NM is one of the oldest active one-design classes in the world.
About the size and shape of an IOD or Etchells, the NM is the base inspiration for many great boats. Dave Irish, now in his 70s, first sailed an NM when he was 12 years old. Dave skippered his boat this season with a young girl from the local sailing school on his foredeck. On any weekend, a crew of an 80 year old, 40 year old and 12 year old will be out competing with a crew of teenagers from a local sailing school. What makes the NM a durable one-design class are the people.

This summer, I took my J/105 on the Chicago-Mackinac Race. Andy Giglia, another great sailor, and I did our first Vineyard Race when we were 15 on Dooie Isdale's Fair American. So, I took four junior sailors on the Mac so they could 'Level Up'. The youngest of my crew was Ben Varner, age 14. We finished 9th out of 20. The kids may have drifted off a bit at 2am and been a bit queasy at times, but they survived. As we left Chicago, I told the kids about Jim Mertz who did the Newport Bermuda race 30 times. I suggested to Benny, as one of the youngest kids in the Mac, he has a head start on setting his own record for passages. I wonder, when Benny is 70 will he race the Chicago Mac on a J/105?
The J/105 is a truly great one design Class. Pure amateur competition, not check book champions. The Class attracts talents of all ages and capabilities. At 23 years old, it is not quite an NM, but the Class continues to thrive because of the individuals who sail it. While the Class leadership can make sure we adapt the Rules over time to keep the boat competitive, the fleets and local sailors are ultimately the source of the Class' vitality.
The NM fleet survived because individuals ran races, maintained boats, learned to crew, sailed as kids, and skippered as adults. The J/105 is a boat that everyone will sail at some point. The future of the fleet is not about technology, design or fancy sails. The future of the fleet is about people of all ages enjoying sailing with others, sort of like Dave Irish. It is about each of us taking kids sailing, working as a team to win a regatta, offshore races, perhaps some single/double, building lifelong friendships, and having important memories while enjoying sailing with others."
---
J/Cruisers
J Cruisers continue their adventures around the world, below are a selection of most excellent "blogs" written by their prolific publishers.  Some terribly amusing anecdotes and pearls of wisdom are contained in their blogs. Read some! You'll love it.
*
J/160 SALACIA has been sailing in Australia in the Whitsunday Islands.  Guess who decided to throw themselves across their bow as they cruised comfortably to their next destination?  A giant whale!  Look at this amazing photo!

* Jim & Heather Wilson just completed a circumnavigation of our "blue planet Earth" in June 2013 on their J/42 CEOL MOR.  Said Jim, "The odyssey of CEOL MOR is over, for now.  We completed our circumnavigation on our J/42 when we crossed our outbound track in Britannia Bay, Mustique. We were, however, still 2,000 nautical miles from home. So we continued on through the Windwards, the Leewards, and then through the British Virgin Islands. After a farewell 'Painkiller' at the Soggy Dollar, and a last meal at Foxy's, we made the 1,275 nautical mile passage to the Chesapeake and completed our port-to-port circumnavigation when we arrived in Annapolis on June 28, 2013. We had been away 1,334 days, completed 259 days of ocean passages, and sailed 30,349 nautical miles (34,925 statute miles). Read more about their adventures in their  well-documented blog here: http://www.svceolmor.com/SVCeolMor/Welcome.html

* J/160 AVATAR headed for the Caribbean, again!  We LOVE these updates from our cruising J sailors that continue to criss-cross the Seven Seas. This one comes from Alan Fougere, sailing his beloved J/160 AVATAR.   Alan sent us an email update commenting on their passage south this winter, "In mid-December AVATAR completed her sixth transit to her winter Caribbean home, Grand Cruz Bay, St. John, USVI (seen above)  from her home port in Quissett (Falmouth), MA.  A crew of three, Captain Alan (e.g. me), Crew Pablo Brissett and Mark Conroy, covered the 1,500 nm trip in in her best time to date- 7 Days 5 Hours, averaging 8.7 kts, that's about 208 nm per day!  Amazing passage it was!  Rainbow at right far offshore was some of the amazing phenomenon we experienced on this fast offshore passage.
AVATAR will participate in the BVI Sailing Festival/Regatta again in 2013, where last year she won the Nanny Key Cup Cruising Class race around the Island of Virgin Gorda.  Here are some photos for you to share with the J/Community at-large.  Enjoy!"
Best, Alan Fougere/ AVATAR

* Bill & Judy Stellin recently had an interview about cruising on their J/42 in the Wall St Journal called "Retiring on the Open Sea".  The Wall St Journal asked Bill to reply to dozens of questions that flooded into the WSJ's Editor desks. Here's the update:
Retiring on the Sea: Answering Readers' Questions
Advice about selecting a boat, ocean crossings, itineraries and safety

The article in our WSJ Online December retirement report about eight years spent sailing the Mediterranean— "Retiring to the Open Sea"— prompted many questions and comments from readers.  We asked William Stellin, who wrote the story, to answer some of the most common queries.
WSJ- "What kind and make of boat did you use? Looking back, would you have picked a different boat?"
Bill- "In 1995-96, J/Boats of Newport, RI, came out with a new cruiser/racer model, the J/42. We bought hull No. 6 of this popular 42-foot sailboat and named it JAYWALKER. This was our fourth boat since beginning sailing in 1975.
Although long-distance cruising wasn't what we had in mind when we purchased JAYWALKER, it soon became apparent it had the ability to carry us easily and safely anywhere we wanted to go. Because the boat is light, it sails well in light winds, which means very little motoring is necessary.
People often ask (and argue) about what boat is best for cruising. Any boat that is strong, safe, fast, comfortable and easily handled by two people should fit the bill. One thing for sure, fast is fun—and important when trying to avoid bad weather."
READ MORE ABOUT BILL'S INSIGHTFUL COMMENTARY AND THOUGHTS ON WSJ ONLINE HERE
* The J/42 JARANA continues their epic voyage around the Pacific. Continue to read about Bill and Kathy Cuffel's big adventure cruising the South Pacific headed for New Zealand.  Their blog is here:http://www.svjarana.blogspot.com/
* John and Mary Driver are sailing their J/130 SHAZAM for extended cruising in the Atlantic basin. At this time, John and Mary finished their double-handed crossing of the Atlantic, landing in Portugal on their J/130 Shazam after completion of their ARC Rally. Read the latest news at http://www.sailblogs.com/member/shazam/.

* Several J/160 owners are island hopping across the world's oceans, fulfilling life long dreams to cruise the Pacific islands, the Caribbean islands, the Indian Ocean and all points in between.  Anyone for Cape Horn and penguins??  Read more about their adventures and escapades (like our J/109 GAIA, J/42s PAX and JAYWALKER and J/130 SHAZAM friends above).
–  Bill and Susan Grun on the J/160 AVANTE are also sailing in the Pacific archipelago, read more about their great adventures on their blog (http://web.me.com/susangrun).  Read about their latest adventures as they've gotten to New Zealand- "Avante Cruises the Pacific".
– Eric and Jenn on the J/160 MANDALAY also sailed the Pacific archipelago, read more on their blog athttp://www.sailmandalay.com.  Eric and Jenn are J/World alumni took MANDALAY up and down the West Coast (Mexico, CA), then to the South Pacific and New Zealand.  MANDALAY is back in San Francisco now, and in the J/World fleet–she is available for skippered charters, private instruction, and corporate/executive groups.