---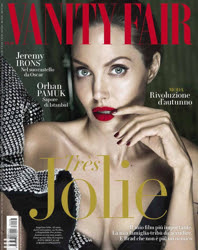 Claudia Rossi- VANITY FAIR Girl Sailing Amongst Giants!
Rossi Led Many Top Women Teams Sailing the Worlds
(Porto Cervo, Sardinia, Italy)- No question, for a 25 year old girl growing up in Italy, Claudia Rossi has earned her fair share of accolades "sailing amongst the giants" of the sport- not just in Europe, but also worldwide.
This month's Italian VANITY FAIR edition not only features Angelina Jolie on the cover, but also features Claudia as a woman that can compete on the world stage, a supremely talented sailor forging new levels of competition for women in sailing around the world. She proved it, yet again, sailling her PETITE TERRIBLE #AUDI into 4th place overall and was top women helm.

Similarly, the second women helm at the J/70 Worlds was the 2017 Monaco Winter Series Champion, the top Russian women skipper- Valerya Kovalenko from Moscow, Russia. Her team on ARTTUBE is often at the top of the Russian J/70 Sailing League and will, again, be sailing the Monaco Winter Series starting in mid-December 2017; a five regatta series that ends with the Primo Cup Credit Suisse at YC Monaco in March 2018.

At the J/70 Worlds were several all-womens teams, too. One was the United Kingdom's Hannah Mills, an Olympic 470 Gold Medallist, sailing with five other women on her team, including Suzy Russell and Hanna Peters. Hannah was third woman helm at the AUDI J/70 Worlds.
The Dutch all-women's crew was part of the "She Sails" team that have been competing all summer, including the J/70 Europeans sailed on the Solent and hosted by Royal Southern YC in Hamble, England. The crew on WATERLAND MONNICKENDAM included Rikst Dijkstra, Sanno Crum, Fettje Osinga, Milah Wouters
, and Nova Huppess from Amterdam, The Netherlands.
Then, there was an all-women's team from Germany that had been sailing on Lake Constance and were participants all year long in the Deutsche Segel-Bundesliga that saw racing all over Germany, from the south to the north- Travemunda, Kiel, Lake Constance, Alster Lake in Hamburg, and so forth. The "YC Langenargen Team" team sailed LADY LIKE, skippered by Anica Rimmele with crew of Lina & Rosanna Schnetz (sisters), Carla Rau, and Anne Winkelhausen.