The Beneteau Oceanis 38 is a sailboat with multiple-personalities; this cruiser can grow with your family.
27th March 2014.
By Zuzana Prochazka
Multiple personalities might not sound like fun during a family holiday dinner, but in the case of the new Beneteau Oceanis 38—winner of the 2014 European Yacht of the Year Award for family cruisers—more is better. The model, which comes in three distinct versions, is the baby of the Oceanis line and the builder is touting its ability to grow as your family cruising needs change.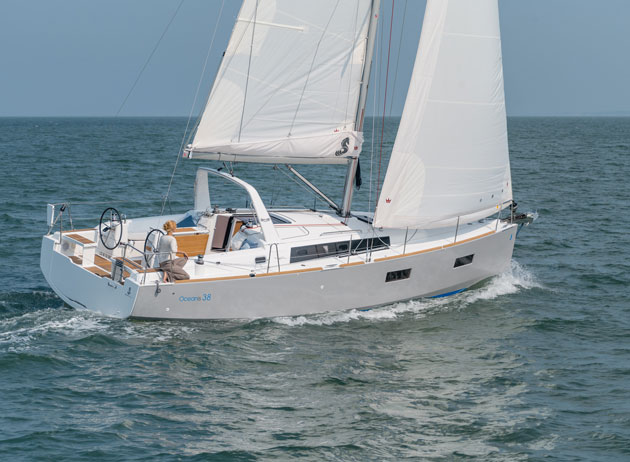 The Beneteau Oceanis 38 may have multiple personalities, but that doesn't mean it's sailing through troubled waters.
Like the rest of the Oceanis designs, the 38 is all angles, with a nearly plumb bow and a slightly reverse transom. She's beamy too, with a wide stern that creates a nice cockpit but also necessitates twin rudders to dig in at various angles of heel. Some heeling will be negated by the hard chine that runs from amidships aft.
http://features.boats.com/boat-content/2014/03/beneteau-oceanis-38-the-sailboat-that-grows/

Murray Yacht Sales sold and had the first Oceanis 38 out sailing in the US.  The 2014 model year for the Oceanis 38 sold out shortly after the OC38 made her debut at the Annapolis Boat Show.  We are in the process of delivering hull #015 and then we have hull #036 & #047 on order that are also both sold.  Contact us to order your Oceanis 38 before the 2015 model year is sold out.
 ___________________________________________________________
Click for our Brokerage
SAIL LISTINGS   –   POWER LISTINGS
Click the logo for our New Sailboat Listings