We first saw the Beneteau Sense 46 at the Annapolis Boat Show in 2012 and then again at the Strictly Sail Miami show this past February 2013 and we just kept getting more and more impressed with the design at each boat show.  She is the perfect fit in the SENSE Series between the Sense 43 and Sense 50.  Murray Yacht Sales is a Beneteau Platinum dealer with offices in New Orleans and St. Petersburg.
Boat Review: Beneteau Sense 46
Posted on December 11, 2013 by andrew
As I stepped out of the car, clouds hurried across the sky, giving way to sunshine and what promised to be a picture-perfect day to sail the new Beneteau Sense 46 in Annapolis, MD. With hard chines, a generous beam and large cockpit, it was easy to spot the Sense 46 from the parking lot. Up close, the boat looked as though it could sail well and carry all of my friends, family and co-workers at the same time.

The Sense 46, which rounds out a fleet that includes the 43, 50 and 55, had debuted just days earlier at the United States Sailboat Show. I was happy to climb aboard for the first time, as I had failed at several prior attempts during the show due to a constant crowd.

Glistening as the sun worked to dry off the morning dew, I walked the deck while we motored out and could not help but feel seduced by the boat's clean and functional layout of running and standing rigging. The mainsheet is out of the way, conveniently located on an arch above the companionway, and halyards and control lines are led aft under the deck to well-placed clutches and winches that make for easy sail handling when shorthanded.

READ THE REVIEW: http://bwsailing.com/cc/2013/12/11/boat-review-beneteau-sense-46-2/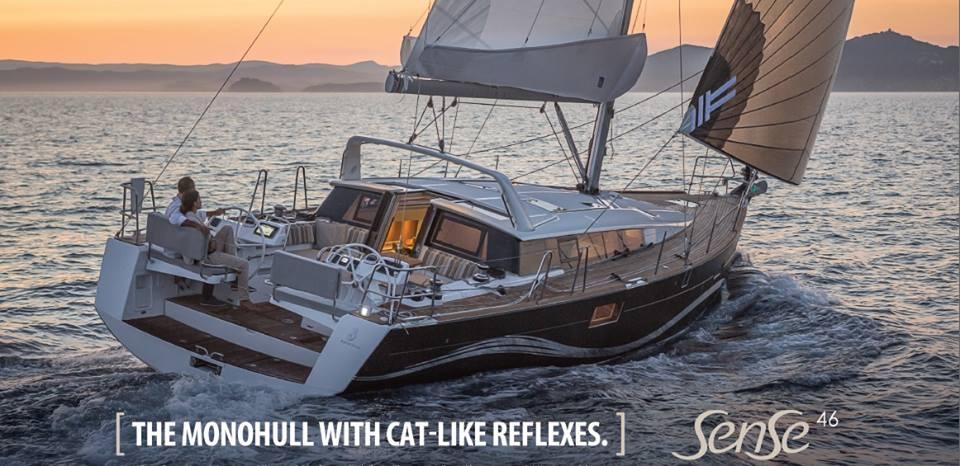 Learn more about the Beneteau Sense 46 by clicking the Murray Yacht Sales Page and Blog Reviews.