The Aquarius brand is an East-Asia import line of Motor Yachts. The production range was from 1987 to 1993, and sold mostly to the United States. These cruisers feature two cabins, two heads, an aft deck, and walkways on both sides, and a flybridge accessed by stairs from the aft deck. The hull is a semi-V / semi-displacement made of solid fiberglass.
One confirmed builder of these Motor Yachts was Heritage East Yachts – model code HGY. There are 3 models of Aquarius Motor Yachts in the 40-50 size range. The three models have the same general layout and 14'10" beam, but variations in the overall length and the displacement. This indicates that all three models are built from variations of the same hull mold.
The models are:
Aquarius 41 Motor Yacht
Aquarius 45 Motor Yacht
Aquarius 49 Cockpit Motor Yacht
Aquarius 41 vs Aquarius 45
The hull mold for the Aquarius 41 is extended in the 45, somewhere mid ship. There are several indications to support this, including the window placement and the number of stanchions. Notice in the below photographs the spacing between the first and second windows. The 45 has a large gap between the first window and the others. The 41 has a gap between the second and third windows, instead. The stanchions also have a difference in quantity – the 45 has 11 and the 41 has 9.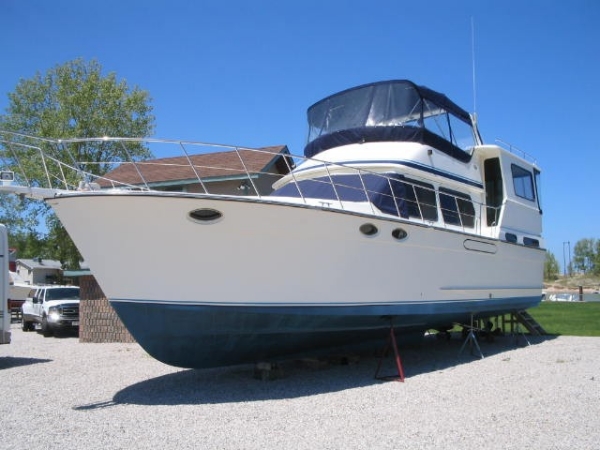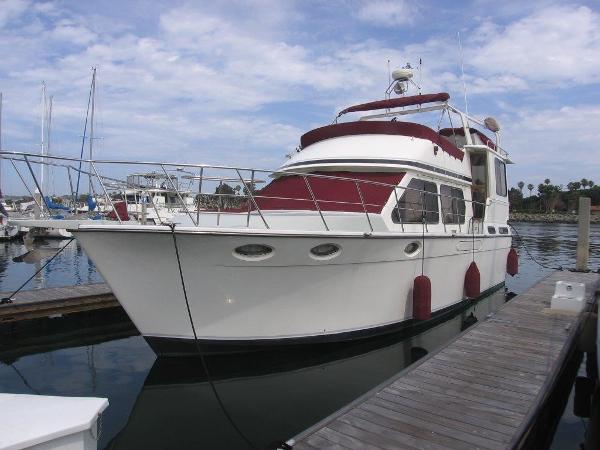 Aquarius 45 vs Aquarius 49
With the same beam, and the same window placement / stanchion count, the Aquarius 49 is clearly built upon the 45 hull rather than the 41. The added length comes in the place of a rear cockpit roughly 4 feet in length. See cockpit below with ladder and sink. Some of the Aquarius 49 Cockpit Motor Yacht models do not have a sink, and some have a different ladder design.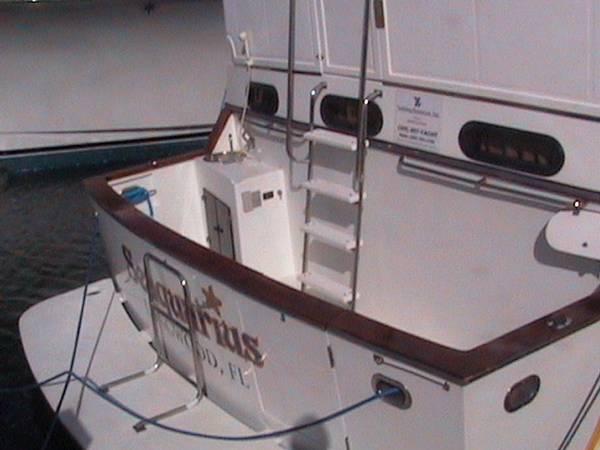 Engines on Aquarius Double Cabin Motor Yachts
The Aquarius has been seen equipped with a range of dual diesel engines such as:
Volvo TAMD 61 / Penta
Perkins Range 4
Cummins 555
Caterpillar 3208 (1988-1993)